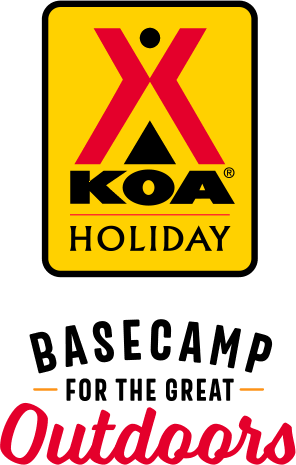 KOA Holiday Campgrounds
Whether you're exploring the local area or hanging out at the campground, KOA Holidays are an ideal place to relax and play. There's plenty to do, with amenities and services to make your stay memorable. Plus, you'll enjoy the outdoor experience with upgraded RV Sites with KOA Patio® and Deluxe Cabins with full baths for camping in comfort. Bring your family, bring your friends, or bring the whole group – there's plenty of ways to stay and explore.
KOA Holidays Feature:
RV Sites with a KOA Patio®
Deluxe Cabins with full baths
Premium Tent Sites
Group meeting facilities
Directions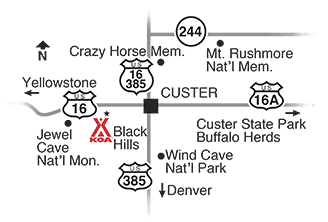 3 miles west of Custer on Hwy 16 on the way to Jewel Cave and Newcastle, WY.
GPS reliability is inconsistent across brands and types and some campers have been misdirected when entering only our address.
GPS Coordinates:
Latitude: N 43.74143
Longitude: W 103.65418
Call us when you get close and we'll bring you home!
Get Google Directions
Aug 10, 2021
We had a terrific stay! Very well laid out campground with all amenities. Clean and well cared for. The office staff were very pleasant and helpful. It will be our home away from home the next time we visit western South Dakota
Aug 09, 2021
Couldn't have been better. Convenient to everything and friendly people!
Aug 09, 2021
Wonderful people working, very clean and comfortable cabin. Met a ton of great folks during our stay! Highly recommended.
Aug 09, 2021
Our third stay here. Very relaxed and quiet camping even at the onset of Sturgis. Nice people. Hope to come back soon.
Aug 08, 2021
Our stay was wonderful. The staff were helpful and very friendly. Thank you for a great stay.
Aug 08, 2021
the customer service was great, really enjoyed our stay, bathrooms was spotless - so clean, was going to a hotel
Aug 07, 2021
Great family camping experiences at this KOA. Close enough to Custer and Mt Rushmore to explore these treasures but far enough to feel relaxed and unhurried.
Aug 07, 2021
Only wished we had a refrigerator… great location really enjoyed our visit
Aug 05, 2021
We had a wonderful time at this KOA. We stayed in one of the deluxe cabins. There was plenty of space for our family of six. The beds were comfortable, AC worked great and it was very clean and allergy friendly. We were disappointed that on the floor plan it listed a stovetop and there was none, so we had to do most of our cooking on the bbq. Bring a fly swatter as there were lots of flies.
Aug 05, 2021
We had a great stay and the staff was great as well. We are locals and will definitely be back!
Aug 03, 2021
Great campground. Wonderful staff. This KOA is very convenient to all the major attractions.
Aug 02, 2021
Staff was awesome!!!!�
Aug 01, 2021
We really liked the pool. Our cabin had a horrible skunk smell too it and when we complained they said it's just a red fox that comes back at 2 am and pees.
Jul 31, 2021
Great people running the KOA. Very friendly and helpful. Clean campground and cabins
Jul 31, 2021
Friendly staff that checked us in and answered questions. The cabins need air conditioning, it was so hot we had trouble sleeping in them. The bathrooms were clean and in good repair.
Jul 28, 2021
The afternoon Check in staff was amazing!!! .. and friendly!! I stayed five days and they made me feel like part of the family. The cabins were very clean and the campground was tidy and safe. The staff was personable and helpful. I really enjoyed the stay and would stay there again.
Jul 28, 2021
Great location to all the area attractions. We extended our stay by two more days to see more things in the area. Very friendly staff.
Jul 26, 2021
Location of our cabin could not have been better. A few concerns to point out 1. Firepit needs to replace as the bottom has rotted out. As a "luxury " cabin, one would assume, like other Kia, that the basic essentials would be provide, silverware, some dishes and pot and pans. 3. We were expecting to pay 169.00 upon arrival and was shocked at $354. My paperwork clearly said 88.47(?) per nigh
Jul 26, 2021
The staff was very friendly. The campground was very clean and well cared for.
Jul 25, 2021
Our first time staying at a KOA and Custer KOA did not disappoint!
Jul 25, 2021
Absolutely wonderful, I don't usually write reviews but I was so impressed with their kindness and welcome
Jul 24, 2021
People were very nice, cabin was clean and well setup for the size of the room and the area was neat, clean and just awesome place
Jul 22, 2021
Loved everything about this KOA
Jul 22, 2021
Friendly, and helpful staff. The place was very clean and well maintained.
Jul 22, 2021
Good and friendly customer service. The office was very helpful. Was a little disappointed that the jumping pillow cost money but did nothing see that advertised anywhere. Bathrooms and cabins were all very clean.
Jul 21, 2021
Cozy and clean. Kind and friendly staff. So glad we booked this stay.
Jul 21, 2021
We had a great time at the Custer KOA. We stayed in a log cabin that was so cute and clean! It was perfect, and although there was no bathroom inside the cabin we were a very short walk to the restrooms which were kept clean throughout our whole stay! The staff was friendly and informative. My kids LOVED the pillow and pool where they made a bunch of friends! Great place for families!
Jul 20, 2021
We stayed in one of the premium cabins. It was a pleasant surprise how spacious and clean it was. It also had a nice gas grill and gas fire pit - no need to buy wood! We really liked how quiet it was and people at the office were pleasant and helpful. Our granddaughter also enjoyed playing tetherball and jumping on the "pillow". Thank you to the owners and staff for such an enjoyable stay!
Jul 19, 2021
This was my first time at a KOA. I was extremely impressed! The staff were extremely helpful, to the point that you could tell that they really enjoyed being there to help the cusomers. We stayed in one of the cabins, and the accomodations were excellent. This particular KOA site is in a very good location - right in the middle of everything and very close to numerous sites. GREAT EXPERIENCE!
Jul 19, 2021
I found this KOA very pleasant. Customer service was exceptional the cabins were very clean and it was peaceful. I have stayed at three different key always in the Black Hills and found this to be my favorite. Thank you so much for a wonderful experience.
Jul 19, 2021
We only live couple hours away and stay here each time we go to the area. It is always well maintained and fits our need.
Jul 19, 2021
The front desk ladies were absolutely wonderful and made us feel right at home during our stay! Beautiful location and a very pleasant stay! Will absolutely be back again.
Jul 18, 2021
Friendly staff, patio site was perfect for us! We have a family member in a wheelchair and it was excellent for her to get around! Nice, quiet and clean!
Jul 18, 2021
We have stayed here in the past and as usual everything was perfect! Our favorite KOA in the Black Hills.
Jul 17, 2021
We have stayed at many KOA. This one was subpar. The store had minimal things. We made a request to life and they wouldn't even though there were other cabins empty. It was not the KOA experience we were used to.
Jul 16, 2021
Smooth check in with amazing staff, great cabin, quiet, restroom/showers were always clean, convenient to Custer and Custer State Park.
Jul 16, 2021
We enjoyed our stay at the Custer/Mt Rushmore KOA. The staff is friendly, accommodations are clean and the overall campground is well-maintained.
Jul 16, 2021
My stay was wonderful and the staff went out of their way to make sure I had everything I needed. All other guests also seemed happy! Very conveniently located. My only suggestion would be to stock some meds (allergy meds, tums, gasx, etc) in the store.
Jul 16, 2021
First time at a KOA and it was fantastic. Staff were super friendly and courteous. Cabin was clean and upkept. Pool was clean and warm and jump blob was a bonus for the kids. Definitely recommend the Custer/Rushmore/BlackHills KOA!
Jul 15, 2021
Very beautiful campground. We stayed in a deluxe cabin it was perfect. The location is great to all the attractions and downtown Custer. The people at the KOA were friendly and very helpful. We will definitely stay there again.
Sep 28, 2021
Amazing experience here. When we arrived we realized our travel trailer tire was nearly flat and the folks working at the campground went way out of their way to help us block up our trailer extra while we waited for a tire change. They had all the amenities anyone would need, sites were large, campground was quiet, nice amount of tree coverage. Will definitely return!
- Jennifer Johnson-Blanchard on Google
Sep 25, 2021
Friendly staff,convenient location, peaceful. Stayed 12 nights .Would stay again.
- Philip Jens on Google
Sep 22, 2021
We were so lucky to have found this place. After seeing a ton of other campgrounds while we were here this is the place. You don't feel like your in a parking lot. This places gives you plenty of space and your surrounded by tall trees. The bathrooms and showers are very clean. Staff is also amazing.
- Lindsays A Happy Camper on Google