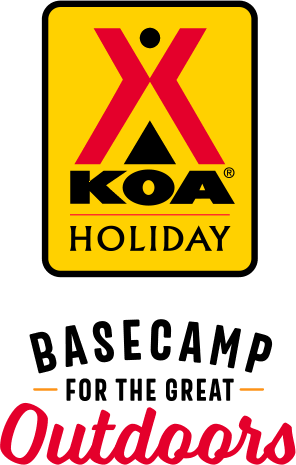 KOA Holiday Campgrounds
Whether you're exploring the local area or hanging out at the campground, KOA Holidays are an ideal place to relax and play. There's plenty to do, with amenities and services to make your stay memorable. Plus, you'll enjoy the outdoor experience with upgraded RV Sites with KOA Patio® and Deluxe Cabins with full baths for camping in comfort. Bring your family, bring your friends, or bring the whole group – there's plenty of ways to stay and explore.
KOA Holidays Feature:
RV Sites with a KOA Patio®
Deluxe Cabins with full baths
Premium Tent Sites
Group meeting facilities
Directions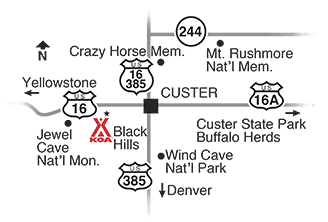 3 miles west of Custer on Hwy 16 on the way to Jewel Cave and Newcastle, WY.
GPS reliability is inconsistent across brands and types and some campers have been misdirected when entering only our address.
GPS Coordinates:
Latitude: N 43.74143
Longitude: W 103.65418
Call us when you get close and we'll bring you home!
Get Google Directions
Jul 29, 2021
We loved this site and location. The staff went out of their way when we wanted to add an extra night. Showers/Restrooms are super clean and roomy, the best we've experienced. We rode our bikes from the campground up to Devils Tower and saved all the hassle of line and parking. Staff is wonderful here!
Jul 28, 2021
The afternoon Check in staff was amazing!!! .. and friendly!! I stayed five days and they made me feel like part of the family. The cabins were very clean and the campground was tidy and safe. The staff was personable and helpful. I really enjoyed the stay and would stay there again.
Jul 28, 2021
Great location! Easy access to so much fun! Friendly, helpful & knowledgeable staff. Our kids loved the jumping pillow & playground. The pool looked inviting but we didn't have time to enjoy it. Have stayed here before & would stay again in a heartbeat. Thanks for a clean, safe & wonderful camping facility!
Jul 28, 2021
By far the best KOA we stayed in our whole 2 week trip. Site #81 has it all to me, comfort, space, privacy, and a great view to boot! The Dtaff are all fantastic also and very accommodating! I had hurt my foot before we left and one of the workers gave me a ride in the golf cart to the Laundry, very pleasant surprise and helpful also. I will be back there some day and for a longer time!!!
Jul 28, 2021
We tent camped for 3 nights and enjoyed the easy access to all the things the Black Hills has to offer. We were pleasantly surprised to find a great Forest Service road across the street-Wabash Springs, where we could hike and run! So beautiful. The staff were professional and helpful and the restrooms were very clean. The only thing that would make it better would be if they had recycling there.
Jul 28, 2021
Nice friendly staff, beautiful bleak facilities. We enjoyed our stay!
Jul 28, 2021
Great location to all the area attractions. We extended our stay by two more days to see more things in the area. Very friendly staff.
Jul 27, 2021
Tent camping site #33 is the best. We were right next to a forested area so it felt like we were in a forest. So nice to have trees at our site.. There were motion detector lights all along the way from our site to the bathroom so getting around after dark was nice. The bathroom was clean. The staff was friendly and attentive. It was quiet at the campgrounds. Accessible to great hiking
Jul 27, 2021
Great place, very homey and friendly
Jul 26, 2021
We had a great stay! The staff were extremely friendly and helpful! This KOA is close to many places we were interested in seeing, i.e. National Parks and state parks. It is also a good size with nice rv sites!
Jul 26, 2021
Location of our cabin could not have been better. A few concerns to point out 1. Firepit needs to replace as the bottom has rotted out. As a "luxury " cabin, one would assume, like other Kia, that the basic essentials would be provide, silverware, some dishes and pot and pans. 3. We were expecting to pay 169.00 upon arrival and was shocked at $354. My paperwork clearly said 88.47(?) per nigh
Jul 26, 2021
We loved the treed campground and everything we needed was easily accessible.
Jul 26, 2021
The staff was very friendly. The campground was very clean and well cared for.
Jul 26, 2021
Our kids just loved the air pillow, pool, playground and soccer net. And I appreciated the very clean restrooms and showers.
Jul 26, 2021
I wish the spots were a little bigger and the WiFi was better otherwise a beautiful place and great friendly staff
Jul 25, 2021
The campground is super clean, staff is super friendly and the area is quiet at night to enjoy the Black Hills!
Jul 25, 2021
Friendly , welcoming staff. Loved being shown to our campsite. Campground and facilities spotless and well maintained.
Jul 25, 2021
We were looking for a great vacation for 2 adults and 2 10 year olds and one 13. My grandchildren had a wonderful time on the pillow, in the pool, and the playground. Very friendly staff. We will recommend to anyone.
Jul 25, 2021
Our first time staying at a KOA and Custer KOA did not disappoint!
Jul 25, 2021
Absolutely wonderful, I don't usually write reviews but I was so impressed with their kindness and welcome
Jul 25, 2021
Very helpful people. I had goofed my reservation and they fixed it. Nice campground.
Jul 25, 2021
Nice site, close to attractions , easy to get in and out of site, facilities clean and helpful staff
Jul 24, 2021
People were very nice, cabin was clean and well setup for the size of the room and the area was neat, clean and just awesome place
Jul 22, 2021
Great campground. The bathrooms were spotless. We had a wonderful site in the back. Easy driving to Custer, Jewel Cave, and Wind Cave.
Jul 22, 2021
Great laundry, bathrooms, pool, and play area. Excellent staff. Would use again!
Jul 22, 2021
Loved everything about this KOA
Jul 22, 2021
Friendly, and helpful staff. The place was very clean and well maintained.
Jul 22, 2021
Good and friendly customer service. The office was very helpful. Was a little disappointed that the jumping pillow cost money but did nothing see that advertised anywhere. Bathrooms and cabins were all very clean.
Jul 22, 2021
It was comfortable and clean with nice services. The only thing that was a little difficult was no sewer service, but their bathrooms and showers are clean and were not crowded.
Jul 21, 2021
Cozy and clean. Kind and friendly staff. So glad we booked this stay.
Jul 21, 2021
Had a great site, bathrooms were clean laundry was close and wonderful personal.
Jul 21, 2021
Lovely location, friendly staff, lots of shade, just an all around nice place to stay.
Jul 21, 2021
It was well located and the staff were VERY helpful and friendly. The bathrooms were well maintained.
Jul 21, 2021
Staff was great. The tent area was towards the front of the property and had a lot of noise from the highway. The picnic table at our site needs to be repainted badly. I love the dish washing area and the amenities for the kids.
Jul 21, 2021
We had a great time at the Custer KOA. We stayed in a log cabin that was so cute and clean! It was perfect, and although there was no bathroom inside the cabin we were a very short walk to the restrooms which were kept clean throughout our whole stay! The staff was friendly and informative. My kids LOVED the pillow and pool where they made a bunch of friends! Great place for families!
Jul 20, 2021
We stayed in one of the premium cabins. It was a pleasant surprise how spacious and clean it was. It also had a nice gas grill and gas fire pit - no need to buy wood! We really liked how quiet it was and people at the office were pleasant and helpful. Our granddaughter also enjoyed playing tetherball and jumping on the "pillow". Thank you to the owners and staff for such an enjoyable stay!
Jul 20, 2021
It was good I do wish the tent site were a little bigger as my 10 man didn't really fit we may it work other than that our 2 night stay was good. I wish I had known the town close up at 8 to 9 as we got there at 8 set up and went to get something to eat but there was nothing to get.
Jul 20, 2021
Clean comfortable helpful. The only change I would like to see is a coded door on the new restroom. Traveling alone the new bathroom is great but didn't feel as safe as the other one with a code. Thanks for the site info to explore and for assisting me with my canopy. It was GREAT! Thank you!!!
Jul 19, 2021
This was my first time at a KOA. I was extremely impressed! The staff were extremely helpful, to the point that you could tell that they really enjoyed being there to help the cusomers. We stayed in one of the cabins, and the accomodations were excellent. This particular KOA site is in a very good location - right in the middle of everything and very close to numerous sites. GREAT EXPERIENCE!
Jul 19, 2021
Definitely one of the nicer KOAs. The location is so perfect. The facilities were clean and well maintained. I'd definitely stay again.
Jul 19, 2021
Great location. Helpful staff. Beautiful grounds
Jul 19, 2021
I found this KOA very pleasant. Customer service was exceptional the cabins were very clean and it was peaceful. I have stayed at three different key always in the Black Hills and found this to be my favorite. Thank you so much for a wonderful experience.
Jul 19, 2021
We only live couple hours away and stay here each time we go to the area. It is always well maintained and fits our need.
Sep 28, 2021
Amazing experience here. When we arrived we realized our travel trailer tire was nearly flat and the folks working at the campground went way out of their way to help us block up our trailer extra while we waited for a tire change. They had all the amenities anyone would need, sites were large, campground was quiet, nice amount of tree coverage. Will definitely return!
- Jennifer Johnson-Blanchard on Google
Sep 25, 2021
Friendly staff,convenient location, peaceful. Stayed 12 nights .Would stay again.
- Philip Jens on Google
Sep 22, 2021
We were so lucky to have found this place. After seeing a ton of other campgrounds while we were here this is the place. You don't feel like your in a parking lot. This places gives you plenty of space and your surrounded by tall trees. The bathrooms and showers are very clean. Staff is also amazing.
- Lindsays A Happy Camper on Google