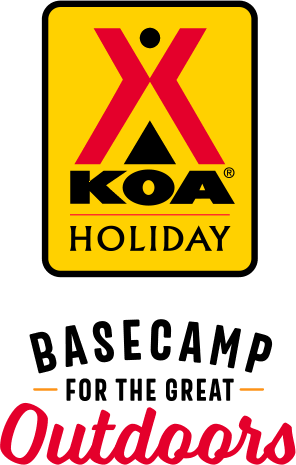 KOA Holiday Campgrounds
Whether you're exploring the local area or hanging out at the campground, KOA Holidays are an ideal place to relax and play. There's plenty to do, with amenities and services to make your stay memorable. Plus, you'll enjoy the outdoor experience with upgraded RV Sites with KOA Patio® and Deluxe Cabins with full baths for camping in comfort. Bring your family, bring your friends, or bring the whole group – there's plenty of ways to stay and explore.
KOA Holidays Feature:
RV Sites with a KOA Patio®
Deluxe Cabins with full baths
Premium Tent Sites
Group meeting facilities
Directions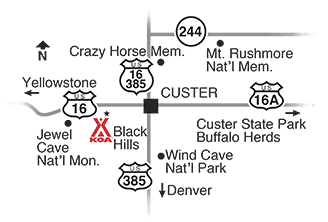 3 miles west of Custer on Hwy 16 on the way to Jewel Cave and Newcastle, WY.
GPS reliability is inconsistent across brands and types and some campers have been misdirected when entering only our address.
GPS Coordinates:
Latitude: N 43.74143
Longitude: W 103.65418
Call us when you get close and we'll bring you home!
Get Google Directions
Aug 08, 2021
Our stay was wonderful. The staff were helpful and very friendly. Thank you for a great stay.
Aug 08, 2021
Very friendly. Very clean. Only recommendation is to move the fire pit on campsite 10. We were afraid to use it because it was in the middle of three trees.
Aug 08, 2021
the customer service was great, really enjoyed our stay, bathrooms was spotless - so clean, was going to a hotel
Aug 07, 2021
The people were great the site was nice with a pad and all. No cable and garbage pickup maybe I was getting spoiled by all the other KOA offering it but loved the location
Aug 07, 2021
Great family camping experiences at this KOA. Close enough to Custer and Mt Rushmore to explore these treasures but far enough to feel relaxed and unhurried.
Aug 07, 2021
Only wished we had a refrigerator… great location really enjoyed our visit
Aug 06, 2021
Nice people nice campground.
Aug 06, 2021
Great time! Staff were all friendly and helpful. The location is great too. The campground was clean and so were the amenities. We would definitely stay again!
Aug 06, 2021
Stayed one night and had great service, campground was clean and comfortable
Aug 05, 2021
We had a great time. Staff was super friendly. Park, restrooms and store were very clean. Felt comfortable and relaxed when there. Our only wish was that the pool was a little bigger. Kind of got crowded very easily.
Aug 05, 2021
We had a wonderful time at this KOA. We stayed in one of the deluxe cabins. There was plenty of space for our family of six. The beds were comfortable, AC worked great and it was very clean and allergy friendly. We were disappointed that on the floor plan it listed a stovetop and there was none, so we had to do most of our cooking on the bbq. Bring a fly swatter as there were lots of flies.
Aug 05, 2021
We had a great stay and the staff was great as well. We are locals and will definitely be back!
Aug 05, 2021
Thanks for the tidy campground and super clean bathrooms. Firewood delivery and escort to the sight were a nice touch. Kids had a grand time other jumping pillow and swimming afterward.
Aug 04, 2021
Everything was wonderful! I will be back!
Aug 03, 2021
The campsite was nice and quiet which is great after a long day exploring the Black Hills. The restrooms were very nice and clean as well. Your in office general store was well stocked with groceries needed for us at decent prices. We will definitely stay there again on another visit.
Aug 03, 2021
Great campground. Wonderful staff. This KOA is very convenient to all the major attractions.
Aug 02, 2021
Staff was awesome!!!!�
Aug 02, 2021
Clean, quiet, nice KOA people. Grandson, Weston, is totally sold on KOA.
Aug 01, 2021
Excellent as always. Thank you for a wonderful accommodations.
Aug 01, 2021
We really liked the pool. Our cabin had a horrible skunk smell too it and when we complained they said it's just a red fox that comes back at 2 am and pees.
Jul 31, 2021
All staff were friendly and helpful not only with campground information but also the area attractions. All campsites well maintained. Easy in and off the highway. Off leash yard for dogs typical of KOA campgrounds, great open area for dogs to run off energy from traveling! Tether ball, jumping pillow, & pool big hit with whole family! We will stay again with our future Black Hills travels!
Jul 31, 2021
Really conveniently located to easily see much of the Black Hills and the staff is super helpful and friendly. It was our first time in a KOA campground and we're definitely using them in the future--a great balance between enjoying nature and having comfortable amenities when needed.
Jul 31, 2021
Great spot, quiet campground, location was perfect!
Jul 31, 2021
Great people running the KOA. Very friendly and helpful. Clean campground and cabins
Jul 31, 2021
Friendly staff that checked us in and answered questions. The cabins need air conditioning, it was so hot we had trouble sleeping in them. The bathrooms were clean and in good repair.
Jul 31, 2021
Nice, clean campground
Jul 30, 2021
Excellent! Nice people and great set up
Jul 30, 2021
Quiet and peaceful area. Close to town and most attractions.
Jul 30, 2021
This campground met our expectations. Everything was exactly as you would expect from a KOA. The staff was extremely friendly. We would use this campground in the future. The Burrells from Bogart Georgia ����������
Jul 30, 2021
Laura was very helpful
Jul 30, 2021
We tent camped, they gave us a sight with no grill and a street light over our tent. The bathrooms were clean but was a long way away.
Jul 29, 2021
We had a very pleasant visit. Everything was as expected.
Sep 28, 2021
Amazing experience here. When we arrived we realized our travel trailer tire was nearly flat and the folks working at the campground went way out of their way to help us block up our trailer extra while we waited for a tire change. They had all the amenities anyone would need, sites were large, campground was quiet, nice amount of tree coverage. Will definitely return!
- Jennifer Johnson-Blanchard on Google
Sep 25, 2021
Friendly staff,convenient location, peaceful. Stayed 12 nights .Would stay again.
- Philip Jens on Google
Sep 22, 2021
We were so lucky to have found this place. After seeing a ton of other campgrounds while we were here this is the place. You don't feel like your in a parking lot. This places gives you plenty of space and your surrounded by tall trees. The bathrooms and showers are very clean. Staff is also amazing.
- Lindsays A Happy Camper on Google