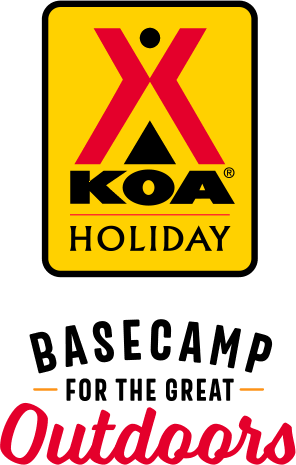 KOA Holiday Campgrounds
Whether you're exploring the local area or hanging out at the campground, KOA Holidays are an ideal place to relax and play. There's plenty to do, with amenities and services to make your stay memorable. Plus, you'll enjoy the outdoor experience with upgraded RV Sites with KOA Patio® and Deluxe Cabins with full baths for camping in comfort. Bring your family, bring your friends, or bring the whole group – there's plenty of ways to stay and explore.
KOA Holidays Feature:
RV Sites with a KOA Patio®
Deluxe Cabins with full baths
Premium Tent Sites
Group meeting facilities
Directions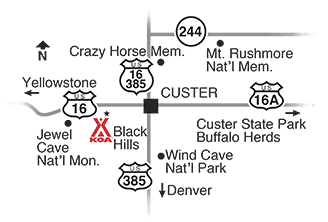 3 miles west of Custer on Hwy 16 on the way to Jewel Cave and Newcastle, WY.
GPS reliability is inconsistent across brands and types and some campers have been misdirected when entering only our address.
GPS Coordinates:
Latitude: N 43.74143
Longitude: W 103.65418
Call us when you get close and we'll bring you home!
Get Google Directions
Sep 02, 2021
Great location, great people, very clean restroom/showers.
Sep 01, 2021
We loved it at Custer. It was very peaceful beautiful and staff was awesome.
Sep 01, 2021
I reserved a 50 amp site but found out when we got there it was only a 30 amp site. When I called the office I was told well we know you reserved a 50 amp site but I don't have one for you. Pretty disappointing. No cable tv which while not a deal breaker, was unexpected as every KOA I've ever stayed has this.
Sep 01, 2021
Loved our cabin and the staff too. Very clean restrooms and showers.
Sep 01, 2021
The park was clean and staff was very nice. Short drive to Custer but far enough it was very quite. Plenty for the kids to do. Easy to park and sites were level
Aug 31, 2021
Great location.
Aug 31, 2021
Very nice and clean park. Front morning and night desk was very helpful and nice to talk to. The golf cart guys were great also.
Aug 30, 2021
Outstanding in every way ! Beautiful clean cabin. friendly staff. Couldn't have been any better.
Aug 30, 2021
Spot 52 had a sewer smell sometimes. Everyone was friendly, had a nice dog area. Our spot was pretty spacious but it looked like they eliminated one spot next to us to give you more room. Most spots were full but it was very quiet when we were there. Would suggest recycle bins.
Aug 30, 2021
Staff very friendly. I wish I would have gotten his name but the gentleman that delivered firewood was approached by several of my granddaughters that were starting a rock store and he took the time to look at all the rocks they collected, and talk to them. Bathrooms were clean and so were the cabins.
Aug 29, 2021
Very clean. Nice facility. More space between campsites than other KOAs I have been to. Very nice staff.
Aug 29, 2021
Nice campground, very convenient to area attractions. Loved the area.
Aug 29, 2021
We had wonderful stay. Very convenient to Custer, Hill City and Mount Rushmore.
Aug 29, 2021
We are new at camping , we had charcoal in the fire ring, it wasn't all the way burned up my husband dumped it in the gravel. The next morning we were outside and a guy came by with golf cart and a tin bucket, to empty fire bowl, we didn't know they did that, he was very rude and said you are not supposed to do that. People come here to enjoy nature etc., I kept appolagizing, we cleaned it up.
Aug 29, 2021
The staff was really nice. We really enjoyed the campground. The bathrooms were clean and very nice.
Aug 28, 2021
Beautiful grounds, well maintained. Friendly staff. The problem is where the dog area location is, which is the father corner of the campground. Just an enclosed area where you can let your dogs off leash. Doesn't have any lights so at night it is dark should I say very dark. It would not be much money to have a few motion power solar power lights around the dog area. Help in picking up after do
Aug 28, 2021
I was traveling alone, and I couldn't have asked for a better stay. My cabin was super close to the office, bathrooms, and showers. This location was very close to town, so if you needed anything, it was just minutes away. Well worth the money, and better priced than any of the hotels or motels in town. ���
Aug 28, 2021
The only thing we didn't like was that the staff smoked behind the store right next to our campsite. The bathrooms need updating.
Aug 27, 2021
Great campground, close to state park and town. The staff was very friendly and helpful.
Aug 27, 2021
Very clean, well maintained campground. Staff was friendly. Men and women's Bathrooms were clean. Very glad we chose this campground. We enjoyed our stay in camping cabin.
Aug 25, 2021
You hate to give too beaming of a review, because next thing you know, you won't be able to get a spot, but this KOA is spectacular! Lovely surroundings, spotless restrooms, well appointed store and firewood delivery by some of the nicest hosts!! See you same time next year!!!
Aug 25, 2021
Central to Mt Rushmore and Sylvan Lake. Clean and staff is very helpful. Nice laundry and regular flush toilets. Great view from our campsite.
Aug 24, 2021
We loved it it's so beautiful here next summer will be back.
Aug 24, 2021
Super friendly and helpful staff! Just a little close to other campers. But I'd stay here again! Great place for kids!
Aug 23, 2021
Nice campground clean bathrooms and laundry room. Staff very friendly sites level Close to all of the tourist attractions
Aug 23, 2021
Everything was great and KOA staff amazing. The only thing negative is campsites are way too close to one another. It felt like a parking lot. I can't say enough about the staff, however. Very nice facilities too.
Aug 23, 2021
It was a nice campground and the staff were so nice and friendly.
Aug 23, 2021
Enjoyed staying there Had a good time Everyone was really nice
Aug 23, 2021
We enjoyed our stay and will be back!
Aug 23, 2021
Super friendly and helpful staff! Beautifully remodeled bathrooms and very clean premises! We will definitely be staying there again in the future!
Aug 22, 2021
We had a nice stay, nice campground could use some clean up. But everyone was very nice
Aug 22, 2021
Friendly staff and CLEAN shower /restrooms all day. While site was not completely level easy enough to level.
Aug 22, 2021
It was great. The KOA was a perfect family camp site for our adventures on SD. If only we had better weather— rain and lightning made our stay more challenging.
Aug 22, 2021
We stayed in one of the deluxe sites. It's was very nice and almost perfectly level. There was a stamped patio with table, chairs, bench, propane grill and a wood stove. The only suggestion we have is that there be more lighting at the entrance at night other than the lighted KOA sign.
Sep 11, 2021
This area of National Parks, state parks and scenic byways is a must see and experience for every American. I will love to return someday.
- Norma Haynes on Google
Sep 10, 2021
Very nice campground. Wish my site was more level.
- Tesh Watson on Google
Sep 07, 2021
This is a wonderful campground whether staying for a night or two weeks. The staff is very friendly, the public spaces are well cared for. It is convenient to many sites such as Custer State Park, Jewel Cave, and Mt. Rushmore. The sites are also good for a quiet day at the campground if that is what you need. Highly recommend.
- Peggy Mollema on Google