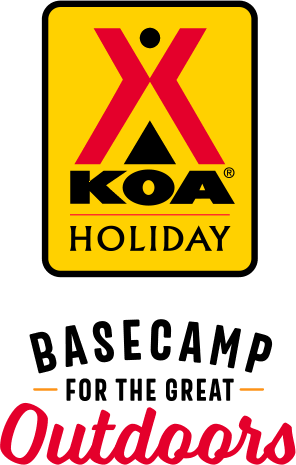 KOA Holiday Campgrounds
Whether you're exploring the local area or hanging out at the campground, KOA Holidays are an ideal place to relax and play. There's plenty to do, with amenities and services to make your stay memorable. Plus, you'll enjoy the outdoor experience with upgraded RV Sites with KOA Patio® and Deluxe Cabins with full baths for camping in comfort. Bring your family, bring your friends, or bring the whole group – there's plenty of ways to stay and explore.
KOA Holidays Feature:
RV Sites with a KOA Patio®
Deluxe Cabins with full baths
Premium Tent Sites
Group meeting facilities
Directions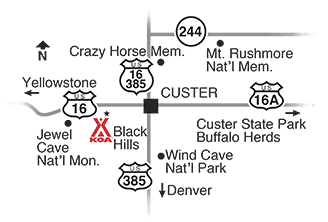 3 miles west of Custer on Hwy 16 on the way to Jewel Cave and Newcastle, WY.
GPS reliability is inconsistent across brands and types and some campers have been misdirected when entering only our address.
GPS Coordinates:
Latitude: N 43.74143
Longitude: W 103.65418
Call us when you get close and we'll bring you home!
Get Google Directions
Sep 22, 2021
Great customer service with words of kindnesses whenever seeing an employee. Fantastic view I'd devil's tower. Could use a few more trees for shade but lots are far enough apart to give privacy but close enough for neighbors
Sep 22, 2021
Great place to stay near Custer and you can easily access all the sites from here without pulling up camp and moving. We stayed 6 nights and found this KOA to be very clean and quiet. The caretakers are friendly and super responsive to your needs! They take great pride in this campground and it shows! Would definitely recommend this KOA!
Sep 22, 2021
Very dusty due to all gravel drives and spaces. Staff was was great. Had to back down hill into space.
Sep 22, 2021
The staff were so friendly and helpful- especailly Pat - he and my husband talked about campers! Everything was so nicely kept up and clean! Great staff makes this a great place to stay. We will be back!
Sep 22, 2021
Bathrooms were well maintained and clean, Kampground Staff were very friendly and helpful when we wanted to make some changes in our reservation and add a couple of days to our stay.
Sep 21, 2021
Awesome campground! I had a beautiful tent site with gorgeous views. Bathrooms were clean. I'd definitely stay here again.
Sep 21, 2021
Excellent facility - very welcoming Thanks for the excellent restaurant recommendations!!!
Sep 21, 2021
Great campground near many attractions!
Sep 21, 2021
Great facilities! Kind people! Highly recommend
Sep 21, 2021
We sleep in our Suburban. It has to be somewhat level. If your thinking of staying here and thinking you can use a tent site make sure you see site first. Tent pads were level and nice though. Bathrooms and laundry were very clean. Campers were very quiet. Would definitely stay here again.
Sep 20, 2021
Everything was clean and nice. Only recommendation would be to add a change machine in the laundry
Sep 20, 2021
All good. Staff was great, site was level gravel. Bathrooms nice, laundry room convenient.
Sep 19, 2021
Awesome campground!!! Exactly what we were looking for clean, not overly developed and quiet. Great staff who went out of there way to make us feel welcome. We really enjoyed our stay and will be back.
Sep 19, 2021
Very friendly staff will stay again.
Sep 18, 2021
It was a mostly a great stay. Unfortunately while staying here my enclosed trailer was hit and run while parked in the campground. I understand that the owners aren't and shouldn't be responsible for someone else's actions. When I reported it to the campground they pretty much blew me off. They could have at least asked if they could call law enforcement and said they would ask around the place.
Sep 18, 2021
Enjoyed our stay. Clean and close to many sites when wanted to visit.
Sep 18, 2021
Great clean campsite with so much to do in the surrounding area of South Dakota.
Sep 18, 2021
Very clean, very friendly and helpful staff
Sep 17, 2021
Easy check in. Well kept KOA. Staff are very friendly.
Sep 17, 2021
Quiet KOA. Great location. Very friendly and helpful staff. Enjoyed our four day stay!
Sep 17, 2021
Very friendly staff and the grounds were nice and quiet. Facilities were very clean. Would stay again!
Sep 17, 2021
Nice place to stay but in my opinion, it's overpriced.
Sep 16, 2021
Campground was beautiful! Management was friendly and helpful. Site was a concrete pad with table and chairs, propane grill and chiminea available for our use. New wooden fence dividing sites. Clean bathrooms and showers. Close to all parks
Sep 16, 2021
Sub par in comparison
Sep 16, 2021
Cabin was clean. Heat did not work. Let management know. Maintenance came around and told us to let the customer led air blow out and heat would work, well it didn't. Also hot and cold shower fixture was installed backwards so the first morning everyone took a cold shower and maintenance let us know things were backwards.
Sep 15, 2021
The staff was extremely helpful, accommodating and friendly from answering initial questions on the phone through checkout. Pool was at a nice heated temperature. Facilities and grounds were well kept. Nothing but good to say and that is a lot coming from me!
Sep 15, 2021
Very accommodating, service was great, very friendly and polite. Campground was clean and organized. Would definitely stay again.
Sep 15, 2021
Internet was weak but overall very nice
Sep 15, 2021
Everyone was very nice and friendly. The park was clean and the sites level. I would definitely stay there again.
Sep 14, 2021
Great stay! Staff was great and took care of us any way they could. It's super close to the best pie shop around, just head toward Custer. Our back-in site was spacious. It was super quiet at night (very respectful campers.). Restrooms were clean and showers were wonderful. Would stay again!
Sep 14, 2021
showers should be cleaner
Sep 14, 2021
Probably the cleanest restroom/showers I've ever encountered. The tent sites were flat and well drained and the location very accessible to Custer State Park and Wind Cave National Park.
Sep 13, 2021
Convenient to places we wanted to see. Friendly helpful staff
Sep 13, 2021
Great KOA location, very clean and quiet. We will definitely be back here!
Sep 13, 2021
Quiet and lotta space for tent campers. Great staff well-stocked store. The women's bathroom and showers were recently remodeled 5 Stars.
Sep 13, 2021
Very clean facility, great staff-could tell they enjoyed what they do, very friendly and helpful!
Sep 13, 2021
We had a problem develop in our cabin during our stay. When we notified the Office, they immediately took measures to correct it going over and above. Great Customer Service! Thank you Staff!
Sep 13, 2021
Everyone was awesome. I accidentally ran over a water spicket and the guys didn't get upset, they came and fixed it, laughing and joking the whole time. Hiring seniors is probably the best thing the KOA's have ever done
Sep 13, 2021
Helpful and accommodating staff Perfect location
Sep 12, 2021
Great park and great staff we enjoyed our stay
Sep 15, 2021
Wonderful staff, very friendly and welcoming. Clean campground and bathrooms. Showers get a little busy mid morning so it pays to be an early bird. Only night time noises were a bit of traffic from the road and the pack of night-owl coyotes down yonder. Will definitely go back. Had a great time.
- Mary Bongard on Google
Sep 11, 2021
This area of National Parks, state parks and scenic byways is a must see and experience for every American. I will love to return someday.
- Norma Haynes on Google
Sep 10, 2021
Very nice campground. Wish my site was more level.
- Tesh Watson on Google