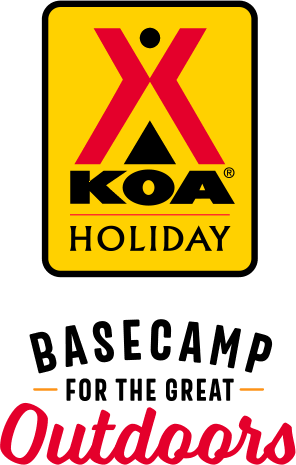 KOA Holiday Campgrounds
Whether you're exploring the local area or hanging out at the campground, KOA Holidays are an ideal place to relax and play. There's plenty to do, with amenities and services to make your stay memorable. Plus, you'll enjoy the outdoor experience with upgraded RV Sites with KOA Patio® and Deluxe Cabins with full baths for camping in comfort. Bring your family, bring your friends, or bring the whole group – there's plenty of ways to stay and explore.
KOA Holidays Feature:
RV Sites with a KOA Patio®
Deluxe Cabins with full baths
Premium Tent Sites
Group meeting facilities
Directions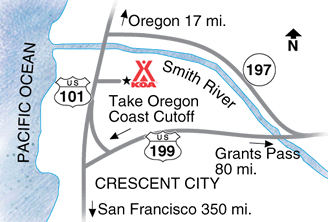 5 miles north of Crescent City on US Hwy 101 North. GPS: N41.822826, W124.145387
Get Google Directions
Jul 26, 2020
Always an enjoyable stay,
Jul 26, 2020
Staff very friendly and helpful. Grounds are clean and well kept. Restrooms clean. Good location.
Jul 25, 2020
This place is so beautiful! We had a blast! The staff are friendly! The bathrooms and the cabins were sparkling clean. The kids loved the playground and the goats. I'm jealous of those hydrangeas. But gosh darn it those plastic pads on the beds in the cabins are horrific. You can't call that a bed.
Jul 25, 2020
First time ever staying in a cabin and it was a fantastic experience. The staff was great and the facilities were super clean. We look forward to staying there again
Jul 24, 2020
Nice Kozy Kabin in the trees. Quiet. Good spacing.
Jul 23, 2020
Beautiful campgrounds !
Jul 20, 2020
Was very pleasant to stay here. Deluxe cabin was perfect. Had a much needed getaway with all the convenience and comforts of home.
Jul 20, 2020
Beautiful setting. Busy but never were bothered by neighbors. WiFi could be better.
Jul 20, 2020
The campground is nice, but no one is checking the restroom if its clean. The first night when we arrived the restroom is already dirty and the one toilet was clogged, the other toilet is out of order, and we are in line waiting for one and only functioning toilet...ugh!! Not acceptable. Then the following day when we wake up at 8 am it is still dirty and only one toilet is working!!
Jul 20, 2020
Great location, friendly staff, super clean and quiet. We REALLY enjoyed our stay and can't wait to visit again! Thank you!!!!
Jul 19, 2020
The cabin had garbage, dirt and dog hair on the beds. The works walked around smoking cigarettes and they used the weed whacker from 6-7pm at night while we tried to have dinner outside as a family. There were no redwood trees on our camp grounds.
Jul 17, 2020
Clean , easy safe check in , great location
Jul 17, 2020
The staff was amazing !!
Jul 16, 2020
The septic tank closer to restroom has very bad odor
Jul 15, 2020
My husband and I have stayed in several KOA cabins and this one is our favorite. The trees and peaceful location is the best. Hot showers, laundry and close to the ocean is all a plus. �
Jul 13, 2020
Veey clean, well kept, beautiful campground.
Jul 13, 2020
Cabin was clean but I had my camping box stolen off the front porch.. first time I've ever had anything stolen while I was camping.. not the best start to the trip but I'll move on.. so I asked the front fest lady if this was a normal thing and she said yes!! Wow! Thanks for the warning when I checked in! Needless to say if you stay here bring a safe!
Jul 13, 2020
Very clean cabin! Just spacious enough for 2 people to be comfortable sleeping, moving around, etc. Beautiful location and very nice bathrooms and showers, looked well cleaned as well. Very friendly staff when I checked out. Loved the late check in process as well; very convenient and easy for when you pull in late after driving so long.
Jul 11, 2020
Had a great time. Everyone was very helpful and my cabin was very clean. Bathrooms were also very clean Thanks
Jul 08, 2020
We had a good time! Some of the lights in our cabin didn't work, that is my only complaint. It made it difficult to work at the table. For as much as a person pays for the cabin, I feel like everything should work. Otherwise, everyone was friendly.
Jul 08, 2020
Beautiful, peaceful and most of the sites are pretty private. Loved staying the night here!
Jul 07, 2020
Under the Covid19 circumstances, we expected Atleast the bathrooms would be cleaned regularly. The bathrooms in the back were really dirty. One bathrooms door was broken. We visit crescent city KOA every year. And we'd love to keep doing that. But the cleanliness was a bit off this time!! There should've been hand sanitizer etc provided.
Jul 07, 2020
it was great like the little kabins will be back
Jul 07, 2020
A great place to stop while motorcycle touring the coast, nice people, nice cabins
Jul 01, 2020
We stayed in a cabin w/ no bathroom. This part was fine but it is quite a distance to walk if you have small bladders and need to use in middle of the night. It also took us 3 separate times to check in because office staff was not available. We were told by groundskeeper's to keep coming back. Office hours were very minimal, so we missed getting firewood too as the office closed at 4.
Jun 25, 2020
Will definitely be back!
Feb 25, 2020
Excellent again. Thanks
Feb 18, 2020
This was the most beautiful, peaceful, restful experience! We cannot wait to stay again!
Jan 16, 2020
The outdoor temperatures reach the upper 30s there was no heat in the bathroom one tiny Peter in the cabin they barely brought the temperature to 52 degrees. This facility is not adequate for winter use if you take $80 for this experience was on excusable
Jan 02, 2020
It was satisfactory except for the first night. It was so cold in the cabin, it feels like the heater was not working.
Nov 27, 2019
It was the first time we had stayed at a koa campground and we will definitely be back
Nov 13, 2019
We have stayed here a few times and love it everytime! Dog friendly in a beautiful setting. Highly recommend!
Nov 12, 2019
Very nice Kabin in the woods. I will stay here again.
Nov 07, 2019
Very nice camper cabin was clean and the heaters worked perfectly
Nov 01, 2019
After being evacuated from Sonoma County fires, we headed to 180 miles north to Crescent city so that we would be where there was power turned on and clean air. The crew at KOA took good care of us, reminded me that I needed my value card updated so that I got a little bit of a discount to help keep costs down during this unexpected "vacation". I even got in some fishing !!!
Oct 21, 2019
We loved our stay in the KOA cabin! The cabin was clean, a little space heater was there for us which was so nice to warm the place up before bed. The bathrooms were super clean, and the ladies in the store were so kind and pleasant. We plan on making this an annual trip with the kiddos because we all had so much fun!
Oct 17, 2019
Loved cabin 16. Everyone at the camp is very friendly and helpful. Close to all of the hiking and attractions of the redwoods. Wi-fi doesn't work inside the cabin, but you can use it outside. Definitely will stay here again if we get back this way.
Oct 11, 2019
Our cabin was clean, cute and the perfect layout for our stay. The staff was helpful and friendly.
Oct 02, 2019
Quiet peaceful clean convenient
Oct 01, 2019
It was very clear... It was beautiful in the woods. But the heater wasn't big enough.
May 12, 2021
Outdoor space great . cozy cabin clean
- Denise Sailors on Google
May 12, 2021
Really good spot to rugged it.
- Jose Meza on Google
May 05, 2021
We stayed for three weeks at this KOA, on our journey north to Oregon. What a perfect setting! Despite being on US101, it is very quiet and the staff are attentive and informative. With easy access to Crescent City, the coast and Oregon, it is a perfect location for activities or relaxation. A herd of wild elk are regular visitors to the neighbouring field, Blacktail Deer and a wide rang of birds can be seen, all from the comfort of your site! We would definitely stay here again!
- Scotlyon369 on Trip Advisor