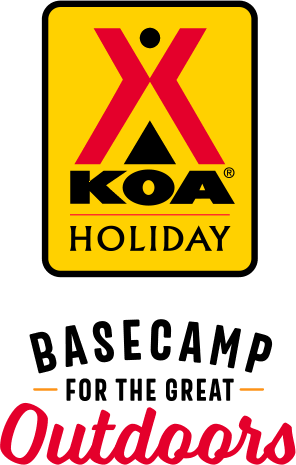 KOA Holiday Campgrounds
Whether you're exploring the local area or hanging out at the campground, KOA Holidays are an ideal place to relax and play. There's plenty to do, with amenities and services to make your stay memorable. Plus, you'll enjoy the outdoor experience with upgraded RV Sites with KOA Patio® and Deluxe Cabins with full baths for camping in comfort. Bring your family, bring your friends, or bring the whole group – there's plenty of ways to stay and explore.
KOA Holidays Feature:
RV Sites with a KOA Patio®
Deluxe Cabins with full baths
Premium Tent Sites
Group meeting facilities
Directions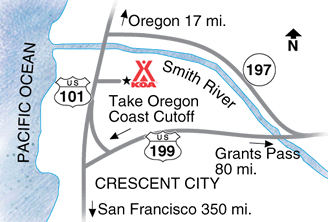 5 miles north of Crescent City on US Hwy 101 North. GPS: N41.822826, W124.145387
Get Google Directions
Jan 08, 2021
Comfortable. Nice people. Amazing property.
Jan 03, 2021
We were very happy with our stay. My children really appreciated the super clean restrooms. Our Cabin was very nice. The heaters was a plus. Thanks so much! We cant wait to do it again
Dec 28, 2020
We loved our first stay so much that we booked another stay for the same cabin, same cabin. We get there a little after the office closed and they put us in a different cabin. Location is pretty, customer service is lacking.
Dec 17, 2020
It was wet, but a great get away.
Dec 10, 2020
Clean kabins, nice area. If you walk to the back part of the park there are redwoods everywhere. Staff was friendly, there are two goats to pet. Close to the beach and Crescent City.
Dec 09, 2020
We love this koa! We have stayed here a few times in the past 15 years
Nov 29, 2020
Very organized after hours check in. Heater going in cabin when we arrived, very nice. We just stayed one night, but would definitely return next time we are in area. Nice location surrounded by trees, yet close to town.
Nov 13, 2020
Liked everything except unstable bunk bed ladder and first night it took a while for heaters to warm up cabin. Great location and cute cabin!
Nov 13, 2020
Very nice and quiet.the host in the store was very helpful and friendly.will be back as soon as we can get away.
Nov 09, 2020
The cabin was very pleasant, and beautifully situated in the redwood forest. I liked being distant from garish street/yard lamps, though there were a couple elsewhere in the campground. The only issue is that the heater in the cabin was too small and weak to warm the cabin up on the chilly night.
Nov 08, 2020
We arrived just as the office was closing and the woman opened back up to get us a kaBUN since we didn't have a reservation. I didn't get her name but she was so sweet and helpful. We appreciate her staying after work for us!!! The property is beautiful too. And the goats we're a cute bonus too!
Nov 02, 2020
Cabin was great but our car got broken into overnight and our purses were stolen. Apparently it is a regular occurrence, however we didn't see the posted signs about keeping valuables away from thieves until after the fact. Very unfortunate end to our trip.
Nov 02, 2020
Really enjoyed it I wish I had more time to stay.
Oct 27, 2020
Peaceful, quite, relaxing. Just what I was looking for.
Oct 26, 2020
Love love love this campground.
Oct 26, 2020
Great stay until cabin ran out of propane Saturday night and it was 60 degrees inside Sunday morning. But we did get hot showers.
Oct 20, 2020
Deluxe cabins are immaculate and comfortable. After hours check-in was quick and casual. Perfect location for a road trip home-base!
Oct 20, 2020
Super friendly, and very helpful staff. Beautiful campground!
Oct 15, 2020
It was beautiful. We are a family of five; my husband and I and our four kids. Oldest being 5 and youngest 1. We were comfortable in the one room cabin even with no bathroom there. There was a queen bed and a set of twin bunks. It was great.
Oct 13, 2020
It was awesome!
Oct 08, 2020
This was a trip I usually take twice a year. Everything was great as usual.
Oct 06, 2020
Very quiet, clean, peaceful place to stay...
Oct 05, 2020
We came to the koa for our sons 9th birthday. We had a blast the camp ground was clean. The cabin that we stayed in was clean. We there while covid-19 pandemic was going on. They made sure that it was safe. Thank you
Oct 01, 2020
I would have given the highest rating in both categories but there were ants all over our cabin and the rec room was closed. Other than that it was beautiful, quite and my daughter loved it there. We will return in the future.
Oct 01, 2020
Great place to stay. Friendly staff and clean facilities
Oct 01, 2020
Very friendly and knowledgeable staff; cabin was ready; property very clean and well maintained.
Sep 29, 2020
Place is clean. The staffs are friendly and campers were not loud.
Sep 28, 2020
Everyone was super friendly the campground was super nice. Loved our cabin. This is our first time staying at a low but if the rest are this fabulous I might just try it again.
Sep 28, 2020
Awesome surroundings. You felt like you were in the middle of the redwoods.
Sep 26, 2020
Your staff is friendly and your cabins were clean. We have always enjoyed our stays at this Crescent City KOA. You all are the best. We had a great time. Thank you
Sep 20, 2020
Wonderful time in a lovely well kept up and sanitized family camping experience. The staff have been very helpful and supportive while assisting us in updating our reservations required several alterations due to family Illness.
Sep 15, 2020
Sadly because of the fires around the area we weren't able to take advantage of all the services and the surrounding redwoods.
Sep 12, 2020
Thank you for beinh flexible and giving me a refund because of the smoke. I hope all of you are safe. I have been to this KOA twice before. I will come back for sure in June to hike around the old growth redwoods. Thank you again for your understanding.
Sep 09, 2020
We were there on a Holiday Weekend, everything was clean (especially the rest rooms). Staff were accommodating and friendly. We had a great time, it's such a beautiful campground with lots of shade and trees. We will be back!
Sep 08, 2020
The cabins were clean we were able to check in before 2:00 and the staff is so friendly and helpful. Our stay was wonderful!
May 12, 2021
Outdoor space great . cozy cabin clean
- Denise Sailors on Google
May 12, 2021
Really good spot to rugged it.
- Jose Meza on Google
May 05, 2021
We stayed for three weeks at this KOA, on our journey north to Oregon. What a perfect setting! Despite being on US101, it is very quiet and the staff are attentive and informative. With easy access to Crescent City, the coast and Oregon, it is a perfect location for activities or relaxation. A herd of wild elk are regular visitors to the neighbouring field, Blacktail Deer and a wide rang of birds can be seen, all from the comfort of your site! We would definitely stay here again!
- Scotlyon369 on Trip Advisor