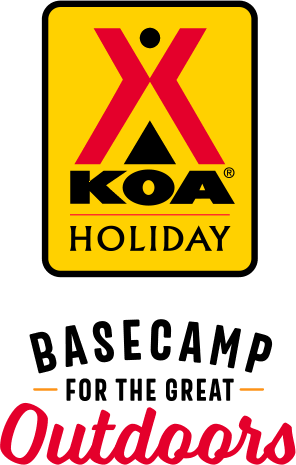 KOA Holiday Campgrounds
Whether you're exploring the local area or hanging out at the campground, KOA Holidays are an ideal place to relax and play. There's plenty to do, with amenities and services to make your stay memorable. Plus, you'll enjoy the outdoor experience with upgraded RV Sites with KOA Patio® and Deluxe Cabins with full baths for camping in comfort. Bring your family, bring your friends, or bring the whole group – there's plenty of ways to stay and explore.
KOA Holidays Feature:
RV Sites with a KOA Patio®
Deluxe Cabins with full baths
Premium Tent Sites
Group meeting facilities
Directions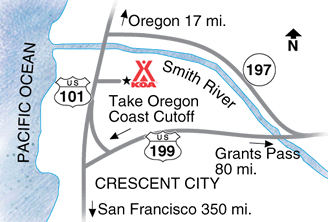 5 miles north of Crescent City on US Hwy 101 North. GPS: N41.822826, W124.145387
Get Google Directions
Oct 17, 2020
Liked the park and would come back. Roads need paved or graveled. That sandy dirt really sticks to shoes and doggy feet.
Oct 17, 2020
It was our first time in a KOA. We absolutely loved the Redwoods right in the campground, the fully stocked gift shop with unique items, and a laundry room! We can't wait for our next trip knowing KOAs are everywhere! Thank you!!
Oct 16, 2020
Longest pull through site we have ever seen. Great line-of-site for our roof mounted satellite dish. Office staff helpful with fire and road construction information. We'll be back!
Oct 16, 2020
Enjoyed our stay signs could be add to direct one to the rv park.
Oct 16, 2020
Beautiful campgrounds- if you're lucky to get one back in the woods. So beautiful. So serene. Creates the illusion of camping in the woods, but with access to a shower!!
Oct 15, 2020
Very clean, staff friendly and helpful. Love the hens and goats!
Oct 15, 2020
Campground was nice, public showers weren't as nice as other KOAs we've stayed at, and the Wifi was terrible (we work remotely, so this was problematic for us). Only stayed a couple nights, is about 2 hour drive from southern Redwoods (Humboldt State Park/Avenue of the Giants).
Oct 15, 2020
It was beautiful. We are a family of five; my husband and I and our four kids. Oldest being 5 and youngest 1. We were comfortable in the one room cabin even with no bathroom there. There was a queen bed and a set of twin bunks. It was great.
Oct 14, 2020
Great location. The patio site is outstanding! Walking the park is fun since it is wooded and also has a pasture with plenty of lawn area. We will try to come again in the future.
Oct 13, 2020
Our electric/water site in the woods was quiet and clean. It was nice to have the restrooms and showers and they were very clean.
Oct 13, 2020
It was awesome!
Oct 12, 2020
Great location sufficient amenities
Oct 12, 2020
Nice staff and very helpful. Will come back in the near future! Thank you
Oct 11, 2020
We stayed at site 106 for 8 nights, and for at least 5 days crews were operating power tools from morning till 5pm. It was not nearly relaxing, but the workers made sure I had firewood to try and make up for the irritation.
Oct 11, 2020
Great campground, well maintained, and friendly staff.
Oct 11, 2020
Beautiful amazing staff great sites. Very clean and well cared for
Oct 08, 2020
This was a trip I usually take twice a year. Everything was great as usual.
Oct 08, 2020
We enjoyed the site as we had lots of privacy and lot's of Redwoods around the site. Staff was friendly and responsive.
Oct 08, 2020
Pretty nice looking campground but they do not give the WI fi password to those who don't have full hookups & if you come in after their closed you can't get the Wi-Fi even if you had taken a full hookup site either. I work from the road and I could not work that night. I've never been in a holiday KOA or any KOA that has not provided Wi-Fi. They also did not open at a time when many leave either.
Oct 07, 2020
Clean, but no pravicy or nice views. Tight spaces.
Oct 07, 2020
Staff was very friendly. The grounds are beautiful!!! The dog park was a very welcome sight for our pup. We will definitely be back!
Oct 06, 2020
Great staff clean park well maintained very quiet
Oct 06, 2020
Staff is friendly and accommodating. Facilities are clean and walking through the campground is very enjoyable with its beautiful redwoods. We will definitely come again.
Oct 06, 2020
Late arrival and check in is awesome, clean and tidy campground. Lots of trails, grassy areas for dogs nice run. Fellow campers and RVs friendly and definitely my one of my favorite spots, Redwood Forest is amazing and this KAO is a great spot to enjoy with the family (fury ones too!). A little smokey due to fires, but a great time for sure...we'll be back...thank you!
Oct 06, 2020
Very quiet, clean, peaceful place to stay...
Oct 05, 2020
Quiet. Neat and clean. Very comfortable!
Oct 05, 2020
We came to the koa for our sons 9th birthday. We had a blast the camp ground was clean. The cabin that we stayed in was clean. We there while covid-19 pandemic was going on. They made sure that it was safe. Thank you
Oct 05, 2020
We love this campground! Everything about is pleasant, enjoyable and very relaxing. We've been twice and will be back again!
Oct 05, 2020
Loved here giant trees
Oct 05, 2020
We ran out of gas and they got it for us. They also fetched us some wood. The facilities were great!
Oct 05, 2020
We enjoyed staying at this KOA. The grounds were very nice, and the park was quiet. Enjoyed seeing the elk visit in the evening!
Oct 05, 2020
One of the nicest camps I've ever stayed at. The woods were peaceful at tent site 903!
Oct 04, 2020
Nice park among the big trees. Close to Trees of Mystery and All Star Liquorsm
Oct 03, 2020
We have stayed here four times in the past year. Easy access for going north or south or east.
Oct 03, 2020
Crescent City is a nice KOA integrated into redwoods
Oct 02, 2020
We made last minute reservations due to the fires and smoke. They accommodated us with ease. We even stayed another day to explore the area. Very nice facility, even sites amongst the Redwoods. I'd definitely stay here again.
Oct 02, 2020
Very nice facilities and campsites. Was a little hard to find tent campsite in the dark because numbers were hard to find!
Apr 14, 2021
Beautiful place!
- Jack Houpe on Google
Apr 09, 2021
The camping cabins are gorgeous. The campgrounds are beautiful and our spot was awesome surrounded by trees. It was like camping in a cabin right in the heart of the Redwood Forest.
- Janine Jones on Google
Feb 27, 2021
Love this place!!
- Antonia Contreras on Google