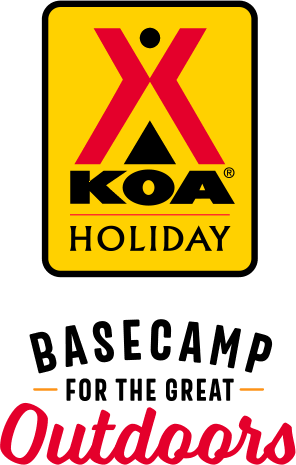 KOA Holiday Campgrounds
Whether you're exploring the local area or hanging out at the campground, KOA Holidays are an ideal place to relax and play. There's plenty to do, with amenities and services to make your stay memorable. Plus, you'll enjoy the outdoor experience with upgraded RV Sites with KOA Patio® and Deluxe Cabins with full baths for camping in comfort. Bring your family, bring your friends, or bring the whole group – there's plenty of ways to stay and explore.
KOA Holidays Feature:
RV Sites with a KOA Patio®
Deluxe Cabins with full baths
Premium Tent Sites
Group meeting facilities
Directions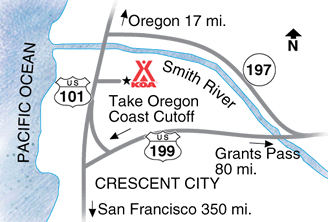 5 miles north of Crescent City on US Hwy 101 North. GPS: N41.822826, W124.145387
Get Google Directions
Nov 15, 2020
excellent campground
Nov 15, 2020
Nice and quiet. Level sites. Really friendly and helpful staff. Will return.
Nov 15, 2020
We had a quiet and enjoyable stay here. We would totally come back.
Nov 14, 2020
Very pleasant stay. Very friendly and personable front desk person.
Nov 13, 2020
Liked everything except unstable bunk bed ladder and first night it took a while for heaters to warm up cabin. Great location and cute cabin!
Nov 13, 2020
Beautiful campsite! Serene and quiet even though just off the 101! Dog park is great! Luna and Ziggy give 2 �� up! We will definitely be back again!
Nov 13, 2020
Very nice and quiet.the host in the store was very helpful and friendly.will be back as soon as we can get away.
Nov 12, 2020
Stay was just ok. Grounds could be better kept. Check in clerk was not very friendly and rushed us out.
Nov 10, 2020
Nice place, friendly, quiet. Cable was a nice bonus. Highly reccomend. Thank you for a nice visit.
Nov 09, 2020
The cabin was very pleasant, and beautifully situated in the redwood forest. I liked being distant from garish street/yard lamps, though there were a couple elsewhere in the campground. The only issue is that the heater in the cabin was too small and weak to warm the cabin up on the chilly night.
Nov 08, 2020
Nice park with nice amenities, the cabins set up in the redwoods is VERY nice. RV sites are large and accomodating but, the roads to the sites can be a little tricky and narrow. Very much appreciate the family feel of the park and the customer service received. Our first KOA experience, one we hope to repeat in the future as full-timers. Thank you.
Nov 08, 2020
We arrived just as the office was closing and the woman opened back up to get us a kaBUN since we didn't have a reservation. I didn't get her name but she was so sweet and helpful. We appreciate her staying after work for us!!! The property is beautiful too. And the goats we're a cute bonus too!
Nov 06, 2020
Beautiful camp sites. Clean restrooms and showers
Nov 06, 2020
We were camped in spot B-4 and both days there had NO WiFi. The attendant told us it was because our camper was right under the tower so no good service there. I'm not sure WHY we were placed in that spot if they already know that happens. If I walked down the lane 3 camper spots I got WiFi! Also NO TV service at B-4....and on election coverage that was sort of an issue for us. ��
Nov 06, 2020
Thoroughly enjoyed our stay and are looking forward to coming again. Loved the goats and chickens! Our site was private, the bathrooms/showers were nice and clean. Walking the grounds was refreshing - wish we could have stayed longer. Next time!
Nov 05, 2020
General facilities were good. Staff was friendly. Restrooms were clean. Assigned site was marginal. Plenty of open sites, I could have requested a different site, but did not. Would stay again, but would be more picky about accepting assigned site.
Nov 02, 2020
Cabin was great but our car got broken into overnight and our purses were stolen. Apparently it is a regular occurrence, however we didn't see the posted signs about keeping valuables away from thieves until after the fact. Very unfortunate end to our trip.
Nov 02, 2020
Really enjoyed it I wish I had more time to stay.
Oct 31, 2020
Great staff but it seems like the park could use an investment in upgrades. For instance, the laundry room is small and only has a few machines which staff use to wash the linens from the cabins.
Oct 30, 2020
We had a nice stay. Very clean and easy access off Hwy 101. My only suggestion would be to have an option to be placed away from smokers when booking online. We were next to chain smokers and it was hard to be outside at times with our sensitivity to cigarette smoke.
Oct 27, 2020
Beautiful location, you can't hear any traffic in the trees.
Oct 27, 2020
Peaceful, quite, relaxing. Just what I was looking for.
Oct 26, 2020
Love love love this campground.
Oct 26, 2020
Great stay until cabin ran out of propane Saturday night and it was 60 degrees inside Sunday morning. But we did get hot showers.
Oct 26, 2020
It's a nice campground. The roads and RV pads could use fresh gravel.
Oct 26, 2020
The campground was clean and convenient to a huge list of fun things to do while in Crescent City, CA. As I was using this site as my first location in a new Travel Trailer, I was impressed on how easy it was to pull in, set up, and start relaxing. The staff greeted me with a smile - under her mask - and all of the information I needed to make my stay a roaring success. Thank you! I'll be back!
Oct 25, 2020
KOA is more rustic, which appeals to us. we liked how trees were all around, but did not block our satellite dish. Site allowed room for our fifth wheel and truck. We stayed in a 42 foot fifth wheel.
Oct 22, 2020
Enjoyed the quietness, the farm animals, and the Redwood forest camping sites. Beautiful place to stay and not too expensive as well.
Oct 20, 2020
Deluxe cabins are immaculate and comfortable. After hours check-in was quick and casual. Perfect location for a road trip home-base!
Oct 20, 2020
Super friendly, and very helpful staff. Beautiful campground!
Oct 20, 2020
Very nice staff. Julie was amazing and friendly. The campgrounds were clean and COVID friendly. They were very nice about helping us with a slight battery problem we had that made us late with our checkout. Will come back again.
Oct 20, 2020
Nice campground. We will return. The Redwoods are spectacular. We are grateful to have spent time there.
Oct 19, 2020
I called ahead to make sure they had handicapped facilities. They said yes so I booked 5 nights. The shower was old and didn't have a railing or chair. I almost fell off the lawn chair they provided me. One of the workers got my husband and they lifted my naked body off the rickety bench and lawn chair. It was humiliating. Thank God the worker was polite and discreet. Celana Wasson 775-826-5776.
Oct 19, 2020
Very clean and quiet� staff was very friendly and helpful. Lots of great adventures and beaches very close by.
Oct 18, 2020
didn't use any amenities, so can't rate them.
Apr 14, 2021
Beautiful place!
- Jack Houpe on Google
Apr 09, 2021
The camping cabins are gorgeous. The campgrounds are beautiful and our spot was awesome surrounded by trees. It was like camping in a cabin right in the heart of the Redwood Forest.
- Janine Jones on Google
Feb 27, 2021
Love this place!!
- Antonia Contreras on Google