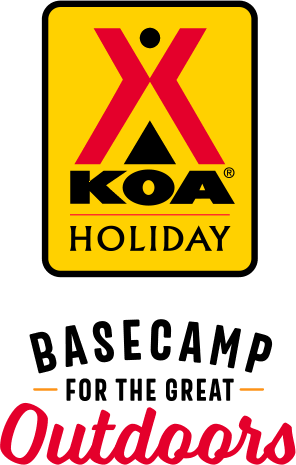 KOA Holiday Campgrounds
Whether you're exploring the local area or hanging out at the campground, KOA Holidays are an ideal place to relax and play. There's plenty to do, with amenities and services to make your stay memorable. Plus, you'll enjoy the outdoor experience with upgraded RV Sites with KOA Patio® and Deluxe Cabins with full baths for camping in comfort. Bring your family, bring your friends, or bring the whole group – there's plenty of ways to stay and explore.
KOA Holidays Feature:
RV Sites with a KOA Patio®
Deluxe Cabins with full baths
Premium Tent Sites
Group meeting facilities
Directions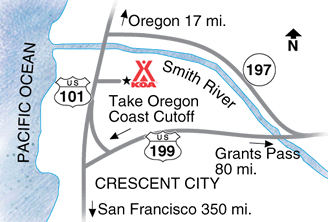 5 miles north of Crescent City on US Hwy 101 North. GPS: N41.822826, W124.145387
Get Google Directions
Jan 03, 2021
We were very happy with our stay. My children really appreciated the super clean restrooms. Our Cabin was very nice. The heaters was a plus. Thanks so much! We cant wait to do it again
Dec 28, 2020
We loved our first stay so much that we booked another stay for the same cabin, same cabin. We get there a little after the office closed and they put us in a different cabin. Location is pretty, customer service is lacking.
Dec 28, 2020
Quiet. Clean. Very courteous service at gift shop.
Dec 27, 2020
While it was only one night, we loved the redwoods! The layout is great, and I imagine it would be special to tent camp in amongst the redwoods.
Dec 24, 2020
We found our stay at KOA to be very comfortable, the campground was clean and felt safe and staff are super friendly and nice!
Dec 23, 2020
Our campsite was amazing. We were surrounded by Redwoods. Such a cool place. The staff were great, always so friendly and helpful. The care and pride everyone takes in this campground is evident everywhere. Really awesome experience and it exceeded our expectations.
Dec 21, 2020
Very clean, friendly staff but a ways away from town.
Dec 20, 2020
Campsite was private..nice site. But had been raining...would recommend more gravel on parking area...otherwise a nice spot...lady in office was quick and congenial...
Dec 17, 2020
An excellent KOA experience.
Dec 17, 2020
Great location and super friendly staff. Staff was ready and willing to help with any needs and made sure to let my kids know of the fun things they could do.
Dec 17, 2020
It was wet, but a great get away.
Dec 10, 2020
Clean kabins, nice area. If you walk to the back part of the park there are redwoods everywhere. Staff was friendly, there are two goats to pet. Close to the beach and Crescent City.
Dec 10, 2020
Wonderful, woodsy campground with level gravely sites. It was quiet, very few campers so quite COVID safe. We are planning on returning here to explore the area.
Dec 09, 2020
We love this koa! We have stayed here a few times in the past 15 years
Dec 07, 2020
A great place to stay! We would definitely come again thank you!
Dec 07, 2020
We were greeted by a very friendly staff and directed to our pull through flat level site. The lamp grounds were clean and the Redwoods on site were beautiful. We will visit again.
Dec 07, 2020
Needs better layout map for after dark navigation in the 'back forty' back-in sites Toilet/shower facility were spotless and nicely maintained. Very pleasant helpful front desk
Dec 05, 2020
No complaints. Just compared to another koa we stayed at it's only a 4
Dec 04, 2020
Absolutely fabulous place. Great redwoods to walk in. Quiet clean bathrooms.
Dec 03, 2020
I'd give 5 stars, but the potholes in the main front driveway are big enough to swallow an average rig. Otherwise it was clean, quiet, and a pleasant place to stay. Friendly and helpful staff too. We'd come back again if the opportunity arise.
Nov 30, 2020
After hours check in was super easy. Our assigned site had some drainage issues, but we were able to find another unassigned site, and then confirmed with camp staff the following morning that we could stay where we were for the duration of our trip. Staff were super helpful and friendly and the overall campground beautiful.
Nov 30, 2020
This place is great for 1 night or 4 nights. The area is well taken care of and had a great stay, we were in a pull thriugh spot with an RV and all hook ups were great.
Nov 29, 2020
Very organized after hours check in. Heater going in cabin when we arrived, very nice. We just stayed one night, but would definitely return next time we are in area. Nice location surrounded by trees, yet close to town.
Nov 28, 2020
Loved it!!! Even got to extend our stay a few more nights. Can't wait to come back.
Nov 25, 2020
Friendly staff Clean bathrooms
Nov 25, 2020
Lots of fun. Quiet, clean and everything worked! Such a pretty park nestled in the Redwoods. Definitely coming back.
Nov 19, 2020
Arrived late on a very rainy day/night; left early, so really just got a glimpse of everything, but took a walk in the redwood forest: absolutely amazing! We hope to return and spend several days there.
Nov 17, 2020
Great WIFI. Very quiet. Overall would stay here again!
Apr 14, 2021
Beautiful place!
- Jack Houpe on Google
Apr 09, 2021
The camping cabins are gorgeous. The campgrounds are beautiful and our spot was awesome surrounded by trees. It was like camping in a cabin right in the heart of the Redwood Forest.
- Janine Jones on Google
Feb 27, 2021
Love this place!!
- Antonia Contreras on Google