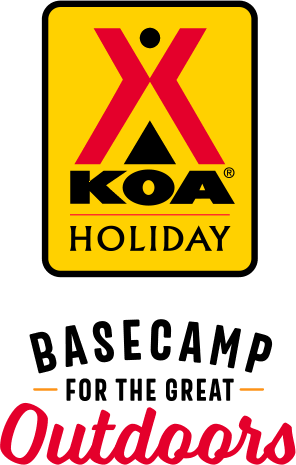 KOA Holiday Campgrounds
Whether you're exploring the local area or hanging out at the campground, KOA Holidays are an ideal place to relax and play. There's plenty to do, with amenities and services to make your stay memorable. Plus, you'll enjoy the outdoor experience with upgraded RV Sites with KOA Patio® and Deluxe Cabins with full baths for camping in comfort. Bring your family, bring your friends, or bring the whole group – there's plenty of ways to stay and explore.
KOA Holidays Feature:
RV Sites with a KOA Patio®
Deluxe Cabins with full baths
Premium Tent Sites
Group meeting facilities
Directions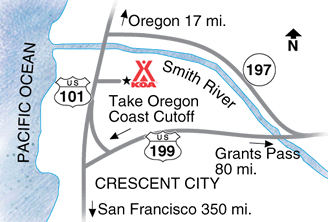 5 miles north of Crescent City on US Hwy 101 North. GPS: N41.822826, W124.145387
Get Google Directions
Mar 23, 2021
Two of the three women's bathroom stalls were clogged from early evening until mid next morning. Our cabin was clean and comfortable.
Mar 22, 2021
Great park! Only issues which weren't much was that it was nonsmoking, yet someone was smoking marijuana in the cabin near our RV space and numerous potholes coming in off the highway.
Mar 21, 2021
Good location and nice facility. Centrally located even though not on the ocean it is close enough to really the Redwood National/State Parks as well as ocean beaches minutes away by car.
Mar 21, 2021
Always a nice stay.very nice area. Person that runs the store does a very good Job Very helpful
Mar 20, 2021
It was comfortable. Check in was easy, and check out. The luxury cabin had showers, microwave, coffee maker, tv, comfortable sheets. Wifi was very spotty. But it was a very good experience.
Mar 20, 2021
Bathrooms/shower house were very nice! Hot showers! Wish we would have had a site more in the trees but easy back in. Quiet. Limited hours at office. Needed quarters for laundry but office not open. Maybe limited due to time of year or Covid???
Mar 18, 2021
Very clean place. Nice accommodations and friendly people.
Mar 16, 2021
Great spot easy access and close to everything. Store is sparse compared to other KOA's but good customer service.
Mar 15, 2021
Our stay was wonderful! Very clean restrooms and showers. Staff was very helpful in answering and handling my last minute questions/changing reservations. Will definitely be staying here again! We had a tent site and loved the area. Convenient spot to camp if you're heading down into the Redwoods a little further.
Mar 10, 2021
Very nice clean place. Women working at desk super sweet.
Mar 10, 2021
Front desk staff was extremely helpful. Some pull-through are more visibly appealing. Fantastic place to park your RV and explore the redwoods!
Mar 03, 2021
The staff here are excellent!!!
Mar 03, 2021
Very nice park. The staff was extremely helpful and friendly. Would definitely stay there again.
Mar 01, 2021
Nice and quiet! Very clean!
Mar 01, 2021
Perfect place to stay when it's too cold for a tent. The heater was a little small for keeping the room warm and the mattress was worn out but overall we enjoyed our stay.
Feb 24, 2021
Nice and quiet. Surrounded by redwood trees. Minutes away from the ocean. Spacious rv sites.
Feb 23, 2021
the park is nice,the enterance the park it self is nice.the entrance could really use some help MANY pot holes.we had to backout of a pull thru site,that was not easy,park staff was very helpfulI, felt maybe a discount for the extra work that was envolved would have been nice,but in all fairness i did not not ask for one
Feb 18, 2021
It was beautiful and the trees were blooming, but the wifi was pretty poor and the bathrooms far from the office were seasonally closed.
Feb 18, 2021
Very nice place.the lady that runs the store is great .very helpful.Hope to see u soon on another dog transport
Feb 17, 2021
We love your campground! We were high school sweethearts and were apart for 38 years, we rekindled our romance hiking in the redwoods and were married last December. We will return every year.
Feb 10, 2021
Very clean camp grounds, great staff
Feb 10, 2021
Very nice campground, would definitely recommend to friends and family
Feb 09, 2021
Great location for a winter getaway. Stayed in a deluxe cabin and bed was very comfortable
Feb 07, 2021
Even though the paperwork you get says that noise from campers will be strictly enforced, it was not. There was a couple of different groups that were yelling, playing music an no one did anything about it.
Feb 03, 2021
We had a good time. The cabin was very nice and the bed's comfortable
Jan 24, 2021
Office closed unexpectedly, we were not informed of the closure. None of our information for our reservation was left out for us to gather. We had to call the number listed on the door three times before someone answered, in which they had to hang up and call someone else which was another 20 minute delay.The lady who answered was pleasant enough, but the whole operation was highly unprofessional.
Jan 23, 2021
Beautiful campground and really nice hosts and staff.
Jan 23, 2021
Clean bathrooms, campsites were well kept, easy to find (right off the 101) but still quiet
Jan 23, 2021
Amazing campsite 401 in the redwoods. It was so great to be able to camp within those gigantic trees! Everything we needed to know was explained when we arrived and the bathrooms and amenities were clean and great! We will for sure be back again! Thank you!
Jan 23, 2021
We had a great stay. We hope to stay longer next time.
Jan 23, 2021
We love this campground! It's close to everything and has a wonderful store. The spots are spacious and we like that there is a laundry facility. Highly recommend!!
Jan 16, 2021
The staff was very accommodating for our needs on this trip. The park was well maintained. The hook ups were easy to access.
Jan 15, 2021
This was my 2nd stay at Redwoods KOA. The location is nice, dig the huge old stumps. This trip was in the rainy season, they should invest in some asphalt upgrades for their roads as I almost got stuck in the mud with my motor home.
Jan 12, 2021
The campground could use a few loads of gravel to fill the holes on the roads.
Jan 08, 2021
Comfortable. Nice people. Amazing property.
Jan 05, 2021
Great location and lots of hiking close by.
Jan 04, 2021
I had a wonderful two night stay at tent site 113. Good space between the sites, clean bathrooms. Highly recommend ! Also, very easy access to the state parks
Jan 04, 2021
I hadn't been there before and it was a dark rainy night ; I couldn't see anything let alone where my space was "hidden"! I saw headlights behind me and an employee ( Debbie) had seen me as she was heading home. Well I am so greatful to her for walking around in the dark pouring rain to show me my spot before she continued out home !! Thank you Debbie!!
Apr 14, 2021
Beautiful place!
- Jack Houpe on Google
Apr 09, 2021
The camping cabins are gorgeous. The campgrounds are beautiful and our spot was awesome surrounded by trees. It was like camping in a cabin right in the heart of the Redwood Forest.
- Janine Jones on Google
Feb 27, 2021
Love this place!!
- Antonia Contreras on Google