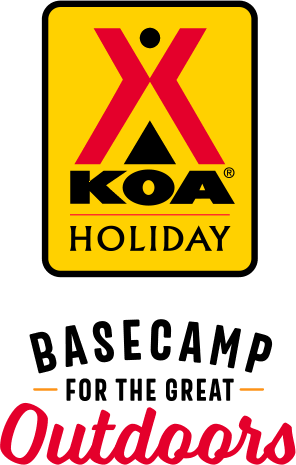 KOA Holiday Campgrounds
Whether you're exploring the local area or hanging out at the campground, KOA Holidays are an ideal place to relax and play. There's plenty to do, with amenities and services to make your stay memorable. Plus, you'll enjoy the outdoor experience with upgraded RV Sites with KOA Patio® and Deluxe Cabins with full baths for camping in comfort. Bring your family, bring your friends, or bring the whole group – there's plenty of ways to stay and explore.
KOA Holidays Feature:
RV Sites with a KOA Patio®
Deluxe Cabins with full baths
Premium Tent Sites
Group meeting facilities
Directions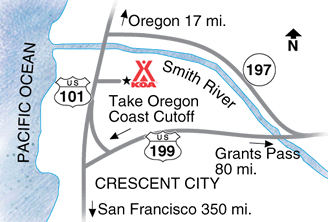 5 miles north of Crescent City on US Hwy 101 North. GPS: N41.822826, W124.145387
Get Google Directions
Apr 06, 2021
Only thing i really didnt like about the place is that the office closes in the middle of the afternoon....WTF ??? 4pm....C'mon man...Other than that would recommend without doubt...
Apr 06, 2021
Our first time at a KOA, and we only stayed 1 night on our way home to Oregon from CA. The grounds were very clean, well-manicured and family-friendly. We wished we had more time to hike the grounds and explore the area more, but we hope to be back at some point.
Apr 05, 2021
First time we ever have been here and won't be the last! It was a perfect amount for exploring in the woods with our kids and lots to do in the area! Beach or the redwoods, what more could you ask! Campground was nice and clean, and everyone was friendly!
Apr 05, 2021
Great campground to stay at as a jumping off point for the Redwoods. Some of the tent sites are actually in the redwoods! There are tent sites, RV sites and cabins, something for everyone. I highly recommend staying here.
Apr 04, 2021
Campground was very nice. Staff was helpful & friendly. My only complaint would be the potholes in the gravel entering into the facility
Apr 04, 2021
It was great
Apr 03, 2021
First time using the cabins. Very nice �. We usually stay in our RV. Love KOA
Apr 03, 2021
Beautiful campground that exceeded our expectations! We were booked for Prairie Creek Redwoods Gold Beach campground and it was cancelled a week before due to road closure. We booked this KOA because all of the State Parks were full-We were not disappointed!! KOA campsites were beautiful and lush and the bathrooms and showers were clean! We would definitely stay here again!!! Thank You!!!
Apr 03, 2021
Beautiful spot will go there again
Apr 03, 2021
Friendly, clean campground. All the services you expect from KOA. We will definitely be back.
Apr 02, 2021
I call an reserved a site but when I arrived office was closed an there wasn't site for me yet 6 others had a site listed on door. Fortunately I found a cleaning lady that helped me. There were 5 sites listed an I took one.the next morning I was accused of making up a story an was told I would have to move not in a nice way! The only helpful person was the young cleaning person. Full of pot hole
Apr 01, 2021
Driver beware! Many deep potholes in driveway, knocked stuff off our shelves in Rv.
Mar 31, 2021
Was very quick check in,great gift shop, lots of different maps to trails, only suggestion on that have how long each trail is. Had a great time watching the goats and looking at all the redwood trees!
Mar 31, 2021
No paperwork, was listed but no site map or WiFi pw. 30 amp service tripped the breaker while just watching tv. Called and left message, no return call after 4 days. Poor management and zero follow thru. I would like to have my money refunded!
Mar 31, 2021
I understand the need for COVID-19 restrictions however having the camp office/store closed at 1 in the afternoon seems extreme. The cabin and space were very nice and the campground was very well taken care of and we will very likely be back after COVID.
Mar 31, 2021
Everything was great. Check in / out was easy. The campground is secluded yet close to everything you need.
Mar 31, 2021
The group next to us had a generator running all night that was loud and the people running the campsite never told them anything.
Mar 30, 2021
Nice campgrounds! Clean hot showers! Would definitely stay here again!
Mar 29, 2021
Nice sites, basic amenities, good location. Not paved so it was not good for skateboarding or scooters. Nice wooded sites for tents, too.
Mar 29, 2021
Our stay was wonderful The staff was great. The potholes everywhere in the driveway were terrible.The driveway sits below the grade level of the main highway as well. Hard to get onto rhe highway safely.
Mar 29, 2021
Great campsites, very clean bathrooms and hot water. We enjoyed our stay very much and said we'd be coming back before we even left.
Mar 28, 2021
We had a great stay and plan on coming back again for sure! The cabin was wonderful! Super clean and had a great little outside area with a fire pit. Julie, in the office, was amazingly helpful with recommendations of where to go in the Redwoods and beaches. This was out first time staying at a KOA, and we are huge fans now! We will be back for sure!
Mar 28, 2021
Stayed in the Deluxe Cabin (Vacation Rental). Was clean, kitchen was well-stocked w/pots, pans, dishes, etc. Loved the side yard. Though we were close to neighbors, it felt private and quiet. The old-growth patch of redwoods is beautiful. We enjoyed the goats and chickens. Host Julie and team were all really nice and helpful. Store had some basics which came in handy. Thank You!
Mar 28, 2021
We had reserved a cabin for a single night and asked if we could be extend for a second night. The staff was very friendly and accommodating. We were very comfortable during our 2 day/night stay. We also benefitted from staff recommendations/directions regarding local points of interest. The Northern California Redwood Coast is a treasure. The Redwoods KOA is a great place to stay.
Mar 27, 2021
Very nice people at check in. The park is clean and well maintained.
Mar 27, 2021
The driveway is horrible, fill the pot holes! Our cabin was infested with ants but we did get a 10% refund for dealing with ants crawling on us while sleeping. The cabins are nice and the staff is wonderful
Mar 27, 2021
We had a good time. Unfortunately, the site was a bit of a mess. The grass needed to be cut and the site was muddy. The sewer Iine was pretty full also. I'm hoping in the future that KOA will allow guests to pick their camp site so we don't get stuck in a spot that doesn't suit our needs. Thanks
Mar 27, 2021
Cabins were really cute and clean. Staff were friendly and very helpful. My bed pad was not too comfortable but otherwise everything was perfect. Clean facilities and beautiful surroundings in the giant trees.
Mar 27, 2021
The bathrooms were frequently stopped up. It would probably be helpful to have signage encouraging plumbing-safe behaviors by campers.
Mar 27, 2021
I arrived late. It was difficult to find my way around campground at night. The site I had booked was unusable for my 24' rig in soft grass. It was not graveled or paved. We had to leave because there was no alternative. We had to sleep in Walmart parking lot. I asked for a refund and have not been given the courtesy of a response. Today I am irritated at my KOA experience.
Mar 26, 2021
Clean, well kept bathhouses and rest rooms. Quiet and beautiful in the Redwoods.
Mar 26, 2021
Lovely place! Loved the close proximity to crescent city. WiFi for us was pretty useless. Weak signal, mostly inaccessible unless it was early am. Driveway entrance is brutal with huge holes. Rough on a vehicle. Can only imagine if pulling an RV. Would return, loved our little cabin.
Mar 25, 2021
Great campground if you don't mind a little mud!
Mar 25, 2021
The KOA is nice, clean, and everything worked as expected. The location is convenient for the beach, lighthouses, and redwoods. The staff gave us a great map of Jedediah Smith park for hiking and experiencing the redwoods. The RV spaces are close to each other, though. Close enough we had to ask neighbors to turn it down after quiet hours.
Mar 25, 2021
Cabin was nice and clean. Front desk was very friendly and helped with hwy closure info. Only 2 issues- there were ants in the cabin that showed up 2nd day. Office didn't open till 10 am which sends really late and closed at 6 pm. We had issues with toilet but they did respond quickly to our call.
Mar 25, 2021
it was a quiet peaceful stay with all the needs necessary,. I loved being close to nature, while the office personal were welcoming.
Mar 25, 2021
Would have been a 5 but heater in the cabin was not big enough and the bathroom in the back lacked heat. Fix those and it would rate as one of the best I have stayed in and we have camped from coast to coast.
Mar 23, 2021
This was a beautiful campground. Multiple options, RV/trailer sites, cabins, park models, tent sites, fenced dog park, playground and large grassy area. The entire staff was friendly and welcoming. We will be back!
Mar 23, 2021
Muddy , the septic tank hook up was full when I opened the cap to hook up my black and grey water. CHP chased a guy into the entrance at 6 am . Apparently he fled into the park by foot after stealing a van.
Mar 23, 2021
lots of potholes to avoid. Site was fine. Close to highway so a little noisy.
Mar 23, 2021
We had a great tent site, 113. A little brook ran near the site, crickets chirped, and although it rained during the night, the whole experience was tranquil. The bathrooms were also very clean. We would defiantly stay again.
Apr 14, 2021
Beautiful place!
- Jack Houpe on Google
Apr 09, 2021
The camping cabins are gorgeous. The campgrounds are beautiful and our spot was awesome surrounded by trees. It was like camping in a cabin right in the heart of the Redwood Forest.
- Janine Jones on Google
Feb 27, 2021
Love this place!!
- Antonia Contreras on Google