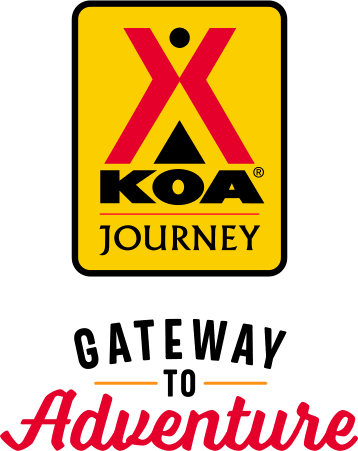 KOA Journey Campgrounds
KOA Journey campgrounds are the perfect oases after a day on the road. Whether it's along the way or a quick getaway, they've got you covered. Located near the highways and byways of North America with long Pull-thru RV Sites, they deliver convenience to the traveling camper. Pull in, ease back and take a load off.
KOA Journeys Feature:
Pull-through RV Sites with 50-amp service
Premium Tent Sites
Well lit after hours check-in service
Directions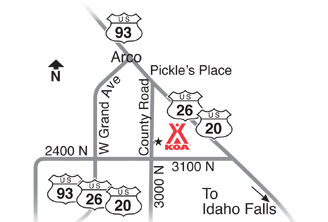 Located off Hwy 20/26 in Arco. Turn south at Pickle's Place restaurant onto CR 3000 W. (Pickle's Place located east edge of Arco.) KOA 1/2 mile. GPS: N43.62683, W113.29560
Get Google Directions
Sep 21, 2021
I find it worrisome that the outlet didn't work and that when I told the staff that, they didn't believe me. I ended up plugging into an outlet at another site. The outlet did get replaced but that could easily have become a fire. I also was bothered by the fact that despite the fire warning I was given at check-in, others were burning fires and there were no notices posted about fires.
Sep 20, 2021
it is average with nothing good or really bad with the park other than being significantly overpriced when comparing to other parks we have stayed. Unfortunately, not a lot of options in the area. It is worn out and the amenities are not really there.
Sep 20, 2021
For large rigs I wouldn't recommend it. The pad was very narrow and uneven. Sites were very close. Got there at 5:30 and the office was closed! Could have been worse but would recommend it. One positive is the location was good.
Sep 20, 2021
Clean, friendly and close to Craters of the Moon and other historical attractions in the area. Great place to stay if you're traveling in the area. I will definitely stay here again when traveling through again.
Sep 20, 2021
Very easy check in. Pleasant staff. Peaceful and quite. Easy pull threw sites.
Sep 20, 2021
Very peaceful, clean and staff were accommodating and friendly. We enjoyed our stay.
Sep 19, 2021
I found it disheartening that I had absolutely no problem getting 8 waffles on Saturday morning, but was told there was a limit of only 1 on Sunday. So instead, I went to Pickles Place and ate there instead. Most excellent food. NO, I won't be returning to this location ever again.
Sep 19, 2021
We had a very good time the camp ground was clean the staff was very friendly. The only thing I didn't like was that the front office / store would close at 4:30 pm.
Sep 19, 2021
well maintained and very clean
Sep 19, 2021
Very nice and conscientious owners. Well maintained campground. The bathrooms and showers are well kept. Would definitely stay again.
Sep 18, 2021
Perfect place to stay when visiting Craters of the Moon. Older, locker-style bathroom was clean and well-maintained. Cabin was perfect for 2. Employee needs to make sure store/office door is actually unlocked before getting snitty.
Sep 17, 2021
Very pleasant, helpful and even had someone who could fix a minor problem for me. Very quiet, yet friendly. Thanks for your hospitality. Fond memories.
Sep 16, 2021
Nice place to stay. Our site was a "Pull - Thru", which made it great for us, since we were towing a car. Owners are VERY nice, and try their best to accommodate everyone, with ANY problems they may have. Not alot to look at...BUT Craters of the Moon is about 15 miles away.
Sep 16, 2021
Charming little campground in a tiny town. Great distance from Craters of the Moon National Monument. Clean bathrooms and showers. Lots of families with kids. Would stay again.
Sep 15, 2021
would've given higher rating except the pool was closed cabin was clean but the curtains didn't go all the way down to the wall for privacy the showers weren't very hot for very long. there were several drivers who unfortunately used the road behind the koa as a speed way throughout the night the free pancakes and coffee was nice (tips excepted) friendly employees easy check in nice extras offered
Sep 15, 2021
This KOA is very well taken care of and the staff are friendly. They all have a good knowledge of the surrounding area that you can visit with a short drive. The store is lacking a little on supplies and is probably because of its remote location. We had a great time!
Sep 14, 2021
Just another parking lot, except this one is gravel, dirt and weeds. KOAs are going downhill.
Sep 14, 2021
Was great place to stay
Sep 14, 2021
Bathrooms needed some upkeep. But friendly staff and nice area
Sep 14, 2021
Waffles and coffee in the morning. Shaded campsite, nice K9 area. Nice store and friendly staff. clean rest rooms and showers.
Sep 14, 2021
It was fine, but less than I expected. The website says pool open May-Oct and it was closed. WiFi was in and out, but good when it was working. Night check in process was perfect. Site was mostly gravel and dirt/dead lawn. Probably really nice in the summer, but go after Labor Day and expect the bare minimum KOA standards.
Sep 14, 2021
Very dirty. The community restrooms and showers had grim and grit all over them. We have stayed in five other KOA's this last summer and this was by FAR not worthy of the KOA name. There was no soap in the bathroom, either the shower or the hand sinks, then they put ONE soap into the dispenser, but the dispenser does not work, so there is literally no soap in the bathroom. T
Sep 14, 2021
Just a short overnight, but it was pleasurable. We will be back. The sites were a bit worn. They were dirt and rutted in places where most RV would park. Making it a bit daunting to level. Other than that, I enjoyed the park emminsely.
Sep 13, 2021
Very friendly people, nice spot , clean restrooms and showers.
Sep 13, 2021
The hostess was kind and helpful. he bathrooms were clean and my husband and I enjoyed our stay
Sep 12, 2021
The staff were very pleasant. The sites could use some TLC as they were very uneven and cable was not watchable. For an overnight stay it was fine.
Sep 12, 2021
Place was depressing Not at all like the pictures we see on your website When you first enter you see about three or four trees with campers and that is it. We were put further out, no trees, no picnic table and absolutely no view. Much nicer campsites in the area. Sorry we booked this one and at what a price!
Sep 12, 2021
We were in Arco to see the Craters of the Moon Park. This campground was within a 20 minute drive. Staff was friendly. Our big disappointment was the pool being drained. It was pretty warm out.
Sep 11, 2021
Staff was friendly and helpful, campground was clean and well kept. Our kids loved the nightly icecream socials and the waffles for breakfast. We loved our stay and will definitely be back. Our only suggestion is the playground could use a little updating. Thanks for the great time!
Sep 11, 2021
OVerall very good experience. The spot was shaded and a decent "gap" from the neighbor. Had an ice cream social and waffles in the AM- YUMM!! enjoyed a dip in the pool and the overall atmosphere. Small dog area was a nice feature to let her run around off leash. Family friendly.
Sep 11, 2021
HARD to believe this park qualifies to be a KOA!
Sep 10, 2021
Nice facility. Well kept and clean. Thanks for your hard work
Sep 09, 2021
Lyle is a big asset to the KOA. From replacing a broken pic is tablecto keeping the area is good shape. Rustic but a place to call home
Sep 08, 2021
A very welcoming atmosphere upon arrival. Che Lin was helpful, efficient. Space was little close to the neighbors. It was a very clean campground. A bit noisy from agricultural pump in the neighborhood. Not much campground can do about it. Overal a great stay.
Sep 08, 2021
Very clean bathroom and friendly staff
Sep 07, 2021
We had a great stay. Love the amenities like pool, laundry, wi-fi. There was a great sitting area in back of the building to hang out, very nice.
Sep 07, 2021
Very friendly. Loved the morning waffles! Clean, quiet campground.
Sep 07, 2021
Toilets were messy and old. Location was good.
Sep 07, 2021
Very clean facilities. Friendly staff and very accommodating. Have great free waffles and coffee for breakfast. Have a great lunch and dinner menu.
Sep 12, 2021
Great location, away from the road, the free waffle were fantastic
- Tony Adams on Google
Sep 19, 2021
Adequate or a bit more. 3.5 stars would be more accurate --a B-
- Tim Connor on Google