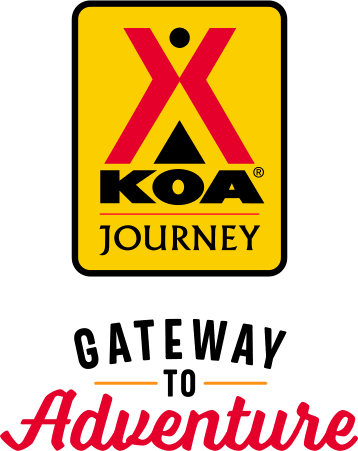 KOA Journey Campgrounds
KOA Journey campgrounds are the perfect oases after a day on the road. Whether it's along the way or a quick getaway, they've got you covered. Located near the highways and byways of North America with long Pull-thru RV Sites, they deliver convenience to the traveling camper. Pull in, ease back and take a load off.
KOA Journeys Feature:
Pull-through RV Sites with 50-amp service
Premium Tent Sites
Well lit after hours check-in service
Directions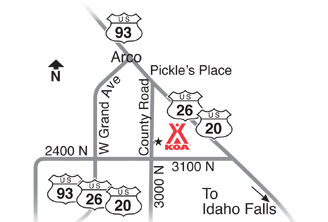 Located off Hwy 20/26 in Arco. Turn south at Pickle's Place restaurant onto CR 3000 W. (Pickle's Place located east edge of Arco.) KOA 1/2 mile. GPS: N43.62683, W113.29560
Get Google Directions
Jun 10, 2021
Wonderful staff and amenities
Jun 10, 2021
Very nice and clean KOA. Our dog loved the dog park. Nice pool and they an ice cream social in the evening & free waffles & coffee. Also close to Craters of the Moon National Park. Definitely a must see.
Jun 10, 2021
Excellent team, great service, clean bathrooms, and some great events every day.
Jun 09, 2021
Very friendly staff, nice, spacious sites and an overall clean and quiet campground.
Jun 08, 2021
The town didn't have anything. The koa is great for a stop thru
Jun 08, 2021
The staff was so great. We will definitely go back!
Jun 07, 2021
Very accommodating and the people were all very friendly. The bathrooms were very clean.
Jun 07, 2021
Fantastic location to visit Craters of the Moon National Monument. Great conversations with KOA staff!
Jun 07, 2021
The staff were very friendly and helpful. The biggest thing, Please let tent campers know that the electric box on the tent sites with hookups only take the TV plug. It's frustrating to pay for electric and water you can't use.
Jun 07, 2021
Really Enjoy this quiet and peaceful place
Jun 06, 2021
Nice park, easy in and out.
Jun 06, 2021
We just stayed the one night but it was a very clean and quiet place and easy access! Wonderful people!
Jun 06, 2021
Excellent staff, warm and friendly, helpful. Ice cream social, wine tasting, free waffles at 9am. Shady spots, clean restrooms, toilets and showers separate.
Jun 05, 2021
Friendly knowledgeable staff.
Jun 05, 2021
The facilities, food, service, and people are truly outstanding. Don't miss this place.
Jun 04, 2021
Clean. Nice spots. Easy check-in. No complaints.
Jun 03, 2021
Great park. Quite,no long list of rules,just a pleasant place to stay
Jun 03, 2021
Nice, friendly staff. Many activities to enjoy at the campground and in the surrounding area. Clean campground with convenient RV hook ups.
Jun 03, 2021
The staff were absolutely wonderful. Kind and courteous. All amenities exceeded expectations.
Jun 03, 2021
We had a little problem with the propane but they came right away to check the level. We loved staying in the RV it was our first time, we have already booked next year. staff is friendly and very helpful. it was a very relaxing week. can't wait to go back. thank you for a great stay.
Jun 03, 2021
A sprinkler had been used on our site before we got there so the area around the fire pit was muddy. The sites near us were dry but we had already set up by the time we noticed. We shouldn't have been put in that site.
Jun 03, 2021
Very friendly staff, nice little park, clean & well taken care of. Pool being open was nice!
Jun 03, 2021
Nice campground with spacious lots. Pool and laundry were nice and clean as well as the bathrooms and showers. I would definitely stay here again.
Jun 02, 2021
The staff was very friendly. The facilities and campground was very clean. The pool was also clean and warm.
Jun 01, 2021
Nice cabin that kept us warm during cold nights. K1 has picnic table behind the cabin which was in convenient. Beside would be better. Sadly our tallest guest wearing a hoodie missed seeing th corner of the eaves and it smacked him right between the eyes. Shocking and painful. Shower temps were inconsistent. Otherwise restrooms clean, good to have laundry and dog play area.
Jun 01, 2021
The waffles were awsome so was the ice cream social friendly camp ground
Jun 01, 2021
Fellow members were super friendly, staff very friendly and accomadating. Lots of fun activities for adults and kids. Gift shop had lots of selection and great prices. Wine tasting was awesome and very friendly.
Jun 01, 2021
We love this campground. Waffles, ice cream cream, and swimming.
Jun 01, 2021
The staff were all very friendly and all of the amenities were very clean. The entire campgrounds is extremely will maintained as well. We would absolutely recommend this location and definitely plan on returning in the future. :)
May 31, 2021
Our site was very narrow , but the staff were really friendly and the wine tasting party was a blast. If you are visiting Craters, this is a good place to stay.
May 31, 2021
Friendly staff, hot water! And plenty of space. Some confusion in where our slot was difficult to find
May 31, 2021
The staff was VERY accommodating, kind and fun! Teddy went out of his way to make it possible for our friends to stay by us. Lyle was super fun at the wine tasting and worked very hard to get the pool open and running in time for Memorial Day weekend! First time at a KOA and we were very pleased! Great job to all the staff!
May 31, 2021
Bathrooms were clean but the shower water did not get very warm, Very friendly staff, waffles and coffee in the morning was wonderful. Very friendly staff, waffles and coffee in the morning was wonderful, Easy walk to local restaurant.
May 30, 2021
Great Campground Friendly people
May 30, 2021
The staff is amazing, they were all very nice and very helpful! The site was long no fit our 43 ft fifth wheel but getting out of the park was a whole other ball game. There's 2 quick tight turns one where you make a right then a left right after, that's not easy when you over 60 ft long, swiped the tree on the top of the RV on the way out. Just wish they put us in an easier site to get out of
May 30, 2021
Used it as our Basecamp for craters of the moon NP. Visiting Clean, friendly. Enjoyed the ice cream social. Arco has a great history.
May 29, 2021
We arrived and chose not to stay. The campground itself looked fine, the neighborhood and surrounding area was appalling. We felt unsafe and moved on.