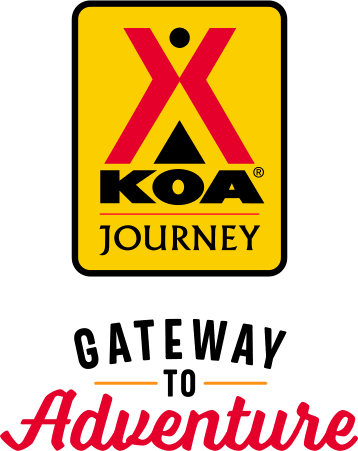 KOA Journey Campgrounds
KOA Journey campgrounds are the perfect oases after a day on the road. Whether it's along the way or a quick getaway, they've got you covered. Located near the highways and byways of North America with long Pull-thru RV Sites, they deliver convenience to the traveling camper. Pull in, ease back and take a load off.
KOA Journeys Feature:
Pull-through RV Sites with 50-amp service
Premium Tent Sites
Well lit after hours check-in service
Jun 30, 2021
Very good time at this Koa good location helpful friendly staff.
Jun 29, 2021
One night stay. Staff was very organized and friendly, and super helpful. There were many people checking in, and they all remained friendly and professional. Very pleasant stay. The grounds were clean and well-cared-for. I would love to come back and stay longer.
Jun 29, 2021
Enjoyed the pool and the people. Clean and staff helpful.
Jun 27, 2021
The folks in the office were friendly and helpful. The bathrooms however were dreadful. We had to wait in line to get in to the bathrooms, and once in were unpleasantly surprised to find that they had no toilet paper. This happened both mornings of our stay. A KOA of this size clearly needs more than a two-stall (men's) bathroom. If you stay here - bring your own bathroom!
Jun 25, 2021
We had a great time. Staff was very friendly. The kids loved the pool!
Jun 24, 2021
Very clean! Love the camper kitchen.
Jun 18, 2021
The facilities were nice and staff was very friendly and accomodating.
Jun 18, 2021
Staff were very friendly and the grassy area for the tents was nice. It was very hot during our stay and not a lot of shade. Otherwise it was very pleasent �
Jun 14, 2021
Cool in the morning Hot in the day Cool at night Really enjoyed the rodeo
Jun 13, 2021
My first KOA stay and I loved it. Friendly people and nice, quiet nature and views.
Jun 12, 2021
Beautiful site and location for sightseeing in the area.
Jun 10, 2021
Loved the primitive sites.
Jun 07, 2021
We got in late so didn't get to spend much time at the kampground. Good location near the park and nice employees.
Jun 06, 2021
Amazing place clean and Wonderful sunsets & sunrise great place to walk and relax
Jun 06, 2021
We came with friends and had a great stay. Lots of open space to play for both the kids and our dogs. We will definitely be back!
Jun 01, 2021
Clean and convenient campground with friendly staff.
May 31, 2021
Camping made easy
May 29, 2021
Great experience with a kind staff and clean facilities.
May 15, 2021
There is zero division between sites, lots of road noise . Really need something to add privacy
May 12, 2021
Clean, quiet campground. Friendly and helpful staff.
May 10, 2021
It was a very nice place and the staff there were very friendly and helpful. Thank you!
May 03, 2021
Loved being able to pull in late and find 2 unreserved tent sites available. This was so helpful.
May 03, 2021
Stayed primitive camping area. No running water per post that was for that area. It didn't work. No fire ring either.
Apr 26, 2021
I don't usually camp in campgrounds, but I couldn't find dispersed camping and ended up here. I got a really quiet primitive spot with beautiful views, and everyone there was exceptionally friendly! Though quite large, this campground was very quiet and ended up being a great place to stay for a mighty!
Apr 24, 2021
pulled up to camp out and charged us $20 to park out motorcycles and trailer way in the side the camping spot had plenty of room to back our rather small motorcycle trailer and my truck
Apr 21, 2021
We were most thankful that other tent sites with dogs were scheduled away from us. The spacing was very nice. Bathrooms were great on the women's side. The men's showers looked like someone had trimmed all the hair in their body and rubbed it all over the walls and floor. Bathrooms should be cleaned more regularly.
Oct 16, 2020
This location was my husband's favorite KOA stay of our trip to AZ, UT, and CO. It's secluded from the highway and quiet. The grounds are immaculate and the fall trees in the distance were beautiful! The staff was very friendly and helpful. We will recommend this location to all our friends and family!
Oct 13, 2020
The woman at the front desk could have been friendlier. She apparently was done for the day (it wasn't even 4pm) and ready to go; abrupt, agitated. On top of that I found upon my arrival home that I was charged for two nights instead of the one that I had stayed. Have a call into the office now.
CAMPGROUND RESPONSE / COMMENTS:
Thanks for contacting us. When purchasing a KOA Value Kard during the reservation it's easy to forget that it's not a double charge for a site. We're happy we were able to help you get things straightened out. We look forward to seeing you again next season.
Oct 13, 2020
Staff was very friendly and helpful. The close access to trails and dog park was amazing.
CAMPGROUND RESPONSE / COMMENTS:
Thank you. We're happy to hear that you and you're fur baby enjoyed our park and trails.
Oct 12, 2020
Well maintained camp sites, bathrooms, showers, laundry, and dish washing facilities.
Oct 05, 2020
You guys messed up my reservation and then wouldn't give me my money back for the day I lost. The lady I checked in with was super rude too. And the showers being gross weren't a bonus
CAMPGROUND RESPONSE / COMMENTS:
Thanks for your feedback. We strive to make every person's experience a great one. We've reviewed your reservation and you booked it online with no change requests. We wish you would have come in on any one of your days with us and shared your frustration and allowed us to help you make it right.
Sep 29, 2020
It was pretty quiet, very restful! Having the grass patch that people used for dog walking right behind our tent was a bit weird but was ok. Nice facilities- clean! Will be nice once the trees grow and fill in around the tent area a bit more.
Sep 17, 2020
Very nice friendly helpful staff. Very clean and beautiful setting. Gravel tent pad not as comfy as a small shredded mulch.
Sep 08, 2020
The requirement to set up tents on the gravel pad is difficult. My tent stakes all bent while trying to stake my tent through the gravel pad, which is very hard-surfaced.
CAMPGROUND RESPONSE / COMMENTS:
It sounds like you may have pitched your tent in the gravel for parking and not in the pea gravel for the tents. We wish you would have come in to talk with us, we would love the opportunity to help make your stay more comfortable. Next time, please let us know while you're on site.
Aug 31, 2020
This was our last stop before we were heading home good hot showers great people clean all around
CAMPGROUND RESPONSE / COMMENTS:
We're so glad you enjoyed your stay with us Stan. See you the next time around.
Oct 05, 2021
This campground is very nice, with tons of lovely, level sites. It is convenient to Mesa Verde and Canyon of the Ancients, as well as town with lots of food options. The staff was friendly and helpful. There is Denny Lake within walking distance, and fabulous sunsets.
- tawny1956 on Trip Advisor
Oct 04, 2021
Beautiful clean park. Nice friendly staff! And the 3 acre dog park right there is awesome!!
- tina coleman on Google
Oct 02, 2021
Except for the swimming pool closure for 90 degree week it was a great time being there. Being so close to Mesa Verde was a plus. We think very highly of the staff who are very knowledgeable. The bathroom shower are very clean with room to hang clothes away from water and a seat for putting on clothes Lovely mountain views and quiet!
- SantaFeDiva on Trip Advisor