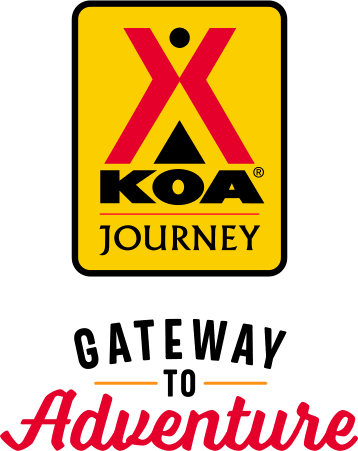 KOA Journey Campgrounds
KOA Journey campgrounds are the perfect oases after a day on the road. Whether it's along the way or a quick getaway, they've got you covered. Located near the highways and byways of North America with long Pull-thru RV Sites, they deliver convenience to the traveling camper. Pull in, ease back and take a load off.
KOA Journeys Feature:
Pull-through RV Sites with 50-amp service
Premium Tent Sites
Well lit after hours check-in service
Oct 11, 2021
KoA never disappoints. Thank you to all the staff!
Oct 09, 2021
This was only our 2nd stay at a KOA. Even with it being the end of their season, our lot and the bathrooms were clean, and the staff was friendly and helpful. Thank you!
Oct 01, 2021
Very nice staff. Well maintained and clean bathrooms, laudry facitities and grounds
Sep 30, 2021
The service was very friendly and the facilities were clean. I liked the layout of the tent sites. They were clearly marked and had good access to electric and water.
Sep 28, 2021
We had reserved a spot in the "primitive tent camping area". Although the host originally thought we may not want to be there (no lights, bathrooms, etc.), we were very, very pleased to be able to drive our van down there and camp in the quiet area, with great views of the Mesa. Each evening a woman host came down to see how we were doing. She was very friendly and welcoming. We'll be back!
Sep 27, 2021
I think you should mention in your description of the non-water/electric tent sites how far they are from restrooms. That's really the big issue with these sites. Or, build a restroom, not necessarily showers, down at those sites.
Sep 27, 2021
We really enjoyed our stay bomb fire was great staff was very welcoming hamburgers hot dogs and breakfast was a great outdoor get together for my family definitely will consider going back on this camp we used our tents air beds the restroom were clean shower water was hot great for cold nite overall thanks Colorado for having us we enjoyed the four corners monument the camp site added good time
Sep 21, 2021
It was nice. Everything was clean. The staff was friendly.
Sep 21, 2021
Had a great stay. Thank you
Sep 21, 2021
Very pleasant. Office Hosts were all very helpful and fun. Hope the trees grow back for a bit more shade.
Sep 15, 2021
Had a wonderful time, the staff was very helpful and location was perfect.
Sep 12, 2021
Tent sites a little close to each other on crowded days,. Staff was friendly and whole place was very clean. Not many trees.
Sep 06, 2021
Great campground. Great facilities. Great internet Great people. We love it
Sep 01, 2021
Great people. We had fun in the pool after a hot day too
Aug 31, 2021
Our stay was very short. However, the staff was welcoming, the grounds were neat and clean.
Aug 28, 2021
Clean facilities. Friendly staff members. Would definitely come back again.
Aug 22, 2021
The staff helped me make my online meeting easy, so I could enjoy myself during the rest of my camping experience. I felt welcomed and comfortable while at my stay.
Aug 18, 2021
Great location, great staff! Bathrooms were clean and they had a great outdoor sink area to wash dishes. My only complaint would be that there wasn't really a good place to cook. The grill part of the fire pit was to far above to effectively cook.
Aug 17, 2021
Nearly perfect...
Aug 13, 2021
This is our second stay at this KOA. It is wonderful and very close to amenities and the national park. Tent sites are well set up and we enjoyed our stay. Getting a good nights sleep was an added bonus.
Aug 10, 2021
Late check in and hosts completely accommodating!
Aug 06, 2021
The staff were very hospitable and extremely helpful. They made my stay worthwhile.
Aug 03, 2021
Campground is very clean and staff is very friendly.
Aug 02, 2021
The location was great, clean and staff very friendly!
Jul 30, 2021
Beautiful property, friendly staff, great accomodations. We highly reccommend and will stay here again. Thank you
Jul 30, 2021
Very clean and very friendly staff
Jul 26, 2021
My first time staying at a KOA. The staff were very welcoming and pleasant. My only complaint was that when I made a reservation for 6 people, I was not told at that time that I could only put up 3 tents. When we were setting up tents, we were allowed only 3 tents, which was disappointing, because we were siblings traveling together and everyone had their own.
Jul 24, 2021
I didn't need water or electric but that didn't mean I wanted to be put out in the boondocks. A hike up hill to the bathrooms no lights no actually spots. I got in after hours and had no other choice but to stay. I have been to many other KOAs and was still in the vicinity of a bathroom in a nice area. The rest of the camp looked very nice. This was just overly disappointing.
Jul 20, 2021
As always, really enjoyed my stay here. Tent sites are spacious so you don't feel like you're right in top of each other. Pool feels great, just wish they were able to keep it open a little later. The gift store has a great selection of items as well the well known forgotten items. Seems like pre-covid they had a breakfast. If so, I hope that comes back too.
Jul 18, 2021
Friendly staff, clean facility, nice pool. Love that we had access to TWO dog parks and a dog run. We will definitely be back!!
Jul 17, 2021
Very pretty and nicely kept up.
Jul 17, 2021
Glad this was our first KOA experience. Check in was easy. Someone escorted us to site. It was level with nice pea gravel. Restrooms were clean and plentiful. Laundry was clean and dryers worked great. Only one cycle was needed. Seating area outside was comfortable while I waited. Very kid friendly. Road was close by, but really didn't hear it. Nice view. Close to Mesa Verde and the local Walmar
Jul 16, 2021
We were very happy with our stay at the KOA Journey in Cortez. The grounds were nice, the bathrooms were very clean and having a laundry faucility helped make it a great stay. The saff were all very nice and helpful.
Jul 15, 2021
One night stay in a tent. Clean and friendly. That's all I need. Thanx!
Jul 15, 2021
Very nice and helpful employees. Clean bathroom, showers, and pool. Would stay here again.
Jul 14, 2021
Wonderful friendly staff, and very well taken care of grounds. Hope to be back soon!
Jul 13, 2021
Clean facilities with lots of amenities. Staff was also nice and helpful.
Jul 08, 2021
I tent camped in a beautiful area dedicated to tent campers. I liked this because the area was setup in a nice oval with ease of access and a nice grassy area in the center. You didn't feel like an orphan. There was a beautiful view nearby. Overall I rate it very high.
Jul 06, 2021
Honestly not a good experience. The primitive camping was not light on the pathway (we checked in late) and what appeared to be squatter(s) down there at the base. The second location in the facility was better. Facilities were very compact but there were two. There was a nice pool.
Jul 05, 2021
This was by far our favorite stay of our trip. We stayed at KOA in Grants and Sante Fe New Mexico and then this location in Cortez Colorado. The staff was knowledgeable and kind. The views from our tent site were amazing. Clean facility and updated. I really enjoyed the vibe all around of this place. I would defiantly stay at this location if I was in the area.
Jul 02, 2021
Very nice KOA! The staff were super nice. Large grass tent site, clean bathrooms and laundry room. Large pool. Good location. Highly recommend!
Oct 05, 2021
This campground is very nice, with tons of lovely, level sites. It is convenient to Mesa Verde and Canyon of the Ancients, as well as town with lots of food options. The staff was friendly and helpful. There is Denny Lake within walking distance, and fabulous sunsets.
- tawny1956 on Trip Advisor
Oct 04, 2021
Beautiful clean park. Nice friendly staff! And the 3 acre dog park right there is awesome!!
- tina coleman on Google
Oct 02, 2021
Except for the swimming pool closure for 90 degree week it was a great time being there. Being so close to Mesa Verde was a plus. We think very highly of the staff who are very knowledgeable. The bathroom shower are very clean with room to hang clothes away from water and a seat for putting on clothes Lovely mountain views and quiet!
- SantaFeDiva on Trip Advisor