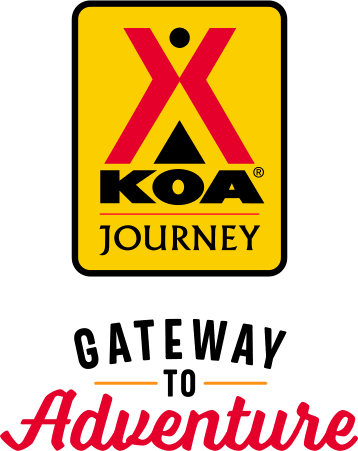 KOA Journey Campgrounds
KOA Journey campgrounds are the perfect oases after a day on the road. Whether it's along the way or a quick getaway, they've got you covered. Located near the highways and byways of North America with long Pull-thru RV Sites, they deliver convenience to the traveling camper. Pull in, ease back and take a load off.
KOA Journeys Feature:
Pull-through RV Sites with 50-amp service
Premium Tent Sites
Well lit after hours check-in service
Sep 13, 2021
Arrived late and all documents we're waiting for us. The wifi code supplied did not work. Clean campground. Was a last minute booking and staff was helpful.
Sep 12, 2021
Nice location friendly staff. Little disappointed pool was closed as Temps in the 90s.
Sep 11, 2021
Great staff , easy hook ups and leveling. A really nice place with a great pool!
Sep 11, 2021
We were pleasantly pleased with how all the care, cleanliness and easy it was to camp here. A 1 day stay became 3 day stay for their ease and clean amenities.
Sep 10, 2021
We saw young foxes from our campsite!!
Sep 09, 2021
Exactly what we needed for our stay!
Sep 08, 2021
Staff are great! Service is awesome! And the park is the nicest KOA WE HAVE EVER STAYED IN
Sep 08, 2021
loved loved loved!! this campground. Incredibly Clean, well keep, nice sized spaces, even for larger TT etc. Staff weas wonderfully friendly and very helpful. This was a wonderful campsite. Highly recommend it!
Sep 08, 2021
Friendly personnel, comfortable sites, nice location next to a small lake with walking trail.
Sep 08, 2021
The campground is clean, and looks well maintained. The staff is very friendly and helpful
Sep 08, 2021
Had the slide of the person next to me about 8 inches from my trailer the first night. I would not have been able to walk between the two.units. Picnic table & fire pit with your neighbors. Might as well slide them together. No privacy,. Should not put a person w/dog next to non-dog people. Just saying. Could not get Wi-Fi at anytime! That was reported to the office next day. To much $ for space
Sep 08, 2021
Just one night, but very organized and great lead to spot
Sep 08, 2021
So impressed. Clean and friendly. The employees work darn hard and still have time to answer questions and always with a smile. I would definitely come back to Cortez KOA.
Sep 08, 2021
We spent 2 nts at the Cortez/Mesa Verde KOA while spending our days touring the Nat'l Park. The staff was so friendly and helpful, our site w/a lovely view was very clean as was the entire park. The pool was sparkling clean and a nice amenity. One of the nicest campgrounds we've stayed in on this trip. We'll stay here again! Thank you!
Sep 07, 2021
Family stayed for three days and all the staff make sure we had everything we needed,so friendly drive by and all ways wave and call us by name.Great place definitely will stop again if I am in that part of the state
Sep 07, 2021
Excellent, friendly staff. Clean campground.
Sep 06, 2021
Clean, Staff accommodated.
Sep 06, 2021
Quick and friendly welcome when we arrived. Bath and showers clean and in good condition. Hook ups were in good condition. Sites were level.
Sep 06, 2021
The campsite had a very happy vibe. The space between camping spots was very good.
Sep 05, 2021
The campground was very clean and well organized. The staff is extremely helpful and friendly.
Sep 04, 2021
Very friendly and a nice campground! Enjoyed stay
Sep 02, 2021
Beautiful campground just outside of town with a great view. Less than 10 minutes to Mesa Verde. Nice clean bathrooms. Pool was pristine.
Sep 02, 2021
Helpful, friendly staff!
Sep 02, 2021
Nice sites, quiet and friendly staff.
Sep 01, 2021
Nice location. Good views. Spaces are a little close to each other.
Aug 31, 2021
Great location, close to many attractions in that area. People were friendly and helpful.
Aug 31, 2021
I would've rated it a 5 but the alternating sites were not very private...our door was facing their door with no divider in between. And the picnic tables were almost on top of each other. We all have dogs and to be that close was uncomfortable. We've stayed in alot of KOA's and this one I would not go back to because of that. People were friendly, very clean, beautiful scenery too bad!
Aug 31, 2021
Great dog Park next door. Staff friendly and professionnel. Clean and well kept park.
Aug 30, 2021
Great staff. Great location with wonderful views. Bathroom clean. Only drawback is very spotty WiFi. Not something I care hugely about but many do.
Aug 30, 2021
Fantastic!!!! The minute we drove up and Marc showed us our sight, he was friendly, helpful, and he talked to us like we were friends forever. Diane turned out to be my best walking buddy ever. Tiff helped us find a vet for our dog. The whole time we were there, they were just amazing to us. Diane and I walked every day, every time Marc or Tiff would come by on the carts and say hi. Great, great
Aug 30, 2021
Friendly and knowledgeable staff greeted us and took us to our site. Very well maintained grounds and beautiful pool and extra areas for the dogs. A top notch KOA experience!
Aug 29, 2021
It was great. Staff were pleasant. Good and relaxing couple of days.
Aug 28, 2021
Everything went fine. Only stayed for 3 nights so didn't use any of the facilities but would stay again.
Aug 28, 2021
Very nice park. The staff was wonderful. We'll stay here again.
Sep 09, 2021
Another great KOA stay! 3 acre dog run! Totally epic customer service... Fishing everywhere! Myst stay... In my opinion...
- Brent Temple on Google
Sep 08, 2021
Super clean! Very nice staff and easy access to lots. Highly recommend.
- grace osborne on Google
Sep 04, 2021
Staff is very friendly. The campground is clean and well kept. The KOA is only 8 miles from the Mesa Verde National Park entrance.
- Chris Knight on Google