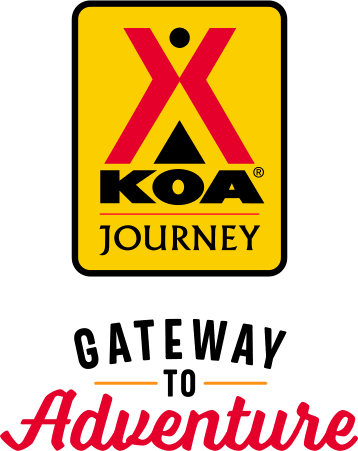 KOA Journey Campgrounds
KOA Journey campgrounds are the perfect oases after a day on the road. Whether it's along the way or a quick getaway, they've got you covered. Located near the highways and byways of North America with long Pull-thru RV Sites, they deliver convenience to the traveling camper. Pull in, ease back and take a load off.
KOA Journeys Feature:
Pull-through RV Sites with 50-amp service
Premium Tent Sites
Well lit after hours check-in service
Oct 18, 2021
Cabin was clean, staff was friendly. "Heated pool" was not as heated as expected and was small. Beautiful views from our cabin a +
Oct 11, 2021
We stayed overnight in a couples cabin with spectacular views, privacy and security. All the wonders of the four corners region are within a short drive. Enjoyed our stay.
Oct 04, 2021
We stayed in the couples cabin. The place is very clean and the bathrooms were also. That is very important to me. The people who work there were extra friendly.
Oct 03, 2021
When I first arrived I felt offended vs welcomed, being asked where my window pass was when I was about to get out of my car to go register. But overall it was a very well kept campground. And our cabin was nice and clean.
Oct 01, 2021
Perfect stay from start to finish. Stephanie checked us in and it was an easy and informative process. The cabin was clean, actually the whole campground was spotless! Will definitely stay again!
Sep 28, 2021
We stayed in one of the quaint yet amazingly accommodated cabins! The staff were friendly and very helpful, the views were amazing and the facilities well-kept. Extra bonuses for a sweet firepit, wifi, a stocked general store, and fresh laundry room! Can't wait to come and stay again. Perfect location for those looking to explore the Canyon of the Ancients and towns around Cortez as well.
Sep 27, 2021
Everyone was so friend and made us feel so welcomed. Not only the owners but, the whole staff! The cabin was perfect!! It was peaceful! What a beautiful area.
Sep 27, 2021
This place was awesome! The staff were so friendly and helpful, even escorted us to our cabin. Gals at the front desk were top notch! The campground was SUPER clean, quiet and I felt safe. Definitely would recommend.
Sep 26, 2021
The WIFi did not work well unless one was in the "gathering room". You need more band width or something to meet the demand of all your "campers". Also you need cable TV. The over the air TV did not work well in some RVs. The bathrooms were nice and clean. The staff was friendly.
Sep 24, 2021
This is one of the nicer campgrounds I have ever stayed in. The view was beautiful. The facility was well maintained. The cabins had heat and AC and power. It was like a comfy hotel room only with beautiful stars and lovely quiet. It was perfect.
Sep 23, 2021
The cabin was clean and we'll furnished with lights, a heater and a/c, plus the tv which was unexpected. The bathrooms were also clean and well kept.
Sep 20, 2021
friendly staff, clean cabins, tepees were great too
Sep 20, 2021
Beautiful setting! Woke to a sunrise over a spectacular view of the mesas, and we took a walk around the lake, so serene and lovely. The facility was super clean and comfortable.
Sep 19, 2021
The staff were excellent. Cabin was just fine, bathrooms were clean and grounds well kept
Sep 06, 2021
Friendly staff. Clean cabin, grounds and restrooms.
Sep 04, 2021
Beautiful view, clean campground, and wonderful set up. Easy and friendly service at check in! Thanks!
Aug 31, 2021
Very friendly staff, view from cabin was beautiful, bathrooms were clean, and well cared for property. Internet actually worked at our cabin - unusual for a KOA.
Aug 28, 2021
The Vernal UT is still the best we've been to, but this one is a very close second! Beautiful area, great view of the mesa from the Kabin. Friendly helpful staff and clean facilities. Thanks!
Aug 25, 2021
We stayed for three nights in a cabin we had a great time! The pool was great, the employees were very friendly, the bathroom and showers were clean and it was very close to Mesa Verde.
Aug 25, 2021
The text message system was great!
Aug 25, 2021
This was our favorite KOA out of the three we stayed at on our trip. We were surprised to find bottled water, AC, AND a mini fridge in our cabin when we arrived. The campground was beautiful.
Aug 25, 2021
It served as an overnight stay for us on our journey to the Four Corners Monument. We arrived late, but KOA was glad to accommodate us. Cabin was just as advertised, clean and comfortable. Would absolutely stay here again. We rated it a 4 instead of 5 only because we didn't get to try out the other amenities. We just used the cabin and bathroom.
Aug 22, 2021
We stayed 2 days in a cabin, the campgrounds are nicely laid out, cabins are clean and common areas are kept very clean, great pace to stay!
Aug 22, 2021
Pool was very brisk, not heated but I really enjoyed. Very clean. Pool opening at 10am made for stressful checkout being at 11. Non coffee drinkers wait until 0900 for access to microwave to heat up water. Double set of bathrooms means no waiting and they are super clean. Just love the details. Even the stall doors open out, instead of forcing user to climb to exit. Sanitizing lady does A+ work!
Aug 19, 2021
IT WAS GREAT WILL DO IT AGAIN ////
Aug 16, 2021
Great hospitality and clean cabins. We will definitely be back.
Aug 14, 2021
The cabin was super comfortable and the view was amazing. The hosts were super helpful and nice. We only stayed one night but will be back again!
Aug 07, 2021
This is the first time I rented a cabin, and I really liked it! It had a porch swing. It required me to bring my own bedding, which was no big deal. It was comfortable. It had air conditioning, and a ceiling fan, and lights, and electrical outlets. Oh, and by the way, a million dollar view of the mountain range where Mesa Verde park is! Very good experience. Restroom and showers were very clean.
Aug 06, 2021
Spent 3 nights in Cortez/Montezuma KOA and it was a pure blessing. Place is clean, staff is very nice, and the pool was awesome!
Aug 05, 2021
Loved it! The evening staff were especially friendly & empathetic to helping me find a cabin that suited my needs (sensitivity to EMF due to mold illness recovery.) They didn't blink at my quirks which really put me at ease. T especially always had great energy & enthusiasm. My only neg point is that office staff were not happy that I parked in the shade on my way out to take a 10 min
Aug 04, 2021
Nice campground, and nice camp store. Cabin was great! Nice bathrooms and laundromat as well! Pool was pretty awesome too�ϸ!
Aug 02, 2021
Friendly and helpful staff, nice facility.
Aug 01, 2021
Great teepee! Very comfortable
Jul 31, 2021
We love this KOA! It was extremely clean, they have very friendly staff, & the view is amazing! We will be staying here again!!!
Jul 29, 2021
Very quiet, clean and Cozy! Cabins were awesome.
Jul 28, 2021
The cabin was clean and inviting. Our family felt welcomed and thoroughly enjoyed our stay.
Oct 05, 2021
This campground is very nice, with tons of lovely, level sites. It is convenient to Mesa Verde and Canyon of the Ancients, as well as town with lots of food options. The staff was friendly and helpful. There is Denny Lake within walking distance, and fabulous sunsets.
- tawny1956 on Trip Advisor
Oct 04, 2021
Beautiful clean park. Nice friendly staff! And the 3 acre dog park right there is awesome!!
- tina coleman on Google
Oct 02, 2021
Except for the swimming pool closure for 90 degree week it was a great time being there. Being so close to Mesa Verde was a plus. We think very highly of the staff who are very knowledgeable. The bathroom shower are very clean with room to hang clothes away from water and a seat for putting on clothes Lovely mountain views and quiet!
- SantaFeDiva on Trip Advisor