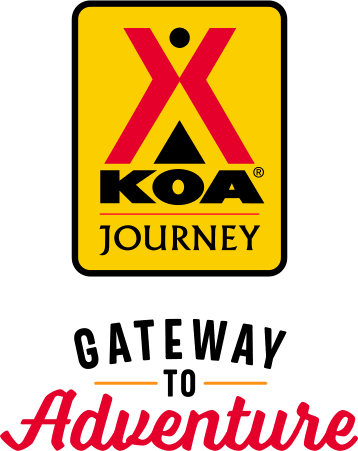 KOA Journey Campgrounds
KOA Journey campgrounds are the perfect oases after a day on the road. Whether it's along the way or a quick getaway, they've got you covered. Located near the highways and byways of North America with long Pull-thru RV Sites, they deliver convenience to the traveling camper. Pull in, ease back and take a load off.
KOA Journeys Feature:
Pull-through RV Sites with 50-amp service
Premium Tent Sites
Well lit after hours check-in service
Jul 07, 2021
Was great wonderful people
Jul 06, 2021
Bathrooms needed to be cleaned Dumpster over flowed Our grill had left over charcoal in it Store hours bad People leave and might need ice before 9 On web site said 8:00 closed people come in need ice
Jul 06, 2021
Very nice park but really dusty. Plenty of room between spaces and easy in and easy out roadways.
Jul 06, 2021
clean koa and close to places we were going
Jul 06, 2021
Beautiful views & friendly staff & campers.
Jul 06, 2021
Excellent !!
Jul 06, 2021
Honestly not a good experience. The primitive camping was not light on the pathway (we checked in late) and what appeared to be squatter(s) down there at the base. The second location in the facility was better. Facilities were very compact but there were two. There was a nice pool.
Jul 06, 2021
Lovely park. Cabin was great! Very clean. Bathrooms immaculate. We'll be back. Thank you.
Jul 05, 2021
We had a site that would not allow us to open our slide, they were so gracious and kind, they got us another site. The shower and bathrooms are clean and modern... great KOA.
Jul 05, 2021
This was by far our favorite stay of our trip. We stayed at KOA in Grants and Sante Fe New Mexico and then this location in Cortez Colorado. The staff was knowledgeable and kind. The views from our tent site were amazing. Clean facility and updated. I really enjoyed the vibe all around of this place. I would defiantly stay at this location if I was in the area.
Jul 04, 2021
The Koa is perfectly located close to Mesa Verde, which is just a 10 min drive down the road. Check-in was easy and Tiffany escorted us to our RV site. Tiffany made sure we were settled and hookups were working. She shared important information about pool times and other bits about the camp. The site was level, clean, and all the hookups worked well. We enjoyed the pool and store was well supplied
Jul 04, 2021
We have stayed at this Cortez KOA4 times over the past several years. We have always enjoyed coming back to this KOA. We have brought our RV once and stayed in camping cabins three times. It is under new ownership now and they shut down two bathrooms. They only have one women's and one men's. The men's bathroom only has two bathroom stalls and a urinal. Not enough for all campers! Disappoint
Jul 04, 2021
Staff was terrific, and the kids really enjoyed the pool.
Jul 04, 2021
Great place and close to the National Park. Friendly staff and very clean restrooms.
Jul 03, 2021
This location is wonderful. Great views, super clean, very friendly staff. Pool was clean and warm. Trail around the lake adjacent to the park is great for running or walking. Best of the 3 KOAs we stayed at this trip.
Jul 03, 2021
It was just an overnight stay. We had stayed there before and enjoyed our stay. It's a nice clean campground with plenty of room at your site. The staff was friendly and attentive.
Jul 03, 2021
Freindly staff, clean park, activities nice
Jul 03, 2021
Excellent service. Beautiful Park
Jul 02, 2021
Beautiful campground, amazing views of Mesa Verde with sunsets to match. Very well kept campground, clean bathrooms and laundry room, VERY friendly staff. Every time I went into the store for something to talk with them, they were kind and helpful. Our cat got out of our camper and I ran up to the office, they called out over the radio and were able to locate our cat. Great experience here!
Jul 02, 2021
Very nice KOA! The staff were super nice. Large grass tent site, clean bathrooms and laundry room. Large pool. Good location. Highly recommend!
Jul 02, 2021
Very clean and organized very friendly employees
Jul 01, 2021
Very small but tidy and neat! Managers are doing a great job!
Jul 01, 2021
Outstanding in every way!
Jun 30, 2021
I did not like our RV doors facing our next door neighbor's doors. There was absolutely no privacy if you sat outdoors. The individual sites were very small and close together. I must say that the staff was great.
Jun 30, 2021
Office staff was really good and one of the members, Tiffany, went above and beyond to help us find a mechanic/parts dealer to help fix our motorhome.
Jun 30, 2021
The staff was very friendly and the rooms were great! They have a small covered front porch on them with a wooden bench that would seat 2 comfortably and plenty of room to set up 2 more camping chairs. They also have a small air conditioner and heater in each cabin. The room comes with one full size bed & 1 bunk bed/sleeps 2. Just remember to bring your own bedding!
Jun 30, 2021
Very good time at this Koa good location helpful friendly staff.
Jun 30, 2021
The campground location has beautiful views. The staff are very nice providing excellent service. Clean, well kept facility. The basket ball court and swimming pool is perfect for family fun. I would love to camp in one of the Teepee's on site. I highly recommend this campground.
Jun 29, 2021
Very nice staff and well cared for campground. Really enjoyed our two night stay. Restrooms clean and kept up. Campground was tidy and I liked there were shade trees thru out. Beautiful views of the surrounding mountains and a nice stroll around the local lake and city park. The pool was a nice relief after a hot day. This is a KOA I plan to visit again!
Jun 29, 2021
One night stay. Staff was very organized and friendly, and super helpful. There were many people checking in, and they all remained friendly and professional. Very pleasant stay. The grounds were clean and well-cared-for. I would love to come back and stay longer.
Jun 29, 2021
We did a night going to a family reunion and a night going back home. Both nights were very good and the Kampground was wonderful. Showers were clean and well cared for and the crew was very helpful.
Jun 29, 2021
Enjoyed the pool and the people. Clean and staff helpful.
Jun 28, 2021
Overall pretty good. Staff was great. Playground needs to be upgraded. Did not see any nice deluxe sites.
Jun 28, 2021
Our cabin was super clean and the staff was super accommodating.
Jun 28, 2021
Wow. Views that don't quit, a lovely camp, and Mesa Verde to boot. This is a great camp!
Jun 28, 2021
This is a wonderful campground. The staff is so friendly and the grounds are excellently maintained. I highly recommend staying at this KOA!
Jun 28, 2021
Great location; helpful & friendly staff; beautiful views; clean bathroom facility. We stayed in a basic cabin, which was clean & air conditioned - great for an overnight. Our only regret is that Deluxe Lodging isn't available at this KOA! Conveniently located, just a short drive to the entrance into Mesa Verde National Park & Canyons of the Ancients National Monument. We'd stay at this KOA ag
Jun 28, 2021
First time ever staying at a koa and rented a sleeping cabin enjoyed our stay!! Staff were so friendly location was awesome and the views were very nice!!
Jun 28, 2021
Nice enough campground but the desk clerk was completely rigid regarding a 30 minute extension of checkout time. She let us know in no uncertain terms that there were NEVER any allowances made for ANY reason. You might want to consider their uncommonly ridged stance when booking.
Jun 27, 2021
Very well maintained campground with helpful staff and volunteers.
Jun 27, 2021
Facilities were clean and staff was very friendly!
Sep 09, 2021
Another great KOA stay! 3 acre dog run! Totally epic customer service... Fishing everywhere! Myst stay... In my opinion...
- Brent Temple on Google
Sep 08, 2021
Super clean! Very nice staff and easy access to lots. Highly recommend.
- grace osborne on Google
Sep 04, 2021
Staff is very friendly. The campground is clean and well kept. The KOA is only 8 miles from the Mesa Verde National Park entrance.
- Chris Knight on Google