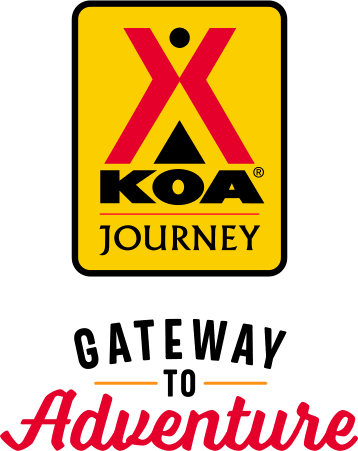 KOA Journey Campgrounds
KOA Journey campgrounds are the perfect oases after a day on the road. Whether it's along the way or a quick getaway, they've got you covered. Located near the highways and byways of North America with long Pull-thru RV Sites, they deliver convenience to the traveling camper. Pull in, ease back and take a load off.
KOA Journeys Feature:
Pull-through RV Sites with 50-amp service
Premium Tent Sites
Well lit after hours check-in service
Aug 18, 2021
Nice well maintained park. We love KOA parks.
Aug 18, 2021
Great location, great staff! Bathrooms were clean and they had a great outdoor sink area to wash dishes. My only complaint would be that there wasn't really a good place to cook. The grill part of the fire pit was to far above to effectively cook.
Aug 18, 2021
All around great campground. Awesome staff, great little store,( ice cream is gooood) showers,bath clean and functional. Sisters are close but still comfortable. A most beautiful location for sunsets and of course for Mesa Verde park.
Aug 17, 2021
No Shade at all in this campground!!!! Too much "hovering" over campers by staff.
Aug 17, 2021
Short 1 night. LIke full hookup at the campsite.
Aug 17, 2021
Nearly perfect...
Aug 16, 2021
Great hospitality and clean cabins. We will definitely be back.
Aug 16, 2021
Great stay good people
Aug 15, 2021
Very nice and professional owners. Extremely clean and laid out. We have a 4 door ram long bed and 45ft toy hauler but had no issues at all.
Aug 15, 2021
We did not make advance reservations and paid more in person than we would have online in the app. We do not have a large rv, but we couldn't back into our site without brushing against the trees on either side. The hookups were also strangely on the wrong side of the site—we hadn't run into that before. The staff were very friendly, but it wasn't our favorite stay.
Aug 14, 2021
Nice campground. Views we're great. Very dog friendly
Aug 14, 2021
The cabin was super comfortable and the view was amazing. The hosts were super helpful and nice. We only stayed one night but will be back again!
Aug 13, 2021
The Cortez/Mesa Verde KOA was a great campground. Staff was very friendly and polite.
Aug 13, 2021
Friendly and helpful staff and helped out in a a small camper crisis. Facilities are good and clean and our site was level and spacious. The WiFi, however, is the worst of any park I have ever stayed at and even cell service is poor in the area.
Aug 13, 2021
Nice staff, great location, nice pool
Aug 13, 2021
We had a very good experience at the Cortez, CO KOA. We stayed five nights and were treated very well and loved the staff. If you are in the area to see the magnificent sites it is highly recommended that you stay here.
Aug 13, 2021
This is our second stay at this KOA. It is wonderful and very close to amenities and the national park. Tent sites are well set up and we enjoyed our stay. Getting a good nights sleep was an added bonus.
Aug 12, 2021
This is one of the best, if not nicest KOAs we have stayed at. What made it special was the people who worked there. Thanks to David and Wendy for getting us checked in and set up. We will be back!
Aug 12, 2021
Nice Campground, lots of pull through sites. Refreshing pool, clean all around. Well maintained and easy access to Mesa verde.
Aug 11, 2021
We just stayed overnight on our way home! It worked out well with easy access - right off the Highway. Our space was nice for pulling in and out off. Staff was very welcoming and helpful.
Aug 11, 2021
Peaceful, quiet & well maintained. Very friendly people working. We enjoyed the pool and beautiful mountain views.
Aug 10, 2021
We came to Cortez to visit Mesa Verde. The staff at the KOA was knowledgeable, friendly and courteous. Enjoyed our stay and would recommend campground to others,
Aug 10, 2021
Late check in and hosts completely accommodating!
Aug 09, 2021
I really like this KOA. The staff was great & very friendly, the spots were roomy & level, and I heard no road noise, despite the proximity of my back-in site to I-70. It was nice to see and feel grass, too. I only had 1 night there, but will definitely return.
Aug 09, 2021
Quick overnight stay on our way home from buying a new trailer. Check in was seamless. We were led to our site which was nice and level. Great views, clean park. The only odd thing was the dumping station. It's kind of in the middle if the campgrounds. Great kampgrounds overall!
Aug 08, 2021
The Mesa Verde KOA was spotless! Our views were beautiful and all the hosts were super friendly and helpful! I loved watching the sunrise from the swing!
Aug 08, 2021
We actually ended up staying an extra night because it was just a really nice park. Quiet hours well respected, kids having fun but enough trees to enjoy the quiet. Nice shop, clean bathrooms, and the spacing of the trailers is pretty well thought out. Alternating the direction of spots is so logical so you aren't chilling at your picnic table with someone's sewage house lol.
Aug 07, 2021
Great KOA clean helpful staff and beautiful location. Thank you
Aug 07, 2021
This is the first time I rented a cabin, and I really liked it! It had a porch swing. It required me to bring my own bedding, which was no big deal. It was comfortable. It had air conditioning, and a ceiling fan, and lights, and electrical outlets. Oh, and by the way, a million dollar view of the mountain range where Mesa Verde park is! Very good experience. Restroom and showers were very clean.
Aug 06, 2021
Spent 3 nights in Cortez/Montezuma KOA and it was a pure blessing. Place is clean, staff is very nice, and the pool was awesome!
Aug 06, 2021
We enjoyed our stay. Everyone was very friendly and extremely helpful!
Aug 06, 2021
The staff were very hospitable and extremely helpful. They made my stay worthwhile.
Aug 06, 2021
It was our first time at a KOA and everyone was fantastic! Thank you!!
Aug 05, 2021
Loved it! The evening staff were especially friendly & empathetic to helping me find a cabin that suited my needs (sensitivity to EMF due to mold illness recovery.) They didn't blink at my quirks which really put me at ease. T especially always had great energy & enthusiasm. My only neg point is that office staff were not happy that I parked in the shade on my way out to take a 10 min
Aug 05, 2021
This was the best campground on our trip! Very clean and the people were very friendly. The pool was amazing. We will defenately stay there again!
Aug 04, 2021
Outstanding views and the staff and facilities are excellent!
Aug 04, 2021
Nice campground, and nice camp store. Cabin was great! Nice bathrooms and laundromat as well! Pool was pretty awesome too�ϸ!
Aug 04, 2021
Very nice and well kept campground!
Aug 03, 2021
Friendly staff, clean KOA, central to all our activities & sites
Aug 03, 2021
Great KOA - close to Mesa Verde National Park. Large pull thru sites, very pet friendly, nature walk, nice pool, cute little store, etc… We will stay here again.
Aug 03, 2021
Campground is very clean and staff is very friendly.
Oct 05, 2021
This campground is very nice, with tons of lovely, level sites. It is convenient to Mesa Verde and Canyon of the Ancients, as well as town with lots of food options. The staff was friendly and helpful. There is Denny Lake within walking distance, and fabulous sunsets.
- tawny1956 on Trip Advisor
Oct 04, 2021
Beautiful clean park. Nice friendly staff! And the 3 acre dog park right there is awesome!!
- tina coleman on Google
Oct 02, 2021
Except for the swimming pool closure for 90 degree week it was a great time being there. Being so close to Mesa Verde was a plus. We think very highly of the staff who are very knowledgeable. The bathroom shower are very clean with room to hang clothes away from water and a seat for putting on clothes Lovely mountain views and quiet!
- SantaFeDiva on Trip Advisor