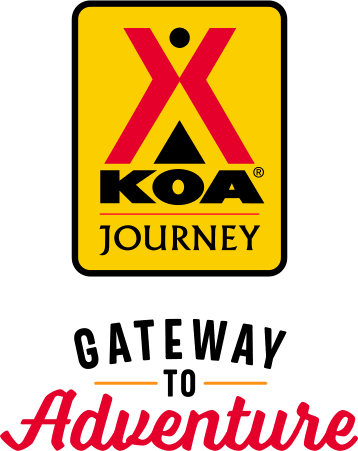 KOA Journey Campgrounds
KOA Journey campgrounds are the perfect oases after a day on the road. Whether it's along the way or a quick getaway, they've got you covered. Located near the highways and byways of North America with long Pull-thru RV Sites, they deliver convenience to the traveling camper. Pull in, ease back and take a load off.
KOA Journeys Feature:
Pull-through RV Sites with 50-amp service
Premium Tent Sites
Well lit after hours check-in service
Jul 24, 2021
Great KOA Camp ground to stay at while seeing the sites around the area. Great people and great service.
Jul 24, 2021
Clean, very friendly staff! We were packed in like sardines though. Didn't like that we were facing our neighbors front door. Our picnic tables were so close together we could have shared the salt.
Jul 24, 2021
I didn't need water or electric but that didn't mean I wanted to be put out in the boondocks. A hike up hill to the bathrooms no lights no actually spots. I got in after hours and had no other choice but to stay. I have been to many other KOAs and was still in the vicinity of a bathroom in a nice area. The rest of the camp looked very nice. This was just overly disappointing.
Jul 24, 2021
Very nice people and large sites. Easy to access.
Jul 24, 2021
Quiet and well laid out. Would have liked to stay longer, but had business in AZ to take care of.
Jul 24, 2021
Staff are very friendly and helpful �
Jul 23, 2021
Biggest problem was it was blistering HOT, staff 2as friendly and helpful
Jul 23, 2021
Stayed 2 nights. The kids enjoyed the pool. The staff was very accommodating and even delivered ice to our campsite. The swing overlooking the valley was a nice touch. The downside was the entire RV and cabin area was gravel with very little shade. The cabin was nice but we would have appreciated a small refrigerator. The RV sites are situated so that the table area is shared with your neighbor.
Jul 23, 2021
The staff is very welcoming and go the extra mile to drive you to your site and explain where things are. Everything is well kept and clean.
Jul 23, 2021
The location was all rocks (not just where RV is parked) & the spaces are on top of each other. As a NYer, it's hard for me to be too close for comfort, but our slide out was only 18" from the neighbor's once they arrived.
Jul 22, 2021
We had an end spot with a beautiful view of Sleeping Ute Mt. Best dog park EVER! This KOA is adjacent to a three acre park. Grass and natural vegetation. Molly says. Woof-Woof (thank you in dog talk).
Jul 22, 2021
Nice place with helpful staff. The setting is beautiful.
Jul 21, 2021
We loved our site, there was plenty of room and a nice shade tree. It was very convenient to the national park. The facilities were clean and functional. We highly recommend this park.
Jul 21, 2021
Friendly staff. Quiet campground. Pet friendly. Overall, a pleasant stay. Close to national park.
Jul 21, 2021
There's just too much to say that I can't get it in in 400 characters. We have been to many KOAs, and I understand some are better than others, but this one was the worst?
Jul 21, 2021
Probably one of the best run KOA's I've stayed. The staff is very helpful and the KOA is well kept.
Jul 21, 2021
Wi fi was terrible
Jul 20, 2021
We loved our cabin in Cortez! Everything was very clean, cabins were spaced just right and the gift shop and all the staff couldn't of been any better! We'll be back!!
Jul 20, 2021
Great location, big spaces. Love the back to back space set up. Office and security was extremely accomodating. Pool and all amenities clean and working. Nice to have local stores, gas, restaurant nearby but not intrusive. Best KOA we've stayed at.
Jul 20, 2021
As always, really enjoyed my stay here. Tent sites are spacious so you don't feel like you're right in top of each other. Pool feels great, just wish they were able to keep it open a little later. The gift store has a great selection of items as well the well known forgotten items. Seems like pre-covid they had a breakfast. If so, I hope that comes back too.
Jul 20, 2021
Great people! Just need more restrooms for females. Very clean!
Jul 19, 2021
We enjoyed the quiet campground with a cabin that overlooked the beautiful Ute Mountains. The cabin was clean, well lit, and had a refrigerator which was incredibly helpful. We enjoyed playing pool in the gathering room and shopped in the camp store a couple of times. I appreciated that I could purchase items with the credit card they had on file. Friendly staff.
Jul 19, 2021
Very clean, Children oriented and lovely. Can't wait for their trees to get bigger! Tent sights and dog area were exceptional and large. Great spot.
Jul 19, 2021
We stayed in the cabins and they were simple but exactly what we needed. Their air conditioning and fan worked well, and all the facilities of the KOS were great.
Jul 19, 2021
Everything was ship shape as usual.
Jul 19, 2021
Super nice people and place we will come back very nice park enjoyable .
Jul 18, 2021
Friendly staff, clean facility, nice pool. Love that we had access to TWO dog parks and a dog run. We will definitely be back!!
Jul 17, 2021
Very pretty and nicely kept up.
Jul 17, 2021
Glad this was our first KOA experience. Check in was easy. Someone escorted us to site. It was level with nice pea gravel. Restrooms were clean and plentiful. Laundry was clean and dryers worked great. Only one cycle was needed. Seating area outside was comfortable while I waited. Very kid friendly. Road was close by, but really didn't hear it. Nice view. Close to Mesa Verde and the local Walmar
Jul 17, 2021
All gravel roads and pads makes for a lot of noise. Also, very little shade. Bathrooms and showers were good. The pool was great.
Jul 16, 2021
Awesome place to stay! Friendly staff and clean facilities! Perfect backdrop of Mesa Verde National Park!
Jul 16, 2021
We were supposed to only stay one night just passing through. Truck broke down Saturday afternoon, so we were basically stuck until we could get it fixed. Sherry and Russell and staff juggled things around to accommodate us. I would highly recommend this KOA and hosts. It was clean, friendly and I would go out of my way to stay there. The world needs more folk like them.
Jul 16, 2021
Enjoyed view and cabin. Overly aggressive on rules. More patient and less threatening in enforcing ruled
Jul 16, 2021
We were very happy with our stay at the KOA Journey in Cortez. The grounds were nice, the bathrooms were very clean and having a laundry faucility helped make it a great stay. The saff were all very nice and helpful.
Jul 16, 2021
Stayed in the tee-pee and it far exceeded all expectations. Grounds were clean and well groomed and staff were friendly and available.
Jul 16, 2021
Very clean campground and friendly staff. Grounds were well maintained.
Jul 15, 2021
The campground is very clean and so are the restrooms and showers. We enjoyed our stay.
Jul 15, 2021
One night stay in a tent. Clean and friendly. That's all I need. Thanx!
Sep 09, 2021
Another great KOA stay! 3 acre dog run! Totally epic customer service... Fishing everywhere! Myst stay... In my opinion...
- Brent Temple on Google
Sep 08, 2021
Super clean! Very nice staff and easy access to lots. Highly recommend.
- grace osborne on Google
Sep 04, 2021
Staff is very friendly. The campground is clean and well kept. The KOA is only 8 miles from the Mesa Verde National Park entrance.
- Chris Knight on Google