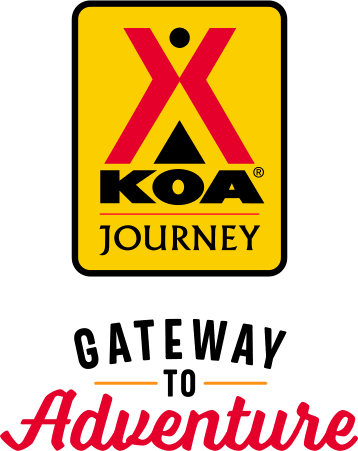 KOA Journey Campgrounds
KOA Journey campgrounds are the perfect oases after a day on the road. Whether it's along the way or a quick getaway, they've got you covered. Located near the highways and byways of North America with long Pull-thru RV Sites, they deliver convenience to the traveling camper. Pull in, ease back and take a load off.
KOA Journeys Feature:
Pull-through RV Sites with 50-amp service
Premium Tent Sites
Well lit after hours check-in service
May 30, 2021
Very nice KOA. Best laundry facility of our whole trip. Quiet and clean.
May 30, 2021
The RV spots are narrow, dusty graveled, unleveled and bare bone parking lot slots. This place is horrible, and the customer service is crude at best, unless you're a local who gets special treatment. Also, the 5% military discount won't even pay for a bag of ice; it's a slap in the face. I would never recommend this place, but unfortunately it may be the only option in the area.
May 29, 2021
The people were great , it was a very nice place to stay. The facility's were clean and well maintained
May 29, 2021
Nice wide pull through site and well-maintained park.
May 29, 2021
great staff, nice cabin
May 29, 2021
Nice place, need stronger wi fi
May 29, 2021
Great experience with a kind staff and clean facilities.
May 28, 2021
Clean facilities, great location and friendly helpful, staff.
May 28, 2021
Nice facility. Staff was very helpful and suggested great local restaurants.
May 28, 2021
Beautiful scenery
May 27, 2021
Had a fun 4-day stay. Spaces are too close together, but the workers are friendly and helpful. Great view from the campground.
May 26, 2021
Restrooms are not close enough to cabins without bathrooms for handicap to walk to.
May 26, 2021
staff was very helpful with extending my stay after I messed up my reservation. been there before and will go back. nice rv park and great little town
May 26, 2021
Very new hosts, friendly, very nice place
May 25, 2021
We were escorted to our site which was all rocks and level. It is an older campground that has been kept up nicely. The bathroom was small but clean. The town of Cortez has some shopping and restaurants. There's even a Walmart. We enjoyed our quiet stay and loved looking at the snow capped mountains in the distance.
May 25, 2021
the stay was ok the problem is the campsites are small you face your neighbor and the section between you and your neighbor is split in half. you have one end and they have the other and they are not clearly defined.
May 25, 2021
The staff, the park and everything surrounding was incredible. Such a great experience! Our honeymoon was made just a little better because of it!
May 24, 2021
Facilities and staff were above our expectations. Our stay at KOA was essential to our longer planning/trip in our RV.
May 24, 2021
The cabin was cute and cozy, enough of room for two people and two dogs but I'm not sure I'd want any more than that! There are a lot of goat head stickers in the area so we had to keep picking them out of our dogs paws during walks. The community was very quiet and we were thankful for the cabin since there were high winds during our stay! The staff was friendly and helpful every time we talked.
May 24, 2021
Very friendly courteous staff. Great location, clean bathrooms & showers
May 24, 2021
The wifi is super slow was not evan usable
May 24, 2021
Stayed in one of the new improved cabins during a wind storm and it was the smartest decision we made. The new bed was very comfortable, and they even had a tv and mini fridge! The sinks by the bathroom were also very nice with lots of counter space. Showers were nice and clean.
May 23, 2021
The staff were rude, unhelpful, unaccommodating and unprofessional. You should hire friendlier people. After moving, word is they have a bad reputation as being rude and difficult. Acted like it didn't matter if you were a KOA member or not. Very very upset and disappointing stay!!!!!!!
May 22, 2021
It was a nice location. If you want privacy this park is not for you. But if you are camping with another camper, it would be great as you face door to door with the next camper. There was only one fire ring, so who gets there first gets to claim it and the two picnic tables are almost on top of each other so even though don't know your neighbors, it's like you get to eat together.
May 22, 2021
Very quiet and clean Great location
May 22, 2021
A great place what more can be said.
May 22, 2021
The stay was great, liked the enclosed dog area. Campsite was nice and clean.
May 22, 2021
Sites are too close together
May 22, 2021
Very clean grounds. Exceptionally clean bathrooms. Very hot showers. Friendly staff.
May 22, 2021
Lovely scenery, clean facilities, quiet enjoyable timez
May 21, 2021
Very nice site #36 . Campground was clean and well taken care of. Very close to town and Mesa Verde National Park. Thanks for the stay!
May 21, 2021
Convenient location to city amenities and Mesa Verde NP. And other natural areas. Be sure to visit Denny Lake Park, it's a pleasant surprise.
May 21, 2021
We were supposed to stay two nights but ended up staying two more because of vehicle break down.The office staff were so nice and although you had no vacancies, they put us in another site to accommodate our repair schedule. If not for that, I don't know what we would had done. The camp was clean, dog walk wonderful, and staff were great. Only thing, like most of the KOAs, the sites are too clos
May 19, 2021
Staff is helpful. Restrooms were clean and in good working order.Campgrounds were clean and quiet. Excellent location for visiting Mesa Verde. Shopping close by. Only thing we weren't real happy about was how close together RVs were parked in the full hookup section.
May 18, 2021
Very clean and comfortable. The sites are large and quiet. One of the best dog parks you will find. Staff is super friendly and helpful. Thanks
May 18, 2021
This review has been removed by KOA due to profanity.
May 18, 2021
The staff was great. Campsites were well equipped. Only drawback would be lack of trees, but considering the location I don't think it could be helped.
May 18, 2021
Quiet -- helpful staff
May 17, 2021
Samsung's were clean in spaces strange because they had campers turned in opposite directions which if you didn't pull in straight good create a condition of being very close to your neighbour
May 17, 2021
So clean. Easy to get to. People were so kind !!!
Oct 05, 2021
This campground is very nice, with tons of lovely, level sites. It is convenient to Mesa Verde and Canyon of the Ancients, as well as town with lots of food options. The staff was friendly and helpful. There is Denny Lake within walking distance, and fabulous sunsets.
- tawny1956 on Trip Advisor
Oct 04, 2021
Beautiful clean park. Nice friendly staff! And the 3 acre dog park right there is awesome!!
- tina coleman on Google
Oct 02, 2021
Except for the swimming pool closure for 90 degree week it was a great time being there. Being so close to Mesa Verde was a plus. We think very highly of the staff who are very knowledgeable. The bathroom shower are very clean with room to hang clothes away from water and a seat for putting on clothes Lovely mountain views and quiet!
- SantaFeDiva on Trip Advisor