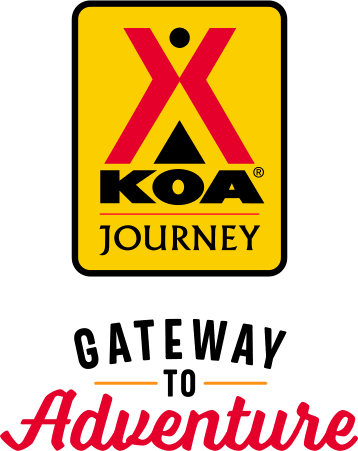 KOA Journey Campgrounds
KOA Journey campgrounds are the perfect oases after a day on the road. Whether it's along the way or a quick getaway, they've got you covered. Located near the highways and byways of North America with long Pull-thru RV Sites, they deliver convenience to the traveling camper. Pull in, ease back and take a load off.
KOA Journeys Feature:
Pull-through RV Sites with 50-amp service
Premium Tent Sites
Well lit after hours check-in service
Jun 07, 2021
Our stay was great! The workers take great care of the campground to keep it looking nice. All are very friendly
Jun 07, 2021
We got in late so didn't get to spend much time at the kampground. Good location near the park and nice employees.
Jun 07, 2021
Staff was incredibly helpful and friendly. Restrooms sparkling clean and amenities were as described. Highly recommend this campground
Jun 06, 2021
Amazing place clean and Wonderful sunsets & sunrise great place to walk and relax
Jun 06, 2021
We came with friends and had a great stay. Lots of open space to play for both the kids and our dogs. We will definitely be back!
Jun 06, 2021
We only stayed one night but the park was quiet, clean and we really enjoyed the pool. People were very friendly there. Will probably be back, if we're ever in this area again.
Jun 06, 2021
people with dogs did not clean up
Jun 06, 2021
Great park, very clean and organized. The staff was amazing and very helpful when we had questions or needed directions. Would highly recommend.
Jun 05, 2021
Staff super friendly and informative! Exceptionally clean location with a huge dog park. �
Jun 05, 2021
Of all the KOAs we stayed at on this trip, this was by far the best! Clean restroom facilities, we loved the dish washing station and the site was clean and tidy. Wish the other KOAs were like this one.
Jun 05, 2021
I made a last minute reservation and was able to get a pull through site with electric and water. It was fabulous for the one night and the hosts were very kind and helpful. Has a great little store and I used the laundry facility and it was also clean and worked great. When I was pulling out to leave, the host was there and helped me avoid a power pole that is in an "inconvenient" location.
Jun 05, 2021
This is one on the nicest KOA campgrounds we've been in. Camp hosts were very nice. GREAT dog parks!! Three of them! Very clean.
Jun 04, 2021
We had a great stay. Our camping spot was perfect, probably one of the better spots. I also found the staff to be helpful, polite, and fun. I could tell they take running this camp ground seriously and their efforts show.
Jun 04, 2021
Just a clean nice spot. The personal is very friendly.
Jun 04, 2021
Convenient location for what I wanted to see.
Jun 03, 2021
Great staff, clean bathrooms, and great spot for capturing sunsets. We had a great time staying here. Only complaints would be lack of trees and the way pull through sites are.you end up sharing the same common space with the rv next to you. Different. But we had great rv neighbors so no big deal.
Jun 03, 2021
Enjoyed the campground clean and well kept.
Jun 03, 2021
We had a wonderful stay! We will certainly be back. Our trailer site was adequate, the camp was quiet during quiet hours, the showers were clean, and the staff were all very helpful. It was also nice that there were so many pet-friendly accommodations at this KOA. Thank you for helping us have a wonderful road trip!
Jun 03, 2021
Very friendly staff Great dog park next door would stay again!
Jun 03, 2021
Very pleasant stay, we will be back.
Jun 02, 2021
Beautiful location. Very friendly staff.
Jun 02, 2021
Great staff. The campground is located very close to most of the attractions you would want to visit. Thanks guys.
Jun 02, 2021
Russell and David and the rest of the staff were amazing. They went out of their way to check on guests at the sites in the golf carts. They made us feel so welcome! Russell even helped us tremendously with our propane tank. He didn't make us feel like dummies for not knowing how to take it off and explained how he sleeps with the propane on throughout the night. We had a great night's sleep.
Jun 01, 2021
We had a great campsite and stayed fir 6 days. Only complaint was you charged me $20.00 to check in 1 1/2 hour early. I don't think that's good business and was very disappointed. We left at 7am day of departure and you didn't give me a credit for leaving early!!!
Jun 01, 2021
Nice large site. Friendly staff. Mesa Verde National Park near by.
Jun 01, 2021
We reserved two cabins and ask for them to be next to each other. I was told over the phone that they would try. When we got there for check in, they said it wasn't possible. They never checked. The one next to me was open two hours after we checked in and the one next to my parents was also open when we checked in.
Jun 01, 2021
Very well kept CG. Nice staff. Will return.
Jun 01, 2021
Clean and convenient campground with friendly staff.
Jun 01, 2021
Very clean restrooms. Helpful and friendly staff. Great location.
Jun 01, 2021
I had trouble with the internet - but the people there were great!
Jun 01, 2021
Nice clean park!
May 31, 2021
Driving into this campground was a surprise. it is a nice distance from the highway and it has incredible views of the mesas and mountain range. It really is quite peaceful. Everyone of the staff that we encountered was incredibly nice and very helpful. You can see that they take pride in the place. There was always someone cleaning or tending to the grounds. Definitely will come back!
May 31, 2021
Immaculately kept campground. Enjoyed the pool. Fun, helpful people work there. Cortez koa is a perfect base camp in the middle of an incredible area.
May 31, 2021
The campground was well maintained, the pool was beautiful, and the staff were great. The bathroom was too small for all of the people there. There is only one community bath house for the whole campground. People were always waiting in line to get in, and tempers were angry. This campground needs two bath houses. The dog run was large, but no grass, just a desert dog run. 12 minutes to Mesa Ver
May 31, 2021
Great people and a great place!
May 31, 2021
Stay was great except that I was forthcoming about a curtain that my dog ripped and was charged $100 for damages without anyone looking at the cabin. I doubt anyone would have noticed if I hadn't said anything. Kinda feel like I was punished for being honest.
May 31, 2021
Friendliest and most helpful staff ever!
May 31, 2021
Camping made easy
May 30, 2021
Everything was awesome (nice people, great facility and location, well maintained, nice store, etc.), except that both bathrooms frequently ran out of TP during our four night stay. If they can remedy that (and yes, we did report the problem to them), this is definitely one of our favorite KOA's.
May 30, 2021
We were there for 2 nights in a 37 foot motor home. Bathrooms clean. Plenty of washers and dryers but the space they were in was small. The sites were close together and with the trees we could not put out our awning. Also did not like the fact that the sites alternating orientation and you shared your picnic table area with the next site. Other than that the location is convenient.
May 30, 2021
Very nice campground.
Oct 05, 2021
This campground is very nice, with tons of lovely, level sites. It is convenient to Mesa Verde and Canyon of the Ancients, as well as town with lots of food options. The staff was friendly and helpful. There is Denny Lake within walking distance, and fabulous sunsets.
- tawny1956 on Trip Advisor
Oct 04, 2021
Beautiful clean park. Nice friendly staff! And the 3 acre dog park right there is awesome!!
- tina coleman on Google
Oct 02, 2021
Except for the swimming pool closure for 90 degree week it was a great time being there. Being so close to Mesa Verde was a plus. We think very highly of the staff who are very knowledgeable. The bathroom shower are very clean with room to hang clothes away from water and a seat for putting on clothes Lovely mountain views and quiet!
- SantaFeDiva on Trip Advisor