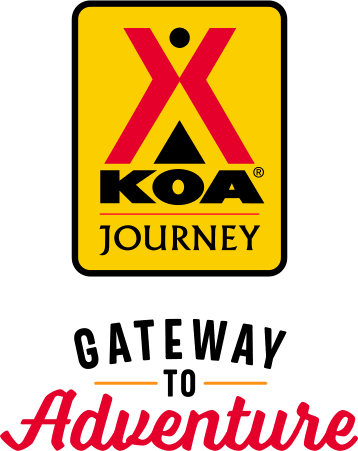 KOA Journey Campgrounds
KOA Journey campgrounds are the perfect oases after a day on the road. Whether it's along the way or a quick getaway, they've got you covered. Located near the highways and byways of North America with long Pull-thru RV Sites, they deliver convenience to the traveling camper. Pull in, ease back and take a load off.
KOA Journeys Feature:
Pull-through RV Sites with 50-amp service
Premium Tent Sites
Well lit after hours check-in service
Jun 17, 2021
Hello, we enjoyed are self. Everyone was very nice to us. You keep the everything nice and clean. Thank you
Jun 17, 2021
This was a very nice location and was quiet. It was close to the sites we explored in the area.
Jun 17, 2021
Uneven sites with very loose gravel, booked a site for our 33ft trailer and hardly fit the trailer, then had to cram the truck awkwardly beside it. According to their website we should have fit. Wish we wouldn't of had to unhook for our one night stay.. The staff was very friendly and helpful!
Jun 16, 2021
We stayed at this KOA while visiting Hovenweep and Mesa Verde. Nice and clean bathrooms as well as campgrounds. Wouldn't mind a bit more trees and grass but understand it's hot. Nice swimming pool and has a trail going around a pond close by. This was our 3rd time staying here. Would definitely recommend staying here.
Jun 16, 2021
Nice staff quite park
Jun 15, 2021
Good sites, beautiful scenery all around
Jun 15, 2021
Big - long site
Jun 15, 2021
Nice campground and nice associates. Great location for our trip.
Jun 15, 2021
The pool and playground could be better, but overall a great campground!
Jun 14, 2021
Wonderful staff!
Jun 14, 2021
Our best KOA experience! They got us in a day early on a busy week on our travels to the Grabd Canyon and back. Super friendly, great pool and love the setups of the RV connections so you're not at your picnic table next to someone's sewer connection. Would give this KOA 6 stars if possible
Jun 14, 2021
Pleasant modest size quiet campground catering to a range of campers with a view of Mesa Verde. Sites vary - some have good shade others do not. Nice staff, quick and easy check-in. Showers/restrooms clean
Jun 14, 2021
Cool in the morning Hot in the day Cool at night Really enjoyed the rodeo
Jun 13, 2021
What a beautiful campground! We stayed in one of the cabins, and the view was magnificent! The only glitch in our stay, was there was an issue with the mens bathroom. The Staff was very helpful, and courteous. I hope to visit Durango again and bring my travel trailer.
Jun 13, 2021
My first KOA stay and I loved it. Friendly people and nice, quiet nature and views.
Jun 13, 2021
Great park, great stay.
Jun 13, 2021
Showers and bathroom facilities were great, pet areas were great. Needs more trees in some areas to help cope with summertime heat!
Jun 12, 2021
We had a great stay! The location was awesome and the kids loved the pool!
Jun 12, 2021
Wonderful view, staff and site!
Jun 12, 2021
Beautiful site and location for sightseeing in the area.
Jun 11, 2021
Staff is very friendly and helpful. Location is great, close to Mesa Verde NP and Cortez.
Jun 11, 2021
Men's bathroom was pretty disgusting.
Jun 10, 2021
The staff is very helpful and friendly.
Jun 10, 2021
Very nice campground! Clean, friendly staff, any amenities you could need are available! Would definitely recommend this KOA!
Jun 10, 2021
Loved the primitive sites.
Jun 10, 2021
One night stay in Cabin. Bathrooms were very clean A+. Management seemed a bit on edge. Very disappointedly, WIFI did not work.
Jun 09, 2021
Very nice. Enjoyed our stay.
Jun 09, 2021
Polite, helpful staff, clean campground with nice and level gravel sites. Bathrooms are old, but pretty clean. Short drive to the national park!
Jun 09, 2021
Great dog park next door
Jun 09, 2021
Water/electric only sites are buddy sites so your front door faces someone else's front door. Wi-Fi non-existent. Front desk staff extremely rude. I was traveling with a puppy, when I learned of the buddy sites, I asked to move so as to not disturb my fellow campers. She lied about available sites to switch too, even when I was happy to pay more. Nice location but crap people. Won't return
Jun 09, 2021
This was my first KOA stay. Everything was clean and in good repair. The staff was super friendly and helpful. More amenities than I ever expected. I am spoiled now I may never go back to camping at state parks.
Jun 08, 2021
Extremely pleasant staff. Pleasant campground. The little lake and path at the neighboring park was nice. Recommend staying here.
Jun 08, 2021
The location is convenient, clean and well managed. The Doggie care and play areas are absolutely AWESOME .... BUT I didn't give this location an outstanding review because the sites are set up so that each RV or trailer is set up to be nose to tail with its neighbor. This means that the patio areas are all shared.../ so no matter how your nice your neighbor are there is NO PRIVACY at all ....
Jun 08, 2021
We only stayed one night as a stop through while heading to Utah. Facilities were nice and clean. Lots decent size. There is also really nice views of the mountains from this camp.
Jun 07, 2021
Nice campground but extremely dusty. Lots of helpful workkampers.
Jun 07, 2021
Beautiful view of the mountains, top notch campsite with top notch amenities, super clean and very well maintained. Friendly staff as well. And only 7 miles from Mesa Verde park entrance
Oct 05, 2021
This campground is very nice, with tons of lovely, level sites. It is convenient to Mesa Verde and Canyon of the Ancients, as well as town with lots of food options. The staff was friendly and helpful. There is Denny Lake within walking distance, and fabulous sunsets.
- tawny1956 on Trip Advisor
Oct 04, 2021
Beautiful clean park. Nice friendly staff! And the 3 acre dog park right there is awesome!!
- tina coleman on Google
Oct 02, 2021
Except for the swimming pool closure for 90 degree week it was a great time being there. Being so close to Mesa Verde was a plus. We think very highly of the staff who are very knowledgeable. The bathroom shower are very clean with room to hang clothes away from water and a seat for putting on clothes Lovely mountain views and quiet!
- SantaFeDiva on Trip Advisor