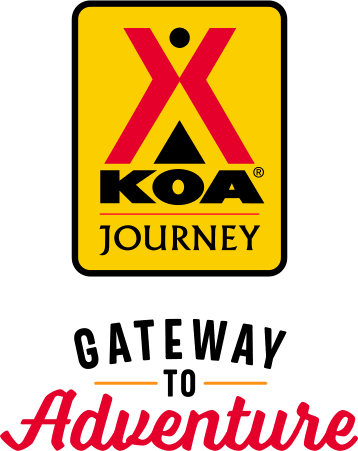 KOA Journey Campgrounds
KOA Journey campgrounds are the perfect oases after a day on the road. Whether it's along the way or a quick getaway, they've got you covered. Located near the highways and byways of North America with long Pull-thru RV Sites, they deliver convenience to the traveling camper. Pull in, ease back and take a load off.
KOA Journeys Feature:
Pull-through RV Sites with 50-amp service
Premium Tent Sites
Well lit after hours check-in service
Oct 18, 2021
Cabin was clean, staff was friendly. "Heated pool" was not as heated as expected and was small. Beautiful views from our cabin a +
Oct 17, 2021
Gravel roads and gravel sites that are a little unlevel. Great water pressure. Central location for Mesa Verde NP. Nice people work here.
Oct 17, 2021
Very clean and well run.
Oct 16, 2021
Cortez/MesaVerde KOA is a gem! The park is meticulously maintained and spacious. Staff is helpful, friendly and efficient.
Oct 15, 2021
great campground and access to a 3 acre dog park.
Oct 13, 2021
Very good customer service. We were led to our camp site by a very nice woman who helped us get set in the site. Campground was very nicely maintained.
Oct 13, 2021
Very clean . Nice people. The WiFi wasn't very good. A secure feeling.
Oct 12, 2021
This was our 1st stay in Cortez. We will be back! The property is wonderfully maintained. The staff were all kind, helpful, and a pleasure to be around.
Oct 12, 2021
This is a very nice KOA. It is located on the East end of Cortez and away from the main road so it is very quiet. I had some family issues while I was there and had to change the days I was staying three different times. Each time the staff was very understanding and accommodating and worked it out so that I did not have to move from my space. The grounds are very clean and well maintained.
Oct 12, 2021
The view from our site was breathtaking. The campground is very well kept, very peaceful. The staff is so nice and friendly. We were booked for two nights and added another night. Hope to be back some day.
Oct 11, 2021
I love how the sites are designed so that you can camp with friends and share the center space.
Oct 11, 2021
We stayed in our 5th wheel with full hooks. Water pressure was very good. Electric was very good. Site was level. You are close to your neighbor. If your neighbor uses there fire pit you are definitely going to smell the smoke. The staff are very friendly and helpful. If you are going to visit Mesa Verde National Park you are 7 Miles from the entrance. Walmart is just down the road.
Oct 11, 2021
KoA never disappoints. Thank you to all the staff!
Oct 11, 2021
We stayed overnight in a couples cabin with spectacular views, privacy and security. All the wonders of the four corners region are within a short drive. Enjoyed our stay.
Oct 10, 2021
Stayed two nights. Park was very clean and organized. Staff was outstanding and the store was very convenient. Bathrooms were clean and shower was hot. We will be back!
Oct 09, 2021
This was only our 2nd stay at a KOA. Even with it being the end of their season, our lot and the bathrooms were clean, and the staff was friendly and helpful. Thank you!
Oct 09, 2021
Beautiful view and friendly staff! ���
Oct 09, 2021
We'll be back next year!
Oct 08, 2021
I'm a diabetic, had blood sugar issues and was late by 1 hour checking out. Was told I should have just stayed another night and repeatedly told check out was at 11. He even said "they" had wondered why I was so slow. Why didn't they ask? Unbelievable customer service.
Oct 07, 2021
We love this place! Very well run and friendly!
Oct 07, 2021
This is one of the best KOA campgrounds we've stayed at! The hosts are great, views and amenities rate up at the top too. The access to the 4 corners region is 2nd to none. I always tell folks going through Cortez to look in to a stay whether camping or cabin etc… thanks for the great job you folks do.
Oct 06, 2021
the above says it all
Oct 06, 2021
Some sites really could use trees. Luckily we didn't have people on either side of us. Great view of Mesa Verde. Enjoyed the pool table and the customer service was very friendly and excellent.
Oct 06, 2021
What a great spot, gorgeous views. Staff was very friendly. Great sunrise viewsz
Oct 06, 2021
Spacious and clean!
Oct 05, 2021
Loved the area and the campground was so well taken care of.
Oct 04, 2021
Great koa, facilities were clean and staff was helpful
Oct 04, 2021
We stayed in the couples cabin. The place is very clean and the bathrooms were also. That is very important to me. The people who work there were extra friendly.
Oct 03, 2021
Big Rig friendly! Clean and maintained. Very close to town. Hosts were very helpful. Super easy access to HWY 160 and Mesa Verde National Park.
Oct 03, 2021
When I first arrived I felt offended vs welcomed, being asked where my window pass was when I was about to get out of my car to go register. But overall it was a very well kept campground. And our cabin was nice and clean.
Oct 03, 2021
Friendly staff. Very clean
Oct 02, 2021
Kind, helpful host! Clean bathrooms, showers, yard! Beautiful!
Oct 02, 2021
The gravel roads and driveways were so nice to drive and park on- no dirt! Keeps everything so much cleaner even during the rain we had while there. Great recommendation for dinner in Dolores for Navajo Tacos. Perfect for being close to Mesa Verde NP.
Oct 02, 2021
The campground was nice and clean. Friendly staff. Would definitely stay again.
Oct 02, 2021
Nice, quiet KOA. Various sizes of sites, just ask for what you want. Shaded and sunny spots, gravel/dirt sites. There is a little lake a walking path adjacent to the park. Very nice and efficient staff/workers…they keep a clean park. Mesa Verde National Park is about 8 miles down the highway. Plenty of gas stations and grocery stores in the immediate area.
Oct 02, 2021
Just stayed for one rainy night, but the campground is perfectly maintained and landscaped. Staff was very friendly. Our site looked out on open space, beautiful.
Oct 01, 2021
Very clean; friendly staff and a nice park
Oct 01, 2021
Perfect stay from start to finish. Stephanie checked us in and it was an easy and informative process. The cabin was clean, actually the whole campground was spotless! Will definitely stay again!
Oct 05, 2021
This campground is very nice, with tons of lovely, level sites. It is convenient to Mesa Verde and Canyon of the Ancients, as well as town with lots of food options. The staff was friendly and helpful. There is Denny Lake within walking distance, and fabulous sunsets.
- tawny1956 on Trip Advisor
Oct 04, 2021
Beautiful clean park. Nice friendly staff! And the 3 acre dog park right there is awesome!!
- tina coleman on Google
Oct 02, 2021
Except for the swimming pool closure for 90 degree week it was a great time being there. Being so close to Mesa Verde was a plus. We think very highly of the staff who are very knowledgeable. The bathroom shower are very clean with room to hang clothes away from water and a seat for putting on clothes Lovely mountain views and quiet!
- SantaFeDiva on Trip Advisor