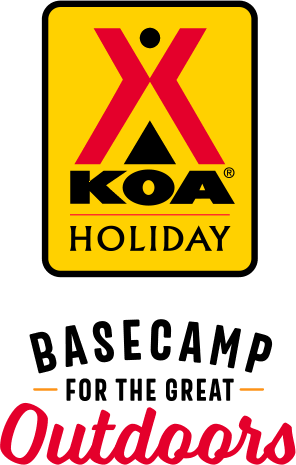 KOA Holiday Campgrounds
Whether you're exploring the local area or hanging out at the campground, KOA Holidays are an ideal place to relax and play. There's plenty to do, with amenities and services to make your stay memorable. Plus, you'll enjoy the outdoor experience with upgraded RV Sites with KOA Patio® and Deluxe Cabins with full baths for camping in comfort. Bring your family, bring your friends, or bring the whole group – there's plenty of ways to stay and explore.
KOA Holidays Feature:
RV Sites with a KOA Patio®
Deluxe Cabins with full baths
Premium Tent Sites
Group meeting facilities
Directions
From Confederation Bridge: Take Trans-Canada Highway #1 to Cornwall. Turn right on Route 248 (Ferry Road) just past the traffic lights.
From Charlottetown: Take Trans-Canada Highway #1 to Cornwall. exit out of traffic roundabout to Route 248 (York Point Road) than proceed to turn right on Ferry Road (follow signs)
GPS: N46.226293, W63.195604
Get Google Directions
Jun 19, 2021
Gorgeous view! Very few bugs. Quiet. Loved the dog park to help pets burn off energy. Nice pool, although we didn't use it.
Jun 15, 2021
Loved it �
Jun 14, 2021
Great staff, park very well maintained.
Jun 14, 2021
Stayed for 7 nights. It was so relaxing! Great, safe place for children. View is amazing.
Jun 14, 2021
we enjoyed our stay. fist weekend camping this year.
Jun 14, 2021
Had a lovely weekend love koa
Jun 14, 2021
It is a very nice campground. I love that you have a pool and beach, lots for kids to do. I am thinking of taking my grandchildren there. Workers are very pleasant and friendly. It's clean and quiet at night.
Jun 14, 2021
Staff was so friendly, campers around were very friendly as well! Such a great stay!
Jun 14, 2021
Grounds look great, everything was clean and well kept! Staff is awesome :-)
Jun 10, 2021
Donna runs a great business. Very happy and who ever does there lawn mowing does a terrific job. We will be back. Don & Darlene
Jun 08, 2021
It was great, as usual! Kids (and adults) love it there and the staff is really friendly and helpful :)
Jun 08, 2021
Had a wonderful stay. Hats off to the maintenance crew outside, they keep the property in such beautiful shape. Donna and Abby in the office keep our group happy every hour of our stay. We just love it here.
Jun 08, 2021
Was excellent as always! Planning to return again.
Jun 08, 2021
Very nice campground. Staff are very friendly and all very helpful. Washroom were very clean.
Jun 07, 2021
Had the greatest time! Campground was clean, Covid measures in place!
Jun 02, 2021
Great as usual.
Jun 01, 2021
Great place to stay. Clean sites. Lots of stuff for the kiddos.
May 31, 2021
Site is very nice on the water , quiet, lots for the kids to do.
May 31, 2021
We enjoyed a great weekend in the Cornwall koa. The staff are excellent, never was treated better.
May 31, 2021
Great palace. I love like kay oh ay
May 31, 2021
Excellent!!!!!!!!!
May 31, 2021
Very enjoyable. Beautiful grounds.
May 27, 2021
Great campground, we frequent this campground multiple times per year and we are never disappointed. The waterfront sites are simply gorgeous.
May 26, 2021
This is a lovely clean campground and it went with all the protocols for COVID so we felt very safe. Friendly, helpful staff. Great place to stay and a beautiful area.
May 26, 2021
This review has been removed by KOA due to profanity.
May 25, 2021
We asked to be close to our friends and we were. You always honour our request. Nice clean, quiet, great campground! We love to be by the water!
May 25, 2021
As always, it was amazing. This is definitely our favourite campground in PEI.
May 25, 2021
we can't control the weather.
Apr 03, 2021
We did tent camping. Fabulous time. Great shop, fun time in the pool, friendly staff and fellow campers. There were a few nut jobs but you get that sometimes I guess. We would definitely go back!
- 365 daywalker on Google
Sep 14, 2020
We enjoyed this camp ground immensely for our two week visit! The staff was friendly, all the facilities were clean and organized and the view of the water is awesome. We also got to experience Halloween/Trick-or-treating, and the kids loved it. We were amazed at how into it all the campers got and it made it a very fun night. We are already planning a longer stay for next season. Thanks again!
- Andy Keith on Google
Sep 08, 2020
Fantastic KOA with wide open spaces, at the beach, views of the inlet, great amenities! Caution for tenters/tent trailers: only two washroom houses, pick your spot wisely
- Damaris Kazor on Google