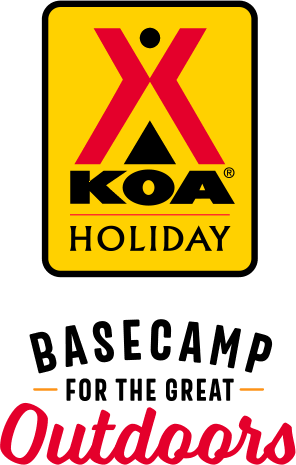 KOA Holiday Campgrounds
Whether you're exploring the local area or hanging out at the campground, KOA Holidays are an ideal place to relax and play. There's plenty to do, with amenities and services to make your stay memorable. Plus, you'll enjoy the outdoor experience with upgraded RV Sites with KOA Patio® and Deluxe Cabins with full baths for camping in comfort. Bring your family, bring your friends, or bring the whole group – there's plenty of ways to stay and explore.
KOA Holidays Feature:
RV Sites with a KOA Patio®
Deluxe Cabins with full baths
Premium Tent Sites
Group meeting facilities
Directions
From Confederation Bridge: Take Trans-Canada Highway #1 to Clyde River and merge onto 27 east into Cornwall . Turn right on Route 248 (Ferry Road) just past the traffic lights.
From Charlottetown: Take Trans-Canada Highway #1 to Cornwall. exit out of traffic roundabout to Route 248 (York Point Road) than proceed to turn right on Ferry Road (follow signs)
GPS: N46.226293, W63.195604
Get Google Directions
Sep 21, 2021
Lovely week of peace and quiet. Close to Charlottetown And friends.
Sep 21, 2021
Wonderful stay except for the death of the owner the week
Sep 21, 2021
The weather was great and the kids has lots of fun
Sep 21, 2021
Did not like thr site down back..much more beautiful by the water.. hope next time for a water site.. Hope to come back...soon.
Sep 21, 2021
Beautiful campground, well kept and a great spot for families and friends!
Sep 21, 2021
It is always fun. The kids love going. So far it's our favourite place to camp.
Sep 21, 2021
Best camp grounds on PEI
Sep 20, 2021
Loved the memorial to Kent on Saturday evening. Although it was a tearful event, the music and pergola were so beautiful. What a wonderful way to remember Kent. He was such a kind man. Hugs to the family. ��
Sep 20, 2021
We had a lovely weekend, the weather was perfect and the music they provided on the Saturday night was awesome.
Sep 20, 2021
We love the Cornwall KOA, the facilities as well as all the staff. This campground is the best you will ever find, They are always adding new facilities for us to enjoy. Can't wait till our next visit !!!!!
Sep 20, 2021
Fantastic Stay and Fantastic Staff
Sep 20, 2021
Donna and her staff make this the best campground in all of Canada. Bravo guys!
Sep 20, 2021
Friendly help—cleanliness of grounds —family activities
Sep 20, 2021
Very happy with our weekend stay.
Sep 20, 2021
We really like the location of this campground, But the fact that we can't book our site before we come is a problem, Ever the provincial campgrounds let you pick your site. Thanks
Sep 20, 2021
Love this place!!!
Sep 20, 2021
Love the cabin. The washrooms are spotless and the pool was clean too.
Sep 20, 2021
It was lots of fun, hope we were able to take a dip in the pool as it was still open!
Sep 20, 2021
Friendly hosts. Beautiful location, quiet.
Sep 20, 2021
Another lovely stay with you . We were honoured to be a part of the celebration of life for Kent . It was very moving . We wish you all the best Donna as you navigate your way without Kent . Both Martin and I lost our spouses , we understand the tough journey. You will be fine in time . Big hugs.
Sep 20, 2021
Get weekend great Park for camping. One of the top KOA parks I have stayed at.
Sep 20, 2021
We love staying at Cornwall/Charlottetown KOA. It is our favorite place to camp, they have so many great events for kids, the campground is clean and well maintained and Donna and her staff and so pleasant.
Sep 20, 2021
Amazing staff , with all they were going through personally with their loss , that went above and beyond . Will definitely be returning . My sincere sympathies to the Sentner family .
Sep 20, 2021
Our stay was very enjoyable, we are very easy to please. We, however, like to see clean washrooms, whether we use them or not. This, to us, sets the bar on how well a campground is managed. You do a very good job in that department. We certainly will be back.
Sep 20, 2021
As per usual, our stay was lovely, the view was lovely and the kids had a fantastic time. BUT given that we are repeat customers and NEVER cause any issues, it would be so lovely if the staff could be a little more accommodating to us and our large group. Music playing super quietly at our camper to help keep our children asleep, and being a few minutes late checking out- shouldn't be an issue.
CAMPGROUND RESPONSE / COMMENTS:
Thanks for staying with us for the first time this year however we don't allow music to be played on outdoor speakers after our quiet hour of 11 pm. Our checkout time is 11 am unfortunately not 1pm our staff needs to have time to clean sites between checkouts and check ins.
Sep 18, 2021
Your wifi needs improving and your laundry mat machines need to be up dated it took me 3 and half hours to do two loads
Sep 18, 2021
Stayed a extra night just beautiful
Sep 18, 2021
Friendly staff, beautiful waterfront site, nice clean grass
Sep 17, 2021
I love this campground, it has a warm friendly feel. The views of the water are spectacular and the campground is very well maintained. Wonderful staff who are friendly and attentive.
Sep 15, 2021
Very clean, neat sites. Reasonably priced. Helpful staff. No complaints!!
Sep 17, 2021
One of the nicest campgrounds on PEI
- Tammie Smyth on Google
Sep 14, 2021
Loved this campground. Our first KOA and now we will always stay at KOA's. We had a wonderful site right on the water. Wide sites and easy to maneuver a big rig. It is in a great location and easy access into Charlottetown. If I could we would stay there the whole summer. But we only had 4 days.
- Cheryl Hull on Google
Sep 13, 2021
Bei den Campingplätzen von KOA kann man nicht viel falsch machen. Sie sind je nach Lage groß und drüber hinaus noch sehr gepflegt. In Cornwall PEI kommt noch hinzu das er am Fluss liegt, und er dadurch noch einen angenehmen beruhigenden Einfluss hat.
- MichaelA22 on Trip Advisor