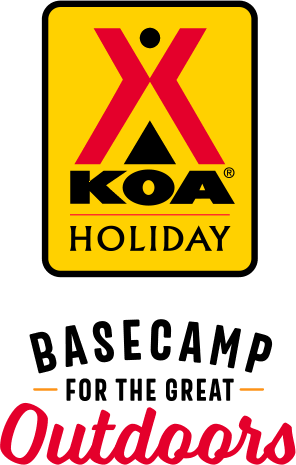 KOA Holiday Campgrounds
Whether you're exploring the local area or hanging out at the campground, KOA Holidays are an ideal place to relax and play. There's plenty to do, with amenities and services to make your stay memorable. Plus, you'll enjoy the outdoor experience with upgraded RV Sites with KOA Patio® and Deluxe Cabins with full baths for camping in comfort. Bring your family, bring your friends, or bring the whole group – there's plenty of ways to stay and explore.
KOA Holidays Feature:
RV Sites with a KOA Patio®
Deluxe Cabins with full baths
Premium Tent Sites
Group meeting facilities
Directions
From Confederation Bridge: Take Trans-Canada Highway #1 to Cornwall. Turn right on Route 248 (Ferry Road) just past the traffic lights.
From Charlottetown: Take Trans-Canada Highway #1 to Cornwall. exit out of traffic roundabout to Route 248 (York Point Road) than proceed to turn right on Ferry Road (follow signs)
GPS: N46.226293, W63.195604
Get Google Directions
Oct 18, 2020
Best campground ever! Super friendly staff. The grounds are always well maintained and the common areas are always kept clean . Great play areas for the kids and a huge swimming pool. Can't wait to go back next year!
Oct 14, 2020
Staff are always pleasant and helpful. Always enjoy our stays at KOA CORNWALL.
Oct 13, 2020
Always enjoy our stay. Very friendly staff and campers.
Oct 13, 2020
I love this campground so much. One of the cleanest and friendliest campgrounds I've stayed at
Oct 13, 2020
We had a very good summer at the KOA very clean campground very friendly staff.We will return there again thanks Donna and Kent And Abby of course.
Oct 13, 2020
I was a seasonal and I can't say enough about staff
Oct 13, 2020
It was a wonderful summer! Kent and Donna are the best!
Oct 13, 2020
Very nice cg excellent location
Oct 13, 2020
We had a great stay in one of the rustic cabins. It was Thanksgiving weekend, so quiet in the campground. Facilities were excellent, clean and close by. Would definitely stay there again. Thank you
Oct 09, 2020
A peaceful quiet stay, late in the season.
Oct 09, 2020
Very clean and friendly campgrounds. Staff are excellent. Owners went above and beyond to put us in one of their best spots.
Oct 08, 2020
We had a good time, weather was good. We were able to have campfires both nights. Staff were welcoming and friendly.
Oct 06, 2020
Friendly staff
Oct 05, 2020
We camp here every year. It is our favorite place. Excellent facilities and staff. Highly recommend visiting this campground!
Oct 05, 2020
We had great time staff were exceptional..safe for children bathroom facility's very very clean..so pleased to see sanitizer everywhere.definitely hope to be back next year for another family weekend
Oct 03, 2020
although late season camping the staff were very friendly and helpful sites were clean and the washroom was clean great spot :)
Oct 02, 2020
Reserved a site with full hook-up. Electricity and water was visible but spent 10 minutes trying to locate the sewer connection,. Was just about ready to visit office when we discovered a rusty tin cover sunk four inches in the ground and partly covered with grass. Noticed others were in the same condition. Was given a site beside several seasonal campers with loud trucks who left early in the
Oct 01, 2020
Late September and very warm and windy. The campground was virtually empty. As always the Sentners were very friendly and helpful. While there we took the opportunity to play golf at Countryview and hike at Bonshaw and Strathgartney. All are within a short drive.We missed the pool not being open but this was Fall camping. Very beautiful campground so close to the city.
Sep 30, 2020
Accommodating Staff who were very helpful in changing our original reservations. They called on our arrival day to inquire about our late arrival and to arrange a welcome package and meeting us. Campground was clean and site was perfect to spend some time with family.
Sep 29, 2020
Cannot say enough about this campgrounds. The staff very friendly and curtious, made our stay that much more enjoyable. Owners went above all our expectations
Sep 29, 2020
Beautiful scenic campground on the waterfront
Sep 28, 2020
Beautiful Campground!! Best Staff Ever!
Sep 28, 2020
Exquisite campground!!
Sep 28, 2020
Great stay as per usual. The pool was closed down for the year so I couldn't get any practice for my synchronized swimming routine in. I made do, but the bathtub in my trailer isn't large enough for my more complex maneuvers. At any rate, Donna, Kent, Abby, and Jack are all such nice people to deal with and they make each stay better than the last. You guys rock
Sep 28, 2020
always enjoy going to the Cornwall k.o.a. my happy place . Donna and Kent are awesome as always .
Sep 28, 2020
Service is great....nice quiet campground.returning next year for sure
Sep 28, 2020
had a good time met some new friends will be back in two weeks can say any thing bad it nice workers nice and help you with what ever you need
Sep 28, 2020
Second time staying here this summer. Everyone had a great time
Sep 28, 2020
We loved everything! The staff was great, our waterfront site was amazing and other campers were respectful. Even though we were only 20 minutes from home, we'll be back to this oasis.
Sep 28, 2020
it was great as always
Sep 26, 2020
Great place, great staff, great site, the water front view is amazing, as usual we enjoyed our stay, what else can I say. We will be back next year.
Sep 26, 2020
As always a wonderful stay clean sites and great staff
Sep 25, 2020
Great stay, as always. Facilities are clean, and store has majority of needs.
Sep 24, 2020
Great place, beautiful view, well maintained
Sep 23, 2020
Great stay . Hate to see the season end.
Sep 23, 2020
Another nice stay. One of my favorite parks. Donna goes out of her way to make your stay enjoyable.
Sep 22, 2020
wonderful weekend weather a little on the cool side but we made the best of it , staff are great and you would expect this in PEI
Sep 22, 2020
We loved it, almost sorry we had not discovered this place years ago. Owners where very nice and helpfull , property is beautiful
Sep 14, 2020
We enjoyed this camp ground immensely for our two week visit! The staff was friendly, all the facilities were clean and organized and the view of the water is awesome. We also got to experience Halloween/Trick-or-treating, and the kids loved it. We were amazed at how into it all the campers got and it made it a very fun night. We are already planning a longer stay for next season. Thanks again!
- Andy Keith on Google
Sep 08, 2020
Fantastic KOA with wide open spaces, at the beach, views of the inlet, great amenities! Caution for tenters/tent trailers: only two washroom houses, pick your spot wisely
- Damaris Kazor on Google
Aug 26, 2020
Great campsite right on the water. Close to many amenities if you forget anything. Friendly staff and fellow campers.
- Kim M on Google