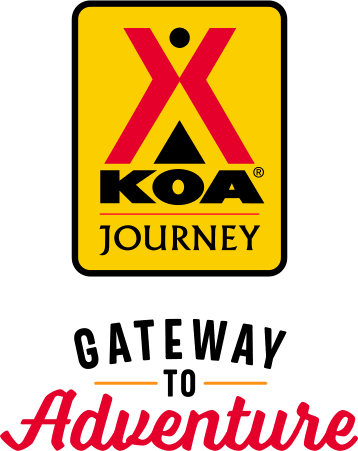 KOA Journey Campgrounds
KOA Journey campgrounds are the perfect oases after a day on the road. Whether it's along the way or a quick getaway, they've got you covered. Located near the highways and byways of North America with long Pull-thru RV Sites, they deliver convenience to the traveling camper. Pull in, ease back and take a load off.
KOA Journeys Feature:
Pull-through RV Sites with 50-amp service
Premium Tent Sites
Well lit after hours check-in service
Directions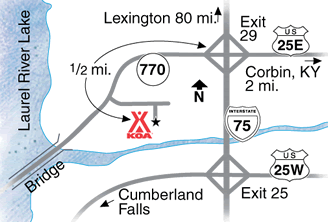 From I-75 Exit 29: Go west 1/4 mile, turn left on City Dam Road, just past the Love's Travel Center. Follow Yellow Signs into Park.
GPS is inaccurate, please call.
Get Google Directions
Jul 21, 2021
The stay was ok. The cable TV didn't work. The site was way off level. The staff was very friendly but the campers not so much. We went to see what was around Corbin but everything was closed due to covid.. Not impressed with Kentucky at all.
Jul 21, 2021
Their facilities are in need of maintenance, i.e., electric boxes, sewer dumping PVC pipes, sites leveling, etc.
Jul 20, 2021
Woodsy and peaceful campground. Enjoyed visiting the Falls nearby and relaxing at the campground. Everyone was very nice and the owners went above and beyond. We have already rebooked!
Jul 19, 2021
Didn't care for an all gravel space around the camper. Other than that it was nice. Clean pool, and not crowded. Close to cumberland sites, that was ideal.
Jul 19, 2021
Nice clean area and easy to get in and out of camping area. Kids loved the pool.
Jul 19, 2021
Nice people and perfect site for our stay. They are adding more sites and bathhouse is going to get a fresh remodel soon it says
Jul 18, 2021
I didn't see much that would compel me to stay on site for the duration of my stay. I didn't see some of the activities take place that were listed in the brochure. The wifi was great!
Jul 18, 2021
The sites were nice, they were pretty full and you didn't feel like you were on top of the next camper. The bathrooms are older, but very well kept and clean!! Would recommend
Jul 16, 2021
Campsite was perfect! Restrooms were less so. Found dried feces on one toilet seat. Went to the other toilet find the bowl full of unflushed feces. Both stall floor were wet (I hoped is was only water). Restrooms need more attention.
Jul 16, 2021
Great stay. Excellent staff.
Jul 16, 2021
Clean bathrooms, nice level tent pad, nice pool, quiet campground. Worked well for our trip.
Jul 15, 2021
Great place right off the highway! Friendly staff and easy hook ups. Awesome WiFi!
Jul 15, 2021
We enjoyed the quiet and peacefulness. The staff was friendly and helpful. The K9 play area is in a disconnected and inconvenient place but is large. We didn't use it because no pathway to it.
Jul 15, 2021
It was fantastic thank you so much.
Jul 14, 2021
Very nice people. Clean. Thanks
Jul 14, 2021
staff was so nice!
Jul 13, 2021
Great service. Nice older growth tree cover. Good access to Daniel Boone and Cumberland Falls hiking.
Jul 13, 2021
Do NOT expect a level site. The are expanding????? They cannot keep what they already have in decent shape. I level sites rugs in rood and do not even bring up the restrooms. This would be a last resort stop.
Jul 12, 2021
Although they experiencing staffing problems like most companies in the USA today, they went out of their way to help make our weekend a successful one. So much so that I booked to additional stays with them this past weekend. The campground is very nice, wooded, and spacious between sites. Also 40' 5VR friendly.
Jul 11, 2021
Very nice but average KOA. Staff was very friendly.
Jul 09, 2021
The laundry room hours were misleading- no place to get change.
Jul 09, 2021
Really a nice place to stay. What I would expect from a KOA.
Jul 09, 2021
Great staff. A little hilly, but a true campground experience.
Jul 09, 2021
Tent camping was good but the electrical outlets were not in the tent spot we had nor were the quite hours enforced. We ended up watching the RV's outside TV of the basketball game until 1 or so since the screen was facing our site. We asked them to turn it off to no avail. Otherwise the site was by the road so road noise was present but not bad. The bathrooms need refreshed but all in all good.
Jul 08, 2021
Badly sign posted from 75. Site very small for length of our rig 36' We were told when we checked in that it was a very long pull thru site. Not true barely enough room for our car. Not worth what we paid.
Jul 08, 2021
The shower house was so clean. Nice koa
Jul 08, 2021
Great place enjoyed the stay and very friendly
Jul 08, 2021
It was awesome !!! My first time camping .... staff made me feel safe and very helpful and friendly already planning another stay
Jul 07, 2021
The campsites are tight but overall a nice place. Easy access to 75. Owners are great!! Area has lots to do with the Daniel Boone forest area. Unfortunately the area leaves a bit to be desired, lots of litter and some weirdos just down the road.
Jul 07, 2021
We thought at first we wouldn't like our spot but it was actually very conveniently located near the pool and bathrooms. The staff was very friendly and everything was very clean. We had a great time!
Jul 07, 2021
Had a great time camping. Fireworks was fun and the hay ride. The owners could use some more help with someone to mow.
Jul 07, 2021
Awesome people. Heather is great. Always makes us feel like family when we go. Employees are always working and going. Easy to talk to and willing to do anything to help. We love staying here and will continue to come back
Jul 06, 2021
Very clean! Everyone was friendly and helpful!
Jul 06, 2021
The owners and a****** and that's being nice
Jul 06, 2021
Bathrooms are not ADA compatible.
Jul 06, 2021
Our second and very pleasant stay. Nice small pool. Safe and clean. Wagon rides and fireworks. Noticed there was a shower chair for disabled this trip. Also noticed a sign that said bathroom renovations are coming soon. Convenient location. Full hook ups made a three night stay a breeze.
Jul 06, 2021
Wooded and quiet. Would stay here again.
Jul 12, 2021
Very nice stay.
- shawn donathan on Google
Jun 29, 2021
Even though it is next to highway, it was quiet. The WiFI was strong and reasonably fast. Location was clean and close to Love's for gas refill and everything needed.
- A L on Google
Jun 27, 2021
A nice relaxing stop on our journey. Been here several times, and always enjoyable. Close and easy access to The interstate.
- J. Strauss on Google