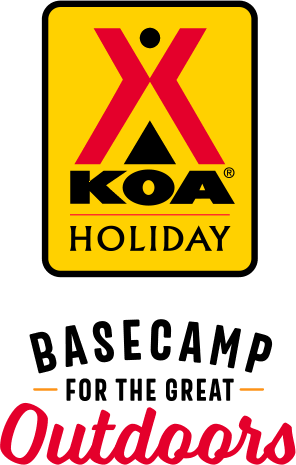 KOA Holiday Campgrounds
Whether you're exploring the local area or hanging out at the campground, KOA Holidays are an ideal place to relax and play. There's plenty to do, with amenities and services to make your stay memorable. Plus, you'll enjoy the outdoor experience with upgraded RV Sites with KOA Patio® and Deluxe Cabins with full baths for camping in comfort. Bring your family, bring your friends, or bring the whole group – there's plenty of ways to stay and explore.
KOA Holidays Feature:
RV Sites with a KOA Patio®
Deluxe Cabins with full baths
Premium Tent Sites
Group meeting facilities
Directions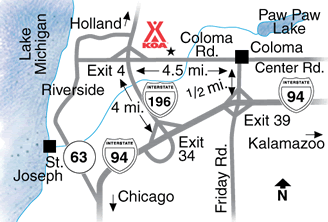 From the south / Interstate 94 use Exit 34 to I-196 North. Then drive 4 miles and take Exit 4. At the bottom on the ramp, turn left (east) and we are just 200 yards on your left hand side.
From the north / Interstate 196 use Exit 4. At bottom of ramp, turn left (east) and you will find us on the left hand side just past the highway.
For GPS coordinates: N42.186239, W86.373353
Get Google Directions
Jun 13, 2021
The amenities were clean, staff was friendly and my child really enjoyed all the fun activities.
Jun 13, 2021
The best KOA we hav ever stayed in. Great & friendly owners & employees. Great camp store & every part of the place was spotlessly clean. Truly a 10 out of 10 in every area. Kelly & Jennifer Love
Jun 12, 2021
Best koa very friendly And courteous they care about their guests the owner actually goes out and talks to the guests making sure they're having a good time as well as providing an excellent kid friendly camping experience
Jun 12, 2021
Campground was clean. The staff was very friendly and always stoped to see if we needed anything. The pool is very nice. Enjoyed the site we was on with the patio and the shade of the trees. It's nice to have a campground with paved roads to walk the dogs and for kids to ride their bikes. Also the K-9park is great. Park is quite and well kept. Thank You.
Jun 12, 2021
Very helpful staff and lots of fun things to do while you're there. Pizza was so good. Didn't even have to leave! Wish the wood we bought from the shop would have lit, though. We tried everything!
Jun 12, 2021
It was a perfect memory making stay with our grandsons and kids!
Jun 12, 2021
We just stayed over night on our way north. Easy to find near main route. Gas station and convenience store at entrance also.
Jun 12, 2021
Well I really didn't want my 8 year old niece smoking weed for the first time at that age!! Thats all the people did behind us and we walked in our tent and smelled like someone had just been sitting in our tent smoking for a week straight!! Umm really didn't appreciate pulling up to our site to be approached by the team leader telling me we had to options pay our bill or pack up and leave !!
CAMPGROUND RESPONSE / COMMENTS:
After making accommodations for you during your two week stay, your negative review is not only disappointing, but you also know it to be unwarranted.
Jun 11, 2021
It was excellent,relaxing.
Jun 11, 2021
Great staff, great facilities and sites!
Jun 11, 2021
Very nice campground and facilities. Well maintained. Plenty for kids to do yet nice and quiet for people without kids. Staff very friendly and helpful. Your garbage is collected and wood, ice and pizzas delivered quickly. Restrooms and showers very nice and clean. Nice heated pool. Great location being right off the highway and very close to St. Joseph. Thanks for the great stay!
Jun 11, 2021
Super stay. Will go back asap. Mark and wife super people
Jun 11, 2021
Deluxe RV sites are phenomenal! Full hook up, concrete pad, furniture, grill, fire pit, and wood, Ice, and pizza delivered to your site! What's not too like! Absolutely perfect. Thank you for your attention to detail. We will be back!
Jun 09, 2021
Small, quiet campground in a rural setting. Bathrooms were clean. We stayed one night on our way home. Would stay here again.
Jun 09, 2021
We have been to this KOA 3 times, and enjoy staying there. But this year our patio was exceptionally dirty. It took me 15-20 minutes to sweep it off with my house broom. I understand it is outside, but it looked like it had not been cleaned off since the last camper left. Stones, sticks, leaves and wood from the fire pit was everywhere. After I swept, it was clean for our 4 day stay.
CAMPGROUND RESPONSE / COMMENTS:
Our wooded setting does cause leaves, twigs and/or other debris to fall on all of our sites. However, we usually aim to blow off all of the patio sites, especially when we have an arriving guest. Next time, please just give us a call and we'd happy to come out to take care of it for you.
Jun 09, 2021
This was our first family camping trip. We are familiar with the area and we always enjoy the beaches. We had an excellent time! It's very convenient, the facilities are immaculate! Our kids didn't want to ever leave to play on the beach!
CAMPGROUND RESPONSE / COMMENTS:
We are so pleased to have been your first family camping trip and certainly hope it won't be your last! It's encouraging for us to know that your kids were fully entertained by all the thing we have to offer. See you again soon!
Jun 08, 2021
Very nice and clean campground. Family friendly
Jun 08, 2021
This was our stay at a koa and everyone was very friendly. The place was clean and quiet. Excellent stay
Jun 08, 2021
Very professional and courteous staff. Grounds are very well maintained. Proximity to highway was mildly disruptive. Had a power outage for ~10 hours...staff was very courteous and generous (free ice cream & ice). But I was quite disappointed that they did not seem to have a plan to manage the lack of water (water pumped vs gravity fed) the restrooms were not acceptable during the outage.
CAMPGROUND RESPONSE / COMMENTS:
Fortunately, the area-wide power outage you experienced is a rare occurrence, but we recognize the inconvenience. Our staff worked hard to address immediate needs and had the restrooms cleaned and ready once power was fully restored. We are also now researching the installation of generator power.
Jun 08, 2021
This is our favorite campground. It was our 5th time staying here and it's always wonderful experience. The place is super clean, bathrooms and showers in a main building are great. There is so many activities for kids like jumping pillow, swimming pool ,mini golf ,hiking area,play ground etc. The little store is great too and fries � are so good � We had so much fun as always ���
CAMPGROUND RESPONSE / COMMENTS:
Thanks for the kind words, and for your repeat business. We greatly appreciate it and work hard to earning it by each year looking for new products or services we can offer, like adding crunchy French fries to our Cafe menu. They have been a BIG hit and we're glad you enjoyed them!
Jun 08, 2021
Very nice park, very clean and well kept. They had a power outage on Saturday, and we didn't get a movie, but made up for it with free Ice cream. The staff was wonderful, helpful and friendly. This is the second time we have been here, and I'm sure we will be back.
CAMPGROUND RESPONSE / COMMENTS:
Thanks for recognizing our staff for all their hard work and creative ways to even make a power outage fun for everyone. We look forward to seeing you again!
Jun 08, 2021
Overpriced! By far the most expensive KOA my family has stayed. Campsites are extremely small and campground is extremely congested. If you dont mind being crowded at a high price then this is the place for you!
CAMPGROUND RESPONSE / COMMENTS:
The old saying, "You get what you pay for," applies here. While we wish you enjoyed your time with us, we know hundreds of other guests are very eager to be with us and enjoy our exceptional hospitality. Therefore, we genuinely hope you enjoy all the other campground options available to you.
Jun 07, 2021
The staff was GREAT!!! There was an electrical outage at the campground and surrounding towns. The staff handles it very well. They had a free ice cream social. We all loved that!!!
Jun 07, 2021
Very nice, safe, and clean.
Jun 07, 2021
The campground was nice and clean! They had lots of things to do from a fishing pond, pool, nature trail, games, and a jump pillow to movie nights and barrel rides. The staff was kind and helpful! Loved the text option to order things to be delivered to our camp site. There's was a power outage while we were there and they gave away free ice and ice cream. They gave us text updates! Great place!
Jun 07, 2021
Had a great stay this weekend! There was tons for the kids to do from basketball, jumping pillow, connect 4 and the pool was great! Only recommendation I have is paint large directional arrows on the streets to know traffic direction in and out. We will be back, thanks so much!
Jun 07, 2021
Great friendly staff. Nice amenities.
Jun 07, 2021
Top of the line campground with a very professional and courteous staff. Highly recommend this KOA!
Jun 07, 2021
One of our favourite!!!
Jun 07, 2021
The electric went out and the staff was very informative about the situation. The camp employees were really nice. Delivery service to campsite is a definite plus. Will stay again.
Jun 07, 2021
Other than the overnight power outage (obviously no one's fault) it was a great time! Could use more activities geared towards the tweens.
Jun 07, 2021
Very well organized campground, clean and friendly. Great for families with kids. Heated pool, close to lake michigan beaches.
Jun 07, 2021
Loved our stay at this beautiful campground! Lots of activities for the kids !There was a countywide power outage -they kept us up to date and even got free ice cream and ice to keep cool.We will definitely be back!
Jun 07, 2021
They were very friendly curtious and always willing to help...really love the delivery service from the general store and cafe...great place for families and their dogs too.
Jun 07, 2021
Very nice KOA! Great facilities and people. Pizza made to order was excellent! We will be back
Jun 07, 2021
We love the camp ground but we're super bummed to leave Saturday night due to the power outage and no one reach out about it. I know it's not the fault of the campground but figured we would hear something about the inconvenience. Won't stop us from coming back
CAMPGROUND RESPONSE / COMMENTS:
During the area-wide power outage, our staff was working hard to communicate with guests and meet immediate needs. We recognize the inconvenience, but cannot take responsibility for things well outside of our control. Thanks for your understanding. We are pleased to know you still intend to come see us again!
Jun 07, 2021
This review has been removed by KOA due to profanity.
Jun 06, 2021
Mark and Karla run a great ship!! Great customer service, everything is clean, garbage was picked up within 15 minutes every time we put it out. Firewood and ice were delivered to sites as people were pulling in! Love this campground, all of the improvements and upgrades....and it looks like there are even more coming!
Jun 06, 2021
The staff was extremely accommodating!!! They know what customer service is all about!!! My only suggestion is to put in the description that you provide dishes, pots, shampoo. Soap, and such. We came from out of state and I packed all of that because I was unsure. It was a nice surprise! There was nothing negative about our experience and I definitely recommend to all!
CAMPGROUND RESPONSE / COMMENTS:
We are glad you enjoyed our deluxe cabins that supply all of your dishware. Our descriptions are on our website, but we'll review whether can make that fact more prominent.
Jul 31, 2021
A truly wonderful KOA campground!
- Barry Koebel on Google
Jul 31, 2021
This is an awesome place to RV camp, very family friendly.
- Andrew Moore on Google