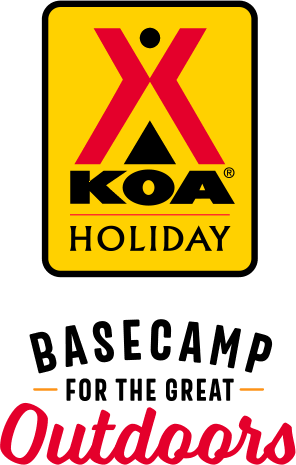 KOA Holiday Campgrounds
Whether you're exploring the local area or hanging out at the campground, KOA Holidays are an ideal place to relax and play. There's plenty to do, with amenities and services to make your stay memorable. Plus, you'll enjoy the outdoor experience with upgraded RV Sites with KOA Patio® and Deluxe Cabins with full baths for camping in comfort. Bring your family, bring your friends, or bring the whole group – there's plenty of ways to stay and explore.
KOA Holidays Feature:
RV Sites with a KOA Patio®
Deluxe Cabins with full baths
Premium Tent Sites
Group meeting facilities
Directions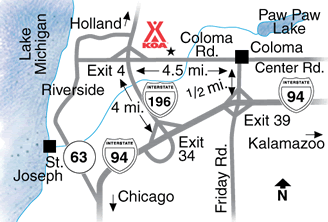 From the south / Interstate 94 use Exit 34 to I-196 North. Then drive 4 miles and take Exit 4. At the bottom on the ramp, turn left (east) and we are just 200 yards on your left hand side.
From the north / Interstate 196 use Exit 4. At bottom of ramp, turn left (east) and you will find us on the left hand side just past the highway.
For GPS coordinates: N42.186239, W86.373353
Get Google Directions
Aug 01, 2020
Quiet location, interesting configuration - had to cross main road to get to pull through sites - the cable box was filled with wasps- the cable did not work
CAMPGROUND RESPONSE / COMMENTS:
With thousands of guests each year, this is the first time we've been told we have an "interesting configuration." As for the wasps, it would have been helpful if you let us know before posting it online so we could take care of it for you. Staff have now resolved it for future guests.
Aug 01, 2020
Very crowded. No social distancing. Very, very few masks. Lots for kids to do. Sites close together.
CAMPGROUND RESPONSE / COMMENTS:
It should be expected that summertime in southwest Michigan will bring a lot of demand to be outside. With 40 acres, there is plenty of room for social distancing to remain six feet away from people outside of your household, and we are pleased an overwhelming majority of guests are respectful.
Aug 01, 2020
We have always camped at State Parks. Chose your KOA for the many things there are for the younger kids to do. We were not disappointed and the kids had a a Great Time !!! We all had a Super Week. Thank you so very much for all you did to make stay so enjoyable. First stay at a KOA...We'll be Back Again !!!
CAMPGROUND RESPONSE / COMMENTS:
Our government-subsidized competitors are a nice option usually on choice tracks of land. However, we're pleased to offer our guests with exceptional service and amenities in a beautiful setting. We're glad you enjoyed the KOA difference, and honored that you'll be back!
Aug 01, 2020
Wonderful! Great campground with diverse and well spaced amenities. We usually would go to the beach, but this stay was shorter and our kids had fun at the campgrounds the whole time.
CAMPGROUND RESPONSE / COMMENTS:
It's nice to have options, isn't it? Whether you drive just minutes away to visit the variety of great attractions in our local area or choose to hang out at the campground, our goal is to help you enjoy time with your family and friends.
Jul 31, 2020
Beautiful location close to everything!
Jul 31, 2020
very pleasant stay. the place is great. definitely will be back
Jul 31, 2020
Only a 1 night stay, passing through town. Facility was nice, clean & well kept and the staff was exceptional. Very friendly and kind. I will be back when I can stay longer. Great Place!! Thank You!
Jul 30, 2020
Stayed in Deluxe Cabin #108 which was very clean and had great facilities for our stay. The office staff was very friendly and responsive to our questions.
Jul 30, 2020
Everything was great. My kids love that place.
Jul 30, 2020
The water at our campsite was tinted. I think there is a water leak some where. When it settled there was sand in it. Also cars driving to fast on the entrance and exit of the campground where all the kids cross to playground and jump pillow. The one 30amp receptacle in the power pedistal was burnt up and needed to be replaced. Need fitting on water hose at dump station.
CAMPGROUND RESPONSE / COMMENTS:
Occasionally, our well-water tank stirs up sentiment that comes through the lines. Flushing it out for a couple minutes always clears it up. Rest assured, the water is regularly tested and is safe for drinking. We urge everyone to drive carefully, and are glad we could quickly fix the electric.
Jul 30, 2020
Very nice camp ground. The staff was well trained and vey helpful. The faculties were well kept,clean and convenient. Thank you for a nice stay.
CAMPGROUND RESPONSE / COMMENTS:
It truly is our pleasure to serve you and your family!
Jul 29, 2020
Great time. Will come back again.
Jul 29, 2020
Very clean; wonderful owners and staff.
Jul 29, 2020
Clean, curtious, fun activities.
Jul 29, 2020
This isn't our first visit, the park is obviously older and many mature trees offer lots of shade. The hook up need to be greatly improved our water and electric were at the front of the site and if we had not carried extra cord and hose we would have neede to reposition the rig, because of that we had cords and hoses across the living area the sewer is MUCH too close to the pad not conducive to b
CAMPGROUND RESPONSE / COMMENTS:
Your comment describes the character of our 46-year old park, whereby a few of our sites have connections in less convenient places. Unfortunately, we have determined that the mature trees and other infrastructure make it cost-prohibitive to move them. Therefore, we provide guests with extensions.
Jul 29, 2020
All the staff was very friendly and accommodating. I would have rated higher had it not been for a water pressure issue on our site.
CAMPGROUND RESPONSE / COMMENTS:
In response to the issue, we checked our water lines while you were on site and determined the issue was internal to your RV. We immediately address any situation that becomes persistent, and have not had other guests experience this issue.
Jul 29, 2020
All good except WIFI is not what was expected. I was one of the closer units to the clubhouse and it was not good at all
CAMPGROUND RESPONSE / COMMENTS:
Our complimentary Wi-Fi provides ample bandwidth for email or Internet searches, but does not allow guests to stream videos. We apologize for any inconvenience, but with recent upgrades, we have confirmed a strong signal throughout the park.
Jul 29, 2020
It was amazing! We got 2 sites that they were by the bathrooms and every so often you could Smell the sewage because I don't think they are buried enough but other that that it was great. I will be going back but definitely in different sites not by the bathrooms.
CAMPGROUND RESPONSE / COMMENTS:
The tent sites you reserved are literally the last sites we book in the entire park, because of their location, so we are glad we were able to come for your last minute camping trip. We are glad you found everything else to be amazing!
Jul 28, 2020
Clean and shady sites
Jul 28, 2020
The staff was soo nice and accommodating. Thank you for a wonderful weekend.
Jul 28, 2020
Loved updated bath rooms, pool facilities, store with lots of purchase items to choose from. Staff outstanding, polite and helpful. We will be back!!
Jul 28, 2020
Beautiful KOA!!!! wooded and very quiet. They have many extra sporting activities (more than most KOAs we have been) horseshoes, cornhole, big checkers and chess, etc. the play area is also not right next to any campsites, which is nice. we will be back next year (we live 5 hours away).
Jul 28, 2020
Great campground! Nice staff, clean and lots of shade.
Jul 27, 2020
Helpful courteous staff. Clean campground. Impeccable bath house. Nice amenities. Thank you for a wonderful time!
Jul 27, 2020
This is a nice KOA with plenty of activities for the kids to enjoy. Staff was always helpful and friendly! Crazy busy on the weekend, but that's to be expected. Close to St. Joe's and South Haven. Had a great time!
Jul 27, 2020
This was our first time staying at a KOA. I can't tell you how impressed we were. The bathrooms, clubhouse, pool area, and all the amenities were VERY well taken care of and clean. I appreciated the kind, polite staff and seeing everyone constantly making sure things were kept up. It was also great that everyone actually drove slow!! We will be back!
Jul 27, 2020
Nice, friendly, and accommodating staff; clean and well-maintained showers/restrooms; beautiful location.
Jul 27, 2020
It was absolutely amazing! We had a blast!!
Jul 27, 2020
Great family environment! Swimming in Lake Michigan only minutes away.
Jul 27, 2020
Very nice place, friendly staff seen many updates since my last stay. Definitely will be staying there again.
CAMPGROUND RESPONSE / COMMENTS:
In our 4th full season as the new owners, we are pleased you have enjoyed the numerous upgrades we've made. As owner/operators, we have sought to make every corner of the park a place we ourselves would want to spend our leisure time. By doing so, we wish to honor your decision to be with us.
Jul 27, 2020
We love coming to the Coloma location! There is a lot for kids to do and they never want to leave on the last day!
CAMPGROUND RESPONSE / COMMENTS:
We know we've done our job if your family is begging to come back before you've even left. We look forward to seeing you again... soon!
Jul 27, 2020
Very friendly staff, clean sites, nice and quiet. The only downside it can get cramped if your next to tents
CAMPGROUND RESPONSE / COMMENTS:
With different site-types to choose from, our park is able to accommodate many needs. Your RV site is one of four that are adjacent to tents. When camping with tenting friends or family, these sites are very popular. However, we'd be happy to help you select a different site for your next visit.
Jul 27, 2020
This campground is gorgeous! The highlight of the weekend was watching the kids on the train smiling and laughing with Santa Claus leading the way!
CAMPGROUND RESPONSE / COMMENTS:
We were so glad that the Big man himself could stop by our campground to spread a little joy during our Christmas in July celebration. Before he had to head back to the North Pole, he told me that we had the most well-behaved children he's ever seen.
Jul 27, 2020
Rustic swing was great. Site was dirt so leveling could be a problem. Campground mood was great. General Store was nice. Being this site is located just within Eastern timezone, they should make considerations for daylight hours. Pool closes way too soon for families (8pm) given the fact the sun was still up near 10 pm.
CAMPGROUND RESPONSE / COMMENTS:
Thanks for your feedback. Our pool is open from 10am-9pm, with the final hour being for adults only. While the sunset goes late at the height of the summer, soon it'll be dusk around 9pm. The larger issue is the pool also needs time to be cleaned after 11 hours of use by all our Happy Campers.
Jul 27, 2020
This is our favorite campground, and we come back every year. If it was closer, we wouldn't camp anywhere else. They have great staff and wonderful owners.
CAMPGROUND RESPONSE / COMMENTS:
Thanks for the high praise! We are so appreciative of your faith and confidence in us for the time you enjoy with your family with us each year. Stories like yours motivate us and our entire staff.
Jul 26, 2020
Nice place helpful staff
Jul 26, 2020
This was our first time camping at a KOA campground and we would definitely recommend the Coloma/ St Joseph KOA. The campground was very nice and the amenities were wonderful. Our kids (7 and 11) loved the jump pillow, pool, and mini golf. The staff was friendly and helpful. We will be back, for sure! Thank you!
CAMPGROUND RESPONSE / COMMENTS:
We are glad we were impressed! Our dedicated staff work hard to provide you and your family with exceptional guest service, along with modern amenities and maintained grounds that more than often puts us above the competition. We're not perfect, but we certainly aim high!
Jul 25, 2020
Very nice campground close to the beach and towns. Will be for sure coming back!
Jun 14, 2021
We have had a great experience here each time we have come. The staff is friendly, there is lots for the kids to do. The facilities are kept clean. Love that you can now text them to order pizza, ice, or firewood!
- Jennifer Jacobs on Google
Jun 14, 2021
Mmmm pizza. I do wish there was a book exchange or some books to purchase from the store. The book store I found in town wasn't awesome but I did find something there to read last night. I just think book exchanges are cool and anywhere you have a lot of travelers you'll see a lot of different types of books. The trails here are the best I've personally seen at a KOA and that was great for taking my dog around. The little lake is pretty and it's cool that they have games and seats around that as a center point. I stayed at a rustic camp site and I LOVE that it is a little wooded area. Not exceptionally private but they've done a great job making it feel more like the camping I am typically used to in the woods. And the PIZZA! It was so good. I was honestly surprised by how good it tasted and it is right there in camp. I got the classic vege without mushrooms and it had the perfect amount of spice from the jalapenos.
- Sean Anderson on Google
Jun 13, 2021
Friendly staff & very well kept up
- Joseph Garcia on Google