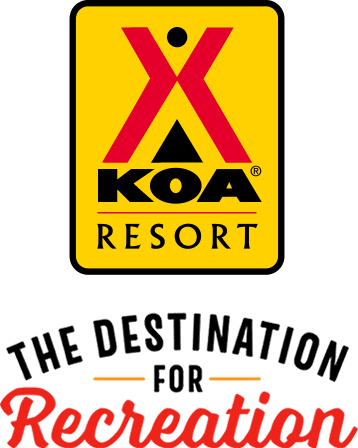 KOA Resort Campgrounds
KOA Resorts offer a carefree vacation in the great outdoors. Enjoy robust recreation and staff-led activities, kick back and relax by the resort-style pool, or grab a bite to eat, all while never leaving the campground. And with plenty of RV Sites with KOA Patios® and Deluxe Cabins with full baths to meet your needs, it's the ultimate camping getaway.
KOA Resorts Feature:
RV Sites with a KOA Patio®
Deluxe Cabins with full baths and linens
Premium Tent Sites
Resort-style pools
Indoor and outdoor group facilities
Directions
From US 13: Turn onto SR 175/Chincoteague Rd. Continue approximately 15 miles. Cross drawbridge onto Chincoteague Island; continue straight onto Maddox Blvd. Go approximately 1.6 miles. At the traffic circle take the first exit on the right to KOA
Get Google Directions
Oct 13, 2021
We were very disappointed by the decline in cleaning and maintenance since our last stay. Arrived Wednesday afternoon - nearest bathroom not cleaned until Friday afternoon. There were pieces of poopie toilet paper adjacent to our primitive tent site - they were not picked up the entire week we were there. There was no raking/cleaning up of debris on the ground. Also kids driving carts!
Oct 13, 2021
Bathroom showers have mold growing between tiles, water hookup for 4 campsites, Had to pay a $4.99 resort fee for each night, but there were no amenities (pool closed, water park closed). I've stayed at nicer KOAs that were not resort KOAs.
Oct 12, 2021
First night was awful. Loud guests until 4am despite multiple calls to establishment. Next day we were moved to a more secluded area, which was nice but A: upon check in we requested a more secluded area and was told there were none. B: had to break camp and put everything back up. This was a TENT site! It's a lot of work. Clean bathrooms. Bathrooms too cold and cheap toilet tissue.
Oct 12, 2021
Overall, our KOA experience is much better. One thing, quiet time last Friday was NOT imposed or respected. A drunk group close to us was VERY noisy until 3AM. The group was SCREAMING and LITTERING. Bathroom cleaning was well kept (sanitary)- receptionist was extremely nice and quite professional. One recommendation, if wash area"mud room" before the bathroom that would be better. Thank you.
Oct 04, 2021
Bathrooms need to be updated, the toilet paper cover fell off the wall, zero water pressure in the shower and missing covers on the soap dispensers. Tent campsites need markers where the site ends and begins. The staff working in the store and welcome center were extremely accommodating and friendly, we were a large group and they were able to get us all together ��. They made our trip!! �
Oct 04, 2021
This is our second time staying here and we love it. My only complaint was the loud music from one of the Jeep participants. We love it here because of the quiet, family oriented atmosphere and the loud music was obnoxious.
Oct 04, 2021
This was our second time staying at this KOA. We booked one night in a tent only spot and got set up with a lighthouse view. This specific spot is dreamy! The sunset/sunrise views with the lighthouse blinking in the background are memorable. The night sky allows the stars to show off their beauty! We also love how close Tom's Cove beach and park are only minutes away.
Sep 28, 2021
Very nice stay. Perfect place, perfect time of year, and the stay there is very friendly, courteous, and professional. The men's facility was nice and clean too. We will definitely come back.
Sep 28, 2021
The campground was nice. Staff was very friendly and very accommodating.
Sep 27, 2021
Overall the campground and sites were well maintained. I would recommend the bathrooms be tended more frequently as there was toilet paper on the floor in the same places the whole weekend we were there. Same with a broken soap dispenser that wasn't fixed. The sites are a lot closer together than other KOA's I have stayed at however, we didn't have really loud neighbors so that was a bonus.
Sep 22, 2021
I like KOA because the beach But unfortunately every time I go the bathroom have problems, the shower are not working ,some zinc are stak ,the street for vehicles are not even at all, in the place for tents the water focet could have a small table as a support to wash any equipment ,this place make money is very important invest money too for the costumers to be very comfortable in this place
Sep 21, 2021
The campgound looks really great and well taken care of. The bathrooms were in much better shape than our first visit when the KOA had just opened, but there's still a little room to improve with bathroom cleanliness. But, the one down side was that there was little enforcement of quiet hours. There were a few tent sites with loud music and yelling way past into 1AM. Need vigilance by security!
Sep 20, 2021
We stay here several times a year. This trip we brought my daughters scouting group. The whole experience was wonderfully relaxing. Campground bathrooms are cleaned many times a day. And they're air conditioned which is a nice break from the heat. Staff are amazing! So friendly and kind. They go out of their way to make sure the campers are having a good time.
Sep 20, 2021
Overall it was a good stay but the shower was backed up with sand. The bathroom was way too cold yo the point it was uncomfortable.
Sep 20, 2021
When we arrived there was someone setting up in our assigned spot. I called the office and they sent someone down, but he ended up giving the other campers my name and they came over to talk to me about staying in the spot instead of going to where they were supposed to. Very frustrating and not very happy that the employee gave my name out without permission.
Sep 20, 2021
We only stayed one night, but loved all the amenities included. Our tent site was in great shape and it looked like the property was well cared for. I took off one star because the bathroom was a mess the entire time we were there.
Sep 14, 2021
It was beautiful and everyone was nice and helpful!
Sep 14, 2021
It was great! But the restrooms could be a little cleaner. Most of them were very clean. The ones in the middle of the camp grounds, not so much.
Sep 13, 2021
We had a great stay! The only negative was that the bathroom soap wasn't always stocked throughout the weekend. Otherwise, loved the sites and campground!
Sep 09, 2021
Great place. Beautiful location. Scott and Shuni(Im pretty sure I'm spelling her name wrong, Im sorry) were both very helpful and informative.
Sep 07, 2021
Friendly staff, clean bathrooms, really nice experience, the only thing I would like is for the store to have grates for the pit, didn't bring one thinking they would have it as other times we used to buy one there but there was non. Everything else was great! Thank you!
Sep 07, 2021
Overall good stay. Great location. Bathrooms were pretty grim though. There are definitely not enough shower blocks for the number of people so they got very dirty between cleanings
Sep 07, 2021
We had a fantastic time at CI KOA! Enjoyed the view, the amenities, the service and all the things Chincoteague has to offer. I'd appreciate more oversight from management on where people setup their campsites. We got new neighbors who set up 5 tents 5 ft away from us at the community fire pit. It was ok but we'd have appreciated less noise
Sep 06, 2021
Scott (Scotty) was so attentive to our needs. Campground was very clean and the bathrooms were clean as well. We never went into the bathroom to find a mess. Everyone was so kind! An employee in the store was also very nice as well - he had red hair but I have forgotten his name. Wonderful stay!
Sep 06, 2021
We come here every year 3 times durung the summer. We always have a fun time.
Sep 06, 2021
Very dirty, too many people in tent area, no designated spaces for tents to have your own area Bathroom were filthy. Wasn't worth the 80 that was charged
Sep 05, 2021
Great place ! A lot of fun for the whole family :)
Aug 30, 2021
Not enough tent sights. Little privacy, corner tent sights subjected to constant vehicles driving by especially at night. Crowded campground.
Aug 29, 2021
The campground was nice. The bugs and heat were absolutely horrible we left a day early. We had a tree branch fall just in front of my truck and to the side of our tent. Was not happy
Aug 27, 2021
My tent site, 343, had very little wood chips, exposing the wood beams below and making the sleep uncomfortable. Also, I paid for a site with water, but didn't have water. I inquired 3 times before anyone came out to talk to me and he said it was too late at night to do anything (maintenance shed was locked). I checked out next morning, again telling the lady at desk, who didn't seem to care.
Aug 27, 2021
Clean, quiet, friendly and beautiful!
Aug 26, 2021
Liked that the bath house was clean and the staff friendly and helpful. Didn't like that it was difficult to tell which was your site and one neighbor actually stole our picnic table. Also thought that the flooding at the site was reeeeeally bad.
Aug 24, 2021
We had a great time. The only thing was the mosquitos. They were really bad and bug spray sometimes didn't even help. But we will schedule another trip down here. Plenty of things to do right near the camp and easy access to the beach.
Aug 23, 2021
No communication. I called, left messages, sent emails - no responses. I stopped in the office for info, no one ever knew anything. The bugs were a deal-breaker. Never saw insect mitigation until we were leaving. Your toilet paper is worse than horrible. The only fun slides at Maui Jacks were closed 1/2 the time. Mike got an ear infection from your pool. Kayaking is only accessible at high tide
Aug 23, 2021
Overall great experience!! Only complaint is my deluxe tent did not have the water faucet it was advertised to have. However, that was just slight inconvenience. Everything else was wonderful and i am considering becoming a rewards member.
Aug 23, 2021
Campsite was great. Lovely amenities and restrooms were always clean! Will come back again!
Aug 22, 2021
One thing that definitely needs to be addressed is the roads in the campground, they are horrible
Aug 22, 2021
We love it it was great