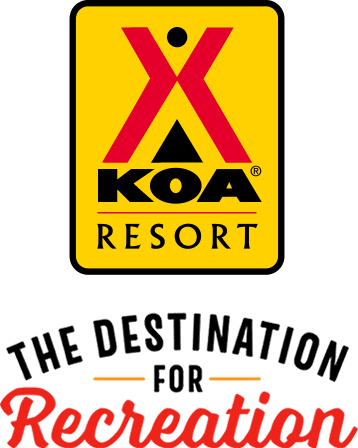 KOA Resort Campgrounds
KOA Resorts offer a carefree vacation in the great outdoors. Enjoy robust recreation and staff-led activities, kick back and relax by the resort-style pool, or grab a bite to eat, all while never leaving the campground. And with plenty of RV Sites with KOA Patios® and Deluxe Cabins with full baths to meet your needs, it's the ultimate camping getaway.
KOA Resorts Feature:
RV Sites with a KOA Patio®
Deluxe Cabins with full baths and linens
Premium Tent Sites
Resort-style pools
Indoor and outdoor group facilities
Directions
From US 13: Turn onto SR 175/Chincoteague Rd. Continue approximately 15 miles. Cross drawbridge onto Chincoteague Island; continue straight onto Maddox Blvd. Go approximately 1.6 miles. At the traffic circle take the first exit on the right to KOA
Get Google Directions
Oct 16, 2021
No one to take to sight. Spaces to close on all four sides. Bath house not heated. Not enough hooks or or space for toiletries. Except for one staff, not friendly. Kids allowed to race golf carts at night. Political banners should not be allowed. There to get away from politics. Only KOA we have seen to allow political banners. Pond needs maintenance. Birds would not even drink or go in it.
Oct 16, 2021
Loved the outside check in. Sites are short but wide enough and it felt a bit crowded by the end of the week, but you can't beat the location. Walking distance to pretty much everything, but a bike makes it easier.
Oct 16, 2021
Had a nice stay, but the sites need more stone. Our site had a lot of mud. If they would add stones, it would be great.
Oct 15, 2021
30amp not available for our site as well no converters from the campground office. Had to change sites. The tightness of the sites ruin the atmosphere for Chincoteague. Disappointed for sure.
Oct 15, 2021
We enjoyed our stay there-very nice complete facility !
Oct 13, 2021
Great facilities. Kids there were having a lot of fun. Bath houses were nice and pretty clean. A huge water park and pool area looked great but was closed for the season. The dog park area is tiny and featureless. The wifi didn't reach to our site on the far side of the park. Ideal location to access the beaches.
Oct 13, 2021
Enjoyed our stay. Staff was very warm and receptive. Grounds were clean and well maintained. A bit crowded with visitors due to the holiday weekend, but over-all a pleasant experience. Too bad ithe weather was a damp and misty.
Oct 13, 2021
very quiet, clean area. T
Oct 12, 2021
Great location ! Friendly stafff
Oct 12, 2021
Wish we could pick our spot when booking. Other than that this KOA is fantastic and we will be back.
Oct 12, 2021
Was good weekend
Oct 12, 2021
Golf cart city! Kids/adults driving golf carts non-stop. No one policing them. Guard booth at entrance not manned all week/weekend. Total lack of security. And very, very noisy. Again, no one policing it. Very disappoin ting.
Oct 12, 2021
The staff went above and beyond to assist with our needs.
Oct 12, 2021
Great location, liked having food trucks on property, nice camp store. The bathrooms were very clean.
Oct 12, 2021
Nice campground. Extremely expensive though.
Oct 12, 2021
It was clean, pleasant and we will be back
Oct 12, 2021
Great location but the sites are very tight. We couldn't get out if we had to because of people in front of us and behind us so close. The ground was just dirt so lots of mud and sand.
Oct 12, 2021
Very nice and clean, friendly staff, no hassle.
Oct 12, 2021
Spots TOO close too each other! Had to park on angle to get 36ft motorhome in spot! Utilities could be better located. People think nothing off walking thru your site! Kids speeding with golf carts. That enough?
Oct 12, 2021
Great and helpful staff. Check in was seamless and so easy. I needed a grate for on my fire pit and searched the local hardware store for one and they did not have it. I mentioned this to the staff at the campground and they were able to find one for me to use. Thank you!
Oct 11, 2021
Loved the area! Was a little disappointed that the Halloween activities were not listed on their activity page. We had left all our stuff at home and had to go out and buy more so my grandchildren could participate in the trick or treating. When I booked it asked what size trailer we had (33ft.) stuck us in spot 299 which was a bit small, but we managed.
Oct 11, 2021
The bathrooms are filthy and there was poop on the shower floor. We also paid for a site with sewer but when we got there they told us there was non available, meanwhile a spot in the row behind us had a sewer hookup and was left unused during our stay. The spot was very small though I told them we needed a big spot. There were also trees too close for us to extend out awning.
Oct 10, 2021
Beautiful site. Very helpful staff. Great stay! We will be back!!!
Oct 09, 2021
Nice and clean. Friendly staff.
Oct 08, 2021
Bring your bikes, nice places to ride
Oct 07, 2021
Loved having a pull through site, very easy to navigate to site. Sad we spent less than a day as we paid extra for the site and never really got to use the patio furniture. Enjoyed its location to a few restaurants that were walkable and pet friendly.
Oct 06, 2021
Friendly staff very helpful. The place looked fantastic can't wait to come back when the pool and Waterpark are open next year
Oct 05, 2021
We had a blast! The Jeep event was Awesome - great job to all that put this together - Heather! We love coming to this campground it's like a hidden gem. Thank you Scott for a nice welcome. We will be back soon!
Oct 05, 2021
Beautiful campground with a lot of amenities and other activities close by on the island. Will definitely be back. The only negative was our particular site was having issues with the cable hook up and it wasn't until day 2 they sent someone who actually knew there was a problem and hooked our cable to a neighboring site.
Oct 05, 2021
Nice campground! Grounds were well maintained, bath house was very clean too. The quiet times were respected by the campers which was great... even the wedding party folks and the Jeep participants. Staff were very nice and helpful when needed. The only concern that I have is that when you close the water park, tiki bar, etc., I'm wondering why prices over the weekend are still at $125 a night
Oct 05, 2021
This was our third stay. The first two were great. This one not so much. We were given a spot that was so small that we would have had to decouple our truck and trailer. That spot was also a 90 degree parking job, something I'd not seen in other KOAs. Also, the sewer connection was so high it was impossible to have a smooth grade from trailer connection to sewer hookup.
Oct 04, 2021
Crazy upon arrival because we booked a RV sight and a cabin together last year and we were very specific. The RV sight now has a cabin on it. I saw plenty of opportunities to accommodate my request but it didn't happen. Cabin was not cleaned properly and trash was left outside on site the whole stay. RV sight ending up ok because I had to pay more for upgrade. Kinda felt taken advantage of.
Oct 04, 2021
Very well maintained campground. Awesome jeep event.
Oct 04, 2021
The RV sites very small, we could not put out our mat and extended awning. There was barely enough for our 30ft trailer in length. There was not enough living space. We were told there be room for both cars and there was not even room for one. People were very friendly.
Oct 04, 2021
Nice people great place clean, love it!!
Oct 04, 2021
Very impressed, campground & bathhouse very clean. Staff very friendly and helpful!
Oct 04, 2021
We loved our stay the entire staff great the campground was kept extremely clean one complaint I have is my dog was nearly attacked by another person's pitbull there should be a limit on the type and how many dogs are permitted as well as there are not enough trash cans I couldn't find a trashcan anywhere to drop off the dog poop always want to pick it up you shouldn't have to carry it all a