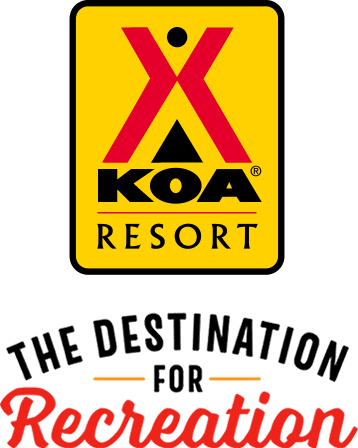 KOA Resort Campgrounds
KOA Resorts offer a carefree vacation in the great outdoors. Enjoy robust recreation and staff-led activities, kick back and relax by the resort-style pool, or grab a bite to eat, all while never leaving the campground. And with plenty of RV Sites with KOA Patios® and Deluxe Cabins with full baths to meet your needs, it's the ultimate camping getaway.
KOA Resorts Feature:
RV Sites with a KOA Patio®
Deluxe Cabins with full baths and linens
Premium Tent Sites
Resort-style pools
Indoor and outdoor group facilities
Directions
From US 13: Turn onto SR 175/Chincoteague Rd. Continue approximately 15 miles. Cross drawbridge onto Chincoteague Island; continue straight onto Maddox Blvd. Go approximately 1.6 miles. At the traffic circle take the first exit on the right to KOA
Get Google Directions
Oct 16, 2021
Loved my vacation here. The staff were very helpful and the cabin i stayed in was spotless.
Oct 15, 2021
Disappointed we weren't led to rented RV. Just given a map n directions. The RV was not numbered so we weren't sure we were in right one even tho key worked. There was signage in RV, but it would have been helpful to have someone go through do's and don'ts of RV. Had to call maintenance repeatedly because the carbon monoxide alarm kept going off. To sleep we had to keep door open. Uncomfo
Oct 15, 2021
We loved our stay. The staff team was so friendly and accommodating. Our neighbors were all friendly. The only issue we had was that there were cob webs inside our safari tent as if it hasn't been cleaned for a while. The lamps and bed post all had cob webs. The cob webs was located above my head and face. We took the time to clean it with a broom stick. Overall the experience was enjoyable.
Oct 15, 2021
Had constant problem with key & door lock on our ko5 deluxe cabin. Otherwise our stay was pleasant. Also some campsites are way too close together.
Oct 15, 2021
The bathroom in the RV smelled like sewage. We ended up having to use the community bathrooms, of which, two stalls were broken. We were expecting mattresses in the RV and found thin pads on plywood instead. The jumpy pillow was suppose to be on at 8am every morning but not turned on until around 2pm (it was not a weather issue). My kids were very sad, it was disappointing.
Oct 14, 2021
We rented a trailer. We read a few negative reviews about the condition of the trailers - and no good reviews. We found them just okay. They were clean enough (we still cleaned) and did have a little septic smell - but feel like that is normal. The beds are terribly uncomfortable. Looked at cabins and they were super cute. Campground was great - golf cart rentals were a hit with kids!
Oct 13, 2021
It was really good. However, people riding around with Trump signs and gigantic banners during Halloween trick or treating and at night is done to intimidate people and children. Political signs should be disallowed.
Oct 12, 2021
Loved the glamping. Great location, fun jump pad for kids.
Oct 12, 2021
We stayed in a delux cabin so nice very comfortable and clean . The staff was over the top friendly and accommodating. The grounds were very nice as well. Extreamly happy with our stay.
Oct 12, 2021
Estuvo comodo ...nos parecio un poco Caro ...comparando otros sitios...me gustaria Saber de programs como memberships Para un bajo rate
Oct 11, 2021
Always a fun time! Seems like your location is becoming more popular as it is always crowded in the Fall now. Our cabin was nice, however we noticed that under the sofa was not cleaned before our arrival (cereal pieces and a child's toy were found) and the floor looked clean, but having to wipe up water from our dog the paper towel came back VERY dirty. Maintenance staff was prompt. Staff friendly
Oct 11, 2021
Stayed in a rental RV. Had 2 maintenance issues but someone came to help within minutes of calling. The RV site was large and the RV was nice. Only improvement I would make is some thicker mattresses. All of the staff on site was very friendly and helpful. Heather was amazing to work with and ensured we were located adjacent to friends camping at the same time. Thank you!
Oct 11, 2021
Rented RV on site. Good location. Friendly staff. RV awning was missing, as well as window blinds at main kitchen window.
Oct 10, 2021
They totally screwed up my reservations that I made a year in advance. Then I had to pay 91 dollars more for a descent spot. Very dissatisfied. I brought a few people with me but they blew it.
Oct 09, 2021
Overall our stay was nice but when we checked in our camper was dirty. There was trash left from the last renter, The table and oven both had sticky stuff on it and there were footprints on the back of the seats.. I had to re clean and wipe everything down before I could even begin to enjoy my stay.
Oct 07, 2021
I just wish the rental campers would be serviced in between guests like making sure there's hot water and the sewage tank is drained. Our group had to call maintenance for several of these things during our stay. But other than that minor in convenience we had a great time in our rental rv at the WSW Jeep Jam
Oct 07, 2021
Very clean facilities, staff was plentiful and pleasant. We hope to visit again soon.
Oct 06, 2021
I stayed in one of the bungalows. It was so much more than I expected. It had 2 cozy rooms with a pocket door for privacy. We had air conditioning and ceiling fans. It even had television. The enclosed porch had comfy Adirondack chairs so we could relax. My family members rated our stay a 12 put of 10.
Oct 05, 2021
Rented a cabin for Jeep Jam had an awesome time!! Cabins are very nice and slept great! Definitely booking again for next year.
Oct 04, 2021
My cabin was more than I hoped it would be. Very clean and very comfortable. Thank you for putting on this Jeep event, I will definitely be back year after year for this and any other jeep event.
Oct 04, 2021
Easy check in, quiet campground, met some wonderful other campers, gorgeous weather, loved watching the sun come up over the salt marsh. Cottage was comfortable. I saw a Clapper Rail--had never seen one before! We so enjoyed time with our friends, walking the beach, sitting around campfire--had an absolutely wonderful stay.
Oct 04, 2021
It was a great stay despite the floors being filthy in the cabin. The floors need to be mopped after every stay not just swept. We had to exchange the golf cart three time after a headlight out and a flat tire.
Oct 04, 2021
Was there for the 2nd Annual WSW Jeep Jam. Expected more vendors to be there. Overall it was a great time.
Oct 04, 2021
People were very nice. Property well maintained, including bath houses. Biggest disappointment is the location of the Safari tents which were right next to the RVs. I am used to camp grounds grouping tent campers together and RV campers in another section...similar communities together. Chincoteague KOA had no rhyme or reason on location of sites...very sporadic and too close together.
Oct 04, 2021
It was excellent easy check in and check out clean cabin clean facilities.
Oct 03, 2021
NOT CLEAN: The staff here are friendly and very helpful (NO COVID PRECAUTIONS OBSERVED ANYWHERE) HOWEVER, the RV we rented hadn't been cleaned since…? The mattresses were unbelievably hard and flat and there were multiple maintenance issues (leaking fridge, etc).The bath house and showers were also not cleaned at all during our 4 day stay. Could be great but really needs repairs & sanitation
Oct 02, 2021
We love KOA Chincoteague. We've always used our own camper however on this most recent visit we decided to rent a campground owned camper. As soon as we opened the door the camper smelled like somebody had been smoking. When we opened the bathroom door there was a distinct smell of urine. Maintenance emptied the black water tank however the smell remained. Mattress was not comfortable.
Sep 30, 2021
RV beds were very uncomfortable but everything else was ok
Sep 30, 2021
So Friendly. Very Very clean bath house. Staff made regular rounds for security. Cabins very nice. Such a wonderful location to the Park and Small town.
Sep 30, 2021
We enjoyed our stay. However the golf carts driving at night without headlights were extremely dangerous. It was scary trying to drive after dark, I almost hit one I couldn't see.
Sep 30, 2021
We stayed in one of the cabins and it was very nice. Everyone we talked to was very friendly. Check in was a breeze and we loved being close to all the shops and restaurants in Chincoteague. We were missing some silverware and kitchen items but we were able to make do. I do think some more attention should be given to cleaning but overall we had a very nice stay. We will definitely return.
Sep 29, 2021
WE stayed in the Island Bungalow. The grass needed to be cut, was very high. The bath house was just ok. The showers were not too clean. Black mildew on tiles. Not sure how often the bathrooms are cleaned. Definitely more hooks should be avail in the cabins to be able to hang things. The space is very limited with just a few shelves and cubby areas. Hooks would be VERY helpful!!!
Sep 28, 2021
Bungalow was nice, a little dusty but nice with the porch. AC worked good and ceiling fan was a nice touch. Bathrooms were clean each day and the shower was nice and hot. Staff was available and nice.
Sep 27, 2021
The RV we stayed in was a bit on the dirty side. There was chunks of animal hair all over the floor and the patio rug. Also, the bedding was covered in someone else's hair. One of the comforters on the bunk bed had a huge urine stain so my son didn't end up sleeping on it. The fridge handle was broken. The beds were also hard as a board. Everything else was fine!