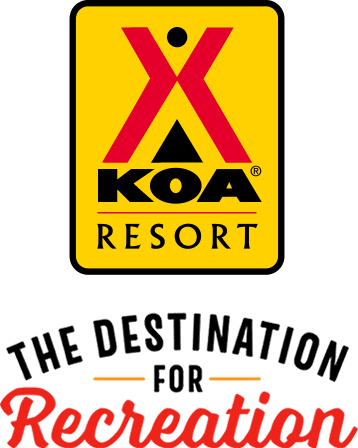 KOA Resort Campgrounds
KOA Resorts offer a carefree vacation in the great outdoors. Enjoy robust recreation and staff-led activities, kick back and relax by the resort-style pool, or grab a bite to eat, all while never leaving the campground. And with plenty of RV Sites with KOA Patios™ and Deluxe Cabins with full baths to meet your needs, it's the ultimate camping getaway.
KOA Resorts Feature:
RV Sites with a KOA Patio™
Deluxe Cabins with full baths and linens
Premium Tent Sites
Resort-style pools
Indoor and outdoor group facilities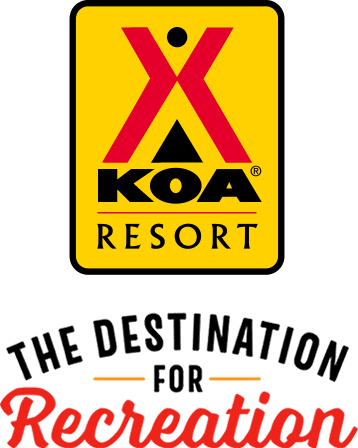 KOA Resort Campgrounds
KOA Resorts offer a carefree vacation in the great outdoors. Enjoy robust recreation and staff-led activities, kick back and relax by the resort-style pool, or grab a bite to eat, all while never leaving the campground. And with plenty of RV Sites with KOA Patios™ and Deluxe Cabins with full baths to meet your needs, it's the ultimate camping getaway.
KOA Resorts Feature:
RV Sites with a KOA Patio™
Deluxe Cabins with full baths and linens
Premium Tent Sites
Resort-style pools
Indoor and outdoor group facilities
Directions
From US 13: Turn onto SR 175/Chincoteague Rd. Continue approximately 15 miles. Cross drawbridge onto Chincoteague Island; continue straight onto Maddox Blvd. Go approximately 1.6 miles. At the traffic circle take the first exit on the right to KOA
Get Google Directions
Sep 20, 2020
Was very relaxing, amenities were excellent and bathrooms were kept very well stocked and clean. I did have trouble keeping the WiFi connection though. Could have been the weather.
Sep 19, 2020
This was our third year staying at Chincoteague KOA and it was great! The special events are a lot of fun and the RV rental is a great deal. We will be back again next year.
Sep 19, 2020
Loved the pine trees and safari tent. Very disappointed that the ladies bathroom room next to our tent was out of service for our whole stay!
Sep 16, 2020
TV only worked partly about 10hrs whole time. You need a shelf on each side bed for glasses etc. need coffee table and shelf at each end of couch..a couple shelves above toilet.at least two wall hooks for bath robes a big shelf in main bedroom under tv to put suit case on to unpack etc.a screen door hook on INSIDE of screen door to secure it to keep mosquitoes out. Fill in road swamp with stone
Sep 15, 2020
Very enjoyable. Friendly, knowledgeable staff, clean and well maintained.
Sep 15, 2020
This is our third visit and everything is great as always EXCEPT for the mosquitoes! We know it can be hard to manage but the campground had a lot of standing water which could be prevented. The staff was amazing and helpful and the facilities / bathrooms were immaculate. We will try to come back when the bugs aren't so bad :)
Sep 15, 2020
We got the worst RV site. Wet muddy all over and we have no where to put our foot on when we got out of our car. All other sites are clean of mud. I don't understand why they do this to us? why they don't cover mud with mulch or hay? Other than that, everything is good.
Sep 15, 2020
Disfrutamos un buen tiempo en familia. Me imagino que en verano se disfruta más por el parque acuático, pero es una experiencia maravillosa, volvemos
Sep 14, 2020
Super friendly. Activities/events are awesome. Although one bathroom was out of order the entire weekend, the other bathrooms were kept clean.
Sep 14, 2020
The attendants were very accommodating and polite, however the roadways needed a little TLC. Our camper was also nice and maintained. I would go back.
Sep 14, 2020
Amazing stay. Cabins are so nice and clean. Can not wait to come back!
Sep 14, 2020
I have been staying with you for several years now and I have to say this was my worst experience. Women's bathroom next to safari tents was locked for my entire stay and no one mentioned this at check in. Safari tent was very dirty and no towels. Mosquitoes were so bad and no spraying was done until night before I left. I think I will stay somewhere else next time. Up keep is definitely worse.
Sep 14, 2020
We stayed in a bungalow. The smaller ones without a bath. Very clean. Seemed brand new. Short walk to bath house. Very clean koa with friendly staff. Very accommodating. Very close to the beach and wild horses. be aware the Mosquitoes are treacherous. Bring bug spray.
Sep 10, 2020
It was fine until the last night the TV went out and the bed was uncomfortable It was a little hard need a Foam topper But the staff was nice and great
Sep 10, 2020
Amazing staff!!!
Sep 09, 2020
There was a lot of activity outside our tent up until 2 am on Friday night that kept us from sleeping. Lots of loud laughing and talking as well as opening & closing car doors and locking them with a car beep (about 20 times). Front zipper of our tent was broken & couldn't be fixed - got eaten alive by mosquitos & lots of flies in the tent. Women's bath house was out of order most of our stay.
Sep 08, 2020
It was an amazing experience. The common bathrooms were clean and safe. Plenty of room for social distancing. Our Glamping experience was super! Would definitely come back.
Sep 08, 2020
We stayed for 4 days. The place is quiet and neat. The only thing I would recommend to management is to add toilet seat covers and better toilet paper in order to minimize the mess of the cheap toilet paper on the floor.
Sep 08, 2020
An amazing location, just a 10 min bike ride to the beach. Everything else was disappointing. Our safari tent was dirty (beer caps & a sock on the floor, dust covering the fan/lights, etc.). The bathroom was the worst I've ever seen at any campground, and I camp frequently. Also, Maui Jacks blasted karaoke and a mediocre cover band until 10pm, making it impossible to relax and enjoy a campfire.
Sep 08, 2020
Stayed in a rental rv and loved it, though my feet hung off the end of the queen bed (I'm 5'8"), and while that's not a huge issue for me, someone taller would've had a rough time sleeping there, so that should be noted in the description. Otherwise no complaints!
Sep 07, 2020
Loved our deluxe cabin- beautiful and clean. Water park and tiki hut we're so fun! Camp store sufficiently stocked and loved the delivery option. Staff presence on grounds appreciated, garbage pickup easy. Suggestions: Ban political signs, cover the wood under the mattress ( scraped my leg twice), put hooks behind bedroom door, fix sink leak in K 07, adjust screen door so flies can't get in.
Sep 07, 2020
Our stay was great. I recommend that you bring very good yard spray. Made by cutter. We sprayed our rv site every morning and night and had no issues!! I Think they could have cleaned my rv a little better I found someone's shorts under the couch. Over all great stay and we will be back Next year for sure. Great Saturday Night party and band at the beach bar keko.
Sep 07, 2020
I tried to book the weekend. I tried booking online but nothing was available. I called n was told we Stay Sat night only. because RV not avail. Tried for RV, cabin n was left with safari tent. Our family was in RV for week. Tent was dirty. Box spring Full of urine. Blood on sheets. Bathrooms were not clean. Could not shower. RV were avail as many were empty? Never again. Waste of $193 dollars
Sep 06, 2020
The campground was nice and enjoyable. The WiFi did not work as well as expected. It did not keep us connected while searching for things on the internet. The bathhouse were not always kept clean. We did understand that due to covid this made it a bit difficult. We would come back again but maybe a different time of year due to the large amount of flies and mosquitos.
Sep 06, 2020
We had such a great time! The glamping tent was very clean and spacious. Everyone that works at KOA were friendly and accommodating! The location was amazing! We were close to everything! Unfortunately the bathroom by our site was horrible!! I don't think it had been cleaned all weekend. Other than the bathroom everything else was top notch! We plan to return next year!
Sep 05, 2020
The camper we rented was not cleaned as thoroughly as I would have liked. Bathroom toilet was not cleaned well and the floors were dirty. Unfortunately there was a bad storm a night, which led to a lid of a sewage tank to come off... That was right behind rented camper we were in. My son (under 2years old) was playing & almost fell into that OPEN tank due to the lid not being on properly.
Sep 05, 2020
Can't thank you enough for the use of the golf cart during our stay since the bathroom closest to us was out of order almost the entire week. I was just diagnosed with lung cancer so it made things much easier for me!
Sep 05, 2020
Close to everything, clean amenities, nice people...everything you could ask for in a wonderful vacation destination!
Sep 04, 2020
This is one of the cleanest KOAs I have ever stayed at!! And the location...fantastic!!!
Sep 04, 2020
We thoroughly enjoyed our stay, adding another night because we didn't want to leave! We were planning to tent camp and unfortunately the hurricane had flooded the tent grounds, the front desk was nice enough to discount and upgrade us to a Safari Tent and I'm so glad we did! Clean bathrooms and showers. Can't wait to go back and enjoy the waterpark when it is opened back up!
Sep 03, 2020
We love staying at the Chincoteague Island KOA! We have tent camped and stayed in an RV. The staff is always courteous and friendly. They answered all the questions we had with patience. We look forward to staying again next year.
Sep 03, 2020
I loved the campground but the beds in the RV were way too hard. Then the septic kept backing up. The campground was kept clean, restrooms were clean, pool and Waterpark were clean. Close to everything. I would consider coming back.
Sep 03, 2020
Perfect loading for a family of 4 my only complaint is that they need to do little better on cleaning . Floors were filthy, and dust everywhere. Even the toilet was dirty .
Sep 02, 2020
Very wet!! Tents drowning. Glamping great fun. Very comfortable beds. Great spot for sightseeing. Amenities kept very clean
Sep 02, 2020
They continue to do a great job upgrading the facility. Our only issues were the amount of standing water that forced us to walk through 6" to get to bungalow stairs. Maybe dumping stone so there is a walkway to parking pad would be helpful. Overall they are extremely responsive to any issues including our kids locking the keys inside the bungalow. Will continue to go back a few times annual
Sep 01, 2020
Rain brings water, but it shouldn't mean that my campsite is an ankle deep water, rained for one night and the campsites are sitting in puddles. The beds were not actual mattresses or even lump free. At 5'9 I had to sleep slightly diagonally so that my feet did not hang off the edge of the so-called queen size. Surfaces were dirty, the blankets had hair in them,
Sep 01, 2020
The cabin was nice but my children were very disappointed they would not let us rent a golf cart because of the mud puddles. They watched a large number of people driving around in rented gold carts when we were not allowed to rent one. Mosquitoes were terrible. The lazy river was nice. It would have been more fun if the water slides were open. Staff was very friendly.
Aug 31, 2020
We had a great time. The rv we rented was clean and well stocked. A little disappointed about the flooding issue from all the rain ( nothing you guys could do about that). Staff members were friendly and very helpful. Looking forward to our stay in September.
Aug 31, 2020
great staff, great fun, ONLY problem during stay - rented RV, bathroom unable to use bc of the horrible smell, BR was pumped & a liquid cleaner was dropped off, however it did not work, did not use or even want to open the BR door in order to avoid the entire RV smelling like sewage. Should have just rented a cabin without a BR for much less if had to use public RR anyways
Aug 31, 2020
I was disappointed when i went to the front desk on 8/28 around 3 pm with an emergency. My little girl had cut her finger and I asked if there was a first aid box I could use. The staff told me they had first aid, but it wasnt for guests ( my girl was bleeding badly). They said go to family dollar, which had no first aid supplies. I returned to the front desk and pleaded with the staff. WTF?
Aug 30, 2020
Great time grandkids loved it,
Aug 30, 2020
We enjoyed our visit.
Sep 13, 2020
You see alot of complaints about mosquitoes but it's an island with alot of marshy areas so bugs are to be expected. We got there Friday at 2 and around 4 a pick up truck with a fogger was making rounds...very little problem after that. We stayed in one of the RVs you can rent...loved the deck, tables and chairs that was there. We were happy to have A/C which pumped out enough cold air. Only downside of RV was the beds. They felt like a piece of plywood covered with a sheet. It's a shame cause when we stayed last year in the safari tent it was one of the best beds ever, we wished we could get one for home it was so nice. Staff was amazing, housekeeping was prompt to fix a small problem in the bathroom. One of the maintenance men was nice enough to fill a could of holes so I wouldn't fall. Recreation was awesome and we had a great time at the Guns and Hoses event.
- Lisa tiggerrrt on Google
Sep 21, 2020
This is our third fall coming here. Stayed in a patio site each time. Very clean. Attentive staff, they changed all of the sites to 50 amp, we have 30, so they loaned us a dog bone and said they where changing it back. Hope they also put the 120 plug back too. We use it to cook with since our RV doesn't let you use more then one thing at a time. Loved the view of the lighthouse and the sound!
- Kimberly Naumann on Google
Sep 13, 2020
This campground was clean and the waterpark (what was open, pandemic and all) was a lot of fun. The burgers at the waterpark's concession stand were bad, but the fries were delicious.
- Valerie Woo on Google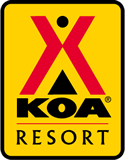 Chincoteague Island KOA
Open May 15 - November 30
6742 Maddox Boulevard
Chincoteague Island, VA 23336
Check-In/Check-Out Times
RV Sites, Tent Sites
Check-in: 3:00 pm, Check-out: 11:00 am
Accommodations
Check-in: 4:00 pm, Check-out: 11:00 am
Get Google Directions