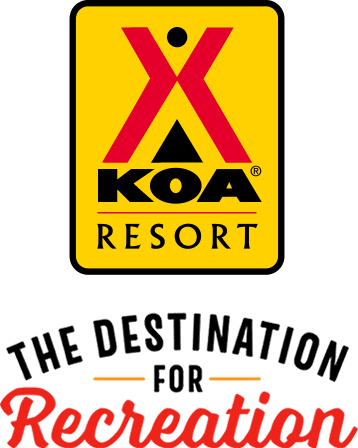 KOA Resort Campgrounds
KOA Resorts offer a carefree vacation in the great outdoors. Enjoy robust recreation and staff-led activities, kick back and relax by the resort-style pool, or grab a bite to eat, all while never leaving the campground. And with plenty of RV Sites with KOA Patios® and Deluxe Cabins with full baths to meet your needs, it's the ultimate camping getaway.
KOA Resorts Feature:
RV Sites with a KOA Patio®
Deluxe Cabins with full baths and linens
Premium Tent Sites
Resort-style pools
Indoor and outdoor group facilities
Directions
From US 13: Turn onto SR 175/Chincoteague Rd. Continue approximately 15 miles. Cross drawbridge onto Chincoteague Island; continue straight onto Maddox Blvd. Go approximately 1.6 miles. At the traffic circle take the first exit on the right to KOA
Get Google Directions
Sep 25, 2021
Our site had a terrible odor on arrival, we were not able to sit outside for the first two days. A campground worker addressed the issue when he was informed about it the following day but if the site had been checked prior to arrival some one would have noticed it as well as the fire ring that was full and never cleaned even when requesting it. Laundry and bathrooms were not very clean at all!
Sep 25, 2021
We stayed in one of the pet friendly cottages. It was so adorable! The campground was clean and people were friendly. Our new neighbor behind us inadvertently turned off our water. Your staff had it running again in record time. There was lots of room to walk dogs and people were considerate of each other. We would stay again! We particularly loved the screened porch and outdoor furniture.
Sep 25, 2021
We reserved a Deluxe Cabin. In the description of this site online it states there will be a hard surface patio and fire chimnea. Ours had neither. This was brought to the staffs attention and we did receive a fire chimnea, but nothing was done about not having a patio despite the fact that ALL the other cabins had one and we were supposed to. Disappointing that we didn't get what we paid for.
Sep 25, 2021
Very nice campground excellent staff. Bathrooms and showers need to be updated and be kept cleaner!
Sep 25, 2021
The KOA location is very good but that is about all I can say that is positive. The roads in the park are full of potholes and are very dusty. The maintenance is almost non existent. Our site sewer was clogged. W told the front office and while they did unclog it they left the mess there such as toilet paper and other stuff I wont mention. Our concrete patio was covered in dirt.
Sep 24, 2021
Camped one week, great camping spot, what we like most about this campground is that it forces us to relax.
Sep 24, 2021
Very disappointed with the condition of the RV we rented and the disgusting condition of the bathrooms. I've always been impressed by the way KOA tends to do very well at keeping things to a 'higher' standard than most campgrounds!
Sep 24, 2021
We had a nice stay and we will be back. My only complaint is that the site was not clean when we got there, bit it was taken care of right away.
Sep 23, 2021
The cabin was lovely and ready for us. The staff is always so helpful and knowledgeable. The campground is well-maintained and a pleasure to enjoy. We look forward to our next visit.
Sep 23, 2021
This is one of our favorite destinations . The staff is remarkably kind. They keep a clean park, always looking to please . Thanks for having us and see you soon !
Sep 22, 2021
Nice KOA this was our 3rd stay with them Close to beach and bike trails The only down fall is the sites are close and pricey
Sep 22, 2021
all staff were very friendly and helpful. Best KOA campground i have stayed in.. Thanks.
Sep 22, 2021
We have stayed here a couple of times and the grounds are well kept and the staff are attentive and friendly.
Sep 22, 2021
I like KOA because the beach But unfortunately every time I go the bathroom have problems, the shower are not working ,some zinc are stak ,the street for vehicles are not even at all, in the place for tents the water focet could have a small table as a support to wash any equipment ,this place make money is very important invest money too for the costumers to be very comfortable in this place
Sep 22, 2021
Great place, I'll be back.
Sep 21, 2021
Some of your staff at the store were rude also in campground someone playing loud music all staff never told them turn until about 9 pm
Sep 21, 2021
3rd time camping there. we love the island. Campground is nice, only complain is how dirty the bathrooms are ALL the time. Toilet paper is awful cheap and the same shower is out of order since I came in 2018. We stayed in a "Safari tent" this time and zipper to close the net it wasnt attached and couldnt close b/c the opening seemed too big, anyways. Hopefully they start cleaning bathrooms&showers
Sep 21, 2021
My stay was good. However, the bathrooms were dirty every single time. Toilets and showers out of service. The men bathroom had mold in several shower areas, causing a lot of disgusts in the men camping. The road inside the place was way too bumpy and hard to use with the golf carts.
Sep 21, 2021
Campers need a good cleaning, Dishes had chips in them, mini blind missing from bedroom window. Campers never got pumped out like they said they would.
Sep 21, 2021
Everyone was extremely nice, in particular the gentleman at the gate (he is a veteran moved here from ca. ) the grounds were well kept. The cable was not quite up to expectations in and out. Clean throughout kudos to everyone
Sep 21, 2021
KEEP LOSING WIFI AND TV
Sep 21, 2021
Can't wait to go back when water park is open. It was a very pleasant stay.
Sep 21, 2021
excuses were made... unable to rent kayaks, despite tidal flows or timing.
Sep 21, 2021
The campgound looks really great and well taken care of. The bathrooms were in much better shape than our first visit when the KOA had just opened, but there's still a little room to improve with bathroom cleanliness. But, the one down side was that there was little enforcement of quiet hours. There were a few tent sites with loud music and yelling way past into 1AM. Need vigilance by security!
Sep 21, 2021
Site had bad underground cable wire. Spent 40 minutes playing with two TV's and their cable box to find out they knew there was a problem. Used my 100' cable and 3 safety cones to tap into a T they apparently installed on adjacent site to accommodate. Site should not be used or at least tagged to advise each new occupant followed up by maintenance with temporary remedy.
Sep 21, 2021
We loved the miles of safe bike riding. Being able to ride to the ocean really made our day!
Sep 20, 2021
We stay here several times a year. This trip we brought my daughters scouting group. The whole experience was wonderfully relaxing. Campground bathrooms are cleaned many times a day. And they're air conditioned which is a nice break from the heat. Staff are amazing! So friendly and kind. They go out of their way to make sure the campers are having a good time.
Sep 20, 2021
Everything went well. Checked-in online, showed up and parked the camper five minutes later. Friendly neighbors on both sides. Great weekend overall!
Sep 20, 2021
First visit to Chincoteague Island, and we picked this KOA after looking at their web site. We do not tow a vehicle, so had expected to ride the KOA trolley to the beach and hiking trails. Although the KOA trolley was shown on the website, to our surprise, there was none. Otherwise, nice pool, clean facility, nice people. Scotty was especially polite and helpful.
Sep 20, 2021
The staff was very helpful and went the extra mile to take care of our needs. Campsites were clean. Firewood being delivered and garbage pickup was a plus. Just wish the Water Park stayed open for a few extra weeks.Maybe close after 9/30. We still had a great time.
Sep 20, 2021
Very friendly staff. Beautiful well maintained campground. However the bath house was very dirty and disgusting. I don't think they were clean the entire weekend.
Sep 20, 2021
Very friendly greeting when we arrived. Nice campground. Disappointed in lack of activities for Margaritaville weekend. Unless you went to the bar the theme weekend was not there. Went to bar for the "drink specials" Bartenders seemed overwhelmed when it was not crowded. Sign posted on frozen drink machine stated " If you want a f*cking slushie go to 7-11." Real classy.
Sep 20, 2021
All of the staff were so friendly and helpful. Quick check-in, amazing pool, close to the beach. The facility is awesome and we definitely will be coming back next year.
Sep 20, 2021
It was nice stay. Quiet pleasant clean campground didn't get to use the pool or other things next time. The only thing was that the camper next to us was unoccupied and an alarm was going off constantly we told the front office but nothing was done it was site 227.
Sep 20, 2021
Stay was great. Bathrooms were very clean, would have liked something in the shower to put soap and shampoo on.
Sep 20, 2021
The entire staff we came in contact with was very friendly and helpful. Very enjoyable stay and we will be back. The campground was clean and in great shape. If there was anything negative to say, it was our patio furniture was a bit moldy, but we used a table cloth so it wasn't a big deal.
Sep 20, 2021
Overall it was a good stay but the shower was backed up with sand. The bathroom was way too cold yo the point it was uncomfortable.
Sep 20, 2021
When we arrived there was someone setting up in our assigned spot. I called the office and they sent someone down, but he ended up giving the other campers my name and they came over to talk to me about staying in the spot instead of going to where they were supposed to. Very frustrating and not very happy that the employee gave my name out without permission.