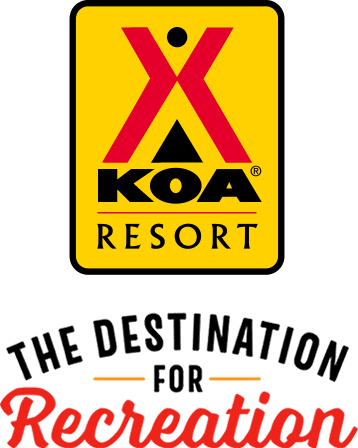 KOA Resort Campgrounds
KOA Resorts offer a carefree vacation in the great outdoors. Enjoy robust recreation and staff-led activities, kick back and relax by the resort-style pool, or grab a bite to eat, all while never leaving the campground. And with plenty of RV Sites with KOA Patios® and Deluxe Cabins with full baths to meet your needs, it's the ultimate camping getaway.
KOA Resorts Feature:
RV Sites with a KOA Patio®
Deluxe Cabins with full baths and linens
Premium Tent Sites
Resort-style pools
Indoor and outdoor group facilities
Directions
From US 13: Turn onto SR 175/Chincoteague Rd. Continue approximately 15 miles. Cross drawbridge onto Chincoteague Island; continue straight onto Maddox Blvd. Go approximately 1.6 miles. At the traffic circle take the first exit on the right to KOA
Get Google Directions
Sep 29, 2021
WE stayed in the Island Bungalow. The grass needed to be cut, was very high. The bath house was just ok. The showers were not too clean. Black mildew on tiles. Not sure how often the bathrooms are cleaned. Definitely more hooks should be avail in the cabins to be able to hang things. The space is very limited with just a few shelves and cubby areas. Hooks would be VERY helpful!!!
Sep 28, 2021
Great location and activities.
Sep 28, 2021
Bungalow was nice, a little dusty but nice with the porch. AC worked good and ceiling fan was a nice touch. Bathrooms were clean each day and the shower was nice and hot. Staff was available and nice.
Sep 28, 2021
Very nice stay. Perfect place, perfect time of year, and the stay there is very friendly, courteous, and professional. The men's facility was nice and clean too. We will definitely come back.
Sep 28, 2021
We came for a long weekend in the fall. The staff was very friendly, and the check-in process was fairly efficient. The facility has lots of clean bath houses and many amenities
Sep 28, 2021
The campground was nice. Staff was very friendly and very accommodating.
Sep 28, 2021
Nice and quite campground ... it was great for our fall camping trip
Sep 27, 2021
Amazing campground! Super friendly staff. Walking distance from shops, food, etc but campground is wooded and quiet. Beautiful views & you can see the lighthouse!
Sep 27, 2021
Bathrooms were the cleanest I've ever seen. Site was level and very much enjoyed the views.
Sep 27, 2021
Staff was exceptional - all the way around. Campground is clean, bathhouses are SPOTLESSLY clean and play equip. well maintained. If I had one complaint it would be that they are really tight camp spots, and with large campers having slideouts in a lot of them, it made it impossible for some to have a campfire.
Sep 27, 2021
The campgrounds were clean neat and very nice. It's a shame some campers are pigs that they have to clean up after !! The muskitios weren't so bad as expected had very nice stay glad we didn't listen to all the bad reviews the restrooms and showers were clean and nice other than the pigs in before they could clean again awesome place will be back great vacation lots to do
Sep 27, 2021
Shouldn't have to call security. They should just handle very loud obnoxious campsites without being told. That was from 8:00 to 11:00 PM. THEN it got really loud and drunken for another hour. In addition, no rules for music loudness and how if affect nearby campers. Not talking about the entertainment on Saturday, talking about music AT the campsites!
Sep 27, 2021
Wonderful visit. Beautiful time of year
Sep 27, 2021
We really enjoyed this campground along with the Cork and Craft Festival this weekend. We had a great site. The staff was friendly.
Sep 27, 2021
Welll the tank were full during our stay and my friend rented a camper and it stunk like cigarettes and the main queen mattress was about 3 inches thick amd used to death - trailer campers should be replaced, they aren't made to live on. The people were awesome and friendly though. The festival needed a lot of help— way more vendors but it was also nice �
Sep 27, 2021
The RV we stayed in was a bit on the dirty side. There was chunks of animal hair all over the floor and the patio rug. Also, the bedding was covered in someone else's hair. One of the comforters on the bunk bed had a huge urine stain so my son didn't end up sleeping on it. The fridge handle was broken. The beds were also hard as a board. Everything else was fine!
Sep 27, 2021
It's a beautiful campground. Friendly staff. Sites are somewhat close to driving lanes. My only complaint are other campers drive too fast with golf carts and vehicles!
Sep 27, 2021
It was a short stay this time around, looking forward to staying longer next year.
Sep 27, 2021
Great stay!!! Awesome guest service-thank you ranger Rick!!! Cork & craft festival we stumbled onto was the highlight!! Awesome band & beer thanks for a great time!!!
Sep 27, 2021
Overall the campground and sites were well maintained. I would recommend the bathrooms be tended more frequently as there was toilet paper on the floor in the same places the whole weekend we were there. Same with a broken soap dispenser that wasn't fixed. The sites are a lot closer together than other KOA's I have stayed at however, we didn't have really loud neighbors so that was a bonus.
Sep 27, 2021
Nice facility but way over crowded
Sep 26, 2021
We had an amazing time. The bathrooms were always super clean, the staff was friendly and kind and the area is so beautiful. We will 100% be back.
Sep 26, 2021
Well the campground itself was very nice & clean. We rented a camper, walked in & the entire camper reeked of cigarettes. It was absolutely disgusting smell & the amount of dirt everywhere was appalling. I have pictures of how much dirt I got in 2 places guaranteeing the cleaning crew does not go an extra mm during covid. Septic never pumped, drain flies, horrible "bed" & returns full of dir
Sep 26, 2021
This is the best KOA we've stayed at. Beautiful grounds and location. Our site was actually spacious and private. The mosquitoes were voracious unfortunately. Some of the roads need improvement; the potholes are pretty rough in some places. Great pool and friendly staff. We loved it here and love the town of Chincoteague
Sep 26, 2021
Great stay, we loved the campground and staff was helpful. Love that the pool was still open in September. My only complaint would be that the touchpoints were NOT cleaned - I could tell because almost every single light switch in our cabin had visible dirt on it which easily came off with clorox wipes when I wiped them down. This isn't consistent with the covid procedures listed on the website.
Sep 26, 2021
First time renting an RV. I get may have been short staffed but would have liked a "tour" of the RV and all the switches etc. Didn't have it "ready to go", so good thing we met friends who owned who set it up for us. Also, had to throw away dry food (in container) due to ants getting into it....other than that GREAT!
Sep 25, 2021
Our deluxe cabin was not clean. My husband walked from one room to another in white socks and they were filthy! Screen room was so dirty you couldn't sit out there. Staff did come and spray it down. We could have stayed at a 5 ���� hotel cheaper and had comfortable beds and clean facilities!
Sep 25, 2021
Loved the beautiful views. Sites were small and close together so less privacy than other KOA facilities I've stayed at.
Sep 25, 2021
Check in was easy, friendly staff. Bathrooms were extremely clean, well maintained throughout the day. Love the fact that trash is picked up throughout the day. This is probably my 5th time staying and everything has been consistent. So thank you to the staff that makes this happen! You are all appreciated!
Sep 25, 2021
Our site had a terrible odor on arrival, we were not able to sit outside for the first two days. A campground worker addressed the issue when he was informed about it the following day but if the site had been checked prior to arrival some one would have noticed it as well as the fire ring that was full and never cleaned even when requesting it. Laundry and bathrooms were not very clean at all!
Sep 25, 2021
We stayed in one of the pet friendly cottages. It was so adorable! The campground was clean and people were friendly. Our new neighbor behind us inadvertently turned off our water. Your staff had it running again in record time. There was lots of room to walk dogs and people were considerate of each other. We would stay again! We particularly loved the screened porch and outdoor furniture.
Sep 25, 2021
We reserved a Deluxe Cabin. In the description of this site online it states there will be a hard surface patio and fire chimnea. Ours had neither. This was brought to the staffs attention and we did receive a fire chimnea, but nothing was done about not having a patio despite the fact that ALL the other cabins had one and we were supposed to. Disappointing that we didn't get what we paid for.
Sep 25, 2021
Very nice campground excellent staff. Bathrooms and showers need to be updated and be kept cleaner!
Sep 25, 2021
The KOA location is very good but that is about all I can say that is positive. The roads in the park are full of potholes and are very dusty. The maintenance is almost non existent. Our site sewer was clogged. W told the front office and while they did unclog it they left the mess there such as toilet paper and other stuff I wont mention. Our concrete patio was covered in dirt.
Sep 24, 2021
Camped one week, great camping spot, what we like most about this campground is that it forces us to relax.
Sep 24, 2021
Very disappointed with the condition of the RV we rented and the disgusting condition of the bathrooms. I've always been impressed by the way KOA tends to do very well at keeping things to a 'higher' standard than most campgrounds!
Sep 24, 2021
We had a nice stay and we will be back. My only complaint is that the site was not clean when we got there, bit it was taken care of right away.
Sep 23, 2021
The cabin was lovely and ready for us. The staff is always so helpful and knowledgeable. The campground is well-maintained and a pleasure to enjoy. We look forward to our next visit.
Sep 23, 2021
This is one of our favorite destinations . The staff is remarkably kind. They keep a clean park, always looking to please . Thanks for having us and see you soon !