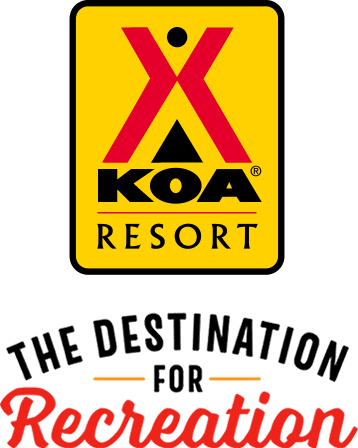 KOA Resort Campgrounds
KOA Resorts offer a carefree vacation in the great outdoors. Enjoy robust recreation and staff-led activities, kick back and relax by the resort-style pool, or grab a bite to eat, all while never leaving the campground. And with plenty of RV Sites with KOA Patios® and Deluxe Cabins with full baths to meet your needs, it's the ultimate camping getaway.
KOA Resorts Feature:
RV Sites with a KOA Patio®
Deluxe Cabins with full baths and linens
Premium Tent Sites
Resort-style pools
Indoor and outdoor group facilities
Directions
From US 13: Turn onto SR 175/Chincoteague Rd. Continue approximately 15 miles. Cross drawbridge onto Chincoteague Island; continue straight onto Maddox Blvd. Go approximately 1.6 miles. At the traffic circle take the first exit on the right to KOA
Get Google Directions
Oct 30, 2020
We got stuck in the mud at our site. Thankfully the office sent the maintenance crew and they got us out. Then we were told the office upgraded us to a patio site for our trouble. Very nice staff, bathrooms need work but nice campground.
Oct 30, 2020
This campground is beautiful and kept very clean by the employees. We went during the off season so we can't say what it's like when it's packed. The only issue was the bathhouses had the AC on which made it extremely cold.
Oct 30, 2020
The office manager was fantastic and offered me a free upgrade to a patio site, I'm sure due to the fact that the campground was empty. This was a definite great marketing move, none of the other KOAs offered this. We will absolutely be back for another visit.
Oct 29, 2020
Best staff of any campground!
Oct 28, 2020
We were there for the Halloween weekend and it was great. This is our 3rd time being at KOA for this weekend and will be coming back again next year. Campground is wonderful and clean. It's a great stay.
Oct 28, 2020
Beautiful campground! Friendly people, will definitely be back!
Oct 27, 2020
There's so much to love about this place like the views, amenities, programs, and location. If only the showers weren't so moldy and if only there were rules asking campers not to blast their music. Then I'd give it a 5. I shouldn't have to leave the campsite in the woods to get peace and quiet.
Oct 27, 2020
We enjoyed the location and the amenities however the fact that the site allowed large dogs that barked all night and there wasn't any quiet time or staff available was an issue. I called several times at 11pm with no response - I believe some level of security should be available at all times.
Oct 27, 2020
nice campground, clean, close to wildlife refuge, very few other campers -quiet- peacefull!!!!!
Oct 27, 2020
My family always loves time spent at the Chincoteague KOA. My kids had a blast participating in the Halloween events this trip!
Oct 27, 2020
Wonderful stay and the staff were extremely helpful. Thank you very much for a great weekend.
Oct 27, 2020
They campground was nice & we enjoyed the people around us. The young girl in the camp store was VERY RUDE. Our tent zipper was broke, we were lacking a picnic table, & outdoor rug (which makes a difference with mud & sand). The bathrooms near us only had 1 shower available, the 2nd one kept flooding, & the other 2 were "out of service". The bathrooms smelled terrible.
Oct 27, 2020
I loved our stay this past weekend. We had a friendly greeter with express check in and the activities for the kids were perfect! Bathrooms were clean and golf cart rental was a bonus. I loved the location, close to many good food options. We'll be back!
Oct 26, 2020
Our family had a great weekend - so many activities and such a well run campground!
Oct 26, 2020
Despite not having all the amenities available it was a pleasant stay. The staff was friendly, helpful. Quiet at night.
Oct 26, 2020
We don't have young children but realize this KOA is the perfect place for young families. We enjoyed the convenience to shopping and the beautiful beach just two miles away. We stayed in October and avoided the busy season- which would have been too much for us. The campground itself is pretty muddy (hard with the dog) and the marsh was pretty stinky at times, no nearby hiking trails.
Oct 26, 2020
Spots were very tight
Oct 26, 2020
No hot water the first night in RV rental. I camper had a bad odor. One mini blind missing in each bedroom. The floor was dirty. We had fun trick or treating. Also did the crafts and rode on hayride very nice.
Oct 26, 2020
Peaceful and relaxing great environment for our large family gatherings.
Oct 26, 2020
Stayed in the rented RV though it looked nice the beds were very uncomfortable. There was not a mattress on the double bed but a futon one it felt like laying on a board. We got there Saturday night by Sunday morning the tank was full. Asked 4 times in 3hrs have our RV dumped each time saying that someone would be out. Apparently the 4th time we were told it was clogged.
Oct 26, 2020
Septic backed up was the only negative. Staff was great!! Camp is beautiful. We had an awesome time.
Oct 26, 2020
Very friendly staff! Online/phone check in and curbside check in efficient and fast. Clean, well laid out campground. Nice activity schedule.
Oct 26, 2020
Sites were very pricey
Oct 26, 2020
staff was outstanding... very family friendly..
Oct 26, 2020
The staff was very friendly and there were a lot of events going on at the campground. The cleanliness of our lodging accommodations was substandard, in particular the floor and bathroom. The linens and kitchen area were clean. There were several showers out of order in the bathhouse. The rest of the amenities at the campsite were great and we had a fun visit, I just wished our camper was cleaner.
Oct 26, 2020
We had a great time. We appreciate you letting us change sites after a couple days into our stay. Only complaint is that it's so expensive especially for off season and no activities during the week.
Oct 26, 2020
Good time and very friendly and helpful staff. Some of the potholes were fixed but there are more.
Oct 26, 2020
We enjoyed our first experience camping. Everyone was friendly and things were clean and felt safe during a pandemic. Thank you!
Oct 26, 2020
We found this campground to be top notch and were completely satisfied with the property and the people that work there. Mark who is one of the property guys was an absolute God send. He was so helpful from the time we checked in and throughout our stay. The people working at the front desk for check in and at the store were also amazing. Very friendly place. Bath houses were very clean
Oct 25, 2020
All the associates we so very pleasant and helpful. We had a problem with the cable hook up and it was taken care of in short order.
Oct 25, 2020
Check in was a breeze, staff was very pleasant, campground was great, close to the park and town. We rode our bikes all over. We are already planning on a return visit.
Oct 24, 2020
Nice peaceful few days we were looking for.
Oct 24, 2020
Great Halloween Celebration!
Oct 24, 2020
We stayed in 302, a back in space. If we had rain, the area outside our door would have been a mud pit. Also, unlike your pull-thrus, the sewer is at the back of the site, requiring a long hose. Since we use our class c for touring during the day, we just used the dump station. Families might like this campground.
Oct 23, 2020
loved staying in the past. This trip not up to koa standards. I'm aware of covid, late in season etc. But 90% of the time bathrooms were nasty. Called several times for cleaning, which they did. Several showers and toilets "under maintenance" moldy, clogged showers. Power washed for hrs, noisy. Safari tents wouldn't zip, bugs inside, holes everywhere in ground. Broke foot camoing due 2 holes.
Oct 23, 2020
Second time at this KOA and look forward coming back.
Oct 22, 2020
I was charged ($570+) to stay in an EMPTY campground, with little to no amenities. I understand this is off season but for the rate I was paying I was hoping for plenty of campers and atleast SOME kid friendly activities..
Oct 22, 2020
I would say the check in process was easy and the "glamping Tent" had everything we needed since we came with extra blankets and sleeping bags. I would say if you plan on just using what they provide you would be chilly. We had some really loud, obnoxious campers across from us in tents that stayed up partying til 2:30am and we called and spoke to someone who came down to tell them to quiet down
Oct 22, 2020
This was our first time going to the campground! We absolutely loved it! The grounds were clean the bath house was clean despite the dirt and mud outside. It was nothing like what I imagined a campground to look like. We're going back every month when they open back up!
Oct 22, 2020
The bath house was filthy. Half the showers were closed the entire time we were there due to the drains not working, and the handicap toilet stall was closed as well. Dirty water from one open shower also ran out across the floor over to the drain by the sinks. It was gross.
Oct 22, 2020
Was pleasant. KOA needs to do something about the beds in the rental RV's. They are very uncomfortable!
Dec 13, 2020
We came late in the season, just weeks before they closed for the season. It was a wonderful experience. The facilities were clean and convenient. The staff was very kind and helpful. They had great amenities and store. The location was fabulous with water views and views of the lighthouse. Overall a wonderful location to spend a week.
- Wanda O'Brien on Google
Nov 23, 2020
Love it!
- Mindy Townsend on Google
Nov 29, 2020
The main plus of this facility is that its close to amenities. We rented the deluxe cabin which was very simplistic but a bit pricy for what you get. However, the facility was clean and we mainly only stayed there for nighttime rest between exploring the island. Popular for campers.
- Rebekah Carter on Google