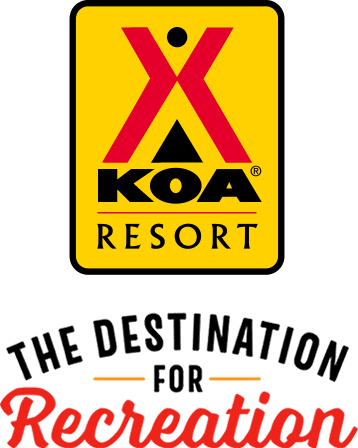 KOA Resort Campgrounds
KOA Resorts offer a carefree vacation in the great outdoors. Enjoy robust recreation and staff-led activities, kick back and relax by the resort-style pool, or grab a bite to eat, all while never leaving the campground. And with plenty of RV Sites with KOA Patios® and Deluxe Cabins with full baths to meet your needs, it's the ultimate camping getaway.
KOA Resorts Feature:
RV Sites with a KOA Patio®
Deluxe Cabins with full baths and linens
Premium Tent Sites
Resort-style pools
Indoor and outdoor group facilities
Directions
From US 13: Turn onto SR 175/Chincoteague Rd. Continue approximately 15 miles. Cross drawbridge onto Chincoteague Island; continue straight onto Maddox Blvd. Go approximately 1.6 miles. At the traffic circle take the first exit on the right to KOA
Get Google Directions
Oct 10, 2021
Beautiful site. Very helpful staff. Great stay! We will be back!!!
Oct 09, 2021
Nice and clean. Friendly staff.
Oct 09, 2021
Overall our stay was nice but when we checked in our camper was dirty. There was trash left from the last renter, The table and oven both had sticky stuff on it and there were footprints on the back of the seats.. I had to re clean and wipe everything down before I could even begin to enjoy my stay.
Oct 08, 2021
Bring your bikes, nice places to ride
Oct 07, 2021
I just wish the rental campers would be serviced in between guests like making sure there's hot water and the sewage tank is drained. Our group had to call maintenance for several of these things during our stay. But other than that minor in convenience we had a great time in our rental rv at the WSW Jeep Jam
Oct 07, 2021
Very clean facilities, staff was plentiful and pleasant. We hope to visit again soon.
Oct 07, 2021
Loved having a pull through site, very easy to navigate to site. Sad we spent less than a day as we paid extra for the site and never really got to use the patio furniture. Enjoyed its location to a few restaurants that were walkable and pet friendly.
Oct 06, 2021
I stayed in one of the bungalows. It was so much more than I expected. It had 2 cozy rooms with a pocket door for privacy. We had air conditioning and ceiling fans. It even had television. The enclosed porch had comfy Adirondack chairs so we could relax. My family members rated our stay a 12 put of 10.
Oct 06, 2021
Friendly staff very helpful. The place looked fantastic can't wait to come back when the pool and Waterpark are open next year
Oct 05, 2021
Rented a cabin for Jeep Jam had an awesome time!! Cabins are very nice and slept great! Definitely booking again for next year.
Oct 05, 2021
We had a blast! The Jeep event was Awesome - great job to all that put this together - Heather! We love coming to this campground it's like a hidden gem. Thank you Scott for a nice welcome. We will be back soon!
Oct 05, 2021
Beautiful campground with a lot of amenities and other activities close by on the island. Will definitely be back. The only negative was our particular site was having issues with the cable hook up and it wasn't until day 2 they sent someone who actually knew there was a problem and hooked our cable to a neighboring site.
Oct 05, 2021
Nice campground! Grounds were well maintained, bath house was very clean too. The quiet times were respected by the campers which was great... even the wedding party folks and the Jeep participants. Staff were very nice and helpful when needed. The only concern that I have is that when you close the water park, tiki bar, etc., I'm wondering why prices over the weekend are still at $125 a night
Oct 05, 2021
This was our third stay. The first two were great. This one not so much. We were given a spot that was so small that we would have had to decouple our truck and trailer. That spot was also a 90 degree parking job, something I'd not seen in other KOAs. Also, the sewer connection was so high it was impossible to have a smooth grade from trailer connection to sewer hookup.
Oct 04, 2021
Crazy upon arrival because we booked a RV sight and a cabin together last year and we were very specific. The RV sight now has a cabin on it. I saw plenty of opportunities to accommodate my request but it didn't happen. Cabin was not cleaned properly and trash was left outside on site the whole stay. RV sight ending up ok because I had to pay more for upgrade. Kinda felt taken advantage of.
Oct 04, 2021
My cabin was more than I hoped it would be. Very clean and very comfortable. Thank you for putting on this Jeep event, I will definitely be back year after year for this and any other jeep event.
Oct 04, 2021
Bathrooms need to be updated, the toilet paper cover fell off the wall, zero water pressure in the shower and missing covers on the soap dispensers. Tent campsites need markers where the site ends and begins. The staff working in the store and welcome center were extremely accommodating and friendly, we were a large group and they were able to get us all together ��. They made our trip!! �
Oct 04, 2021
Very well maintained campground. Awesome jeep event.
Oct 04, 2021
Easy check in, quiet campground, met some wonderful other campers, gorgeous weather, loved watching the sun come up over the salt marsh. Cottage was comfortable. I saw a Clapper Rail--had never seen one before! We so enjoyed time with our friends, walking the beach, sitting around campfire--had an absolutely wonderful stay.
Oct 04, 2021
It was a great stay despite the floors being filthy in the cabin. The floors need to be mopped after every stay not just swept. We had to exchange the golf cart three time after a headlight out and a flat tire.
Oct 04, 2021
Was there for the 2nd Annual WSW Jeep Jam. Expected more vendors to be there. Overall it was a great time.
Oct 04, 2021
The RV sites very small, we could not put out our mat and extended awning. There was barely enough for our 30ft trailer in length. There was not enough living space. We were told there be room for both cars and there was not even room for one. People were very friendly.
Oct 04, 2021
This is our second time staying here and we love it. My only complaint was the loud music from one of the Jeep participants. We love it here because of the quiet, family oriented atmosphere and the loud music was obnoxious.
Oct 04, 2021
People were very nice. Property well maintained, including bath houses. Biggest disappointment is the location of the Safari tents which were right next to the RVs. I am used to camp grounds grouping tent campers together and RV campers in another section...similar communities together. Chincoteague KOA had no rhyme or reason on location of sites...very sporadic and too close together.
Oct 04, 2021
This was our second time staying at this KOA. We booked one night in a tent only spot and got set up with a lighthouse view. This specific spot is dreamy! The sunset/sunrise views with the lighthouse blinking in the background are memorable. The night sky allows the stars to show off their beauty! We also love how close Tom's Cove beach and park are only minutes away.
Oct 04, 2021
It was excellent easy check in and check out clean cabin clean facilities.
Oct 04, 2021
Nice people great place clean, love it!!
Oct 04, 2021
Very impressed, campground & bathhouse very clean. Staff very friendly and helpful!
Oct 04, 2021
We loved our stay the entire staff great the campground was kept extremely clean one complaint I have is my dog was nearly attacked by another person's pitbull there should be a limit on the type and how many dogs are permitted as well as there are not enough trash cans I couldn't find a trashcan anywhere to drop off the dog poop always want to pick it up you shouldn't have to carry it all a
Oct 03, 2021
NOT CLEAN: The staff here are friendly and very helpful (NO COVID PRECAUTIONS OBSERVED ANYWHERE) HOWEVER, the RV we rented hadn't been cleaned since…? The mattresses were unbelievably hard and flat and there were multiple maintenance issues (leaking fridge, etc).The bath house and showers were also not cleaned at all during our 4 day stay. Could be great but really needs repairs & sanitation
Oct 03, 2021
Awesome - best campground ever -- we will be back with our friends!
Oct 02, 2021
We love KOA Chincoteague. We've always used our own camper however on this most recent visit we decided to rent a campground owned camper. As soon as we opened the door the camper smelled like somebody had been smoking. When we opened the bathroom door there was a distinct smell of urine. Maintenance emptied the black water tank however the smell remained. Mattress was not comfortable.
Oct 02, 2021
Huge ruts at our campsite. Huge potholes on roads. Internet never worked and tv reception was bad. People were very friendly and tried to be helpful. Overall a good place to stay though.