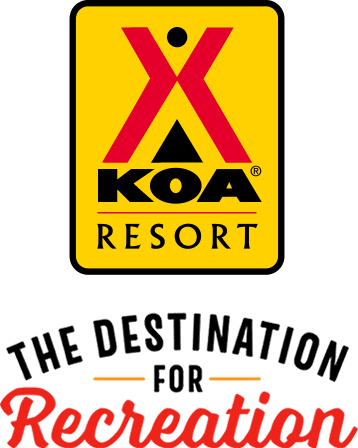 KOA Resort Campgrounds
KOA Resorts offer a carefree vacation in the great outdoors. Enjoy robust recreation and staff-led activities, kick back and relax by the resort-style pool, or grab a bite to eat, all while never leaving the campground. And with plenty of RV Sites with KOA Patios® and Deluxe Cabins with full baths to meet your needs, it's the ultimate camping getaway.
KOA Resorts Feature:
RV Sites with a KOA Patio®
Deluxe Cabins with full baths and linens
Premium Tent Sites
Resort-style pools
Indoor and outdoor group facilities
Directions
From US 13: Turn onto SR 175/Chincoteague Rd. Continue approximately 15 miles. Cross drawbridge onto Chincoteague Island; continue straight onto Maddox Blvd. Go approximately 1.6 miles. At the traffic circle take the first exit on the right to KOA
Get Google Directions
Nov 16, 2020
When we checked in we were pleasantly surprised that the staff had upgraded us to a patio site due to the incoming rain. That was greatly appreciated. While the first couple days were rainy, the last two were relaxing and fun filled. We have already booked for June and are looking forward to coming back!! Thank you!!
Nov 15, 2020
Safari tents were awesome! Large campground. Perfect location!
Nov 14, 2020
Very pleasant. Quiet. Great access to beach
Nov 13, 2020
Staff was very friendly and very helpful. Campground was very clean. Beautiful view of the water and the lighthouse. Definitely will go back.
Nov 12, 2020
The staff was extremely helpful.
Nov 12, 2020
The sites are nice and level and nestled among tall pines. Very nice!! We stayed there off-season, but we plan to come back next summer when things are open in and around the town.
Nov 11, 2020
Beautiful scenery! Well kept, friendly service clean. Convenient location.
Nov 10, 2020
staff was friendly and helpful.
Nov 10, 2020
This was our 3rd time staying at this KOA. We keep coming back because the grounds are very clean, the staff is wonderful and go above and beyond. There are always special events sponsored by Chincoteague Island KOA, not to mention the island itself. Lots to do here, even doing a pandemic.
Nov 10, 2020
The staff was super friendly and the campsites were all clean and well kept
Nov 10, 2020
Very fun, clean bathrooms, friendly staff, beautiful island and the camp store was there for anything extra we needed.
Nov 10, 2020
We had a great stay. The weather was beautiful and so was the campground! We will definitely return!
Nov 10, 2020
The campground was really nice. The staff was very friendly. My only complaint was I felt like we were being nickel and dimmed for our stay. $10/ per day for golf cart, $10/day for extra car, $4.99/ Day resort fee, $30.00 pet fee. That $80.00 extra! The extra fees add up to me not wanting to come back or go to any other resort managed by the property owner.
Nov 09, 2020
Overall good stay. Cabin could have been cleaner. Sheets were stained and floor was gritty with sand/dirt. Should have been swept/cleaned better.
Nov 09, 2020
My husband and I love this campground whether it's for a quick weekend getaway or a longer stay. Always a good time, and located in a prime area. We look forward to coming back soon!
Nov 09, 2020
The site that we received was muddy. Luckily we didn't have any rain over the weekend thank goodness because if we did our camper and truck would have sunk in the mud. There are no paved sites. There were huge dogs at the site adjacent from us that kept barking at everything that moved. The campground did nothing about this even after campers complained. This KOA is way overpriced.
Nov 09, 2020
We love Chincoteague KOA!
Nov 09, 2020
Staff was friendly, bathrooms updated and clean. The car show was nice. Would like to see a little better site maintenance, very soft muddy where site and road meet. Also, sweep or rake site, patio had broken brown glass on it on our arrival.
Nov 09, 2020
Stayed in the deluxe cabin. It was very nice and clean and had everything we needed. Overall this campground is on the smaller side. It was off season so obviously the water park was closed but it looked very nice. A larger play ground for kids would be good. The one near the entrance was a bit small and that's the only one we saw. We did enjoy our stay and are considering coming back next summe
Nov 09, 2020
It was clean and we had a wonderful experience!!! It was the first time glamping and it didn't disappoint!!!! We had beautiful weather, the beds were comfy, the tent was clean, had electricity and a refrigerator which was helpful! LOVED MY STAY!!! We will be back again!
Nov 09, 2020
Need improvement to the roads very muddy
Nov 09, 2020
First time visiting with a new unit. All staff were pleasant and helpful. Beautiful setting, great amenities.
Nov 09, 2020
Patio pull through. Sites too tight. At 150 a night expect more.
Nov 08, 2020
We had a great time. The staff was remarkable. We really enjoyed all the halloween activities. -McMillan Family
Nov 08, 2020
We had one of the patio sites with table and chairs. We loved it and enjoyed our time there greatly. Everyone was helpful and very accommodating and it was clean and clearly well kept
Nov 07, 2020
Wonderful staff, Halloween trick or treating was extra fun and tie dye tee shirt craft was perfect craft. Would have liked to stay and watch the kids but the staff was not wearing masks ( Next year try long sleeve tee shirts for cool weather wearing.) Cabin was clean and kitchen was stocked with enough items to cook a great meal.
Nov 06, 2020
We asked for a pull through Class A towing. First they put us on a site that wasn't long enough. We complained and said I would leave, they moved us to a better sight. Note the really large sites are filled with all their rental RV. There was no concrete pad/patio. The worker are always running at break neck speeds on their gold carts making us very nervous when walking the dogs. OVERPRICED.
Nov 03, 2020
One of the most friendliest places we have ever been to. We are definitely coming back for the summer stay. Very clean and great atmosphere.
Nov 03, 2020
We had a wonderful time. Everyone is great. We had two sites and the camper had a ac/heating issue they resolved it in no time. Plenty of stuff to do even during Covid.
Nov 03, 2020
Campsites were very close together which made it nerve wrecking during the pandemic. That being said, everything else was lovely and even the bathrooms were very clean!
Nov 03, 2020
Everyone was very friendly! The view of the water and the ligjt house was spectacular!
Nov 02, 2020
As usual, we had a great stay. However, we used to be escorted to our site. While that shouldn't be a big deal, after dark is very difficult to see the site numbers. Had I not had a flashlight, I am not sure I could have found the right spot. The staff as always was great!!!
Nov 02, 2020
Always a pleasure
Nov 02, 2020
Friendly staff. Fun events something for everyone cant wait to go back.
Nov 02, 2020
We had a lovely stay! The campground wasn't too crowded, and the bathrooms were very clean. We would def stay again.
Nov 02, 2020
We stayed over Halloween. Signed up the kids for Tie Dye which you had to do in advance and there were still too many people there we did not feel comfortable. Not a good social distance prep. Also we had friends who stayed in a cabin and the rate was outrageous even with Military discount. Could have stayed in hotel for less. We enjoy this site 3rd time this year staying here. My two cents.
Nov 02, 2020
First I want to start of by saying that we were charged $350 for Friday and Saturday night for a cabin when we stayed just about a month ago it was 220 a night. I am not sure why the price was increased due to the fact that nothing special happed that weekend other then trick or treating. None of the amities were open and I could have stayed in a hotel for about $250 a night less.
Nov 02, 2020
Love the place, always a fun time camping there.
Nov 01, 2020
We so enjoyed our stay here! The Campground was convenient to everything & we had a Fabulous time!
Nov 23, 2020
Love it!
- Mindy Townsend on Google
Nov 29, 2020
The main plus of this facility is that its close to amenities. We rented the deluxe cabin which was very simplistic but a bit pricy for what you get. However, the facility was clean and we mainly only stayed there for nighttime rest between exploring the island. Popular for campers.
- Rebekah Carter on Google
Nov 03, 2020
We visited with the families for the Halloween weekend. While it was a little cool and down right cold on several days, we had a great time and enjoyed the camp ground. Very close to the beach, a short walk within the camp ground to a dock with great views of the water and light house, and mature trees all around for wooded camp sites for everyone. Only down side was we could not use the exciting looking pool because it was closed for the season and lots of low spots where rain collected making for big puddles and mud. Wish they would fill in the low spots and have a little better runoff landscape. Will consider returning next summer.
- Kevin McFadden on Google