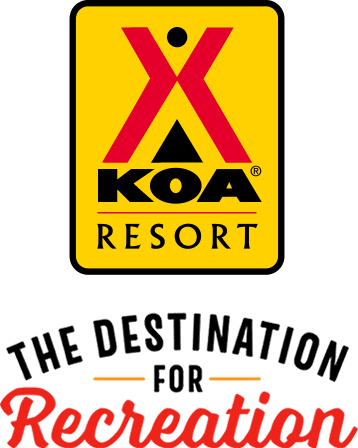 KOA Resort Campgrounds
KOA Resorts offer a carefree vacation in the great outdoors. Enjoy robust recreation and staff-led activities, kick back and relax by the resort-style pool, or grab a bite to eat, all while never leaving the campground. And with plenty of RV Sites with KOA Patios® and Deluxe Cabins with full baths to meet your needs, it's the ultimate camping getaway.
KOA Resorts Feature:
RV Sites with a KOA Patio®
Deluxe Cabins with full baths and linens
Premium Tent Sites
Resort-style pools
Indoor and outdoor group facilities
Directions
From US 13: Turn onto SR 175/Chincoteague Rd. Continue approximately 15 miles. Cross drawbridge onto Chincoteague Island; continue straight onto Maddox Blvd. Go approximately 1.6 miles. At the traffic circle take the first exit on the right to KOA
Get Google Directions
Dec 02, 2020
We had a seasonal site and really enjoyed it! Staff polite and helpful. Bathrooms kept clean. Grandkids loved crabbing from dock. Have always favored this campground due to its closeness to Assateague. Only problem for us was some flooding on our site which I know is a problem for much of campground and island as well! (Hard to remedy that when you're just a few feet above sea level!) Thank you!
Dec 02, 2020
My site always flooded in rain. And when I asked about getting it pumped out they would show up sometimes and sometimes not. And we had vandalism one weekend a friends two jeep tires were slashed. Those are some of the reasons I did not renew for next season.
Dec 02, 2020
We love this campground- it's clean, organized a staff is very pleasant!
Dec 01, 2020
We enjoy spending time with our many friends at the KOA. Nice Summer getaway.
Dec 01, 2020
We love our seasonal spot at Chincoteague KOA. We do wish we had an assigned Seasonal Advocate. Our few concerns aren't taken seriously. We have concerns about security and these were verbally addressed, but not resolved. We also have concerns about dogs at KOA and having rabies records for all of them, given the number of dog bites last year.
Dec 01, 2020
Very clean , staff super nice
Dec 01, 2020
First time for thanksgiving. This a very nice campground no matter what age. If you have a family or not, there plenty of things to do and see!
Dec 01, 2020
I love Chincoteaque Koa and I will be back in April, when the camp ground reopens!
Dec 01, 2020
This was our third time staying this year and we absolutely love it! The staff is always very friendly and accommodating, the location is perfect, and the bathroom and bungalow was kept clean. We will definitely be back.
Nov 30, 2020
Nice quant campground close...stayed for Thanksgiving and had the very first site that entered the campground. Preference would be further away from the front gate to reduce noise and travel. As expected, no amenities due to COVID and time of year. Very close to the national seashore and in walking distance to a few shops. Site flooded considerably, but with the concrete patio, it was manageable.
Nov 30, 2020
It was perfect. We will be back! My only suggestion would be a doggie daycare option so campers with dogs can see the refuge. Our dogs are too big to lock in a camper and would just bark. Next time we will leave them at home. It really is a nice spot to camp.
Nov 30, 2020
Just a relaxing day and night prior to winterizing for the year. See you in the spring.
Nov 30, 2020
Quiet and peaceful. The trash pick up service was excellent and all the KOA staff were friendly.
Nov 29, 2020
We had a great time in Chincoteague! The safari tents were a unique experience, that we have already told everyone about! We wish the camp sites were less flooded, but recognize that some things just come with island living! There appeared to be a camp cat wandering around. It snuck into our tent a few times to eat our groceries. Other than that, we had no issues, and look forward to staying again
Nov 27, 2020
My dog and I stayed in a deluxe cabin and it was the perfect place to explore Chincoteague from. Clean, cozy, comfortable and warm, it was full of conveniences including a well-equipped kitchen. There was no full length mirror, and there were only ceiling lights, no lamps, but this was not a problem and overall the lighting was very good. We really enjoyed the screened in porch.
Nov 27, 2020
A clean quiet campground, with friendly helpful staff, inexpensive bike rentals and proximity to Asseteague island. We were there very late in the season but would return in September after school starts.
Nov 27, 2020
The good: Pleasant employees, especially Neil who was awesome. Located directly next to National Park. The Bad: Entry to the park is confusing, poor signage. Phone calls routinely go to a machine and were not returned. Tight spots and "shortish" sites, even for our 30' MH. Grounds were very muddy for our stay, it did rain quite a bit, still very poor drainage.
Nov 26, 2020
This was just our second trip with our Casita travel trailer. The KOA was clean, fully equipped, with friendly and helpful staff. Our back-in campsite was very wet due to heavy rains earlier in the week. Mark, our staff escort, immediately called the office to request an upgrade to a pull-through in a dry area, which was promptly approved. What a great experience!
Nov 26, 2020
Thank you for extending your season into November during these changing times. Our stay was the perfect gift to start the Thanksgiving Holiday. Thank you !!
Nov 24, 2020
very helpful host!!!
Nov 24, 2020
Who doesn't like Chincoteague! I especially enjoyed staying at the KOA ... Hospitality ... Ambiance ... Convenience ... the staff was great! I will be back to see you again (planning to bring my family! My stay was in November, off-season, it was quiet and my neighbors were friendly, mosquitos were minimal :). I had a great RV site with a view of the marsh and lighthouse. Thank you.
Nov 24, 2020
campsite could have been cleaner. I hate cigarette butts. Plastic furniture could have been cleaned. Firewood was wet and did not burn. otherwise, the campground is awesome.
Nov 24, 2020
We very much enjoyed our stay in Chincoteague - campground location is great. Our visit was enjoyable because the campground was not crowded this late in the season, so plenty of room. The staff was friendly and accommodating, and helped us extend our stay. Cable was good, wifi adequate. The resort fee should not be charged in the off-season when services covered by the fee are not available.
Nov 24, 2020
The staff was friendly and accommodating. The WiFi was spotty at best. The facilities were clean and well maintained. Our only problem was on checkout - rain overnight place our campsite under a foot of water making packing/hitching up an unhappy ordeal.
Nov 23, 2020
We had a great time. Owners were great. Will come back.
Nov 23, 2020
great end of season stay! staff accommodated my requests see you in the Spring!
Nov 22, 2020
Campground was wide open. No one there and we were placed in a site that had a hug mud hole. I asked to Be move and was given an upgrade
Nov 22, 2020
Lovely staff, very clean site and bath facilities. Easy access to town.
Nov 21, 2020
Even though it was off season, and in the midst of ongoing shutdowns, the campground was super clean and well maintained. The staff was very friendly and helpful. I hope to see the area in warmer months when all activities can be enjoyed.
Nov 21, 2020
Our stay started off a little bumpy. Upon arrival we had to call the office because the toilet was clogged. They fixed it fairly quickly. That night we had no heat but they gave us a space heater to use overnight. Unfortunately the fix was going to take long so we had to move to a different RV, this took a couple hours of packing and unpacking. After the maintenance issues the stay was good
Nov 20, 2020
We arrived in the dark. The site was wet but was saturated immediately off the pavement. We got stuck and had to rock ourselves out. We noted this to the office on checkout. She said it had rained a lot recently and we replied they should inspect the sites and not assign those that are in that kind of condition. Glad they are open in November since it is a great month to be in Chincoteague.
Nov 18, 2020
Wonderful site highly recommend staying there throughout the year, great water slide park at the entrance of the park and really nice deluxe tent rentals, a must see!
Nov 17, 2020
We visited in the fall so the campground was not crowded which was nice and Assateague was awesome! We rented an RV with our young kids. We generally had a nice time. I recommend taking rain boots as when it rains there is standing water. Also I recommend taking a bottle of all purpose cleaner just in case the RV needs a quick once over. Take white noise maker if you like quiet to sleep.
Nov 17, 2020
Great visit! Great staff! Deffinetly returning in the future!
Nov 17, 2020
Loved the glamping tent; definitely true to its name. My only issue was the high cost of fire wood; $7 per bundle was excessive ... either more wood per bundle, or lower the cost to $5
Nov 17, 2020
We had a great time, enjoyed the amenities and we were in an Island villa - one recommendation is to make the villa/cabins with bathrooms and little more affordable. 250.00 per night is a little much and we would have taken advantage of that if it were a little more reasonable. Other than that, everything was ideal!
Nov 17, 2020
Very pretty & well kept campsite. Perfect for first time RV campers like us! The Very clean bathrooms and laundry room was impressive! Super friendly staff and nearby all sorts of neat stuff to see & do! Definitely would be fun with other camping friends! Thank you!!
Nov 16, 2020
Great campground! Beautiful site and helpful, friendly staff. Two things made me not give a perfect score- other visitors were very loud and drove golf carts like race cars, definitely disturbing the peace, as well as not respecting social distancing guidelines on the fishing pier. In addition, I would love if this campground started recycling.
Dec 13, 2020
We came late in the season, just weeks before they closed for the season. It was a wonderful experience. The facilities were clean and convenient. The staff was very kind and helpful. They had great amenities and store. The location was fabulous with water views and views of the lighthouse. Overall a wonderful location to spend a week.
- Wanda O'Brien on Google
Nov 23, 2020
Love it!
- Mindy Townsend on Google
Nov 29, 2020
The main plus of this facility is that its close to amenities. We rented the deluxe cabin which was very simplistic but a bit pricy for what you get. However, the facility was clean and we mainly only stayed there for nighttime rest between exploring the island. Popular for campers.
- Rebekah Carter on Google