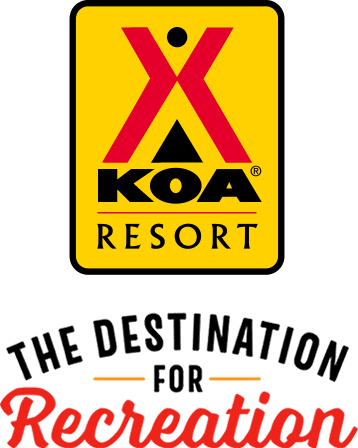 KOA Resort Campgrounds
KOA Resorts offer a carefree vacation in the great outdoors. Enjoy robust recreation and staff-led activities, kick back and relax by the resort-style pool, or grab a bite to eat, all while never leaving the campground. And with plenty of RV Sites with KOA Patios® and Deluxe Cabins with full baths to meet your needs, it's the ultimate camping getaway.
KOA Resorts Feature:
RV Sites with a KOA Patio®
Deluxe Cabins with full baths and linens
Premium Tent Sites
Resort-style pools
Indoor and outdoor group facilities
Directions
From US 13: Turn onto SR 175/Chincoteague Rd. Continue approximately 15 miles. Cross drawbridge onto Chincoteague Island; continue straight onto Maddox Blvd. Go approximately 1.6 miles. At the traffic circle take the first exit on the right to KOA
Get Google Directions
Sep 20, 2021
We stay here several times a year. This trip we brought my daughters scouting group. The whole experience was wonderfully relaxing. Campground bathrooms are cleaned many times a day. And they're air conditioned which is a nice break from the heat. Staff are amazing! So friendly and kind. They go out of their way to make sure the campers are having a good time.
Sep 20, 2021
Everything went well. Checked-in online, showed up and parked the camper five minutes later. Friendly neighbors on both sides. Great weekend overall!
Sep 20, 2021
First visit to Chincoteague Island, and we picked this KOA after looking at their web site. We do not tow a vehicle, so had expected to ride the KOA trolley to the beach and hiking trails. Although the KOA trolley was shown on the website, to our surprise, there was none. Otherwise, nice pool, clean facility, nice people. Scotty was especially polite and helpful.
Sep 20, 2021
The staff was very helpful and went the extra mile to take care of our needs. Campsites were clean. Firewood being delivered and garbage pickup was a plus. Just wish the Water Park stayed open for a few extra weeks.Maybe close after 9/30. We still had a great time.
Sep 20, 2021
Very friendly staff. Beautiful well maintained campground. However the bath house was very dirty and disgusting. I don't think they were clean the entire weekend.
Sep 20, 2021
Very friendly greeting when we arrived. Nice campground. Disappointed in lack of activities for Margaritaville weekend. Unless you went to the bar the theme weekend was not there. Went to bar for the "drink specials" Bartenders seemed overwhelmed when it was not crowded. Sign posted on frozen drink machine stated " If you want a f*cking slushie go to 7-11." Real classy.
Sep 20, 2021
All of the staff were so friendly and helpful. Quick check-in, amazing pool, close to the beach. The facility is awesome and we definitely will be coming back next year.
Sep 20, 2021
It was nice stay. Quiet pleasant clean campground didn't get to use the pool or other things next time. The only thing was that the camper next to us was unoccupied and an alarm was going off constantly we told the front office but nothing was done it was site 227.
Sep 20, 2021
Stay was great. Bathrooms were very clean, would have liked something in the shower to put soap and shampoo on.
Sep 20, 2021
The entire staff we came in contact with was very friendly and helpful. Very enjoyable stay and we will be back. The campground was clean and in great shape. If there was anything negative to say, it was our patio furniture was a bit moldy, but we used a table cloth so it wasn't a big deal.
Sep 20, 2021
Overall it was a good stay but the shower was backed up with sand. The bathroom was way too cold yo the point it was uncomfortable.
Sep 20, 2021
When we arrived there was someone setting up in our assigned spot. I called the office and they sent someone down, but he ended up giving the other campers my name and they came over to talk to me about staying in the spot instead of going to where they were supposed to. Very frustrating and not very happy that the employee gave my name out without permission.
Sep 20, 2021
We only stayed one night, but loved all the amenities included. Our tent site was in great shape and it looked like the property was well cared for. I took off one star because the bathroom was a mess the entire time we were there.
Sep 19, 2021
Our first camper, #4, had many issues, including mini blinds that had been obviously removed, cabinets that were missing their fronts, a broken canopy, none of the outside lights worked and what put me over the edge was when we couldnt get the door to even latch closed... let alone lock it. After Maintance attempting to "fix" they moved us into camper #3... things were not much better ants eve
Sep 19, 2021
We love here and we want stay more October . If any empty October for our vacation 7 days
Sep 19, 2021
Campground very well maintained and a wonderful staff. We'll be back !!!!!
Sep 19, 2021
A beautiful campground. Very clean and nice sites! All staff were very friendly!
Sep 19, 2021
Our stay was very pleasant. Our site was very cramped because of all the electrical boxes. We will ask not to be on site 1220 in the future. The restroom cleaning crew is obviously blind because they don't seem to see the dirt and paper that needs to be cleaned up. Filthy hand prints on stall walls remained the whole time we were there. Please fix the roads,
Sep 19, 2021
We loved it except 2 things- need better wifi and better toilet paper quality (hard to pull it out without breaking apart.
Sep 18, 2021
The staff was pleasant. The back in lot for out 30 foot rv was easy to enter and wide enough for privacy. Easy to ride to the bike paths on Assateaque Island and easy to get to the beach and restaurants. No bugs while we were there. Not a convenient dock for kayaking , but many places nearby. no gate at night. Did not use pool, which looked very little for the number of sites there.
Sep 18, 2021
Great location. Chincoteague Island is great for bicycling. All the restrooms were very clean. Very quiet in September. Compared to Sep 2020 mosquitos were almost non-existent. We will be back!
Sep 18, 2021
Everything was great. We don't use the amenities wish we could camp without paying for things we don't use . The campground is clean and well kept but prices are super high. The wife booked by accident a site without sewer they got us a site but it cost an extra $469 for 8 days. They were able to give us a few added discounts but still cost way to much. We will stay there again but be careful
Sep 18, 2021
Used to stay when it was Maddox several times a year. At the crazy expensive prices now we're only going to come once a year to visit friends who live on the island. Employees were great, an asset to your company
Sep 18, 2021
Enjoyed the stay, 1st time using RV & KOA..rented 2 bikes @ $16 per day was to high & it was to far to bike downtown, golf cart rental @ $50 a day & can only use in campground was to expensive & not worth the expense..bath house where we were located at #207 was close but not very clean..would not go to any campground without a car or scooter…overall, a good experience..learned a lot for 1st tim
Sep 17, 2021
The campgrounds were clean and the staff very friendly and accomodating. Having the trash picked up was nice. The Bathrooms were clean and very nice. The price was high, which we of course knew since we booked in advance. The sewer hook ups were very close the neighbors patio which was awkard.
Sep 17, 2021
Three nights Monday to Thursday morning. Quiet. Plenty to do in the area. Good seafood restuarants.
Sep 17, 2021
Very dissatisfied with condition of bathrooms, the bathroom closest to my campsite had 3 showers and only one worked, I was there from Saturday morning till Thursday morning and they couldn't have repaired them in all that time? and the staff were driving recklessly on the golf carts, they were kicking up clouds of dust behind them
Sep 17, 2021
Camping as it used to be
Sep 16, 2021
Relaxing and tons of fun. The revised Hero's weekend activities were perfect and provided a forest balance of first responder competition with family involvement. Hope to this offered again next year!!
Sep 16, 2021
Our rv rental was not clean it was very dirty, smelled like a nasty outhouse portable potty. The Ac vents were filled with black mold and gross. Staff was rude. Bathrooms and showers were dirty.
Sep 16, 2021
Great as always, my only comment is the porch was FILTHY. It's camping and outdoors and everything, but our porch was coated in dirt as if no one had stayed there in a year and we had to wash down the chairs and struggle to have the kids wear shoes because otherwise their feet were black and only had us get more dirt in and around the cabin. Could have just used a hose down before guests stayed.
Sep 15, 2021
Amazing staff!, Camper was a bit beat up but that is to be expected with all the use. But we will be back! Pool was still open and it was a very relaxed laid back enviornment!
Sep 15, 2021
Great campsite nice people. We will be back
Sep 15, 2021
It was our first time at this location. The staff was very nice and helpful.
Sep 15, 2021
Very kid friendly, family oriented campground. Friendly staff. Great amenities
Sep 15, 2021
This is our 3rd time at this campground we love it!
Sep 15, 2021
Great time. Only improvement suggestion I have is to provide good wifi service.
Sep 15, 2021
We love going to the Chincoteague KOA but we wish there was a couple things they would change. We wish you could request a specific site even if you had to pay extra to get the site that you want. Also, when it isn't crowded it would be much better if they didn't place the camper right next to you since the sites aren't that big anyway. There were several empty spaces on the other side.
Sep 14, 2021
noticing some need for repainting the bathroom doors, and as I always say. We need a bigger dish sink and more of them.
Sep 14, 2021
Very nice overall. Area around the dump connection was pretty mushy though. Seems like something was leaking. Also water seemed to shut off while flushing my blackwater tank. I assume that was some kind of leak detection shutoff but didn't know how to reset it. Site was very sandy for some reason. But it was quiet at night and overall the stay was relaxing.