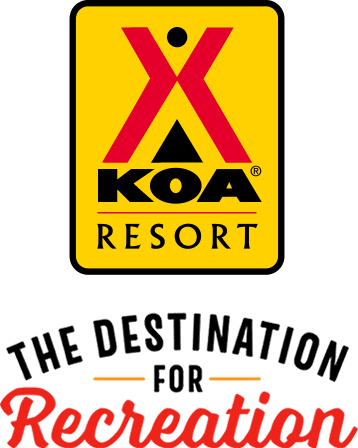 KOA Resort Campgrounds
KOA Resorts offer a carefree vacation in the great outdoors. Enjoy robust recreation and staff-led activities, kick back and relax by the resort-style pool, or grab a bite to eat, all while never leaving the campground. And with plenty of RV Sites with KOA Patios® and Deluxe Cabins with full baths to meet your needs, it's the ultimate camping getaway.
KOA Resorts Feature:
RV Sites with a KOA Patio®
Deluxe Cabins with full baths and linens
Premium Tent Sites
Resort-style pools
Indoor and outdoor group facilities
Directions
From US 13: Turn onto SR 175/Chincoteague Rd. Continue approximately 15 miles. Cross drawbridge onto Chincoteague Island; continue straight onto Maddox Blvd. Go approximately 1.6 miles. At the traffic circle take the first exit on the right to KOA
Get Google Directions
Jun 16, 2021
We loved glamping, the tent was perfect! We are coming back to use the waterpark. We loved that there was a pizza truck and icee truck. Bathrooms were always clean. We enjoyed riding around in the golf cart we rented.
Jun 16, 2021
Had a great time. Everyone was extremely friendly. Our whole family had a great time
Jun 16, 2021
The deluxe was not what I thought it would be. Not worth the money I paid. I paid for 10 campsites at the very end it was too much space that we felt like we were all still separated. We would've been fine with 5 sites instead. Also we got a noise complaint at 8pm. Staff was friendly and welcoming.
Jun 16, 2021
The roads are very rough getting around the campground. We had the patio gravel site. It had a nice table and chairs and sitting area. We would will visit again. The location is great to the parks and beach. Mosquitoes are definitely an issue!
Jun 16, 2021
Crowded campground, close site placement, camp sites are just a few feet from roads ( you are subject to very large motor homes driving to their site passing near people and pets), although we enjoyed renting a golf cart to make getting to different amenities like gift shop and water park, there were many of them. No real privacy. Lots of mosquitoes. Very clean restrooms. Quiet time respected
Jun 16, 2021
Loved everything about our stay! It was especially nice to have such nice, clean bathrooms and so many fun things for the kids! We especially loved the jump pillow!
Jun 15, 2021
Campsite facilities were not convenient, had to run sewer line to the front of camper, water was over 50' away. Other campers did not observe the pet potty policy of picking up after your pet.
Jun 15, 2021
Ck in was okay but no weekly schedule no tv guide. Our last day we notice a pizza food truck sitting there . Also Water Park no info when open cost etc. The best thing about Chincoteague KOA was the Mantenance folks were awesome. Lastly misquotios were herendous! I have no idea why you do not spray. This is not the only shore resort we have stayed in they sprayed.
Jun 15, 2021
The ground staff was amazing and very helpful. Only negative was the pizza food truck. The wings and pizza were gross. This was a rain alternative for us but we should have grilled in the rain over that pizza. I understand the food truck has no affiliation with KOA and it does not change my posistive recommendation for this KOA but the KOA needs a heads up.
Jun 15, 2021
The bed in the camper was harder than a box spring. Fire alarm went off randomly often and when we mentioned it to someone we were told to go to the store and get a battery. Nice place other than that.
Jun 15, 2021
Too expensive. Roads in terrible condition in park. My site, number 239 had no gravel or grass. Since it rained most of the time the MH stayed full of sand. The sites are too small for a 36 foot MH. We are seniors and did not use the water park or the bath houses but still had to pay. Lastly, two days before we were to arrive and beyond any refund they sent a 7 page wavier we were required to sign
Jun 15, 2021
Overcrowded, buggy and overpriced.
Jun 15, 2021
We love everything about this place. There is so much to do here. We visit at least 3-4 times a year. Staff is very helpful.
Jun 15, 2021
Wonderful! Cabins were beautiful and property so well maintained! Water park right there is a plus and very close to the beach! Will return!
Jun 15, 2021
Big campground, sites are kinda tight when full on the weekend. Amenities were sufficient and ample. Water park proximity is great. Mosquitoes are abundant.
Jun 15, 2021
We had a great time! The staff is extremely helpful and very friendly. The amenities in the camp and the proximity to all Chincoteague has to offer makes this location a perfect escape.
Jun 15, 2021
Wonderful location, great amenities combined with a friendly staff rates top points!! We will be back.. sites are close but not a deal breaker.
Jun 15, 2021
We were originally in a rental camper, which was disgusting. It smelled like fish and was obvious that it hadn't been cleaned regularly. Dirty floors, bathroom, beds. But the manager, who was very nice upgraded us to a cabin which was great. Overall the visit was good but the first night in the camper/trailer was a nightmare and I'd rather not camp than to stay in one of those ever again.
Jun 14, 2021
Campground was nice and so was staff, however, spaces were a bit small and the mosquitoes were bad. Would stay again in future.
Jun 14, 2021
Campground centrally located on the island with lots of ways to stay. Staff was friendly & very helpful. We flooded out 1 night & they assigned new site right away. That had an issue w/septic tank & we were upgraded to patio site N/C. Sites pretty level & campground clean. Nice bathhouses & pool. RV sites a little close but access was good for all size units. Will stay here again.
Jun 14, 2021
Mosquitoes were out of control. The bathroom in our rented camper smelled horrible and the ac was loud and barely made cold air. Upon arrival both the table and window shade in the camper were broken, plus the camper refrigerator froze our food. I had such high expectations for the trip and instead was hugely disappointed. Wouldn't stay again.
Jun 14, 2021
We were there for a week, great staff, nice campground with lots to do They need to do a better job of spraying for mosquitoes would be my only complaint
Jun 14, 2021
Very conveniently located to acces the wildlife preserve and beach. Very well staffed to help with cleanliness and troubleshooting. Will definitely come back again!
Jun 14, 2021
THE SHEETS ON THE BUNK BEDS HAD STAINS, YOU COULD TELL THEY WERE CLEAN BUT STILL A LITTLE OFF PUTTING. OTHERWISE, GREAT LOCATION, GREAT AMENITIES, GREAT SPACE IN THE CABIN. IT WAS GREAT TO BE ABLE TO BRING THE DOGS. CHECK IN & OUT COULDN'T HAVE BEEN EASIER.WOULD LOVE TO VISIT AGAIN.
Jun 14, 2021
It's a nice place to stay. We have rented safari tent and it was really nice not to put up the tent...it rained a lot the day we got there and there were many puddles which caused many mosquitoes...Resort had fogged the campsites however there were many mosquito bites
Jun 14, 2021
Campsite was awesome. Given the rain while we were there, the mosquitoes were TERRIBLE, which made the experience a bit tougher in some circumstances. Would like to come back at some other point in the season, when the skeeters aren't as bad.
Jun 14, 2021
their was confusion about payments. the women's stalls do not lock. it was ok.
Jun 14, 2021
Nice place. Everything you need is right there.
Jun 14, 2021
Everything was amazing except for the bugs but still had an amazing stay
Jun 14, 2021
way too crowded -no space between campers
Jun 13, 2021
We were assigned a very muddy site, which would have been impossible to navigate had we not utilized our 4 wheel drive. The mud also made it difficult to use the site for any outdoor activities (relaxing, playing, etc.). We did bring this issue to the attention of the office staff and were told that the area was damaged during recent work in that section and that it would probably be fixed soon.
Jun 13, 2021
We had a nice stay at Chincoteague koa. I did not give them a 5 because we had no hot water in the bathrooms one day, the stall doors did not lock and there was no hand soap. For the rate you pay to stay I feel things should be kept up. Also, 11 check out time is so early as. From what we saw when campers checked out the only thing they did was take the trash so why you need to be out so early.
Jun 13, 2021
We had a great stay, but there were a couple of issues we felt could have been dealt with. - the doors in the women's bathroom do not lock so they do not stay closed. - there was no hot water in at least two of the women's shower - your check out time is 11:00, but nothing is done to the sites. The site next to us was empty from Tuesday until Friday and the fire ring wasn't even cleaned o
Jun 13, 2021
Pros: The staff were super accommodating , the KOA was well maintained and had great amenities. General store was not over priced. Was very impressed with this KOA. Cons: JUMANJI LEVEL MOSQUITOS. Absolutely not the fault of the KOA. The mosquitoes are some kind of super breed that ate us alive through three different types of bug spray (applied at the same time) and bug bands .
Jun 13, 2021
Good place to stay in a great location - very close to the Assateague Island, Maui Jack Waterpark, etc... The water/elec were normal distance, but sewer was further away (had to use our 15'+10' hoses), and was right at the camper door. Some other sites had long water hookup. First 3 nights were beautiful, but mosquitoes were issue for last 2 nights. Overall, nice campground and friendly staff!
Jun 13, 2021
Outrageously expensive. Big park but only one set of restrooms. Our cabin was nothing but a muddy mess--needs paving stones since I'm sure it rains a lot. We loved seeing the horses but it rained too much to walk to the lighthouse.
Jun 12, 2021
The employees were great . The mosquitos were beyond ridiculous . Every time we walked we were swarmed 20 + biting you at the same time. I understand that the surrounding salt water marshes are a perfect breeding ground but this was crazy . I have stayed there before but will probably not be back . Introduce bats and dragonflies , some mosquito predator . Park spraying made it worse .
Jun 12, 2021
Everyone from the greeter to the entire staff was very personable and helpful. They had 50 to 30 atop adapters available to lend. We really felt welcome.
Jun 12, 2021
The campground was very clean and the bathrooms were kept up fairly well. The bugs however were so awful we left early. I don't think that's the campgrounds fault fully since it's the island that is buggy but I wish the campground did something to spray or treat for the bugs better. It was so bad it hindered us from enjoying our stay.
Jun 12, 2021
Loved your campground but the dog park needs shade.
Jun 11, 2021
Bathrooms were kept clean and maintained well. People can be trashy and dirty and you can't help it that people throw trash on the floor, but almost every time we used the bathrooms, they were very clean for a campground. Maintenance workers who came around always noticed if I was gathering trash and would take it and were always friendly. Registration and store staff also friendly.
Jun 11, 2021
We liked it so much we booked two more stays before we left. Located in a great spot, the sites we had were shaded and lots of space. My wife and I think it is our favorite in 18 years of camping. Staff was great! Mosquitoes are a problem this time of year, spray as much as possible. Maybe treat the ground if possible.
Jun 16, 2021
Everyone that works here is very nice and do there best to make your stay enjoyable.
- Marylou Robertson on Google
Jun 11, 2021
This KOA was amazing! It was quiet and very family friendly! The staff was amazing! The water park was so much fun for my 4 year old! I highly recommend! It was such a great vacation that we agreed we are going back next year!
- Kristen Owens on Google
Jun 09, 2021
Nice pool, hot showers but tight camp sites
- Glenda Howard on Google