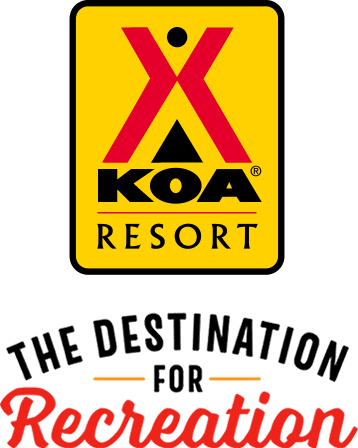 KOA Resort Campgrounds
KOA Resorts offer a carefree vacation in the great outdoors. Enjoy robust recreation and staff-led activities, kick back and relax by the resort-style pool, or grab a bite to eat, all while never leaving the campground. And with plenty of RV Sites with KOA Patios® and Deluxe Cabins with full baths to meet your needs, it's the ultimate camping getaway.
KOA Resorts Feature:
RV Sites with a KOA Patio®
Deluxe Cabins with full baths and linens
Premium Tent Sites
Resort-style pools
Indoor and outdoor group facilities
Directions
From US 13: Turn onto SR 175/Chincoteague Rd. Continue approximately 15 miles. Cross drawbridge onto Chincoteague Island; continue straight onto Maddox Blvd. Go approximately 1.6 miles. At the traffic circle take the first exit on the right to KOA
Get Google Directions
Apr 06, 2021
I was quite unhappy with the space I was assigned to, as it was on a lane with no gravel pads. All of the spaces were mudpits and my stabilizer feet would have sunk. I was offered a graveled space for an upcharge of $20.00 per night. Compared to state parks that have graveled spaces as a standard this was unacceptable. After some discussion I did get a choice of 2 other spaces which had gravel.
Apr 06, 2021
It got a little crowded Saturday, but everyone maintained social distancing protocol. The band on Saturday was a nice event. Great to see live music again!
Apr 06, 2021
We had to share water and electric with 3 other camp sites. The "y" adapters were not hooked up to the water lines. The roads are narrow making backing into spots hard. The bathrooms were broken most of the weekend. The fire ring was directly beneath the electrical box. There was no picnic table at site. Staff gave special treatment to the seasonals and were hard to get attention as weekender.
Apr 06, 2021
Muddy, tall grass, potholes at and around our back in RV lot. Besides that everyone was very nice and enjoyed our first stay at Chincoteague Island KOA.
Apr 06, 2021
You need to have a larger dog park.I think there use to be one where the jumping pad is. ��
Apr 06, 2021
ITHIS IS THE FIRST TIME I RENTED AN RV FOR THE WEEKEND INSTEAD OF STAYING WITH MY SISTER IN HER RV . I LOVED THE RV, IT WAS ROOMY AND CLEAN, HAD EVERYTHING WE NEEDED, EXCEPT FOR ""HEAT"", SUCH A COLD WEEKEND FOR THE INVERTER ON THE FURNACE TO GO. WITH NO OTHER ACCOMODATIONS AVAILABLE TO US, WE HAD TO CHECKOUT THE NEXT MORNING. WE GOT A FULL REFUND BUT WE HAD TO LEAVE. MY WEEKEND WAS RUINED.
Apr 06, 2021
First they put us in a spot that was swamped. They agreed to move us. Then we had no power. It was eventually fixed. The place was PACKED which was really not what we came for. There were some very loud groups and a bully on our row who clearly told me not to walk down this row because he had no intention of putting his 200lb St Bernard and reactive poodle on leashes. the events were nice though.
Apr 06, 2021
We enjoyed our stay very much. The Bungalow we stayed in was clean, and in good condition. We had a minor problem which was attended to very quickly. The restrooms were clean. The staff was very friendly and courteous. We look forward to returning in the fall.
Apr 06, 2021
my stay was not well i woke up to lots of bed bugs and they did refund me my money in full but still took out $33 for rewards member which i don't want anymore since my stay there was not satisfy i have multiple bite from the first night i stay there in a bungalow and customer service didn't do anything to make it better not just that they told me their laundry room was not good to operate!
Apr 05, 2021
Great stay. Really enjoyed ourselves.
Apr 05, 2021
Chincoteague KOA is so much better than when it was privately owned previously! Loved the activities such as adult easter egg hunt, activities, easter bunny, egging of the campsites, food trucks, and band. However, in general, it did not feel 'ready' for opening weekend....bounce cushion obviously never cleaned/not working, skids of materials sitting everywhere including on kid's playground (?!?).
Apr 05, 2021
We stayed at KOA-Chincoteague last year and noticed a lot of pot holes and mud-luckily it wasn't as wet. But this year, we noticed most of the focus is on getting new cabins. We were in a muddy and wet back in area that was neglected. The fire ring was ran over and no picnic table. Grading and gravel is needed. Could barely get out of truck without mud tracking. Just wish we knew ahead of time
Apr 05, 2021
Very nice KOA! Bathrooms were great - very clean and well maintained. Store onsite was very convenient. Event planner, Heather, is a star!
Apr 05, 2021
This was by far the best koa we have stayed at. We have already recommended it to a number of friends and family!
Apr 05, 2021
Staff were friendly clean environment
Apr 05, 2021
It was just nice to escape from our house in lockdown prison Pennsylvania for a couple of days.
Apr 05, 2021
Office staff, grounds maintenance and all support staff absolutely rock. These folks go way above and beyond to see you enjoy your stay.
Apr 05, 2021
All in all, we had a great time and much needed getaway. We rented a RV for the first time, and found the beds to be very uncomfortable. They only had a very thin cushion, much like sleeping on a board.
Apr 05, 2021
Quite enjoyable, I would say taking in the RV experience probably saved us $40,000 in buying an RV. We decided the amount of space isn't right for our family but, we did enjoy our experience. The staff was fantastic, lots of activities, a great band for Easter. We'll definitly be back, and probably rent another RV, just no need to own our own. They can deal with the propane/tanks/etc! HAHA.
Apr 05, 2021
We stayed in a Safari tent over Easter weekend. There were lots of activities planned and even a band. The staff was great. The restrooms were very clean. We had a great time!
Apr 05, 2021
The people are great. However, this campground is old and narrow. They are focusing their money on cabins to rent, "yurts", waterpark, etc., and not even keeping up with the roads or the camping sites. Spots are super tight, low & muddy in some cases, etc., but this is about the only game in town if you want to RV camp in the area. The power post only had a 50 AMP circuit on it.
Apr 05, 2021
We had an awesome time at this KOA. It had tons of things to do and the people and atmosphere was great!
Apr 04, 2021
A few things seemed not ready for prime time during opening weekend. First, any RV that doesn't have a 50 amp hookup needs an adapter here. Apparently they were supposed to have asked us about this when they escorted us to our site, but no one escorted us and no one asked. None of the laundry rooms were operational, and the wifi only reaches some of the sites. Staff was very friendly, though!
Apr 04, 2021
Having stayed at the KOA previously and had a wonderful time, I was completely shocked by our stay this time. It was mud filled (understanding that can't be controlled could have been warned), cabin top bunk ladder was broke, screen broke, lock on the door didn't work and the fan was so wobbly. No one called me back timely when i called. Super super disappointed and fear we won't be coming b
Apr 04, 2021
Really lovely staff, nice community facilities (what we were able to use, given the time of year). But we have a 36' travel trailer (as indicated on the reservation) plus a 24' truck and were put in a very cramped spot that was an absolute mud pit given the rainy season. The rest of the park seems to be better situated for drainage than the alley where we were camped.
Apr 03, 2021
The campground over all was nice, staff was friendly. At the time of our visit there was a lot of standing water, we went through 3 sites before finding one we could actually put our tent at.
Apr 03, 2021
Staff was excellent, very friendly and accommodating. The park itself is one of the better ones we've stayed at recently
Feb 15, 2021
delivered firewood and smores supplies, friendly, clean, great view
Dec 02, 2020
We had a seasonal site and really enjoyed it! Staff polite and helpful. Bathrooms kept clean. Grandkids loved crabbing from dock. Have always favored this campground due to its closeness to Assateague. Only problem for us was some flooding on our site which I know is a problem for much of campground and island as well! (Hard to remedy that when you're just a few feet above sea level!) Thank you!
Dec 02, 2020
My site always flooded in rain. And when I asked about getting it pumped out they would show up sometimes and sometimes not. And we had vandalism one weekend a friends two jeep tires were slashed. Those are some of the reasons I did not renew for next season.
Dec 02, 2020
We love this campground- it's clean, organized a staff is very pleasant!
Dec 01, 2020
We enjoy spending time with our many friends at the KOA. Nice Summer getaway.
Dec 01, 2020
We love our seasonal spot at Chincoteague KOA. We do wish we had an assigned Seasonal Advocate. Our few concerns aren't taken seriously. We have concerns about security and these were verbally addressed, but not resolved. We also have concerns about dogs at KOA and having rabies records for all of them, given the number of dog bites last year.
Dec 01, 2020
Very clean , staff super nice
Dec 01, 2020
First time for thanksgiving. This a very nice campground no matter what age. If you have a family or not, there plenty of things to do and see!
Dec 01, 2020
I love Chincoteaque Koa and I will be back in April, when the camp ground reopens!
Dec 01, 2020
This was our third time staying this year and we absolutely love it! The staff is always very friendly and accommodating, the location is perfect, and the bathroom and bungalow was kept clean. We will definitely be back.
Nov 30, 2020
Nice quant campground close...stayed for Thanksgiving and had the very first site that entered the campground. Preference would be further away from the front gate to reduce noise and travel. As expected, no amenities due to COVID and time of year. Very close to the national seashore and in walking distance to a few shops. Site flooded considerably, but with the concrete patio, it was manageable.
Nov 30, 2020
It was perfect. We will be back! My only suggestion would be a doggie daycare option so campers with dogs can see the refuge. Our dogs are too big to lock in a camper and would just bark. Next time we will leave them at home. It really is a nice spot to camp.
Nov 30, 2020
Just a relaxing day and night prior to winterizing for the year. See you in the spring.
Nov 30, 2020
Quiet and peaceful. The trash pick up service was excellent and all the KOA staff were friendly.
Apr 18, 2021
First time staying at a KOA with our brand-new camper. The staff was extremely helpful and friendly. The glamping tents look neat, we're going to try those out during our next visit. This was the get-away from home we so desperately needed. Thanks for a great first of many trips!
- Eric Schmidt on Google
Apr 17, 2021
This campground was very well taken care of and is in a good location. Beautiful vuews of scenery and lighthouse right from campground.. Staff was very friendly and helpful. We stayed in our travel trailer in a really nice pull through space, but the brand new cabins they had also looked great.
- Jason Simard on Google
Apr 09, 2021
Even though it is still early in the season this KOA was bustling! It was well managed and well cared for. The bathrooms and laundry rooms were good, but guests do not always clean up after themselves as they should! We had a blast!
- Barbara VanDerBas-Moody on Google