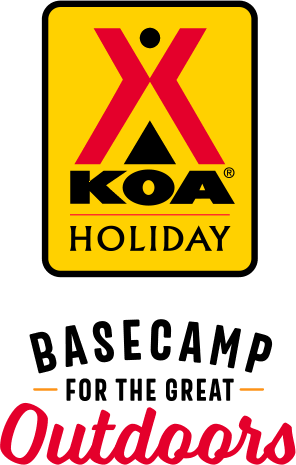 KOA Holiday Campgrounds
Whether you're exploring the local area or hanging out at the campground, KOA Holidays are an ideal place to relax and play. There's plenty to do, with amenities and services to make your stay memorable. Plus, you'll enjoy the outdoor experience with upgraded RV Sites with KOA Patio® and Deluxe Cabins with full baths for camping in comfort. Bring your family, bring your friends, or bring the whole group – there's plenty of ways to stay and explore.
KOA Holidays Feature:
RV Sites with a KOA Patio®
Deluxe Cabins with full baths
Premium Tent Sites
Group meeting facilities
Directions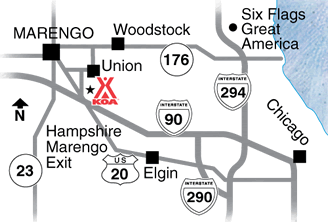 From I-90 driving West: Exit 42, IL 20 (Marengo/Hampshire); turn left (west) onto Hwy 20; 4 1/2 miles then right onto South Union Rd. Follow signs to Wild West Town.
From I-90 driving East: Exit 36, IL 23 (Marengo): follow IL 23 north, turn right onto Harmony Road, turn left unto Maple, turn right onto Beck, turn left onto S. Union Road.
Driveway entrance next to Wild West Town.
(We recommend to always check for area construction updates)
GPS: N42.206118, W88.550137
Get Google Directions
Sep 03, 2020
Always friendly and helpful staff. Spaces are good size. During covid always took precautions. Always kept in touch via text. Will definitely be back!!
Sep 02, 2020
This is our 2nd visit (first during eclipse). We were just as happy with this visit as the first (even with Covid19 restrictions). The KOA is clean, the hosts are friendly and welcoming. The park is quiet enough to hear nature's sounds, i.e. crickets at night. We will definitely choose this KOA when we are in the Chicago area again.
Sep 01, 2020
We loved the location and staff. Only negative was the upkeep of grass in the site. We had a nice premium site, however the grass was over grown around the patio and growing up through the pavers in the patio. We will be back next year. Just some constructive criticism!!
Sep 01, 2020
Loved the park, the reg process, the customer service, the updates on daily activities and ability to text for deliveries or information. So unbelievably quiet and well kept, and park staff were constantly visible. Have been camping for 50 years, really can't say enough positive about our stay and will be putting reviews on Yelp, etc. Thank you for a lovely camping experience! Kim & Pat S.
Sep 01, 2020
We love this KOA! Emily, Gina and Al are exceptional employees!!!! In fact the entire staff is amazing! I am sorry but we don't know all of the names!! They are all SO friendly, helpful and nice!! They are the reason we continue to go back almost every weekend!! Thank you for ALL going above and beyond to take care of your campers! Jill & Mark S.
Sep 01, 2020
This is our first camping trip for our RV. We wished there would of been some walking paths we could take our dogs on, and the Lots were very close to one another. But, everyone was very nice!
Aug 31, 2020
Awesome experience. Friendly staff, quick service responses, excellent communication, super clean bathrooms, lots of shade for tent campers. We had a great time and will definitely return.
Aug 30, 2020
We stayed four days. Staff were pleasant and helpful. Covid restrictions were in place so much of the camp was closed, but they did have activities scheduled. We were very pleased with the facilities.
Aug 29, 2020
Convenient for our needs, recommend trees get cut
Aug 27, 2020
Staff very helpful. Very clean campground. Lots of space for granddaughter to play/fly kite
Aug 26, 2020
Staff was very proactive in COVID-19 measures. Masks were worn when in close proximity to guests. The store was not open, but whatever you needed was brought to you. We felt very safe during this stay.
Aug 26, 2020
Lush green grass and the most spacious tent sites I've ever seen.
Aug 25, 2020
Nice place, although sites are close. Would have been nice after all the Sunday's departures if the few incoming campers were spread out to every other site or spaced out a bit.
Aug 25, 2020
My families and friends like it
Aug 25, 2020
We stayed in a camping cabin and it was perfect for our family. The cabin was clean and the site was very well maintained. I was impressed with all the precautions put in place to keep families safe during Covid while trying to maintain a family-fun camping atmosphere. The staff was friendly and helpful. The bathrooms were very clean! We look forward to staying her again soon!
Aug 24, 2020
It was good. You need more kids activities and things to do.
Aug 24, 2020
i LOVE THE NEW TEXTING APP! NICE TO KNOW WHATS GOING ON. THE ONLY PROBLEM i HAVE WITH YOUR CAMPGROUND IS THE DUST FROM THE ROAD. MAKES EVERYTHING A MESS!
Aug 24, 2020
Very relaxing and quite even with the kids and dogs out playing.
Aug 24, 2020
We were in site 109 and the sewer smell was unbearable. Couldn't even sit or eat outside. We left a day early because we couldn't be outside.
Aug 24, 2020
The whole KOA team was wonderful! They were really working hard to keep us safe and happy! Everything was perfect, but we like places where there is more trees around and more wilderness. This one was not the prettiest, but it was very clean!
Aug 24, 2020
THIS was the second time in the past 2 weeks that my family has gone there. Great staff and a great time both times.
Aug 24, 2020
Always a great time, this was our second time here and had the same site each time, after looking around the campground, we asked about the dog site for this coming Labor Day weekend and the site was available and we grabbed it right away, Thank you Silva and here staff.
Aug 24, 2020
Great staff! Clean site and bathrooms. No complaints. Can't wait to return next year.
Aug 24, 2020
Very clean and friendly
Aug 24, 2020
We had a very relaxing time. Anytime we texted a order for wood and ice it was delivered in a pleasant and timely manner. The staff was friendly and helpful. And we found the grounds and bathrooms to be nice and clean.
Aug 24, 2020
The only disadvantage was that we were closed to the road and it was noisy.
Aug 22, 2020
Very nice KOA campground & facilities, with friendly Hosts and staff. The location was perfect for us to visit our family in the Huntley area.
Aug 21, 2020
Very Responsive and helpful staff
Aug 20, 2020
Everything was great for my 7 year old first time camper. Only issue was the bathrooms closest to us were closed the first night.
Aug 19, 2020
Nicest staff! Had a good time.
Aug 18, 2020
Sylvia and her staff went above and beyond checking on us each day and making sure our stay was great! The sites especially ours (101) was super cute and the field behind was perfect for the kids to be able to play in since the pool was unavailable due to covid. This was our first KOA visit and it wont be our last! See you perhaps when apple picking season starts!
Aug 18, 2020
Music by some camper played and kept me up until midnight. Is there a quiet policy to stop this kind of thing? Also had smokers camped next door, maybe there should be smoking/nonsmoking areas.
Aug 18, 2020
Very friendly and helpful staff, but nothing to do there for grownups, no hiking, biking, fishing, nada, so better for small kids. Left a day early.
Aug 17, 2020
Definitely I would recommend this place to everybody. Even though the pool was closed we enjoyed our stay there. People was very friendly and helpful. Of coarse we'll be there again. Thanks
Aug 17, 2020
The stay was fine. It was nice that there were still activities that could be done. It would have been nice if there could be a reservation system to use the pool like some other campgrounds are using but I understand that is probably out of your control. The grass at out site was ridiculously long... we used the camping mats to try and flatten it down.
May 02, 2021
Just got back from staying here. Great time! Very clean bathrooms and showers and awesome customer service. The owner is always around and checking up on people and the staff is amazing. The ice cream social was the bomb. Would definitely come back.
- Greg Kaiser on Google
Apr 28, 2021
We camp here every year in the early camping season. Place is clean, quite and staffs are friendly.
- Spuddyboy Pineda on Google
Apr 26, 2021
This KOA is well maintained by a caring, helpful and friendly staff. The owners reinvest in the property and are constantly upgrading the sites. This year's upgrades included brick patios, wooden swings and dog pens in some of the RV sites. We highly recommend this KOA.
- Marc Merel on Google