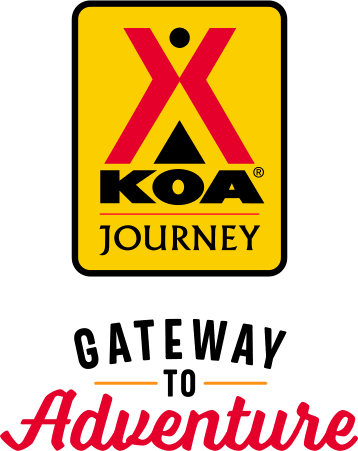 KOA Journey Campgrounds
KOA Journey campgrounds are the perfect oases after a day on the road. Whether it's along the way or a quick getaway, they've got you covered. Located near the highways and byways of North America with long Pull-thru RV Sites, they deliver convenience to the traveling camper. Pull in, ease back and take a load off.
KOA Journeys Feature:
Pull-through RV Sites with 50-amp service
Premium Tent Sites
Well lit after hours check-in service
Directions
I-80 Westbound: Take exit 367. Make a right turn at end of off-ramp. Make a right onto Hutchins Drive (old Archer Frontage Road).
Eastbound: Take exit 367. Make a left turn at end of off-ramp. Go under highway. Make a right onto Hutchins Drive (old Archer Frontage Road).
GPS: N41.139186, W104.698689
Get Google Directions
Jul 26, 2021
Friendly workers. Clean environment. Pool, mini golf and a playground available. Everything you forgot is at the store along with souvenirs for friends and family that didn't come with you.
Jul 25, 2021
Cabin, facilities, bathrooms, etc were clean. Staff was friendly Mattress was very uncomfortable, mirror was too high There were several gopher or prairie dog holes. Prices were highly marked up for Cheyenne frontier days.
Jul 23, 2021
The best KOA we have found! Super clean and staff was great!
Jul 21, 2021
This is a great spot to stay if you are going through Cheyenne. The bathrooms are top notch. The little cabins are great and they are very pet friendly. �
Jul 18, 2021
Kabin was very clean, store well stocked, campground clean with wild little critters hopping and running around. Enjoyed watching a mama Robin feed her baby some potato we gave her. Staff was up early and walking around, cleaning, saying hello to everyone.
Jul 16, 2021
Excellent. Very clean showers and restrooms. The cabin was perfect and the staff amazing. We celebrated a bday with one of the staff, Pat, and now have a new friend.
Jul 12, 2021
Very clean and peaceful KOA. Welcoming.
Jul 06, 2021
We love KOA. The Cheyenne KOA was very clean. The pool was awesome. It had a great putt putt course. I think the employees could be more friendly and interactive like other KOA. They just were a little dry. Can't wait to check out another KOA.
Jul 03, 2021
Comfortable, clean cabin except for very dim lighting, I had to use my flashlight for more light.
Jul 01, 2021
Very convenient for an overnight place to sleep.
Jul 01, 2021
Easy to rent, friendly and welcoming staff.
Jun 21, 2021
Would like to have had the pool open a little later. Our stay was great. The cabins were clean.
Jun 12, 2021
Concerned that now that it has been purchased by a firm, it will be turned into a "circus" .... wanna-be theme park. Please NO... the charm of this KOA is what it is Right Now
Jun 10, 2021
Convenient location while on the road. Tiny cabin was comfortable and clean.
Jun 09, 2021
The host were very nice. The showers and bathrooms were really clean. Our cabin even had decor hanging inside. We will be back if we head that way again. Thank you.
May 31, 2021
Great service and the grounds are very well maintained.
May 24, 2021
Nice, clean KOA, very pleasant staff. Has interstate noise, but very convenient location.
May 22, 2021
We only stayed one night but we were very happy with our accommodations. Thank you so much If we are by this way again you will see us.
May 21, 2021
Very clean Ann in good repair
Apr 14, 2021
Clear, friendly phone call for instructions on highway exit directions, welcome with heater on in cabin and patience with accessibility questions. Lovely people, lovely clean place, and love the prairie view out the cabin window :)
Nov 25, 2020
We stayed in a cabin in November and it was great! They were nice enough to turn on the heat before so that we pulled up to a warm and cozy cabin (: would highly recommend this KAO to others!
Oct 25, 2020
Staff was wonderful!
Oct 20, 2020
Cabin #2 I swept the dirty floor with broom and dustpan provided in room. The FreeStanding electric heater kept shutting off by tripping breaker on the back and smelled of electrical wires burning. Disinfectant on bed was so strong I slept in My pickup. Cabin 1 was much better when We stayed the week before.
Oct 14, 2020
Nicest , cleanest place we have stayed so far. Really enjoyed our stay
Oct 14, 2020
Clean cabin and friendly staff. I appreciated the cabin's proximity to the restrooms as well.
Oct 13, 2020
Short but sweet.
Oct 12, 2020
Very clean restrooms and showers.
Oct 07, 2020
Owners were very nice. Grounds clean as were the facilities.
Oct 06, 2020
We stayed in a basic cabin instead of our RV. The staff was very friendly and helpful. We only stayed 1 night but we would have loved to stay longer.
Oct 05, 2020
The floors in the lodge need mopped! Our feet are filthy. Otherwise, a wonderful and fun place to stay.
Sep 27, 2020
Quiet, clean, emoyees very helpful and very knowledgeable about their grounds upkeep awesome
Sep 24, 2020
We loved the convenience of the stove tops in the outdoor pavilion - what a nice perk! I love a good campfire as much as the next person, but being able to use a "real kitchen" to prepare a meal was great.
Sep 21, 2020
Clean, nice people at the front desk...
Sep 21, 2020
Everything was very clean. We were in a camping cabin and had a fire each night, it was fun. Glad we had the inside A/C going, very loud outside during the night. There was a horrible smell the first night probably from the refinery. Otherwise we had a very pleasant stay, lots to do in Cheyenne!
Sep 16, 2020
The Salina Kansas KOA is $55. for same cabin. I did think Cheyenne's grounds were nicer but bathroom was much smaller and there was no tv.
Sep 15, 2020
Loved the big cabin. Had a wonderful time and it was super cozy! One of the best, totally recommend
Sep 12, 2020
Very happy staying here!
Sep 11, 2020
VERY FRIENDLY PEOPLE. THE PARK WAS VERY CLEAN. THE BATHROOM WAS BEAUTIFUL. VERY ENJOYABLE TIME
Aug 02, 2021
Clean and lots of amenities, however way too close to interstate. Can literally count the traffic going by
- Julie Clemmer on Google
Aug 02, 2021
The Cheyenne KOA is very well ran! I will definitely be back. The employees are very friendly and welcoming! The bathrooms were very well kept and the cabin was comfortable and clean. Thank you for being such great hosts!
- Vanessa Rodriguez on Google
Jul 23, 2021
We rented a tent site. Very clean, perhaps the nicest bathrooms I've ever seen at a KOA. The tent site was well taken care of, they have walls configured (assuming) to block out the wind, although we didn't have wind while we were there. It would have been nice if the pool were open later, for some reason they closed it at 8pm, which was right when we arrived. I felt bad for my son because he was really looking forward to swimming. One note about tent camping, there is very little vegetation in the way of trees or anything else to block out sunlight, especially in the morning. Staying in July, the sun comes up pretty early, by about 7:15 it felt like it was 90 degrees inside of our tent. We had planned on sleeping in, there was no real way to do that, so we packed up and got on the road shortly after. Just something to be aware of, you probably won't be able to sleep in, at least not in a tent, during the summer months. It's also very very close to the interstate, which didn't bother us, but it may be something to consider with the traffic noise.
- Roo H on Google