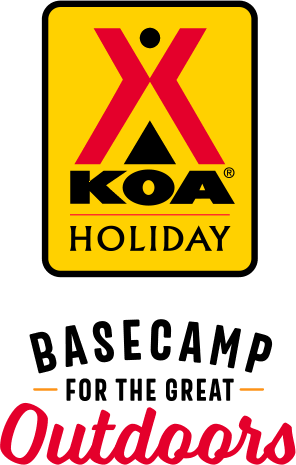 KOA Holiday Campgrounds
Whether you're exploring the local area or hanging out at the campground, KOA Holidays are an ideal place to relax and play. There's plenty to do, with amenities and services to make your stay memorable. Plus, you'll enjoy the outdoor experience with upgraded RV Sites with KOA Patio® and Deluxe Cabins with full baths for camping in comfort. Bring your family, bring your friends, or bring the whole group – there's plenty of ways to stay and explore.
KOA Holidays Feature:
RV Sites with a KOA Patio®
Deluxe Cabins with full baths
Premium Tent Sites
Group meeting facilities
Directions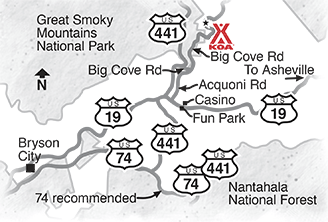 From Cherokee: N 441 to park boundary, then Big Cove Rd. (Hwy 19 and Blue Ridge Parkway are not recommended.) Enter Big Cove Road when using GPS.
We are located on Big Cove Road in Cherokee, NC 28719.
Get Google Directions
Aug 25, 2020
My family and I stayed here when I was a kid. It's a great spot. I love the rustic cabins, cooking over the fire, the sound of the raging creek. It's easy to get away to and very affordable. Book today.
Aug 24, 2020
When we first arrived, the campsite that we were supposed to have was very muddy from all the rain, I asked to be moved to another site, and was without problem. Nice campground, it could be kept a little cleaner, but we did have a nice stay.
Aug 24, 2020
Our site on the river was nice, but there was a water leak on the water hook up on the site in front of us. Therefore was causing water to continuously water across our site. This water leak was reported twice to the office and never was taken care of. Also the customer service in your office was very poor and your employees were not friendly to the customers and were not willing to assist.
Aug 24, 2020
We only were there for the weekend but by the end of our stay on Sunday, the bathrooms were trashed. They were out of toilet paper and no one had cleaned up the restrooms. We also ordered food Sunday morning at the grille, breakfast food, and it took about 45 minutes just to get some biscuits and pancakes.
Aug 24, 2020
Always love this campground in Cherokee. Happy to see Joanna back at front desk helping us get checked in. She is always so friendly and helpful.
Aug 24, 2020
Very friendly staff. Nice Facilities. Our biggest complaint was the poison oak around the electrical box and sewer hookup. Very allergic so took all precautions but one of the kids did get into it hooking the water. The side of the road where we were staying was a complete mudhole from previous tenants parking in the rain. Needs crush n run or crushed asphalt in these areas. Still a good campgroun
Aug 24, 2020
Every time I went in the bath it smell like pee and water all over the floor. Bath house run down. $8:50 for 1 bundle of fire wood? Staff was very nice!
Aug 23, 2020
Everything was great but the weather. A beautiful campground tucked away on a scenic river. Just the way camping should be
Aug 23, 2020
Loved the campground!! Staff outstanding. Only complaint is that our neighbor liked to smoke pot in the evening & it kept coming into our RV since we had the door & windows open. They also came back from a day out-- with their large motorhome- since they did not have a TOAD at 1130pm. Lots of noise & activity getting it settled & attached to things. Kind of hard to sleep.
Aug 23, 2020
Where we stayed, a good portion of our campsite did not drain well and there was a lot of standing water. We either had a sewer smell or a smell like something died and was rotting near our campsite. The bathrooms were disgusting and the the showers were not cleaned. We made a comment to the front desk but it didn't seem to make a difference.
Aug 23, 2020
I wasn't impressed with this KOA. We try to stay in KOAs because they seem to have a standard that we like, we noticed they had cut the grass and it was all over which our dog carried in to our RV along with all the mud on our site. I feel they also need to put in their campground rules that campers should NOT cut thru other RV sites. We had that all the time with several people the whole time.
Aug 23, 2020
Stayed in a loft cabin. Staff was friendly and prompt. Great atmosphere even with covid.
Aug 23, 2020
Very disappointed in my experience. I have been coming to this KOA for years & it continues to get worst. I wanted to give it one last try & I regretted it immediately.Cabin was dirty, broken locks,no smoke detector(safety issue), issue with dates for stay & was told campground was full but online stated it had openings, so had to book online. Rude staff, campground looks rough won't go back.
Aug 22, 2020
Wow que servicio al cliente si eso es lo que creen tener la "señora a cargo" diría que es un animal pero le faltaría el respeto a los animales esa señora no tiene ningún interés en tu experiencia o en que regreses al lugar el baño que tenía que usar era un asco entiendo son baños públicos pero no limpiarlos por días dejarme saber más clientes tenían las mismas molestias y no hacer
Aug 22, 2020
I paid over $200 a nite foe a cabin.check in 3:00. Got checked in 4:30. Kiddie pool closed, snack bar closed, Check in desk covered in flies. Cabin had cobweb and dirt on fans, ants, ant trap several places. The shower curtain look like mold. I booked this vacation for 3 of my grandchildren. I have stayed at KOA many years but this was the worst experience I have had. WiFi did not work.
Aug 22, 2020
Sites are too close together along the river. Guest next to us stayed up all night with an outside TV blaring. Went to front desk next morning at 9:00 am. Waited until 9:10 and walked away and left. They open at 9:00 and I could see them in there just looking at me. Note on door states open at 9am. Also needed propane and couldn't anyone to help us. We will not be back and will share with friends.
Aug 22, 2020
The bath house was disgusting. I took pictures and showed the front desk the trash that was everywhere that we were having to walk on to use the bathroom. The bath house was left unattended and disgusting for 2.5 days. It was gross and I would not wish it upon an enemy. When the front desk asked for help, they yelled at her. I have never encountered something so disgusting. This needs to change.
Aug 22, 2020
Nice campsite along river. Very friendly staff. Enjoyed our stay and will visit again.
Aug 22, 2020
booked a site ,and forgot my value card number ,was told by the "friendly " check in person that i should have done it at the time of booking . I agreed but could he help.Sorry .Booked a river site ,but found out contrary to the site map there are only 4-5 river sites unless it rains a lot .Also said I am sure you are happy now that you back at 100% ....he said " not really "!
Aug 22, 2020
Level concrete pad. Many activities are included in the most expensive campgrounds 80.00 per day. Great location. We did not use facilities due to Coronavirus. We will return
Aug 22, 2020
Low water pressure in showers, took forever to get hot. I think pond fishing for just-stocked trout is pathetic. I fly fished the Oconaluftee, Cataloochee, and Deep Creek with limited success but did catch beautiful wild rainbows and browns at all three places. On my own hand tied flies. Quiet and good for sleeping in campground, friendly courteous staff. I probably will return, maybe September.
Aug 21, 2020
We loved coming. For the first time ever, the bathhouses were nasty the whole time we were there.��
Aug 21, 2020
The staff did a great job keeping campers engaged in activities. The bathrooms were in pretty bad shape for a KOA, with several bathrooms having stopped up toilets. I can imagine the difficulty in keeping them clean, but have seen other campgrounds with less of a budget keep a much cleaner bath house.
Aug 21, 2020
There was dog hair every where in the cabin especially on the pull out couch. We had to get a lint roller to try and get some of the dog hair up. Dog food under the pull out bed so I know it had no been cleaned properly before we arrived. Each one of us had to take allergy medicine for the 3 days we were there due to having sensitivity to pet dander. Report it several times to front desk.
Aug 21, 2020
The woman who checked us in was the rudest person I have ever had to deal with in all my years of traveling. Disrespectful doesn't even begin to describe it, she made a hand jestur to shut my mouth!! And I will never be back!!
Aug 21, 2020
We have stayed here 3 or 4 times in the past year and each time it got a little more run down. The bathrooms were beyond disgusting. There wasn't any toilet paper in the womens bathroom for almost 3 days. Our cabin looked like it had never been cleaned. It honestly just felt gross. If we didn't love the area so much and visiting the falls, we would have packed up and left after day one.
Aug 20, 2020
Fui por 5 días (primera vez) con mi familia y un grupo que éramos 18 personas incluyendo niños. Nos quedamos en cabinas, q estaban sucias adentro y afuera. Los baños estaban asquerosos sucios apestosos. Vomito y heces fecales por el piso. Cuando fuimos a dar queja sobre eso la gerente nos grito delante de otras personas.
Aug 20, 2020
Very quite, comfortable, and very well kept. For your associates that helped me or came in contact with me, they were all helpful, kind, and courteous. I was a little disappointed that my site said it backed up to the river, but it really did not. Not a big issue, just a disappointment. We definitely enjoyed our stay and will come back in the future.
Aug 20, 2020
Joann always so nice. Two young men, Chaos and Christopher also give excellent service. Thanks for making your stay as enjoyable.
Aug 20, 2020
Beautiful place to stay. Very clean and friendly staff. A little on the pricy side considering the amenities are standard for all campgrounds.
Aug 20, 2020
We had the best time camping at this KOA, the river was the highlight.
Aug 20, 2020
Bathrooms were absolutely filthy the entire time. Feces on walls and toilets, stench, tampons and other trash in floor. No TP. Brown water in sinks. Hair covered Qtips in shower. Feces smeared clothing found in our cabin. Giant rats. Impossible to get someone on phone. Standing water and mud everywhere.
Aug 20, 2020
Our favorite place to camp in All of America! Absolutely beautiful and the best staff ever!
Aug 20, 2020
Reasonable KOA
Aug 20, 2020
Place is dirty & run down. Bathrooms were digusting & un-useable. Staff is friendly & helpful, but not enough of them. River was beautiful.
Aug 20, 2020
We put in three weeks in advance they put us away from our friends because our camper was "too big" . When we got there the camper s in them where bigger than ours.
Aug 20, 2020
Our stay was great except one major thing. The cleanliness of the bathhouses especially the one at the top of campground. Even right after you would see workers there supposedly cleaning you could go in right after them and it would still be nasty. As if they mopped with a dirty mop. Never in all our years coming has it been this nasty. The front desk was amazing and helped with anything we ne
Aug 20, 2020
STAFF WERE VERY RUDE, bathrooms were gross mold and hair in shower floors. I Paid for the linen program which was not in the cabin when we got there at 8:40PM was given a trash bag of sheets and told to just make do til morning when we checked out 2 days later I was still waiting on linens The cabin was dirty. Clearly POOR MANAGEMENT has ruined this great place.
Aug 20, 2020
We loved it and we actually reserved some time next month to come back ;)
Aug 20, 2020
Although the Campground itself is very nice and spacious and has great amenities, the cleanliness of the bathrooms during my stay were horrible. I was in cabin K70 and the bathroom closest to that site was not attended to at all, nor the shower stalls associated with it. I then tried to use the bathrooms at a different location and there was not a single piece of toilet tissue in either stall.
Jan 12, 2021
(Translated by Google) The best place to stay has wonderful cabins, everything you need to get away from the routine of the city is there, tranquility, peace, relaxation, I really recommend them 100% (Original) El mejor sitio para hospedarte tiene unas cabañas maravillosas, todo lo que necesitas para alejarte de la rutina de la ciudad está ahí, tranquilidad, paz, relax de verdad se los recomiendo un 100%
- Yazmin Perez on Google
Jan 12, 2021
Photos are when we checked out. Spent 2 nights over New Years 2020-2021. We had an AMAZING time!! The cabin looked and smelled so clean upon entering. Nicer than I even imagined! Comfy beds. Amenities were great! We cooked 3 full meals there. Nice large outdoor space. Right on the rushing river. We can't wait to go back in warmer weather. Everyone that worked there was super nice as well. 5 stars!!! ⭐️⭐️⭐️⭐️⭐️
- Bonnie Dietrich on Google
Jan 05, 2021
This is a very impressive KOA. Plenty of types and number of camping sites and four different models of cabins. The staff is friendly. They have every amenity you could want. The location is great; minutes from downtown Cherokee and Smoky Mountains. Im looking forward to returning in warmer weather. Even in the cold of December we had a blast.
- Ken Lane on Google