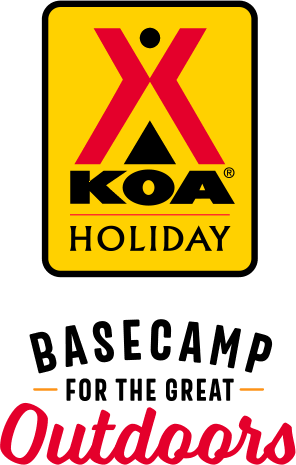 KOA Holiday Campgrounds
Whether you're exploring the local area or hanging out at the campground, KOA Holidays are an ideal place to relax and play. There's plenty to do, with amenities and services to make your stay memorable. Plus, you'll enjoy the outdoor experience with upgraded RV Sites with KOA Patio® and Deluxe Cabins with full baths for camping in comfort. Bring your family, bring your friends, or bring the whole group – there's plenty of ways to stay and explore.
KOA Holidays Feature:
RV Sites with a KOA Patio®
Deluxe Cabins with full baths
Premium Tent Sites
Group meeting facilities
Directions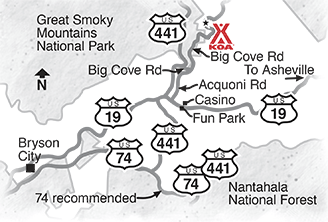 From Cherokee: N 441 to park boundary, then Big Cove Rd. (Hwy 19 and Blue Ridge Parkway are not recommended.) Enter Big Cove Road when using GPS.
We are located on Big Cove Road in Cherokee, NC 28719.
Get Google Directions
Jan 02, 2021
Awesome scenery and looking forward to staying again at Cherokee/Great Smokies KOA!
Jan 02, 2021
Stayed there over the Christmas holiday. Staff was amazing, grounds were beautiful (as far as I could tell) It ended up being a white Christmas �. Can't wait to go back
Jan 02, 2021
We stayed in a lovely little cabin on the creek. We found it to be clean and comfortable.
Jan 02, 2021
Announced my late check-in and requested linens. No linens were provided. Nobody to talk to. Built a fire and left.
Dec 29, 2020
Web site stated heated pool and hot tub, pool was not heated, everything was closed out there supposed to be a game room. The only helpful staff was the grounds keeper. Joann in the office was rude and nasty to us. The bath house hot water as not working. They looked nice but bad pressure. The roads need replacing something fierce. We will be hard pressed to come back.
Dec 28, 2020
It was wonderful. We will be back again.
Dec 22, 2020
it was very cozy and quiet. we enjoyed our stay and would definitely come back. the only issues we had was the heaters didnt really work well for how cold it was during our stay, 24-32 degrees, we had it turned up to 90 in all rooms and it never got above 45. the mold in the bathroom was kinda bothersome and the fire extinguisher expired 2 years ago. next time we come we'll be bringing the rv.
Dec 22, 2020
It was great, planning on staying again. Was very clean and relaxing.
Dec 22, 2020
is a beautiful place
Dec 22, 2020
Stayed in deluxe cabin on the river, very nice but also coldest day of the year. Area is beautiful and will come back spring, summer, or fall in our RV.
Dec 22, 2020
easy polite check in
Dec 20, 2020
It was very cozy and the setting was beautiful! Ignition in fireplace was loud when turned off but it was okay. Also I understand your closing early during winter time but maybe post the hrs on the window of the store. Suggestion, maybe put sensored lights in walkway of cabins. But we enjoyed our stay, friendly staff :-) We would definitely return
Dec 17, 2020
Enjoyed our stay. Great place to take kids. Great activities for kids. Very clean camp ground
Dec 17, 2020
We had such a great time staying at Cherokee/Great Smokies KOA! We stayed in a deluxe cabin on the Raven Fork River. The view from the cabin was amazing and we loved having our own deck with a grill. The fireplace made the cabin extra cozy at the end of each day. My kids had a great time riding the pedal go karts & playing giant checkers and our dog loved the park. We will definitely be back soon!
Dec 17, 2020
This is our first time staying at a KOA. It may well be our last time. The room was dirty and had previous people clothing under the bed. Unacceptable, specifically during Cov19 . You would think that they are cleaning things . If anyone really cares to hear our experience my please email me back . Thank you.
Dec 17, 2020
Friendly staff and the grounds were decorated so nicely for the Holiday season!
Dec 15, 2020
The location was perfect and the amenities that the cabin had was perfect. We packed extra because we weren't sure what was there, but the cabin was perfectly stocked. We are planning to stay again.
Dec 15, 2020
Could not find our lot in the dark need more signage that is easily readable . Drove around twice
Dec 14, 2020
Location is beautiful. Staff is nice and helpful. Cabins are great and affordable. Activities for the kids were excellent. Scenery and places to walk are gorgeous. Dog park, poop bags and food bowls available. Outdoor chairs and fire pit. Heat not working in our cabin, but they gave us 3 ceramic electric heaters. New mattresses for bed and couch and Light at the stairs outside needed.
Dec 14, 2020
The stay was very nice. Will plan to stay again.
Dec 14, 2020
I loved the campground. The cabin was a little disappointing. I paid to be on Raven Fork, but it seems other cabins got to be next to the river, but mine was just a little offshoot trickle we couldn't fish in. The bathroom was so small I couldn't use the toilet so I had to walk to the bathhouse. The bathroom door never would shut all the way. I would have been happier on the river like I paid for.
Dec 14, 2020
We had a wonderful stay. The staff was so incredibly friendly and helpful. The Christmas events were a wonderful addition and conducted with our safety in mind. Thank you for a great weekend.
Dec 14, 2020
Fireplace was on and cabin was warm and cozy when I arrived. Nice touch.
Dec 14, 2020
It was nice however the room was hard to maintain a steady temperature and the flood lights on the utility building shined through the bedroom all night. Maybe put some blinds up in the bedroom.
Dec 14, 2020
I doubt I'll ever stay there again, that use to be our favorite campground but it is run down now. Ever bath house is dirty and nasty. Toilets leaking and just looks bad.
Dec 11, 2020
We always have a wonderful time, and the river running by the cabin is fabulous, also the gas fireplace! My two grandsons always really enjoy the trip. Cabin 504 needs the bathroom heater fixed, and is time for mattress replacements on the couch and bed. The heated pool was open but the times kept changing, also the jumping pillow, the children love,love these activities, especially in winter Enjo
Dec 09, 2020
The cabin was dirty and had dead bugs on window sills and cob webs above windows. The heater didn't work so we had to have portaheaters brought to the cabin. And couldn't get clean sheets. Was not happy with the condition of the cabin for the cost of it. The views were amazing and the area was beautiful outside.
Dec 09, 2020
We had a great time to rest and enjoy nature, and fishing
Dec 09, 2020
had a nice time. staff very friendly.
Dec 09, 2020
Being winter and Covid season, our sites were set on a quiet, clean campground in a picturesque setting. Cherokee KOA delivered on all of these asks. Only complaint was the incessant dogs barking on private property across the river. Bring ear plugs if you are a light sleeper.
Dec 08, 2020
We really enjoyed staying and taking part in the Christmas crafts and activities. Thank you!
Dec 08, 2020
enjoyed every minute of it!
Dec 08, 2020
It was great but frustrating to get someone on the phone in the office to answer questions before our visit. I was on hold one day for 2 hours then they hung up on me.
Dec 08, 2020
We spoke to jimmy a lot while out and about! He was very friendly and helpful telling us activities the KOA was offering for kids to do We did notice there is little to no lighting in the camp ground. Doesn't need much just some low lighting in my opinion
Dec 08, 2020
Excellent customer service and very friendly! We'll definitely be back to visit!
Dec 08, 2020
The staff upon check-in, check-out and during our stay was very kind and helpful. The cabin and campsite was clean and comfortable. It was a beautiful spot with easy access to town and the beautiful mountains. We will stay there again for sure!
Dec 08, 2020
Nice campground, staff was awesome, we have already booked another stay
Dec 08, 2020
Had to wait 29 minutes for host to come guide us. Had to finally go back in office and remind them we were still waiting. When we arrived the water was shut off to repair a leak from frozen pipe. We were told water would be on within hour. 3 hours later still being repaired. Well let you know when it's on. We never got notice, and sat there several hours longer before discovering they overlook
Dec 07, 2020
though extremely crowded, the service offered at your facility was exceptional. The staff went out of their way to make sure we found our site and showing us the hookups, bathrooms, trash pickup, etc. We were impressed by all the KOA offered in the way of recreation. You were a great first experience with KOA!
Jan 12, 2021
(Translated by Google) The best place to stay has wonderful cabins, everything you need to get away from the routine of the city is there, tranquility, peace, relaxation, I really recommend them 100% (Original) El mejor sitio para hospedarte tiene unas cabañas maravillosas, todo lo que necesitas para alejarte de la rutina de la ciudad está ahí, tranquilidad, paz, relax de verdad se los recomiendo un 100%
- Yazmin Perez on Google
Jan 12, 2021
Photos are when we checked out. Spent 2 nights over New Years 2020-2021. We had an AMAZING time!! The cabin looked and smelled so clean upon entering. Nicer than I even imagined! Comfy beds. Amenities were great! We cooked 3 full meals there. Nice large outdoor space. Right on the rushing river. We can't wait to go back in warmer weather. Everyone that worked there was super nice as well. 5 stars!!! ⭐️⭐️⭐️⭐️⭐️
- Bonnie Dietrich on Google
Jan 05, 2021
This is a very impressive KOA. Plenty of types and number of camping sites and four different models of cabins. The staff is friendly. They have every amenity you could want. The location is great; minutes from downtown Cherokee and Smoky Mountains. Im looking forward to returning in warmer weather. Even in the cold of December we had a blast.
- Ken Lane on Google