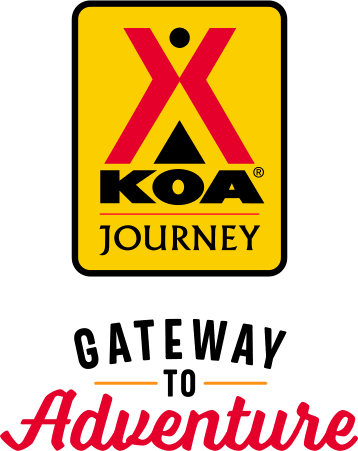 KOA Journey Campgrounds
KOA Journey campgrounds are the perfect oases after a day on the road. Whether it's along the way or a quick getaway, they've got you covered. Located near the highways and byways of North America with long Pull-thru RV Sites, they deliver convenience to the traveling camper. Pull in, ease back and take a load off.
KOA Journeys Feature:
Pull-through RV Sites with 50-amp service
Premium Tent Sites
Well lit after hours check-in service
Directions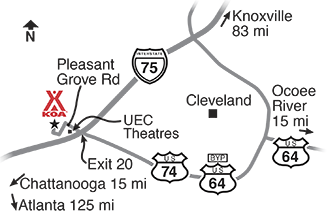 I75 / Exit 20 (1 Mile) off the I75 Interstate
NORTHBOUND I75: Use the EXIT 20 ramp taking the LEFT lane to turn LEFT toward the Pilot/McDonalds gas station. Pass the gas station to the 4 way Stop, turn LEFT, travel around curve to the SECOND drive, turn RIGHT following RIGHT to the main registration office.
SOUTHBOUND I75: Use the EXIT 20 ramp turning RIGHT at the light toward Pilot/McDonalds gas station. Pass the gas station and travel to the 4 way stop, turn LEFT, travel around the curve to the SECOND drive, turn RIGHT following RIGHT to the main registration office.
Our longitude is -84.959077
Our latitude is 35.14967
Get Google Directions
Jul 20, 2021
We wanted to add an extra day to or stay and they did everything to help us stay 4 nights. Mike and Christina were outstanding!! It poured rain for 3 of our 4 nights and we remained perfectly dry! Our site was excellent the patio and table with umbrella and chairs was perfect. I would absolutely stay here agin. We were 100% pleased with everything. I also LOVED the store great selections!
Jul 20, 2021
Weekend getaway!
Jul 19, 2021
Love this location..Great pool, awesome cornhole and ping pong. Sites are great and quiet time was honored.. KOA hosts were fabulous.. Will be back for sure.
Jul 19, 2021
As always, our stay here was wonderful! The staff is courteous and helpful. We will definitely be back.
Jul 19, 2021
The stay was nice and the staff was helpful. But they would not help me out when I had a request when I stopped by one day later. That was unfortunate for me. One would think that they could accommodate previous customers better.
Jul 18, 2021
We really like the campground sites were good,staff was friendly,My grandson really liked the swimming pool,Have no complaints,
Jul 17, 2021
I can only give this campground an overall rating of 4, due a problem with the site we were on. When it rained, it became a big mud puddle out side out motorhome. This campground needs to do some site maintenance, i.e. adding some stone to the sides if the site to eliminate this issue.
Jul 17, 2021
Informative staff. Good location for touring the area.
Jul 17, 2021
Very friendly staff, clean facilities and convenient location. We will definitely recommend to friends!
Jul 17, 2021
Nice and quiet Staff was helpful and friendly
Jul 17, 2021
Best KOA we've stayed at all summer!!!
Jul 16, 2021
This is my second or third stay here for work and as always, it was perfect.
Jul 15, 2021
enjoyed our stay very relaxing camp ground very clean staff very polite and helpful easy off and on to interstate
Jul 15, 2021
We love this campground. Nice sites and staff is very friendly and accommodating. We have been staying there for the past 5 years when we travel from Florida to see family in Cincinnati.
Jul 15, 2021
It was a nice place, just needs more tree's for tent campers, and shelter areas in tent area's.
Jul 14, 2021
Staff was very unfriendly and even rude at times. Will not be staying there again.
Jul 14, 2021
Nice campsites! A little small but workable! The entire campground was very well maintained!!
Jul 13, 2021
other than having low water pressure Saturday morning everything was great
Jul 13, 2021
Wish the laundry room had been available & one of the desk personnel could have been friendlier.
Jul 12, 2021
Great place and amenities. Wasn't crazy about our neighbors lighting fireworks around midnight and it was not even 4th of July.
Jul 12, 2021
Excellent service, delivery to our site quickly! Quiet well maintained
Jul 11, 2021
Park was clean and neat but not much for amenities just a pool and a small play ground for younger kids nothing for preteen or older.
Jul 11, 2021
Nice large site Friendly, welcoming, helpful staff
Jul 11, 2021
Pretty quiet, very nice pool area, lots of trees. Utilities all worked very well.
Jul 10, 2021
When my son and I checked in the guy that check us in was rude and snippy. From my understanding we are allowed to have 2 adults and 2 children. When he asked if we planned on any visitor I said my wife may come over for just dinner but not staying. He told us that it would cost us $5 for her to come to campsite. Then suggested I pay in advance. Is this a real rule ?
Jul 10, 2021
We only spent one night, but it was very pleasant. The site was clean and level, with trees for shade. The staff were friendly and helpful. The best part was it was quiet at night. We could hear traffic noise from I-75, but it was not bothersome to us.
Jul 10, 2021
We stayed one night in the cabins. It was perfect for us. We plan to use them again, for our short trips to your area.
Jul 10, 2021
KOA team was pleasant, ground were well kept, and the bathrooms were clean.
Jul 09, 2021
Had a great stay and enjoyed some of the weekend activities. My grandchildren loved the playground and the pool. Looking forward to staying there again. Campground clean and very well kept. Staff very helpful and friendly.
Jul 09, 2021
Beautiful location. Easy access to hwy and nice amenities.
Jul 09, 2021
Fantastic campground. Very friendly and helpful staff.
Jul 08, 2021
Fast, efficient check in. Great wifi. Helpful staff
Jul 08, 2021
Very clean Staff was very friendly as well. Easy access off the highway.
Jul 08, 2021
We were very happy and pleased with our stay at the campground. Great location and excellent staff.
Jul 08, 2021
Nice sites. Well kept campground.
Jul 07, 2021
We have stayed at Cleveland North many times when we visit relatives in Benton, TN. The park is very clean and well manicured. A great family place to visit.
Jul 07, 2021
First impressions are very important and this KOA is top of the line. Clean, friendly and a great place to stay.
Jul 07, 2021
The nicest KOA we have camped at. Immaculate care, friendly staff and superb facilities.
Jul 06, 2021
This KOA is top notch in my opinion. The grounds were clean as all the facilities were. The staff was friendly and professional and accommodating. Lots of shade trees and birds singing. We have visited this KOA several times and recommend it, you won't be disappointed.
Jul 06, 2021
Wonderful campground. Beautifully maintained. Will absolutely stay here again!
Jul 06, 2021
My wife and I really enjoyed ourselves. Everyone that we met was courteous and helpful. The grounds were very well maintained. Our site (24) was nicely shaded and level. The picnic table looked new. All of the fellow campers we met were nice. There were extra activities planned for the holiday weekend. Just a great all around experience. We would highly recommend to anyone.
Jul 06, 2021
Very nice staff. Staff was extremely pleasant to deal with. They handled all our interaction with the best attitude ever. Thank you so much for a very nice stay. Will be back.
Sep 18, 2021
Beautiful campground with great staff, good location, easily accessible lots, and just a short drive from the bustling Chattanooga. Good prices made this a wonderful all around camping experience.
- Jonathan Laferriere on Google
Aug 25, 2021
Clean! Quiet! Great Staff! Excellent location ..secluded yet close to everything you could possibly need or want to explore 😁👍
- Ashton Hutcheson on Google
Aug 14, 2021
Well kept, friendly employees.
- Linda Komondy on Google