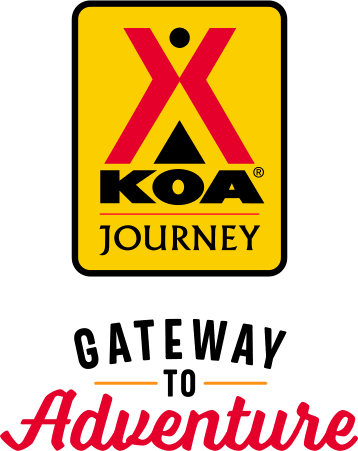 KOA Journey Campgrounds
KOA Journey campgrounds are the perfect oases after a day on the road. Whether it's along the way or a quick getaway, they've got you covered. Located near the highways and byways of North America with long Pull-thru RV Sites, they deliver convenience to the traveling camper. Pull in, ease back and take a load off.
KOA Journeys Feature:
Pull-through RV Sites with 50-amp service
Premium Tent Sites
Well lit after hours check-in service
Directions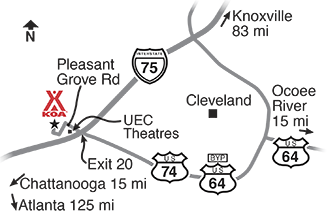 I75 / Exit 20 (1 Mile) off the I75 Interstate
NORTHBOUND I75: Use the EXIT 20 ramp taking the LEFT lane to turn LEFT toward the Pilot/McDonalds gas station. Pass the gas station to the 4 way Stop, turn LEFT, travel around curve to the SECOND drive, turn RIGHT following RIGHT to the main registration office.
SOUTHBOUND I75: Use the EXIT 20 ramp turning RIGHT at the light toward Pilot/McDonalds gas station. Pass the gas station and travel to the 4 way stop, turn LEFT, travel around the curve to the SECOND drive, turn RIGHT following RIGHT to the main registration office.
Our longitude is -84.959077
Our latitude is 35.14967
Get Google Directions
Feb 27, 2021
Amazingly clean bath house! Friendly staff and well groomed grounds. Wonderful KOA, I know I will stay there a lot in the future. And the shower pressure was good!!! Bonus.
Feb 25, 2021
All good, strong wifi, all utilities worked well ,quiet campground and nice to have help getting to the site
Feb 25, 2021
I chose this campground because I was on my way home to Michigan and I needed to winterize my rig. It worked out great and the restrooms were very clean.
Feb 22, 2021
The campground is great and the WIFI is above and beyond expectation! It's one of the few campgrounds that actually have usable wifi. Would have been 5 stars except for the awful odor in the area - which I think is related to a nearby landfill (not the fault of the campground). Great experience other than that!
Feb 22, 2021
We enjoyed our spot and the kids liked hiking in the woods on the property.
Feb 20, 2021
LOVE this KOA!! We love the sites, cabins and location. Hate to tell you how good this one is, because we may not get a site next time through Tennessee!! We will be back often!
Feb 18, 2021
Cabin was great as usual. We stay at this KOA every time we stay in Chattanooga area. Great people, great campground!
Feb 17, 2021
Quick overnight. Although rare, I would have liked to see some snow and ice control on the access roads. Barely made it up the hill(s).
Feb 16, 2021
Our stay was really great! We rented three cabins in the village area, we liked that it was more secluded in that area of the campground and very close to the bathroom. The kids enjoyed playing soccer in the field and the nature trail in the woods. Since it was in February we couldn't enjoy the pool or warm weather activities, but the cabins stayed very warm and cozy and the host was very nice!
Feb 16, 2021
Only stayed overnight; check in was easy and quick, staff very helpful!
Feb 15, 2021
Great folks willing to help you out in anyway Again great folks and very nice staff and camp
Feb 15, 2021
Had a great time despite the ugly weather.
Feb 14, 2021
Staff were very accommodating: Got me in to the laundry late in the day, provided propane on request and gave a rebate when weather forced us to leave early.
Feb 13, 2021
Love koa and the safety we feel when spending the night in our car rather than getting dogs out and into a hotel room with a hefty pet deposit. I wish they weren't mostly next to an interstate due to the noise of the trucks but love every thing else about it !
Feb 10, 2021
Use this site as a layover while traveling. The site was easy to get in and out of. However the site was not level and I had to unhook my fifth wheel and use leveling blocks on one side. Would've been nicer if the lot was level and I could've stayed hooked up. Bathhouse was a little below average and some distance from the pull through site we used.
Feb 09, 2021
We stayed 5 days. We were lied to about the site. We were overcharged from the original quote. If we didn't double check our receipt we would not have noticed. They did refund the overcharge. Because I cannot put the story in the box feel free to contact me. I won't be back to that campground.
Feb 09, 2021
Beautiful clean campground!
Feb 06, 2021
Easy in and out for those that are stopping just for the night.
Feb 05, 2021
Site was extremely muddy. Sunk in the mud. Horrible experience.
Feb 05, 2021
Staff are super polite and nice. Campground is very clean, nice size sites, lots of woods and areas to walk your dogs.
Feb 03, 2021
Enjoyed the stay. Here's the problem I experienced. It was a wet time while I was there. The camp site I had so little gravel on it that it became a mud hole, which you had to walk in, to get to your camper or truck. Much of the roads are also gravel and walking/ driving in them also led to mud holes . Solution: More gravel in the wet prone areas
Feb 01, 2021
This is a clean campground that is easy to get in and out of. The staff is extremely helpful and friendly.
Jan 31, 2021
We stayed one night as we traveled to Florida. The park was easy to get to from I75 and the staff was very friendly. We will stay again when traveling.
Jan 30, 2021
Friendly office staff and nice level pull through sites. New picnic tables since our last visit. �
Jan 30, 2021
Love this park nice dog walk area in woods. door dash delivered dinner there. we always stay here
Jan 29, 2021
The staff was polite, knowledgeable and the facilities were in great shape.
Jan 26, 2021
Had a great visit! We are new to this and the staff was great. The lady doing reservations understood we were newbies & needed an easy space for our parking abilities! Then, they instantly moved us when we were next to lots of kids to a huge area free of campers... we needed some space to figure things out! Every newbie does. They worked with us and the area was clean and quiet. A wonderful visit!
Jan 25, 2021
It's the perfect place! Office staff are great! The place is so clean! The WiFi works too!
Jan 20, 2021
We were very impressed with the size of the sites. We had great service, the little we used. Everyone was very friendly and helpful.
Jan 20, 2021
We just had a short, overnight stay while traveling so we didn't have time to explore the campground. Our site was large with plenty of gravel & was easy to get into. The campground was very nice & well kept. We would definitely stay again.
Jan 19, 2021
Great service, friendly staff. Only spent a quick overnight but will be back!
Jan 17, 2021
Very nice campground and an awesome staff
Jan 15, 2021
Very friendly staff! Nice sites! Good wifi!
Jan 14, 2021
Great sites For our overnight stay as we we're traveling to Florida.
Jan 12, 2021
We were on the road in the ice and snow with no reservations. We found this KOA after office hours and were able to pull into a spot and spend the night. The next morning my husband went to the office and paid for our night. The staff was very friendly and understanding. I would camp there again.
Jan 11, 2021
Stayed for one night in a cabin a lot cheaper than hotel rest rooms nice and clean no problem with check in a very nice KOA
Apr 21, 2021
Only stopped for one night on the road. Friendly staff. Escorted us to our site and directed us into the spot in the rain. Bathrooms are clean and well maintained.
- Joe Achtabowski on Google
Apr 18, 2021
Great for our needs.
- Jan Austin on Google