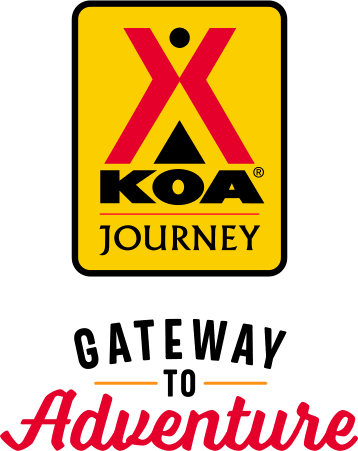 KOA Journey Campgrounds
KOA Journey campgrounds are the perfect oases after a day on the road. Whether it's along the way or a quick getaway, they've got you covered. Located near the highways and byways of North America with long Pull-thru RV Sites, they deliver convenience to the traveling camper. Pull in, ease back and take a load off.
KOA Journeys Feature:
Pull-through RV Sites with 50-amp service
Premium Tent Sites
Well lit after hours check-in service
Directions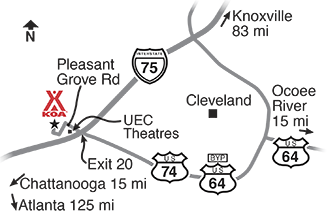 I75 / Exit 20 (1 Mile) off the I75 Interstate
NORTHBOUND I75: Use the EXIT 20 ramp taking the LEFT lane to turn LEFT toward the Pilot/McDonalds gas station. Pass the gas station to the 4 way Stop, turn LEFT, travel around curve to the SECOND drive, turn RIGHT following RIGHT to the main registration office.
SOUTHBOUND I75: Use the EXIT 20 ramp turning RIGHT at the light toward Pilot/McDonalds gas station. Pass the gas station and travel to the 4 way stop, turn LEFT, travel around the curve to the SECOND drive, turn RIGHT following RIGHT to the main registration office.
Our longitude is -84.959077
Our latitude is 35.14967
Get Google Directions
Aug 04, 2021
Great clean well maintained sites. Wish we had more than an overnight there. Staff very friendly and attentive. Loved the large k9 playground. Room for the bigger dogs to run. Great jem.
Aug 04, 2021
Very friendly
Aug 03, 2021
We always enjoy staying here. Our site did not have very much shade which was disappointing. Also, the creosote walls appeared to be a home for yellow jacket nests. We emptied a can of wasp spray on the wall and still did not kill them all. We had small children at our campsite so it was worrisome. On a positive note, your check in personnel are so friendly and helpful. Great improvements!
Aug 03, 2021
When we left we were loaded with bug bites.
Aug 03, 2021
The only complaint I have is we had a yellow jackets nest at campsite. A lady came with hornet and wasp spray and didn't get rid of them. That was the last attempt we saw trying to resolve the situation and our grand baby was there.
Aug 02, 2021
It was okay. Sites are weird, as the hookups are in an awkward spot. Our site was too short and we only pull a 21 ft travel trailer. People walked dogs through our campsite on a regular basis the two days we were there. We were sitting outside eating dinner and one woman, with two little white dogs, relieved her dogs next to our table. Wifi was ok. Staff not friendly
Aug 02, 2021
Beautiful sites and great staff! We'll definitely put this KOA on our favorites list.
Aug 02, 2021
This was my FIRST stay at a KOA...my first real long outing in my travel trailer. What a great site and staff! Friendly and helpful. Location was fantastic and clean....They were able to get me in last minute (much appreciated). Highly recommend them if in the area
Aug 02, 2021
Great place!
Aug 01, 2021
Nice campground but I would not camp there again in July. There were no trees to give shade and it was over 90 degrees. It was all my two ACs could do to get the temp down.
Aug 01, 2021
Excellent front office staff.
Jul 31, 2021
Great camp ground very well kept. Friendly staff. Great location
Jul 30, 2021
Very pleasant campground, scrupulously maintained. The water at our site was leaking and we notified the office. Almost immediately, staff came and checked on it. Definitely a nice place to stay!
Jul 29, 2021
Very nice, quiet campground.
Jul 28, 2021
Love it here !!!! it's my home away from home everyone that works there is awesome and I'm already ready to go back �ϋ�
Jul 28, 2021
Convenient to the interstate, but tucked away enough that it felt woodsy.
Jul 27, 2021
Very friendly staff and very clean KOA
Jul 27, 2021
Pool was great, bathrooms were clean, staff was very friendly. Campsite was quite.
Jul 27, 2021
Great customer service, clean campground and easy access for our 35ft Class A. We were able to top off propane also which was nice.
Jul 26, 2021
It was ok. Noisy and low voltage.
Jul 26, 2021
Again. Another fantastic stay!!!
Jul 26, 2021
Only needed a place to sleep this time, but as always great accommodations. The owner was gracious enough to help us out with staying for the night, even though it was very late. Definitely appreciated!! Thank you!!
Jul 25, 2021
This was a one night layover. The park is very neat and clean. Our site was level, didn't have to unhook from our car. Didn't use any facilities, so I can't report, but seeing how clean the grounds were,I'd expect them to be clean, also. Looked like a nice dog park. Nice pool. Only Con, we were right next to a busy road, but once we were inside, couldn't hear the traffic.
Jul 24, 2021
Standard space was adequate for 39' Fifth Wheel. Laundry was closed which was a bummer.
Jul 24, 2021
Campground was nice and clean, as were bathrooms. No laundry facilities. Staff was friendly and helpful
Jul 23, 2021
Awesome RV park. Great amenities and really nice sites. Definitely coming back !!
Jul 22, 2021
Nice campground with very small sites. No clothes washing facility. Staff not very friendly. Nice pool.
Jul 22, 2021
Still in the 60's everything in broken down condition. This should not be a KOA
Jul 22, 2021
Very nice campground. Would stay there again in the future.
Jul 21, 2021
The grass look like it has been mowed in weeks paid for a deluxe site I do not know why it is a Deluxe site nothing deluxe about it.
Jul 21, 2021
We had a drive thru spot in the new section. It rained a significant ant amount through the night while we were there, but due to the gravel they had, we had no problems pulling out. The staff is very friendly upon arrival and departure.
Jul 21, 2021
Bev and Christina were super. They helped me with my first hookup with smiling faces and ready assistance and personal generosity. They are to be commended for their attitude and skills. God bless you both. Thanks also to John who assisted the next morning.
Jul 20, 2021
Beautiful place!
Sep 18, 2021
Beautiful campground with great staff, good location, easily accessible lots, and just a short drive from the bustling Chattanooga. Good prices made this a wonderful all around camping experience.
- Jonathan Laferriere on Google
Aug 25, 2021
Clean! Quiet! Great Staff! Excellent location ..secluded yet close to everything you could possibly need or want to explore 😁👍
- Ashton Hutcheson on Google
Aug 14, 2021
Well kept, friendly employees.
- Linda Komondy on Google