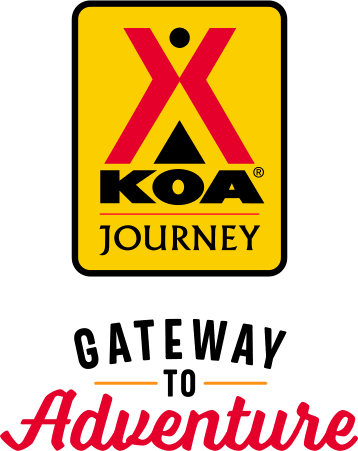 KOA Journey Campgrounds
KOA Journey campgrounds are the perfect oases after a day on the road. Whether it's along the way or a quick getaway, they've got you covered. Located near the highways and byways of North America with long Pull-thru RV Sites, they deliver convenience to the traveling camper. Pull in, ease back and take a load off.
KOA Journeys Feature:
Pull-through RV Sites with 50-amp service
Premium Tent Sites
Well lit after hours check-in service
Directions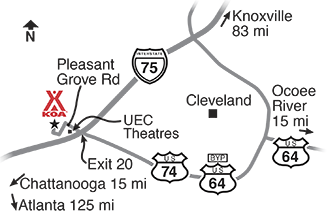 I75 / Exit 20 (1 Mile) off the I75 Interstate
NORTHBOUND I75: Use the EXIT 20 ramp taking the LEFT lane to turn LEFT toward the Pilot/McDonalds gas station. Pass the gas station to the 4 way Stop, turn LEFT, travel around curve to the SECOND drive, turn RIGHT following RIGHT to the main registration office.
SOUTHBOUND I75: Use the EXIT 20 ramp turning RIGHT at the light toward Pilot/McDonalds gas station. Pass the gas station and travel to the 4 way stop, turn LEFT, travel around the curve to the SECOND drive, turn RIGHT following RIGHT to the main registration office.
Our longitude is -84.959077
Our latitude is 35.14967
Get Google Directions
Sep 08, 2021
clean, quiet, excellent Wi-fi
Sep 08, 2021
Short and sweet. Clean, great sites. Second visit. Staff very courteous
Sep 08, 2021
Had a great time at your KOA. The cabin was clean and temperature comfortable. Really enjoyed the pool and game area.
Sep 08, 2021
Wonderful koa Service was amazing Our only also complaint, if any was the bathroom showers being small. So so accommodating!
Sep 07, 2021
No issues great place
Sep 07, 2021
It would be great if members wow masks indoors as their website says they do, but everyone was super friendly and helpful. Grounds were clean, pool was great, had a great time.
Sep 07, 2021
Too much of honey bees . Otherwise we enjoyed the campsite
Sep 07, 2021
Enjoyable stay. Met some nice people
Sep 05, 2021
Nice place, enjoyed our stay
Sep 05, 2021
The site and campground was well maintained and the staff are very friendly and knowledgeable.
Sep 05, 2021
Beautiful place! So glad store was open until 9 pm. Sorry I did not get to enjoy the beautiful pool!
Sep 04, 2021
Great Park!! Wonderful host! Easy on and off I-75. Short ride into town, Chattanooga, and the Ocoee River.
Sep 03, 2021
Convenient locatio Peaceful and quiet
Sep 03, 2021
We stayed here (Chattanooga North/Cleveland KOA) in a cabin, going to and returning from vacation. Everything was very clean and the staff was especially friendly and helpful. Our dog really enjoyed the play yard where he could run free after being cooped up in the car for so long. We recommend this location and will absolutely stay here again. Thank you for your hospitality!
Sep 02, 2021
Great RV park. Very clean and facilities very well maintained. Enjoyed our stay except the power went out. But that is not the park's fault. Had lots of rain the couple days we stayed there. Over all great place to stay.
Sep 02, 2021
Nice campground clean and staff very nice. Good place to spend the night when traveling from Michigan to Florida.
Sep 01, 2021
nice campground to stay after a bad begining in florida. we stayed here for two nights. clean and friendly.
Aug 31, 2021
Very nice place.
Aug 31, 2021
Great campground, wish we had time to stay longer. Staff was friendly, escorted us to the site and pointed out all the hookups.
Aug 30, 2021
My family and I love KOAs in general, especially the one in Cleveland. I know it is August in East Tennessee and with heat and such, there will be bugs....but this weekend, we had ants, spiders, etc. crawling all around campsite. Maybe it was were we were located, but maybe considering many people, some with allergies and such, it might be a good idea to spray.
Aug 29, 2021
We styed 3 nights and had a great time. Because of a tropical storm headed our way, we wanted to reschedule our reservation without losing our deposit. No problem doing this & we were thankful. Everyone working there was so helpful & friendly. We did get to check out the surrounding area & even went to Ruby Falls, where we enjoyed the coolness of the cave during these hot days
Aug 29, 2021
Thanks for the late check out!
Aug 28, 2021
Friendly staff. The campground was laid out nicely and well-maintained.
Aug 28, 2021
Very nice location. Other than the road behind it, it is quiet.
Aug 28, 2021
Always a pleasure.
Aug 27, 2021
Site #36 is right beside the wifi transmitter...great signal...
Aug 25, 2021
We stopped for a short visit with our daughter and was very pleased with the cleanliness of the facilities and will recommend to our camper friends.
Aug 25, 2021
Very well kept grounds and the staff was very helpful. I had an issue with my roof top air conditioner and they brought me a ladder so I could make the repair. I will definitely stay there again!
Aug 24, 2021
Nice and quiet, easy to get to, friendly staff. Thank you
Aug 24, 2021
Workers were nice and friendly. Wish the weather had cooperated
Aug 22, 2021
Only stayed one night, very clean and inviting. Staff great.
Aug 21, 2021
Staff was nice the owner was rude
Aug 21, 2021
very accommodating and a really pretty/peaceful place/easy in and easy out
Aug 21, 2021
Plans to stay several days had to be cut short, but will come back! Great clean, wide spaces, easy in snd out! Very nice staff!
Aug 21, 2021
Had to cut trip short, due to a family emergency and called last minute to get a site. They were very accommodating. I was met with a very friendly hospitable staff. Everything was kept up. It was clean and well maintained. A welcome stay after a long drive. I will gladly stay there again!
Aug 20, 2021
Very nice KOA. Clearly at the top of the list. Campground is well laid out and while the sites aren't huge, they're well laid out and it doesn't feel cramped. The KOA has a lot of green space and a huge Camp K-9 for the pups. Bathrooms were modern and clean. Laundry was closed--inconvenient. Camp store was nice and well stocked.
Aug 20, 2021
Beautiful, well manicured, shady sites, many full hook-up. Lots to do …. Clean pool, bean bag toss, ping-pong, large stocked fishing pond, cute store with everything you need. Loved it! It will be our go-to stop over on our trips along I-75. Well Done!!!
Aug 20, 2021
Friendly staff and affordable. Dirt roads to our site were tough and uneven. Rocks lined the entrance and exit to our site that made it challenging to maneuver our Motorhome that had a truck in tow. Suggest moving the rocks
Aug 19, 2021
Great and beautiful park. Our 3rd time here and we will be back.
Aug 18, 2021
Great place to stay. Clean, friendly staff. Would recommend adding additional bathrooms and shower areas. Not every RV has comfortable shower to use. Plus with tents/cabins needing bathroom/showers, it would be helpful to have more bathroom/showers available.
Sep 18, 2021
Beautiful campground with great staff, good location, easily accessible lots, and just a short drive from the bustling Chattanooga. Good prices made this a wonderful all around camping experience.
- Jonathan Laferriere on Google
Aug 25, 2021
Clean! Quiet! Great Staff! Excellent location ..secluded yet close to everything you could possibly need or want to explore 😁👍
- Ashton Hutcheson on Google
Aug 14, 2021
Well kept, friendly employees.
- Linda Komondy on Google