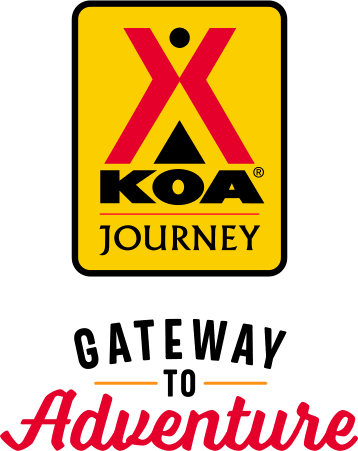 KOA Journey Campgrounds
KOA Journey campgrounds are the perfect oases after a day on the road. Whether it's along the way or a quick getaway, they've got you covered. Located near the highways and byways of North America with long Pull-thru RV Sites, they deliver convenience to the traveling camper. Pull in, ease back and take a load off.
KOA Journeys Feature:
Pull-through RV Sites with 50-amp service
Premium Tent Sites
Well lit after hours check-in service
Directions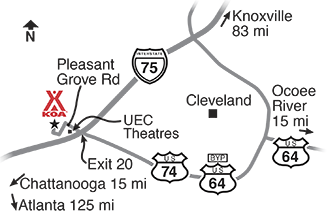 I75 / Exit 20 (1 Mile) off the I75 Interstate
NORTHBOUND I75: Use the EXIT 20 ramp taking the LEFT lane to turn LEFT toward the Pilot/McDonalds gas station. Pass the gas station to the 4 way Stop, turn LEFT, travel around curve to the SECOND drive, turn RIGHT following RIGHT to the main registration office.
SOUTHBOUND I75: Use the EXIT 20 ramp turning RIGHT at the light toward Pilot/McDonalds gas station. Pass the gas station and travel to the 4 way stop, turn LEFT, travel around the curve to the SECOND drive, turn RIGHT following RIGHT to the main registration office.
Our longitude is -84.959077
Our latitude is 35.14967
Get Google Directions
Apr 24, 2021
Staff very friendly and accomodating, Beautiful, clean grounds and facilities. We enjoyed our stay
Apr 24, 2021
Butch and Sonya really made this stay special!!!
Apr 20, 2021
Very nice and will go back again
Apr 20, 2021
Staff was very helpful and friendly. Facilities clean and tidy. Store was sufficiently stocked. Easy on, easy off interstate.
Apr 20, 2021
The stay was great. We had one visitor for a couple hours and was charged $5 without the pool being open.
Apr 20, 2021
Very friendly hosts & helpful Recommend to stay here for anyone traveling!
Apr 19, 2021
Very peaceful and clean. Personal very friendly
Apr 19, 2021
Great campground and professional staff. �!
Apr 19, 2021
Our pull thru lot was extra wide and plenty long to accommodate our motorhome plus tow. Grounds & RV sites were well kept and park has easy access from I75. We would stay again.
Apr 19, 2021
extremely courteous staff
Apr 19, 2021
Campgrounds were awesome! The staff was super friendly and extremely helpful. Facilities were very clean. Exceptional place and look forward to staying there again.
Apr 19, 2021
Nice campground. Very clean, friendly staff, extremely dog friendly. Site was a bit small but I really cannot complain. Great stop for an overnight or weekend stay.
Apr 19, 2021
Had to quickly find a place to stay overnight. Ended up calling past "normal" working hours for most campgrounds, but KOA was there and had the availability. This made our trip very easy!
Apr 19, 2021
The staff was friendly and very helpful, but the pull thru sites were very short, uneven and not flat. And you better not let your tires touch the grass. Forced to move vehicle off the camp site.
Apr 18, 2021
Friendly staff, fairly easy in out but can be a bit crowded on the roads at the entrance and exit area. Easy to get to. we only did an overnight as a way point but is on out list of good sites for future stays.
Apr 18, 2021
I loved the area. The staff was very courteous and helpful. I hope to be able to stay again but a little longer. Thank you very much and May God bless each and everyone of you.
Apr 17, 2021
Although we stayed only one night en route from Alabama to Virginia, what we experienced was very nice. The campground was clean, easy in and out, nice spacious sites.
Apr 17, 2021
We enjoyed our stay, even if for just one night. Thanks for the hospitality.
Apr 17, 2021
We loved our short stay at Chattanooga North. It was a very nice park with great wifi and a clean dog park. The sites and roads were freshly traveled and the park was very pretty for April. We will definitely stay here again on our travels from Ohio to southern destinations and back.
Apr 16, 2021
Clean restrooms. Hot water. Very quiet. Brand new picnic tables were wonderful. We enjoyed our one night stay.
Apr 16, 2021
We love staying here. They are always working to improve things (dog park, new shower house for cabin area, lots of new gravel everywhere, new sidewalk area around office, etc). Is one of our favorite KOAs. Would definitely recommend!
Apr 16, 2021
Campground was very nice. Would have preferred to have a more level campsite. The most level part was in the middle so it make it more difficult to park our truck.
Apr 16, 2021
Clean, convenient to the interstate. Friendly staff.
Apr 16, 2021
Great location and they were able to accommodate me for one night we needed a place to rest between our home and destination
Apr 15, 2021
Clean and friendly camp ground. Will be staying there again.
Apr 14, 2021
Awesome location. Conveniently located off of I-75. Proximity to great stores and restaurants in just less than 20 minutes away. This KOA campground is exceptionally and meticulously maintained. Met owner and staff who were very personable yet professional. Plenty of areas to walk dogs and for kids to ride around on bikes. Overall felt very safe here.
Apr 12, 2021
We had several camping groups and they were very accommodating to get us set up close to each other. Everyone was helpful, store and bath houses were clean. Had a laundromat as well, but did not use it. Playground was cared for and had a pool for the summer months. Several dog areas and clean iup supplies as well.
Apr 12, 2021
Beautiful park! Everything is clean and neat. The location of the park is perfect for getting off the road and relaxing before you continue the trip. It is also a park I would feel good about staying for a few days to explore the area. Thanks for making my overnight enjoyable, we will be back!
Apr 12, 2021
Great. Just wish site was level.
Apr 12, 2021
Pull Thur was located a great distance from bathrooms for a disabled person to use. The one near cabin had no TP
Apr 12, 2021
Pretty campground good wifi but horrible sites. None of them are level. The site we were put in #47 was ridiculous. If I didn't have my Andersen hitch there would be no way to get unhooked or hooked with a fifth wheel. Too many other options to fight that battle again.
Apr 11, 2021
Perfect for staying away from larger, busier campgrounds, especially when in travel mode. The location was great for picking up a restaurant dinner, and for relaxing after a long days journey at the campsite. The the drive to the campground, upon completing several days exploring the Natchez Trace took us through a couple of nearby towns that we will want to visit during future trips to the area
Apr 11, 2021
Reserved a water and electric only site available for our two week visit, called two weeks out and asked to be put on wait list for full hookup site. Three days ahead of my trip they called and were able to move me to a full site and by the time I arrived they moved me to a bigger site since I was staying two weeks. Everyone here is very accommodating.
Apr 21, 2021
Only stopped for one night on the road. Friendly staff. Escorted us to our site and directed us into the spot in the rain. Bathrooms are clean and well maintained.
- Joe Achtabowski on Google
Apr 18, 2021
Great for our needs.
- Jan Austin on Google