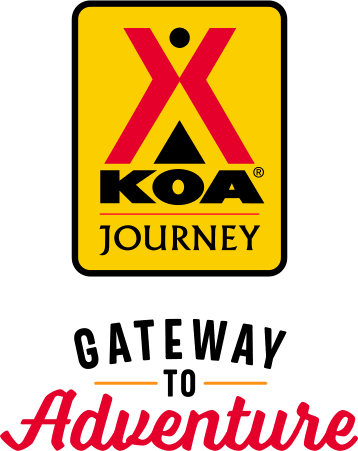 KOA Journey Campgrounds
KOA Journey campgrounds are the perfect oases after a day on the road. Whether it's along the way or a quick getaway, they've got you covered. Located near the highways and byways of North America with long Pull-thru RV Sites, they deliver convenience to the traveling camper. Pull in, ease back and take a load off.
KOA Journeys Feature:
Pull-through RV Sites with 50-amp service
Premium Tent Sites
Well lit after hours check-in service
Directions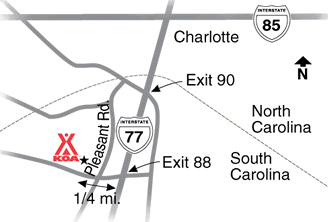 Exit 88 off I-77S. Go west 1/2 mile. Drive past the large KOA sign and turn right, go straight into the reservation parking area.
Get Google Directions
May 15, 2021
Great hostess. Clean bathhouse. Only nit picky thing was the floor of shower stall was very slick
May 15, 2021
Very nice spot to park #135. The office staff was super friendly and helpful.
May 14, 2021
It was like parking at gas station. They must own the gas station an store on property
May 13, 2021
Charming and homey park that needs a little updating. Would gladly stay here again.
May 12, 2021
More of a stop over camp ground. Had full hook ups, good power, good water, no cable, little grass! Had some of the strongest internet I have ever had at a KOA. Easy access off the highway, we were driving thru so didn't need all the amenities
May 11, 2021
Completely unlevel site. Paid for a pull through so I didn't haven't to detach. Not even close. Super narrow roads also. Not a pleasant experience after driving for hours.
May 11, 2021
Great location especially while passing through the area. Can go to Publix without getting on main road.
May 10, 2021
Nice campground. The thing we were most excited about was having the gas station right there on the way out. Wish more campgrounds would do this. Good for your business and good for the customers! Thank you!
May 10, 2021
Staff was helpful and friendly. Clean facilities. I wish you would keep activities open a little longer than 6 pm.
May 08, 2021
Access road in and out a bit tricky for big rigs. Super friendly staff and very clean!
May 08, 2021
This camp appears more oriented to long term stays which looked pretty rough and some for others just passing thru for a day or two. Good access but very busy streets in this area. Bathrooms/ showers had no hot water and hand drier didn't work and no hand towels. One stall out of order.
May 08, 2021
Great campsite
May 07, 2021
It was a good stay ! I realize the campground is a Journey class but the sites need a little TLC .
May 07, 2021
Stay was fine but the roads in the park really need some work.
May 07, 2021
Clean, dry, convenient. Internet available?
May 07, 2021
We needed to be at a place accessible to food stores. Bill was very accommodating , as was the woman who received us. The site had everything we needed. The road entering the campground and around the site was worn down. The large grade of gravel used as fill on the road was a stumbling factor as well as hindering the mobility cart's stability.
May 07, 2021
We have been using this KOA for about 15 years. When we first starting camping here it was quite rustic. Through the years we have seen many improvements: concrete pads, updated bathroom, stand alone office and store area, enclosure fence, conveniently located laundry and game room. The one thing that disappoints me is the fact that they NO LONGER offer cable. Big disappointment in 2021.
May 07, 2021
Friendly staff clean bathhouse.
May 06, 2021
Nice/clean and the staff is great
May 05, 2021
We couldn't walk our dog on the trail as there isn't one. It's been gone for awhile so it shouldn't be advertised on their website anymore. The dog pen had two pieces of wood covering a hole; dangerous for pets and children but w6aste bags were available. The Wi-Fi is very sketchy! Men's restroom was clean. Permanent resident sites have been neglected. Research all parks before reserving.
May 04, 2021
Great campsite with concrete parking and a paver patio with fire pit. Electrical problem was resolved quickly. Good experience.
May 04, 2021
Easy on and easy off, staff was friendly and helpful. Campground was clean.
May 04, 2021
The staff were so happy and welcoming. We really appreciated the escort to our space and RV leveling help. The bathrooms were super clean, modern and soacious. This campsite is conveniently located to grocery, etc. great experience. Thank you.
May 03, 2021
Located near freeway - lots of traffic noise. Very tight sites right next to residential neighborhood Loud music from nearby bar/grill.
May 03, 2021
sites are tight, NO fire ring at our site! Just an OK camp ground for an over night stay.
May 02, 2021
Very convenient to highway, and shopping.
May 02, 2021
Good site but roads are rough and narrow.
May 02, 2021
We were only there one night on our travels but staff was very helpful and friendly.
May 02, 2021
Late arrival, early departure. Served it's purpose. Looked like a nice clean place.
May 01, 2021
Always friendly and helpful folks.
May 01, 2021
The lady on the phone was very nice. However, the roads to the campsites are poorly marked if at all. The site sections do not display the numbers of the sites in that section. Arriving very, very late, I could not find the proper road to travel down. I got lost for a full 15 minutes until I found the site and I ended up going in the wrong way. After 600 miles I just didn't care.
May 01, 2021
just over night 2 x nice
Apr 30, 2021
Pretty quiet for the most part. Only heard 1 to 2 dogs a couple times. Easy in and out and will be better when they get the construction done to the east. Friendly staff and place was clean. We will be back!
Apr 29, 2021
Playground locked at 6PM. Site was not level. Site was supposed to be a pull through, but so small could not fit tow vehicle and trailer on the site. Sites very close together. Neighborhood was noisy even at midnight.
Apr 29, 2021
There was no one at the office when checking-in and no one to direct us to our site. The site map was not very clear where our site was located, had a hard time finding it. The grounds are rough gravel and dirt, not much grass at all. We booked a premium pull-thru site for $66 plus with our KOA discount. Very over priced and not worth the money. Would only stay there again out of desperation.
Apr 28, 2021
Nice but double the price of competition for long stay
Apr 28, 2021
Everything went well with the exception that we were parked near the front of the park and heard a band at a bar playing music until 1 am on Friday and Saturday nights. We stay up late most nights so it really wasn't a problem for us but we did hear a few other guests complain.
Apr 28, 2021
The site was full of dog poop and cigarette butts. Campground staff should make sure that every site is cleaned up before it is occupied by the next camper. I am very disappointed with my experience at this campground.
Apr 27, 2021
This was our first time camping. Upon arrival Tom and his wife helped us through parking and set up. They were fantastic. Good location and we will be staying again in the future.
Apr 27, 2021
Very nice park and easy access. We enjoyed our stay. Good service and kind people. Thank you.
Apr 26, 2021
we were there 2 nights/3 days. Clean. They were working to repour concrete. We can see the effort management is making to clean and upgrade Journey areas of the campground. Effort can be made to encourage Full timers to clean up their spaces as well. The fencing separating the two areas was welcome. (We've been full time in the past and know things can get out of hand if allowed)
Apr 26, 2021
Perfect spot for a stop over. Site was almost perfectly level and I did t have to unhitch. The store and gas station attached are convenient and the Publix in the adjacent parking lot is also. It's only a couple minutes from the highway so leaving the next morning was a breeze.
Oct 14, 2021
Friendly staff with great campsites. We stay every year for the USDGC and will always go back
- Kyle Ledford on Google
Sep 23, 2021
Quick in and out, pleasant and fast check in. Plenty of space, near busy centrally located intersection. Plenty of POI.
- Maksym Lisovyi on Google
Oct 12, 2021
This KOA is a very decent campground. There are some minuses as listed in other reviews but the benefits outweigh them 1- clean and safe. 2- next to a new Publix (big grocery store) 3 - right off the Interstate (I77) 4- It is 20 minutes from Uptown Charlotte Many of the sites are not level. So make sure you have some extra blocking. I will stay here again. We were here for a total of three weeks and I really enjoyed the other campers I have met here. For being where it is, it is so quiet here and at night folks go to bed at quite hour. This place gets chewed up in the reviews- but if the four points above are important to you, then this KOA will do. Internet is decent Verizon Wireless and T-Mobile coverage is fantastic
- Jim Graham on Google