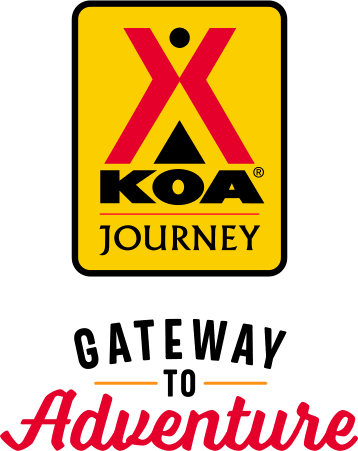 KOA Journey Campgrounds
KOA Journey campgrounds are the perfect oases after a day on the road. Whether it's along the way or a quick getaway, they've got you covered. Located near the highways and byways of North America with long Pull-thru RV Sites, they deliver convenience to the traveling camper. Pull in, ease back and take a load off.
KOA Journeys Feature:
Pull-through RV Sites with 50-amp service
Premium Tent Sites
Well lit after hours check-in service
Directions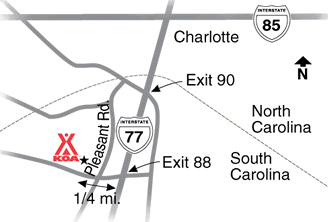 Exit 88 off I-77S. Go west 1/2 mile. Drive past the large KOA sign and turn right, go straight into the reservation parking area.
Get Google Directions
Jul 03, 2021
The office staff were very friendly! Dennis led us to our RV site ... also very friendly and said to let him know if we needed anything. The site was nice ... concrete parking pad with a patio, very level and long. We only stayed one night because we were traveling. There was a small fenced dog area just a short walk away. Publix right next door, other shopping and restaurants near by.
Jul 02, 2021
Just an overnight but very friendly staff. Nice site and Publix market next door. Would definitely come again.
Jul 02, 2021
Very nice campground. Well maintained.
Jul 02, 2021
Very spacious and convenient
Jul 01, 2021
We left a day early so that about sums it up.
Jul 01, 2021
Very clean, well kept. Great pool. Very friendly staff. All hookups functional and easy to use.
Jul 01, 2021
The campground was very convenient for our travels. The restrooms should have been cleaner.
Jul 01, 2021
Everything was great. We have stayed there many times over the last couple of years visiting our son and his family. Very clean, the staff and workers are constantly patrolling the camping area picking up trash and cleaning restrooms etc.
Jun 30, 2021
Very clean KOA and conveniently located near lots to do.
Jun 30, 2021
The cabin was great, camp ground was clean. Our neighbors were very strange and made my young daughter very uncomfortable. Not really sure if there was much KOA could have done, maybe I should have talked to the staff about it. Overall a good experience minus the creepy neighbors next to us.
Jun 30, 2021
Bathrooms clean, Campsite with pad was very nice and level. Everyone was friendly and the atmosphere quiet. We will return next year as our stop over. May try for 2 days if schedule allows. Front desk was quick check in and the pool area was beautiful. A++
Jun 30, 2021
Stayed for about a week in a travel trailer with family. Sites are a bit unlevel but decently spacious for the site we were in. Several activities to do. Bathhouse were very clean.
Jun 30, 2021
Great service and location. Check in took all of two minutes and someone guided us right into our spot for the night. Publix and gas stations also close to make things easier. Quiet spot with lots of trees to make for a beautiful setting.
Jun 29, 2021
Great place to stop overnight while traveling!
Jun 28, 2021
It was a short visit but we had a wonderful campsite Very clean !
Jun 28, 2021
Could not control A/C temp. Television did not work. Cabin was divided into two cabins and only one parking spot. Worse than tiny house living.
Jun 28, 2021
Its a gravel parking lot beside of a biker bar. They closed the pool way to early and I felt I would have been better to just stay at the rest area.
Jun 25, 2021
Everything was great. Cable TV would be nice, only because I love basketball and the NBA playoffs are going on right now. Other than that everything was good
Jun 25, 2021
Not well taken care
Jun 25, 2021
original camp site assigned very muddy with many ruts from previous camper, apparently a recurring problem per other campers, was a 50 amp not a 30 amp as requested, needed to find another site
Jun 24, 2021
Park was nice enough. Noise level was high with traffic coming in at all hours. The back bathroom had 1 broken GFCI, ( which probably controlled the hand dryer that DID not work) And no hand papertowels were available. A toilet was not in use, and two sinks had not water supply The miniature golf course was not available after 6 PM. washers and dryers broken The pool was great !
Jun 24, 2021
The staff is pleasant, the location is convenient, the layout is adequate, however the road maintenance is poor.
Jun 23, 2021
The cabin, restroom and shower area, and the campground as a whole were very well-kept and clean. It was perfect for my needs!
Jun 22, 2021
We loved our cabin and deck. The campground was so clean and unexpectedly quiet at night. We loved the planes landing in the distance too.
Jun 22, 2021
No problem checking in. But when the kids went to go swimming, everything was locked up at 4 pm. Then the campground allowed someone to check in and setup after 10 pm right beside me. VERY loud truck, VERY loud people. They were out there until after midnight pulling forward, backing up, etc. The loud truck kept everyone in my camper up. Diesel smell was horrible from their truck. NO RESPECT!!
Jun 22, 2021
Stayed at KOA Fort Mill fathers day weekend. The site was well shaded, bathhouse was nice and clean.
Jun 22, 2021
Employees were very helpful and friendly. Great location having the Publix supermarket next door along with the gas station. Easy to get to this location.
Jun 21, 2021
Friendly staff! Great activities for kids!
Jun 20, 2021
Perfect location for visiting family. Only negative was WiFi was really weak so working there using WiFi was not possible, phone hotspot was better. Near good fishing and Publix grocery. Lot was ready and everyone was very nice. Bathrooms clean, pool open etc… 5 stars other than WiFi .
Jun 19, 2021
Smaller koa right off the highway. Made for a easy stop over on the way home from Florida.
Jun 19, 2021
Check in was fine. I assumed this would be little more than a parking lot. But when we got to our site, there was a rusty razor blade on our table, so there was obviously nothing done to maintain the campsite in between visitors.
Jun 18, 2021
Management was very nice when we asked to move to a shadier spot, and gave us a much nicer spot.
Jun 18, 2021
We paid for a deluxe site and our 35 foot camper didn't fit on the concrete pad all the way so we were not able to disconnect from the truck. Camper was uneven and we had a terrible nights rest after driving 9 hours and of 73 dollars charged wasn't worth it and we are senior citizens ? Senior rate not given. We will not recommend this Koa and will not stay here again. Thank you.
Jun 17, 2021
What a fantastic campground. The staff there is awesome and the grounds and facilities are exceptionally well maintained. I highly recommend this KOA.
Jun 16, 2021
Awesome campground! Shower houses appeared to be new and spotless. We wish we could have stayed longer. We will be back again.
Jun 15, 2021
WiFi a little sketchy but managed to get through it. I would stay here again.
Jun 15, 2021
It was a very pleasant stay and the staff was very flexible able the tent sites.
Jun 14, 2021
Great site and facilities
Aug 26, 2021
Stayed in long term 4 months, met a lot of very nice people.
- Violet Sisk on Google
Aug 09, 2021
Love it Here. My good friend lives here and I love how quiet it is and how friendly people are.
- Lindsey Whitman on Google
Sep 06, 2021
Marlee in the office was very friendly over the phone when booking & on arrival. We were told that a key was needed for the dump station, which was fine. Our site had water & electric, which was sufficient, we were only staying the night. This morning office did not open until 10:00am (Web page gave office open time to be 8:00am; except Sundays-9am) we had to wait for office staff to arrive to open lock on dump station in order to use. Showers very clean, plenty of hooks, stool, good water pressure & temperature. Had plenty of room at our RV camp site. Grocery store an easy walk from KOA. Overall good.
- Susan W on Trip Advisor