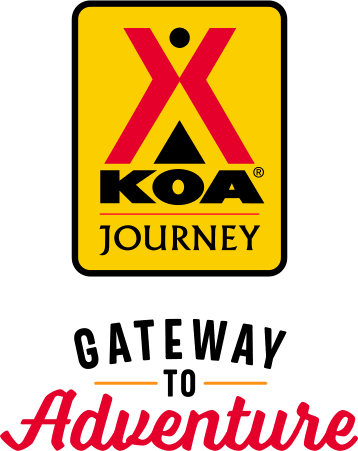 KOA Journey Campgrounds
KOA Journey campgrounds are the perfect oases after a day on the road. Whether it's along the way or a quick getaway, they've got you covered. Located near the highways and byways of North America with long Pull-thru RV Sites, they deliver convenience to the traveling camper. Pull in, ease back and take a load off.
KOA Journeys Feature:
Pull-through RV Sites with 50-amp service
Premium Tent Sites
Well lit after hours check-in service
Directions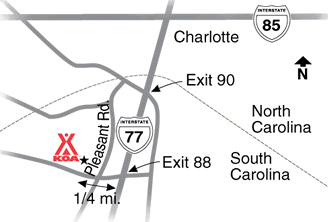 Exit 88 off I-77S. Go west 1/2 mile. Drive past the large KOA sign and turn right, go straight into the reservation parking area.
Get Google Directions
May 29, 2021
Great for overnight stay. Need better signage for entry.
May 29, 2021
This is a nice clean KOA, however I have had electric pedestal issues 2 visits in a row. I was a bad breaker that did not trip and melted my ckrd end. The other was a dead side on a 50 amp outlet. Nice for an overnight stop, but pay attention to the power.
May 29, 2021
Just there overnite
May 29, 2021
We were late arrivals and early departures, it that is part of the benefit of KOA. We received an email with all the necessary information. The camp and showers were clean. The staff we met in the morning were friendly and helpful. The only detractor was the location. It was convenient but not picturesque.
May 28, 2021
Very good experience. Short walk to great grocery store with a very nice wine selection. Provides an attractive option for timing your rout through Charlotte!
May 27, 2021
Great except for air noise.
May 26, 2021
Great lay over spot. We use it often for that purpose. Also Great outpost for activities in the greater Charlotte area. Gas groceries and entertainment very nearby. Staff friendly and helpful.
May 26, 2021
Great place to camp and nice utilities!
May 26, 2021
Friendly staff, convenient grocery store, nice place for kids and pets
May 26, 2021
No fire pit and was told to I could make a fire on the gravel at the front of the site, the person next to next to me complained about the smoke and ash swore at me and had to put the fire out and use charcoal to cook dinner. I told the office staff the next day to see if I could move to another site was told no and got ahead and make a fire on the gravel. Not very accommodating or concerned.
May 25, 2021
It is a good over night stopping place. It's close to the interstate and quiet.
May 25, 2021
The people in the office are amazing. The property needs serious upgrading. New gravel, concrete pours, trees, grass. Just a shame because the area is really developing and I'm sure the property has good value.
May 25, 2021
We left a day early, when I got there I put electricity 50 A in my air conditioner didn't work. I called around for somebody to come and fix it for three hours, I didn't get anybody. Then later on my wife says the microwave is not working. I called the front desk they didn't have anybody come out. I switch electrical boxesAnd it worked. We had a upgraded site. But some of the campers they we
May 24, 2021
Very quiet and well maintained.
May 24, 2021
Booked a pet friendly cabin & hassled at check in despite my service dog.After checking in we were told that my dog couldn't walk anywhere but the pet walk due to pesticide spraying.cabin was next to a tent sight with an intoxicated male, making me & the other pregnant female in my group extremely uncomfortable.Refridgerator in cabin was broken & my $100 hasn't been released 3 days after we le
May 24, 2021
very helpful and friendly staff
May 24, 2021
Clean and quiet. We will definitely return for another stay.
May 23, 2021
It's a hit or miss checking in if there will be someone in the "office". Check in is at the next door gas station if no one is in the office, but signage does not make this clear. Bathrooms and shower houses are clean. Overall clean and quiet, it was perfect for a week stay to get our vehicle fixed.
May 22, 2021
Just an overnight stay, but very enjoyable. It was easy access off the main route. Our pull through site had a cement pad and bricked fire pit. The campground is clean, quiet, and well managed. The campers and staff were very friendly. We will stop again!
May 22, 2021
Stop over on the way to WV. Convenient on/off I77. Small sites lots of air traffic noise. Grocery close by. Employees at gas station where we bought fire wood were very nice and helpful.
May 21, 2021
This was the noisiest campground we had ever stayed in. It is located in the landing flight path for CLT airport, so jet airlines are continuously passing over head. There are lot of trucks and a big diesel septic cleaning truck that likes to idle for 20 minutes at 5 am. Does have easy access to Charlotte, and Tracy's RV Repair helped fix a problem we had. I'm sure there are better area options.
May 21, 2021
50 amp power did not work correctly.
May 21, 2021
2nd visit, very nice and clean. Publix within walking distance, close to a hospital, not far from the interstate but far enough away to not hear any noise. Very friendly and helpful staff. No cable but many it's channels.
May 21, 2021
This is our preferred stop on our trip from Florida to Pittsburgh, and has been for years. It is convenient to the interstate and even more convenient to Publix, gas stations and restaurants. Staff is great!
May 20, 2021
The traffic surrounding the campground was awful. Because of construction on I-77 and lane closures it made the traffic situation horrendous. Took 1 hr 15 min to go ONE MILE and we were only 6 miles from the campground. However the greeting we received once there was friendly and welcoming. Sites roomy and entire campground clean and appealing. Plenty of restaurants grocery stores shopping around
May 20, 2021
Great stop over spot due to location. Little tight for a 40' MH. Had to back down the driveway. Pizza joint and Publix within walking distance very handy.
May 18, 2021
GREAT THE WORKER WERE VERY HELPFUL AN FRIENDLY WELL KEPT UP AN CLEAN THE WASHING MACHINE IN THE LANDRY WERE IN POOR CONDITION HALF DONT WORK
May 18, 2021
It was a great stopover point and had full hookup and pull through sites. It's a bit of a hole in the wall, behind a neighborhood and grocery store. Great location to the interstate. Not a "beautiful" place, as in not scenic, but a safe overnight for a couple nights. Staff was efficient without hovering. Good areas to walk dogs.
May 18, 2021
Pam, Tom, and the entire staff were great!!! They provided us with an amazing first camping experience and we appreciate them greatly! We'll done!!! KL
May 18, 2021
I lost a pin that tows my jeep on the highway on my way to the campground. I asked where the nearest camping store and she said my husband probably has the part you need. They actually had the part I needed and delivered it to my campsite and all is well. I will stay here everytime I visit the area. Thanks again!
May 18, 2021
Great people! We had to stay longer than We had planned due to the gas shortage and they were able to accommodate us on short notice. The ladies in the office were Super! We will stay there again when we're in the area.
May 18, 2021
Nice overnight stay. Walk to Publix grocery store.
May 17, 2021
Staff was very nice. Enter at second entrance to the Koa as the first is a death trap with cars coming thru for gas station
May 17, 2021
Very nice campground and the staff were helpful and friendly. Only complaint is that the campsites were too close together allowing no privacy.
May 17, 2021
Easy in. Great location. Super clean!
May 16, 2021
Enjoyable friendly staff
May 15, 2021
Great hostess. Clean bathhouse. Only nit picky thing was the floor of shower stall was very slick
May 15, 2021
Very nice spot to park #135. The office staff was super friendly and helpful.
May 14, 2021
It was like parking at gas station. They must own the gas station an store on property
May 13, 2021
Charming and homey park that needs a little updating. Would gladly stay here again.
May 12, 2021
More of a stop over camp ground. Had full hook ups, good power, good water, no cable, little grass! Had some of the strongest internet I have ever had at a KOA. Easy access off the highway, we were driving thru so didn't need all the amenities
Jul 06, 2021
Nice place
- Roy Cox on Google
Jul 03, 2021
Nice camping site 👍👍😊👍
- Vernon Terry on Google
Jul 13, 2021
Staff was friendly Office/store - it's the smallest we've seen. Probably though because it's so close to many stores. Site - very nice Bathrooms - WIN Codes to get in - makes you feel safer Shower pressure- great Clean - YES!! Thank you! Unfortunately we only had one morning to enjoy the beautiful pool. Pool hours open at 10am. We walked up at 10:50 and the pool was locked :( We went inside and a staff member came out with keys, to which none fit. She went in and got another set, one again none fit. She said she would call someone. 25 minutes later, no pool entry so we walked back to our site and started getting ready early for our lunch appointment. We would definitely come back. We'll just call the office first to make sure the pool is open.
- Violette N on Google