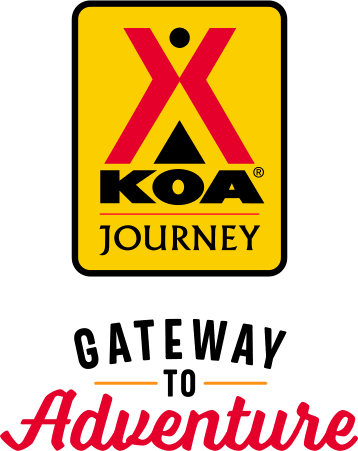 KOA Journey Campgrounds
KOA Journey campgrounds are the perfect oases after a day on the road. Whether it's along the way or a quick getaway, they've got you covered. Located near the highways and byways of North America with long Pull-thru RV Sites, they deliver convenience to the traveling camper. Pull in, ease back and take a load off.
KOA Journeys Feature:
Pull-through RV Sites with 50-amp service
Premium Tent Sites
Well lit after hours check-in service
Directions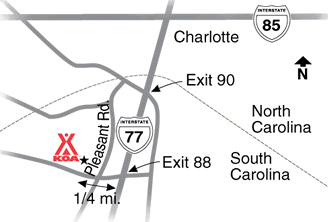 Exit 88 off I-77S. Go west 1/2 mile. Drive past the large KOA sign and turn right, go straight into the reservation parking area.
Get Google Directions
Aug 09, 2021
Good overnight stay. Helpful staff.
Aug 08, 2021
Spent 4 days with your park. Did all the tourist stuff. Had a great time. The park was perfect for what we needed. The only thing I was disappointed in was that we didnt have a place for a bonfire. We missed out on smores and just the comfort of the fire in the evenings. Otherwise the park suited our needs perfectly. Thank you for a great stay. Hope to see you again in the future.
Aug 08, 2021
Our Kabin was very nice and had a tv which was a bonus for the kids. Amenities were very nice, loved the pool area. Bathrooms were the nicest we have seen thus far. I would give a five star if there was better security. Being a city campground I didn't like that it had two open entries that anyone could enter. They had to have codes for restrooms and laundry facilities.
Aug 07, 2021
This campground is wonderful. The staff were friendly and helpful beyond our expectations. The showers are clean and much nicer than those at most campgrounds. Definitely will stop by again!
Aug 06, 2021
Very enjoyable, clean, level sites
Aug 04, 2021
nice place. friendly staff.
Aug 04, 2021
Campground is clean. Site was very unlevel. Looks like 2 back in sites were combined to make a pull thru. Only had 30amp connection and was charged for a deluxe site with 50amp.
Aug 04, 2021
Showed up late in the evening, finding spot was easy. Showers were excellent!
Aug 03, 2021
Excellent location right next to the interstate.We arrived late due to traffic , but the staff was extremely friendly and helpful guiding us to our site. There is a Publix within walking distance and we got some fresh heroes for dinner..We had a very good night sleep as the campground is very quiet. We will absolutely use them again when traveling in this area.
Aug 03, 2021
Cabin was clean & comfortable. We arrived around 11:45 pm and no late check in paperwork was there for us & gas station was closed. Bar was able to contact KOA staff & get us our cabin key, but we don't know what would have happened if we showed up after midnight when bar closed. Suggest leave check in brochure & leave cabin unlocked (can get key next day) & send text with that info. Kind staff.
Aug 02, 2021
Nice location, in close proximity of lots to do including shopping and Cabela's…lol �
Aug 02, 2021
Was worried about backing in which would have been my first time ever. Dennis was so pleasant and offered to help. Luckily we were early and drove right into the spot. Great team of people. Wonderfully clean pool and very close to Publix for any groceries.
Aug 01, 2021
Always do a great job � i have the discount card. Great savings. Kept very clean.
Jul 30, 2021
We only stayed over night got in just before dark. But it was beautiful and very quite at night. I would stay again.
Jul 27, 2021
Wwe loved the convenience of having: a gas station, convenience store, and bar, all basically on property. Add in the pool and putt putt golf, and you have a wonderful campground.
Jul 27, 2021
Only issue is cabin 87B doesn't have any way to hold the door shut without locking it. Latches were broken.
Jul 26, 2021
They are always improving this campground. Bathhouses need to be seen even if you don't use them. Two thumbs up!!
Jul 26, 2021
Great staff, very helpful and accommodating! Nice park.
Jul 26, 2021
Nice place, but a little crowded and it was difficult to park my truck even though we had a pull through site. Leaving was even more difficult because of the vehicles parked near our site.
Jul 26, 2021
Thanks for the jump start!
Jul 25, 2021
Nice clean campground. Very quiet and well taken care of.
Jul 25, 2021
We did not get the site that was reserved for us; however, KOA did give us more space by closing the site behind us while we were there. We do appreciate that. All the garbage dumpsters were over flowing when we arrived Sunday afternoon. We found it strange that 10:00 p.m. was quiet time but, huge(loud) RV's were admitted all through the night and some leaving as well. KOA staff was very kind!
Jul 24, 2021
Just for one night but loved the koa, hospitality and the fact we were shown to our sight was very helpful will definitely do again.
Jul 24, 2021
They had a lot of issues with power outages but they were gracious enough to move us to another site. The staff was really friendly and helped as soon as we needed it.
Jul 24, 2021
It was one night only, but it was walking distance to a grocery store. Peaceful area and nice staff.
Jul 23, 2021
Bathrooms were IMMACULATE I'm 6'8" and showers were very spacious and clean as the whole bathroom was as well. Room was clean and spacious for my party of four. The pool was also very clean and well kept very spacious too. This is a great deal for anyone looking to stay in the area! Will be back for sure in the future.
Jul 23, 2021
Nice Campground. Access to a Food Truck next door which had great food and good prices, Publix grocery store within walking distance . Love watching jets over head. Very clean and quiet. Lovely pool area and a small dog area for pet to run around. A++ will return next year as our stop over.
Jul 23, 2021
The office staff was very friendly but the worker who spotted us in the campsite took off as soon as we were parked. He never asked us if we had any questions or showed us where the hookups were. It's also a little tight moving the RV in and out of the campground.
Jul 23, 2021
The location was critical. We had reached the end of our endurance and had to stop! That said, this location had one of the worst sites we'd ever had. I couldn't even level the coach so we couldn't extend our slide out. Would skip this one if possible in the future!
Jul 22, 2021
Very nice place, clean and well maintained. Staff are very friendly and helpful.
Jul 22, 2021
Great location. People were so nice.
Jul 22, 2021
Was absolutely horrible the owner John which is his real name he drives a black Ford Expedition. is a terrible representative of your brand. very rude. Will not being staying at that KOA ever again. I hope this guy is talked to by somebody. That can put this guy in his place. I was discussed by the way he acted towards me. Whoever is reading this don't waist your time staying here was Terribl
Jul 22, 2021
We called last minute because our previous overnight stay location turned out to be a total mistake. The team at Fort Mill were so friendly and accommodating. Fortunately, they had space for us. The next time we are traveling down I77 in our RV we will stay here again and this time we will plan ahead. Good job to the Fort Mill team!
Jul 21, 2021
Our first site was full of red ants, so they found another site for us. Although inconvenient, we appreciated how it was handled. On Sunday, when we returned at 7pm, we had half power. We were told nothing could be done til Monday. Monday am a very rude maintenance man told me he had been working on the issue since Thursday! They did refund one day, but I would not return to this campground.
Jul 21, 2021
Excellent restrooms clean ,nice ,well-kept.
Jul 21, 2021
We were very disappointed with our stay. Other than Dennis, who we found very pleasant, the staff was uncaring and unprofessional. The property is in complete disrepair. The interior roads are crumbling and full of potholes. The electric infrastructure is a disaster. It is apparent management focuses primarily on the bar located at the entrance to the campground. They should lose the franchise :-(
Jul 20, 2021
Tom escorted us to our site!! Such a nice guy and will definitely be back!!!
Jul 20, 2021
They gave away my site I pd to lock. Ran out of electricity for 2 days. Staff(Pam). Major attitude. Needs maintenance in park.
Jul 20, 2021
We stayed there for four nights...two without power. I expected more from a KOA.
Jul 20, 2021
Lost power day two of the three days booked. Left morning of the 3rd due to still no power at camp site. KOA refunded money for two of the three days. I have CPAP machine I have to use during the night and could not without power. Hot night with no AC with 5 children. Everyone survived but not a good memorable time.
Jul 20, 2021
Very nice facility and great experience. Employees are very approachable and good at their jobs. Only had one problem with power while there and it was on our last day. Will definitely look forward to staying there again.
Jul 20, 2021
The electric went out at the RV site and we did not have electric the day we checked in, that night or the next morning. Thank goodness we could run the ac with the generator without running out of gas because it was extremely hot weather. The park did give us a refund for that night but I had to ask first. We have stayed here before and had no problems.
Aug 26, 2021
Stayed in long term 4 months, met a lot of very nice people.
- Violet Sisk on Google
Aug 09, 2021
Love it Here. My good friend lives here and I love how quiet it is and how friendly people are.
- Lindsey Whitman on Google
Sep 06, 2021
Marlee in the office was very friendly over the phone when booking & on arrival. We were told that a key was needed for the dump station, which was fine. Our site had water & electric, which was sufficient, we were only staying the night. This morning office did not open until 10:00am (Web page gave office open time to be 8:00am; except Sundays-9am) we had to wait for office staff to arrive to open lock on dump station in order to use. Showers very clean, plenty of hooks, stool, good water pressure & temperature. Had plenty of room at our RV camp site. Grocery store an easy walk from KOA. Overall good.
- Susan W on Trip Advisor