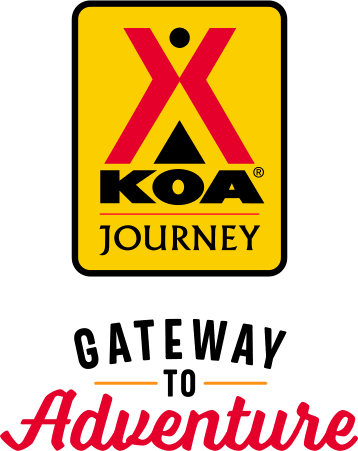 KOA Journey Campgrounds
KOA Journey campgrounds are the perfect oases after a day on the road. Whether it's along the way or a quick getaway, they've got you covered. Located near the highways and byways of North America with long Pull-thru RV Sites, they deliver convenience to the traveling camper. Pull in, ease back and take a load off.
KOA Journeys Feature:
Pull-through RV Sites with 50-amp service
Premium Tent Sites
Well lit after hours check-in service
Directions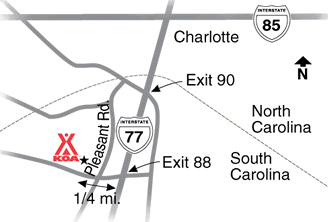 Exit 88 off I-77S. Go west 1/2 mile. Drive past the large KOA sign and turn right, go straight into the reservation parking area.
Get Google Directions
Mar 14, 2021
We live locally & stayed to reassemble our trailer after repair work and prep for a trip. It serves the purpose for such and stays to visit local tourism. Not a resort campground. Had a deluxe patio site that had 2 good size piles of cigarette butts (at least a pack worth) that had not been cleaned up. A fire ring would be good/almost necessary to have fire without grass sparking around fire.
Mar 13, 2021
I cannot say enough nice things about the staff at this campground, especially Shay and Bill in the office. We planned a one night stop in February 2021 on our way to Florida. Just as we pulled into our site, our motorhome broke down. It took 2 days to get it towed and another 5 days to get it repaired. Shay was able to get us into a beautiful cabin at a discounted price. Thank you so much!
Mar 12, 2021
We came in late at night. We had difficulty finding our camping place.Some lights around the site would help
Mar 11, 2021
The good stuff: 1) excellent laundry facility, even an iron for your use! 2) staff filled our LP tank right away. The not so good stuff: 1) camp pad was uneven. 2) roads have multiple potholes. 3) office is not well marked.
Mar 10, 2021
Pleasant office, check in and parking personnel. Interior roads, sites and common areas need "some work". Forget cable TV. Use antenna.
Mar 09, 2021
I had a deluxe site w/concrete pad - it was barely long enough to fit my 26 ft. trailer. The sites are not clearly defined - you can't tell when you're in the one next to you or the one behind you. No fire ring. Worst KOA I've ever seen. Only good thing is location if you're visiting Charlotte, and the Publix is within easy walking distance.
Mar 09, 2021
Great access to Charlotte.
Mar 08, 2021
It was the perfect location to stay while visiting family who live in Ft. Mill. I am returning this month for 3 nights. Totally enjoyed my stay.
Mar 01, 2021
I really like being able to have breakfast, that I didn't have to fix.
Mar 01, 2021
We were disappointed in the closeness of the sites. The roads within the campground were absolutely awful. Value versus price was unacceptable.
Mar 01, 2021
Need to do some work on the roads and put some gravel in the sites
Feb 23, 2021
Everything you need & staff are very nice. Upgraded me for free to a concrete area. The one I was going to be at was gravel & did not look level. Be very careful when you drive in. Large potholes to navigate around. I am sure they are from the salting that needed to be done with all the crazy icy weather. The trail is not there & houses are your view. Publix is in walking distance & close to gas.
Feb 22, 2021
Property needs improvements - potholes that will swallow your tow vehicle. Nice proximity to grocery and highway access.
Feb 21, 2021
Very nice campground! Staff was very helpful and restroom and laundry very clean!
Feb 21, 2021
Walking around it was a ruf feeling and didn't feel special like some others. We usually bring our camper but this time we were in a deluxe cabin. A few days ago we stayed at yemassee,SC and it was very nice and clean. This one was run down and the very basic "deluxe" cabin had a live cockroach in the pathetic mini fridge...The man in the tiny office(more of a half trailer) was nice though.
Feb 21, 2021
The people are really nice but the facility really needs work. The full time area is an eye sore. There was no real heat in the shower facility and no hot water in the sinks. The roads need a lot of work.
Feb 20, 2021
Surprisingly good spot for being right in town. Only reason for lower ratings is because they are desperately in need of pothole repairs on all roads/access areas. You can't drive in or our on any road without running into fairly large holes. The lane they led us down to our spot actually risks dropping the tires off the road on the lefthand side.
Feb 20, 2021
Staff is great, very well kept, had a great time
Feb 18, 2021
Good location to visit friends in area. Clean and secure. Friendly staff.
Feb 18, 2021
Very helpful staff. Easy check in.
Feb 17, 2021
Definitely not up to KOA standards that I'm used to. Paying $70 for a deluxe concrete site meant pulling onto a small pad and being surrounded by gravel. This felt more like a mobile home park, as everyone else there appeared to live there. It is very run down and there is no camp store, to speak of. You have to walk to a gas station.
Feb 16, 2021
It just was not my expectation for a campground. There is a large group of permanent campsites which were rather unsightly and there was little to no grass. I wouldn't have complained if you hadn't asked me because we were just passing through and I was glad to have a place to hook up but it would have not been a nice place to stay for a camping trip.
Feb 16, 2021
A lot of pot holes, road work is needed. One of the bath houses was "closed for cleaning" all weekend. Bathrooms and showers were very clean. Staff was very helpful with check in, including help backing up my travel trailer. Free upgrade on my site since they were not full.
Feb 15, 2021
The gal at the check in was awesome!! Friendly helpful and quite funny. The bath house was closed the whole time we were there. The site we had was flooded the entire stay....and there were 2 other sites with concrete unused!! I won't be back.
Feb 15, 2021
We stayed in a cabin and it was GREAT!
Feb 14, 2021
Office gentleman very sweet and helpful. Needed to be closer to dog park and he changed our site with no problem. They guided us to our site and helped make sure we were lined up perfect to hook up. Definitely recommend this campground. So friendly and with smiles! Even through face mask you can see them.
Feb 11, 2021
We came in overnight on our way from Maine to Florida. There is a Publix next door and the campground was clean and quiet.
Feb 10, 2021
We stayed here for extended time and the staff was excellent! Very helpful and friendly.
Feb 09, 2021
Nice place. Clean bathrooms although we found out after getting into the shower that there was no hot water. There was no sign anywhere warning us. I tried calling the office around 7am (probably before they opened) and left a message. I received no call back. We found a 2nd bathroom had hot water. They need to communicate this at check in time.
Feb 04, 2021
Site very unlevel, cable connection did not work, dump location very far from camper, V-E-R-Y overpriced. We stayed there once, would not go back.
Feb 03, 2021
Love the rest rooms very clean!!! Quiet and cozy!
Feb 01, 2021
We paid $61 to be parked in mud puddles with two dogs. Fuel and groceries next door.
Jan 31, 2021
Small campground surrounded by businesses and houses. 5' piece of grass between you and your neighbor. Looks like a large gravel parking lot. Ok if you're just stopping to rest for a night which is the only thing I would do from now on. They backed me in my site and there was a 2" deep puddle we would have to walk through coming out of the camper. I made them move us and they were polite abo
Jan 31, 2021
Good stop along highway
Jan 26, 2021
The site was a "Deluxe" the cement pad was hardly big enough to fit my RV.
Jan 21, 2021
Great place. The site was really large and great for my needs. Nice staff for check-in.
Jan 21, 2021
Nice Campground
Jan 19, 2021
Centrally located, not far from South Park Mall, Publix is next door. Clean bathroom with great showers. Friendly staff.
Jan 19, 2021
Although we were only there overnight as we were passing through on our way to points south, we would certainly recommend this resort. The check in was easy and quick. The site was just as promised and the park and its staff were top notch. If we lived closer, this park would be a regular on our list of go to spots.
Jan 18, 2021
It was our first time owning and camping with our travel trailer so we wanted to try a place still close to the house in case we need to go back for anything. Well, KOA in Fort Mill didn't disappoint They honored my military services with a Veterans discount, a hard even surface to pull through and all of the hook ups my trailer needed. .
Jan 18, 2021
I was disappointed in this KOA since it was basically a gravel plot behind a gas station and right next to the highway. There was no greenery, no amenities, and check-in smelled of smoke. Our cabin (which cost upwards of $100/night in January), didn't even have a mini fridge or microwave. The "heater" available didn't provide much warmth; I think we would've been better off car camping.
Sep 23, 2021
Quick in and out, pleasant and fast check in. Plenty of space, near busy centrally located intersection. Plenty of POI.
- Maksym Lisovyi on Google
Aug 26, 2021
Stayed in long term 4 months, met a lot of very nice people.
- Violet Sisk on Google
Sep 06, 2021
Marlee in the office was very friendly over the phone when booking & on arrival. We were told that a key was needed for the dump station, which was fine. Our site had water & electric, which was sufficient, we were only staying the night. This morning office did not open until 10:00am (Web page gave office open time to be 8:00am; except Sundays-9am) we had to wait for office staff to arrive to open lock on dump station in order to use. Showers very clean, plenty of hooks, stool, good water pressure & temperature. Had plenty of room at our RV camp site. Grocery store an easy walk from KOA. Overall good.
- Susan W on Trip Advisor