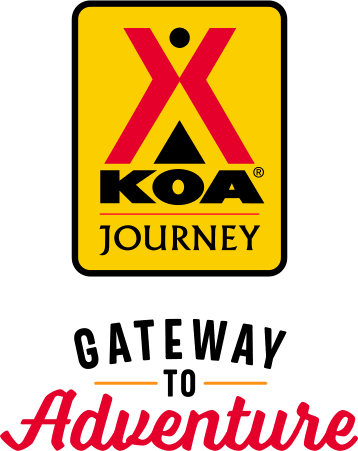 KOA Journey Campgrounds
KOA Journey campgrounds are the perfect oases after a day on the road. Whether it's along the way or a quick getaway, they've got you covered. Located near the highways and byways of North America with long Pull-thru RV Sites, they deliver convenience to the traveling camper. Pull in, ease back and take a load off.
KOA Journeys Feature:
Pull-through RV Sites with 50-amp service
Premium Tent Sites
Well lit after hours check-in service
Directions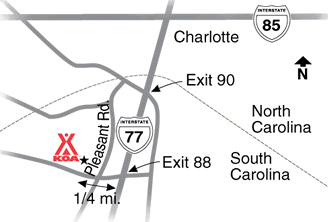 Exit 88 off I-77S. Go west 1/2 mile. Drive past the large KOA sign and turn right, go straight into the reservation parking area.
Get Google Directions
Apr 07, 2021
Campground is too close to I77, my site was right in front of the dumpsters.Only positive for Fort Mill KOA is the very friendly staff members.
Apr 07, 2021
We were very disappointed. The check-in person looked up the wrong reservation and recommended we pull into our pull-through backwards so that the travel trailer was level if we weren't going to unhook (sites are not level). I objected because the hook-ups would be on the wrong side and not reachable. The person guiding us to the site was clueless. The roads/sites are not well maintained.
Apr 06, 2021
Fabulous place friendly staff
Apr 06, 2021
Was a great place to stay.. we stayed in a cabin.. they have been redone with nice electric fireplace and tv..bathrooms are clean, would come back again.. staff was very Pleasent and helpful. Close to anything we want to see..
Apr 06, 2021
Stayed many times due to highway convenience only. Never any improvements. Stupidly expensive for quality of campground. Only good thing about the place is a man who has worked there for years escorting to sites. Very nice person.
Apr 06, 2021
Single night. Able to make a last minute reservation for a deluxe cabin. Shower did not drain well, but otherwise, clean and just what we needed.
Apr 05, 2021
Your staff was great very helpful. Pam and Tom are awesome and the lady that checked us in was super nice. We enjoyed our short stay
Apr 05, 2021
EXTREMELY TIGHT SPOTS!! Our car was almost hit twice by other guest backing into their spots. We had two vehicles on the site and couldn't let out our owning due to the tightness. Clean bath houses and very friendly staff. But would maybe try another spot not in the middle if we ever need to come back.
Apr 03, 2021
Everyone was so kind and helpful.
Apr 03, 2021
Great facility and we will be back in the future
Apr 02, 2021
Although we arrived early, our campsite was ready. "Tom" escorted us to our site and helped position us; he was very friendly and helpful. I used the restroom and laundry room - both were clean and working well. We have stayed at this KOA before and hope to do so again.
Apr 01, 2021
The staff was super friendly and helpful.. will say again if the opportunity is there
Apr 01, 2021
We stayed at the Charlotte/Fort Mill KOA for just one night this past Saturday. Upon arrival a young woman gave us our car tag and pointed us in the direction of our site. Unfortunately she neglected to tell us that there was No electricity. Upon discovering this around 6:30 pm, I called the office and was told to call after 10 am on Sunday, we had to be on the road by 7. Very disappointing.
Mar 31, 2021
Very overcrowded. We did not have cable like was advertised. We were not given bath house code and had to get it from another camper. Paid for 5 gallons of propane one only took 2.7 to fill my tank. Refused to give me a refund or top off another tank. If I pay for $10 gas and only pump $8 I get the difference back. I've filed a complaint with the dept of agriculture who regulates pumps.
Mar 31, 2021
All dirt and gravel and not much grass and where there was grass it was needed to be mowed... No coffee by walking distance and our lot was on a hill.. otherwise it functions well as a one night stay on our way home...
Mar 31, 2021
No power the entire time we were there in our spot. They assured us we would get power and never did. They didn't offer to move us spots either. They did refund the entire weekend.
Mar 31, 2021
This was perfect for us to setup our new trailer. I am not sure we would be here for a longer stay
Mar 28, 2021
Very disappointed....no electric....
Mar 28, 2021
Thanks great as always Bob
Mar 27, 2021
Bathrooms really need cleaning and upgrading too... The grounds were not kept up. This place is definitely not up to KOA standards and I stay in many KOAs every year. Sorry to say I'll be passing this one by when I next in the area.
Mar 26, 2021
We had a great time campground was clean. Staff was friendly.
Mar 26, 2021
Manager accommodated our needs during a stressful move out of our home as we prepared to leave SC. Such a well run KOA. Great location as well!
Mar 26, 2021
the campground was very clean and the facilities were top notch. The only problem we had was the mens restroom was locked and we couldnt get in.
Mar 26, 2021
Overnight stay. Very rough roads but RV site okay. We were upgraded to a pad site because of booking mixup in office, which was nice.
Mar 25, 2021
Great staff. And fun for my kids
Mar 25, 2021
I paid for a back in site but got a drive through, thank goodness there wasn't anyone there set up like a parking lot
Mar 23, 2021
Great facilities, friendly staff, easy directions and clean environment.
Mar 22, 2021
The location right off Interstate 77 was convenient for our trip. Unfortunately, we were disappointed by the size of the pull thru sites and lack of a fire pit. Bathrooms were clean and located close to most sites.
Mar 22, 2021
I asked for for a pull thru the one they had for me was a 30amp I needed a 50amp I took me forever to back into spot a trree was in way
CAMPGROUND RESPONSE / COMMENTS:
They were on a 50 amp site.
Mar 19, 2021
Great customer service. Nice location off I-77 next to Publix market. Will be staying here again when we're in the area.
Mar 19, 2021
Nice place, we only stayed for one night but it was very well kept and the staff is very friendly and accommodating. I love that there is a gas station, restaurant and a Publix right there (very short walk)
Mar 18, 2021
First time ever, renting a deluxe cabin! My guests and I were extremely happy with it. I even slept in the loft, felt like a kid, reliving my summer camp days. Had a great time overall. Thanks KOA
Mar 17, 2021
This was just a stop over for us. It is a quaint park. Our neighbors site was obvious they were there a while. Just not clean and tidy (to put it nicely). Kids out on their bikes at midnight waking up my dog in turn waking us up. Dog park small compared to others. Over all it was accommodating. The staff was very nice and pleasant. Let us take up 2 sires so we didn't have to unhook.
Mar 17, 2021
Stayed here many times. Always good time. Well kept. Very friendly and accommodating. Will be back many more times. Others KOAs should have to train they're staff and owners here on how to do it right.
Mar 17, 2021
This review has been removed by KOA due to profanity.
Mar 17, 2021
Clean. Convenient to Publix,
Oct 14, 2021
Friendly staff with great campsites. We stay every year for the USDGC and will always go back
- Kyle Ledford on Google
Sep 23, 2021
Quick in and out, pleasant and fast check in. Plenty of space, near busy centrally located intersection. Plenty of POI.
- Maksym Lisovyi on Google
Oct 12, 2021
This KOA is a very decent campground. There are some minuses as listed in other reviews but the benefits outweigh them 1- clean and safe. 2- next to a new Publix (big grocery store) 3 - right off the Interstate (I77) 4- It is 20 minutes from Uptown Charlotte Many of the sites are not level. So make sure you have some extra blocking. I will stay here again. We were here for a total of three weeks and I really enjoyed the other campers I have met here. For being where it is, it is so quiet here and at night folks go to bed at quite hour. This place gets chewed up in the reviews- but if the four points above are important to you, then this KOA will do. Internet is decent Verizon Wireless and T-Mobile coverage is fantastic
- Jim Graham on Google