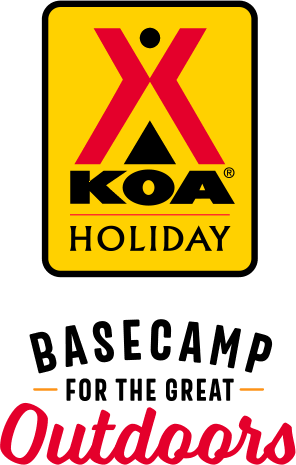 KOA Holiday Campgrounds
Whether you're exploring the local area or hanging out at the campground, KOA Holidays are an ideal place to relax and play. There's plenty to do, with amenities and services to make your stay memorable. Plus, you'll enjoy the outdoor experience with upgraded RV Sites with KOA Patio® and Deluxe Cabins with full baths for camping in comfort. Bring your family, bring your friends, or bring the whole group – there's plenty of ways to stay and explore.
KOA Holidays Feature:
RV Sites with a KOA Patio®
Deluxe Cabins with full baths
Premium Tent Sites
Group meeting facilities
Directions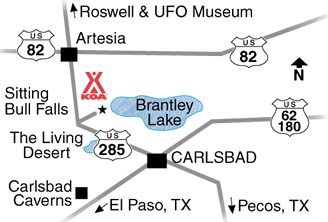 Located 13 miles north of Carlsbad, between mile markers 51 and 52 on US Hwy 285 N.
GPS: N 32 degrees 35.198', W 104 degrees 24.987'
GPS: N32.586465, W104.416234
Get Google Directions
Apr 13, 2021
It's a bit of a drive to the caverns. Also, there are Trump flags flying in many of the RVs. Not our thing but if you're into that you'll fit right in.
Apr 13, 2021
Very friendly staff and nice big spots.
Apr 12, 2021
Great overnight stay. Large site. Didn't have to disconnect the toad. Having bbq delivered to our site was an unexpected treat. We didn't have to cook. Thanks!
Apr 12, 2021
First time to stay at a KOA and we enjoyed the Carlsbad one. Clean, peaceful and pleasant, staff very friendly and helpful, thank you. Where ever we go, if KOA is there, we will be there too.........gracias.
Apr 12, 2021
Loved it! Besides being clean and friendly we were able to order BBQ brought to our campsite. It was centrally located for several places we wanted to visit.
Apr 12, 2021
Quiet clean refreshing air. Friendly staff and will be back
Apr 11, 2021
Super friendly & helpful person at check in! Quiet- pretty Rosemary plants! A bit far from White Sands but doable!
Apr 11, 2021
It was very pleasant and the staff was helpful . We had a great dinner . The campground was further from the caverns than I thought but it was a nice stay .
Apr 10, 2021
Stayed for one week and found it to be a good, solid RV park. Situated just off a highway between Carlsbad and Roswell, easy access to places we wanted to go and for movement to our next location. Check in was quick & the camp hosts were professional and courteous. They had a nice store stocked with supplies which is important since the closest store was almost 30 minutes away. Great sunsets!
Apr 10, 2021
Great Campground. Off Highway and quiet, great large sites. Amenities great, especially the BBQ. Will stay again when we come back.
Apr 10, 2021
Our stay was amazing! The staff was extremely friendly and helpful. Our site was a generous size and we didn't feel like we were on top of our neighbors. The amenities were clean, and had a great variety! Only downfall would be the lack on internet for us work from home vacationers but makes for a great reason to tune out the world and enjoy the family! We will be back!
Apr 10, 2021
Nice layout of sites. Nice staff. The wind was annoying. Not your issue I know.
Apr 10, 2021
Nice Campground, very clean and the staff is very friendly
Apr 10, 2021
Everything was fine but the lot H4 had a dog that would bark at anything or anyone it saw. Very annoying.
Apr 08, 2021
KOA should really work to improve their minimum quality standards.
Apr 08, 2021
Nice site, staff friendly and helpful.
Apr 08, 2021
Loved the big pull threes! Loved & convenient BBQ dinner and delivery to our RV! Loved that the campground is located far enough away from the hiway so it's quiet.
Apr 08, 2021
Dakota was great! Very helpful! The rest of the staff was awesome! Even the cutie who can't hear! We will be back!
Apr 07, 2021
we enjoyed our stay in spite of strong windy. They have dog park which our dog played around w/ other dogs.
Apr 07, 2021
Staff were very helpful and knowledgeable!
Apr 07, 2021
Clean safe and quiet. Loved it my first time at KOA
Apr 06, 2021
Friendly helpful folks and great BBQ delivered to the door.
Apr 06, 2021
Very friendly staff. Park was really clean
Apr 06, 2021
KOA in the desert. Clean, more room at sites than normal. Staff was fantastic, very helpful! Also try the BBQ, it's good. Thank you Guys �
Apr 06, 2021
These guys rule!
Apr 05, 2021
Very nice and clean. Worth the drive out of Carlsbad.
Apr 05, 2021
Clean, friendly, family oriented park. Took our grandsons on their first RV trip with us. Carlsbad KOA helped make it a great and memorable experience for us all!
Apr 05, 2021
Great park, super friendly staff! Huge sites, plenty of space. Definitely would stay again!
Apr 04, 2021
The Bar-B-Que was great, the staff were very friendly, the things for kids to do was good. The only downside was some of the Men's rooms were closed which resulted in lines at some times.
Apr 04, 2021
Our first camping spot this year! The grounds were spacious and clean, ultities good. Easy access to space, escorted in, that was nice. About 17 miles north of town but from what we saw, the nicest campground around! The BBQ dinners available from the kitchen was a plus and so good! We would camp here again!
Apr 03, 2021
Just stayed one night, but staff very nice and helpful.
Apr 03, 2021
Nice site! Clean and flat sites, friendly staff, great store. Kids loved to playground. Further from the National Parks than other options but after seeing the other options...well worth a little more drive!!! Would definitely recommend. BBQ was good too—great option, so convenient!
Apr 03, 2021
Nice location for Carlsbad and Roswell attractions
Apr 02, 2021
Stayed for a few nights to visit Caverns. Drive to Caverns was a little far but park was outstanding.
Apr 02, 2021
no Men's rooms and only 3 shared unisex restrooms for the men to use. they said it was due to "remodeling", but additional Men's rooms needed to be built before that effort was started.
Apr 01, 2021
Love this KOA! Nice lots with bit of grass so daughter able to pitch her tent right outside our RV. Great fire pits with cooking racks. Staff incredibly friendly and helpful. Nice little gift shop with wood fire starters and all the amenities need
Apr 01, 2021
Very nice well maintained facility . The staff were very pleasant and professional. The bathing facilities were excellent. I would highly recommend this campground.
Apr 01, 2021
Everyone was super friendly and eager to help and accommodate. Loved our stay. Spot as easy to pull through and very spacious. Very clean as well.
Mar 31, 2021
Nice park but very dusty and windy the two days we were there. People running the office / store were wonderful, the BBQ was good and delivered to your coach.
Mar 31, 2021
Nice facility, clean and great people
May 06, 2021
This was a great park. We were in a 45 foot motor home with toad. Sites were very spacious and well maintained. Parking was very well laid out. Not a mishmash squeezing in a site in every foot available. The internet was superb. Only negative thing I can comment on opus that the garbage receptacles were spaced way to far apart. In the front and in the back. Nothing in the middle.
- jbkamelot on Trip Advisor
Apr 27, 2021
I always avoided KOAs, due to road noise, until NOW. KOAs have been known for noisy road noise, similar to rest areas. Not this one. The site was peaceful and tranquil. Con: It is a 45 minute drive to the Carlsbad Caverns. Pros: Great Camp Host Team, clean camp, friendly people, nice desert mountain backdrop. Relatively close to the Living Desert Park and Sitting Bull Falls. Peaceful. The Camp Hosts were Great! We had the great experience of meeting Dorothy, Allen, and Al. Great people and Great hosts. They were Very helpful with recommendations for the best places to go, and to get most out of it. Got great updates on local wildlife and unique flora. These are experienced campers who help others get the most out of their camping experience. The guys are great at keeping the peace, from critters and yahoos that want to break the rules in speeding. Speed limit is 9.8 mph. They have a nice restaurant. They serve good food at reasonable prices, and deliver it to your campsite. Got some great RV tips and recommendations. We made some great Friends and will be staying here again when visitng Carlsbad Caverns or passing through. Tim & Emeliza H
- Tim Hennning on Google
Apr 27, 2021
Nice clean park. Will stay here again.
- Paula Brooks on Google