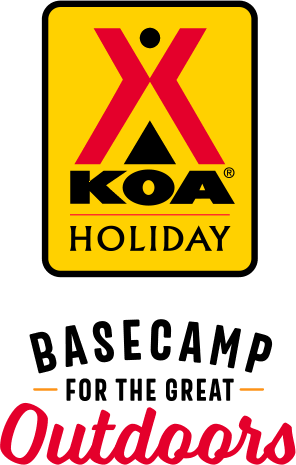 KOA Holiday Campgrounds
Whether you're exploring the local area or hanging out at the campground, KOA Holidays are an ideal place to relax and play. There's plenty to do, with amenities and services to make your stay memorable. Plus, you'll enjoy the outdoor experience with upgraded RV Sites with KOA Patio® and Deluxe Cabins with full baths for camping in comfort. Bring your family, bring your friends, or bring the whole group – there's plenty of ways to stay and explore.
KOA Holidays Feature:
RV Sites with a KOA Patio®
Deluxe Cabins with full baths
Premium Tent Sites
Group meeting facilities
Directions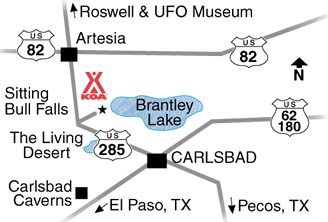 Located 13 miles north of Carlsbad, between mile markers 51 and 52 on US Hwy 285 N.
GPS: N 32 degrees 35.198', W 104 degrees 24.987'
GPS: N32.586465, W104.416234
Get Google Directions
May 02, 2021
Camp grounds were awesome staff very friendly and helpful definitely will staff again.... full day of rain was icing on the cake for us and the area.... Praise God! Thanks!
May 01, 2021
Stayed 4 days last week in April. Fantastic camp ground, wide, level spaces with easy full hook ups. Easy in and out designed campground that is very nicely decorated and maintained with very friendly staff. We stayed in a 45 foot motorcoach with tow vehicle that did not require disconnect prior to parking in our site. BBQ delivered to site was fantastic and delicious �
May 01, 2021
A very nice, clean place with friendly staff.
May 01, 2021
Nice park. Friendly staff. Great food. Too bad you can't control weather - rained all day and night
May 01, 2021
Loved this place! Unfortunately, a lot of the amenities were closed when we stayed.
May 01, 2021
Need grass or gravel where the hookups are mud doesn't work. But that said it is very well set up.
May 01, 2021
Friendly hosts! Get location to stay when making the journey through this desolate area.
Apr 30, 2021
very helpful nice people
Apr 29, 2021
Very nice stay staff was very friendly.
Apr 29, 2021
Great accommodations food very tasty and they deliver.
Apr 29, 2021
Had a nice stay, would come back if in the area.
Apr 29, 2021
Extremely nice staff, after miles and miles of wind blown desert and overnights in places that were dust bowl parking lots we were so excited to see trees, lush plants and a lot of birds! You are still in a desert, oil refineries are near by but those are not things they could change. What they did do was make a nice little oasis there:).
Apr 28, 2021
Nice park but real far from anything. The BBQ dinners were spectacular! Nice dog parks. Nice staff and very helpful.
Apr 28, 2021
I avoided KOAs, until NOW. - Con: 45 minute drive to the Carlsbad Caverns. - Pros: Great Camp Host Team, clean camp, friendly people, nice desert mountain backdrop. Relatively close to the Living Desert Park and Sitting Bull Falls KOAs appear noisy from road noise, similar to rest areas, but not this one. The site was peaceful and tranquil. - Great Camp Host( Dorothy, Allen, & Al, Cool
Apr 27, 2021
Great staff. Allen and his wife were very accommodating. Enjoyed our stay
Apr 27, 2021
Clean, well cared for, super office staff, fun!
Apr 26, 2021
Friendly staff & well maintained.
Apr 26, 2021
Dinner delivery was a special treat
Apr 26, 2021
Excellent staff and facilities. Super impressed.
Apr 26, 2021
The park was generally nice and the staff was courteous. The main bathroom was closed due to construction and the satellite bathrooms need to be cleaned.
Apr 26, 2021
Nice facilities and friendly people.
Apr 25, 2021
Well laid out park. Loved the Barbecue offerings after a long day of travel. Very friendly staff. Men's toilet and shower accommodations were under repair and was irksome leading to having to wait several times for access.
Apr 25, 2021
It's nowhere near Carlsbad!
Apr 25, 2021
Hosts were EXCELLENT, Allen and Dorothy were especially kind and eluded great customer service and support. KUDOS to them and the entire team.
Apr 25, 2021
Overall facilities seemed adequate, however for as large as it was they only had 3 toilets for men to use. They claimed the others were being renovated however we were there for 3 days and no work was done. The cleanliness of the female restrooms was not food either. You can only blame covid for so much.
Apr 25, 2021
Very enjoyable, clean, and the smoked pork was delicious
Apr 25, 2021
Just had another good one overnight stay. Good clean facility and good staff reservation activity.
Apr 24, 2021
This was the nicest KOA we have ever stayed at. Great service, Store, Propane, Laundry and friendly staff. Cell and Internet was strong here. I would recommend this campground o anyone traveling to Carlsbad.
Apr 24, 2021
The staff was friendly and helpful. It is a clean and roomy park.
Apr 24, 2021
Pleasant and relaxing atmosphere. Very clean.
Apr 24, 2021
Nice place for being in the desert! Showers were fantastic. Only downside was the smell of the area when the winds shift a certain direction.
Apr 23, 2021
We really enjoyed our stay. Our only complaints was the men's room was closed for remodeling and there wasn't another option and the wi-fi was very spotty. Other than those two little things, it was great and we'll recommend it to anyone who wants to visit the area!
Apr 23, 2021
Friendly helpful staff. Easy access in and out for our coach towing. Spacious sites. It was very windy while we were there as a cold front came through. It's a little farther from the Caverns than I expected and food and gas is over 20 miles away. It has a great play area for kids.
Apr 22, 2021
The park is very nice but the employees are rude the wifi is very weak so if you're working make sure you're close to the office. We were on site E 5 the cable only worked a few hours a day the office told me it was my equipment the person next to me had the same problem and was told the same thing. We were there for 4 days left and went to another KOA in lordsburg and the cable worked great.
Apr 22, 2021
2 night stay. Warmly greeted at check in. Bathrooms were very clean. A quiet park, would stay there again.
May 13, 2021
Great spot ! I was pleased that it was quiet after 10 compared to other campgrounds we have been to .
- vania todorova on Google
May 12, 2021
Nicest KOA we've stayed at for a while. Beautiful area, quiet, and wonderful addition with the covered porches on some sights. We actually tried to stay longer but they were full. We will be back'
- Debra Heinrichs on Google
May 10, 2021
Very Convenient to the Caves
- János Szablya on Google